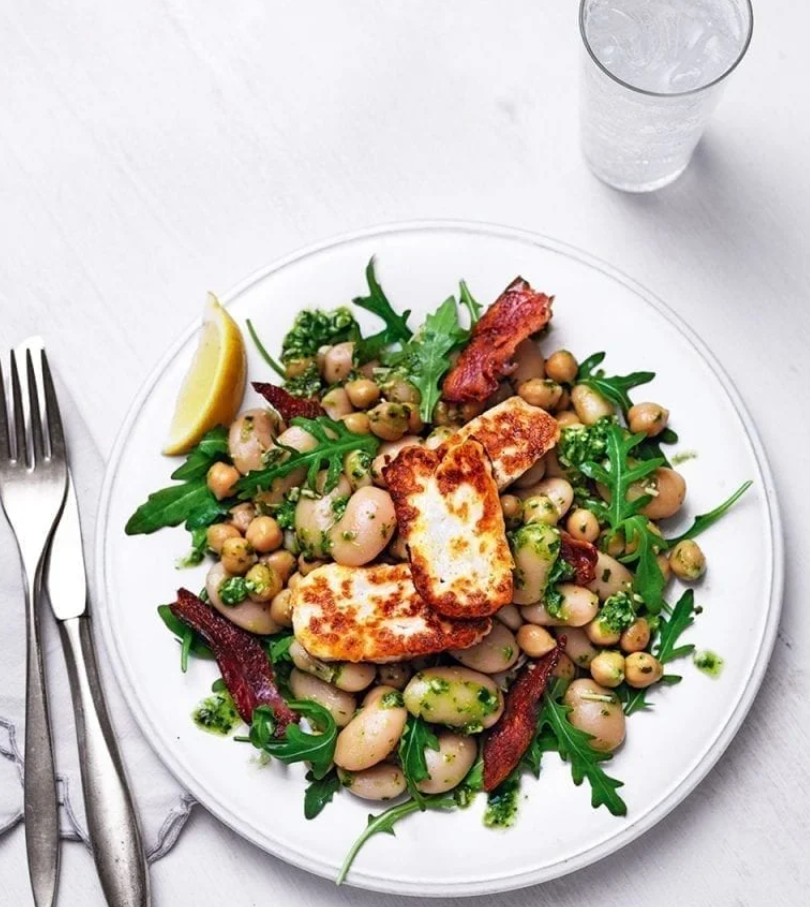 Warm Pesto, Chickpea and Butter Bean Salad – Eat Healthy for Less
A quick 15-minute dinner has never looked so good. This filling salad is made with halloumi, homemade speedy pesto and crispy bacon to leave you feeling satisfied. This is a simple salad that you can make for £1.86 per serving. Let us know if you have a go at this dish and tag us in a picture on Facebook and Instagram.
Source Delicious Magazine
Nutritional Information: Calories 578kcals; Carbohydrates 38.6g; Total Fat 30.8g; Saturated Fat 9.9g; Protein 29.1g; Fibre 15g; Salt 1.5g.
4 rashers streaky bacon
150g halloumi, sliced
1 garlic clove, crushed
50g fresh basil
15g parmesan, grated
Finely grated zest and juice 1/2 lemon, plus extra lemon zest and wedges, to serve
70ml olive oil, plus extra to drizzle
2 x 400g tins chickpeas, drained and rinsed
2 x 400g tins butter beans, drained and rinsed
100g rocket
Method
Heat a large non-stick frying pan over medium-high heat and fry the bacon and halloumi slices for 5-6 minutes, turning halfway, until the bacon is crisp. Set aside.  
Meanwhile, put the garlic, basil, parmesan, lemon zest, juice and oil in a mini food processor or pestle and mortar with a twist of black pepper and a pinch of salt then whizz/pound to a coarse paste.  
Put the chickpeas and butter beans in a saucepan and add the pesto with a splash of water. Stir and heat over low-medium heat until just warmed through.  
Put a handful of rocket onto each of the 4 plates and top with the pesto beans, shards of crisp bacon and the halloumi slices, along with the extra lemon zest and lemon wedges.  
Tip: Make this dish veggie by omitting the bacon and add 2 tbsp mixed seeds