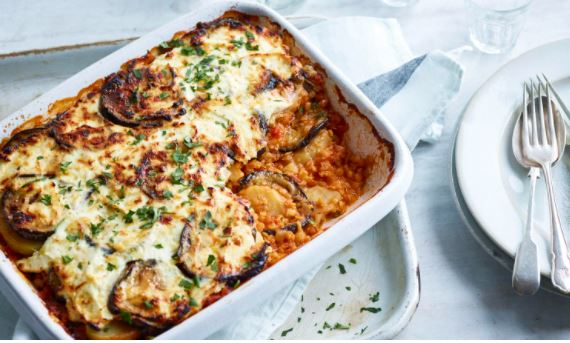 Vegetarian Moussaka – Eat Healthy for Less
A really easy gluten-free and vegetarian moussaka is the comfort food every veggie needs in their life. Let us know if you have a go at this dish and tag us in a picture on Facebook and Instagram.
Each serving provides 347 kcal, 17g protein, 45g carbohydrates (of which 11g sugars), 9g fat (of which 5g saturates), 9g fibre and 1.1g salt.
Source: BBC Good Food
160g/5½oz red lentils
650g/1lb 7oz potatoes, scrubbed
1 tsp olive oil
2 onions, finely chopped
2 garlic cloves, finely chopped
4 sprigs thyme, leaves picked
½ tsp dried oregano
½ tsp ground cinnamon
1 tbsp tomato purée
400g tin chopped tomatoes
1 vegetable stock cube
½ tsp sea salt
2 large aubergines, thinly sliced
2 tbsp roughly chopped flat leaf parsley
250g/9oz ricotta cheese
50g/1¾oz mature cheddar, grated
freshly ground black pepper
Method
Preheat the oven to 200C/180C Fan/Gas 6.
Put the lentils into a bowl. Cover with water and set aside to soak.
Put the potatoes into a saucepan, cover with water and bring to the boil. Turn the heat down and simmer for 15–18 minutes until just tender.
Heat the oil in a large sauté pan, add the onions and cook over a medium heat for 5–6 minutes until just softening.
Add the garlic, thyme, oregano and cinnamon and cook for 1 minute, stir in the tomato purée and cook for a further minute.
Add the tomatoes, salt and pepper and bring to a simmer. Fill the tomato tin with water and add to the pan. Do this once more and add the stock cube (this should be 800ml/1pint 8fl oz of water in total).
Drain the lentils and stir into the tomato sauce, bring to the boil and simmer over a medium heat, stirring occasionally, for 20 minutes until the lentils are soft and the liquid nearly all absorbed.
Meanwhile, drain the potatoes and run under cold water until cool enough to hold. Using a spoon, scrape the skin off of the potatoes, then cut into slices about 7mm/⅜in thick and set aside (if using new potatoes, keep the skin on).
Heat a griddle pan until hot then griddle the aubergine in batches until browned and softened.
Spoon half the lentil sauce into a medium ovenproof dish then layer half the potatoes and aubergines over the top. Top with the remaining lentils, potatoes and aubergines.
Put the ricotta into a small bowl and stir in the grated cheese. Spoon the mixture over the aubergines and smooth out to cover the top.
Bake in the oven for 20–25 minutes, or until heated through and golden brown.
Serve with a green salad.