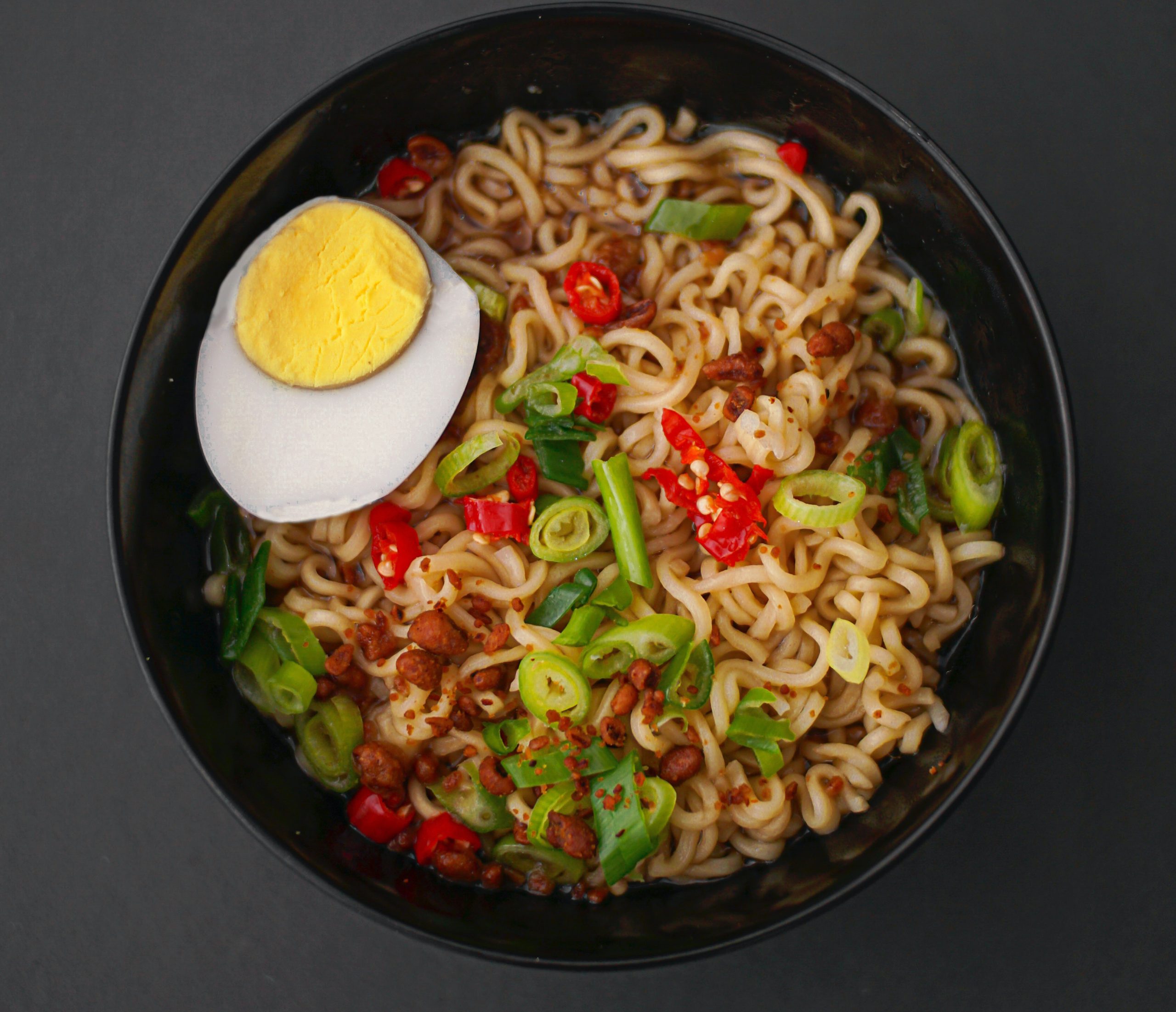 Vegetarian Ramen

– Eat Healthy for Less
Dress up instant noodles with this quick and easy vegetarian ramen recipe. Enjoy fresh vegetables, noodles and authentic flavours. Let us know if you have a go at this dish and tag us in a picture on Facebook and Instagram.
Adapted from: A Head of Thyme
Nutritional Information: Calories 562kcals; Carbohydrates 88.5g; Total Fat 14.1g; Protein 19.7g; Salt 3.2g.
1 tbsp sesame oil
1 tbsp ginger, grated
4 tsp garlic, minced
2 tbsp soy sauce
2 tbsp rice wine vinegar
950ml vegetable stock
65g Paris brown mushrooms, sliced
2 eggs
2 packs dried ramen noodles
130g baby spinach
2 spring onions, sliced
1 carrot, julienned (very finely sliced)
Hot sauce, to taste optional
Sesame seeds, optional
Method
Heat the sesame oil in a large pot over medium heat. Add the garlic and ginger and cook for a couple of minutes until soft and fragrant. Stir in the soy sauce and rice wine vinegar and cook for another minute. Add the stock and bring to a simmer. Simmer for 5 minutes. 
Add mushrooms and simmer for another 10 minutes. 
Meanwhile, bring a small pot of water to a boil. Add the eggs and cook for exactly 7 minutes for a slightly runny yoke or 8 minutes for a soft yolk. Remove eggs from the pot and place in a bowl of ice water to stop the cooking process. After a few minutes, peel the shells off carefully and slice the eggs in half, lengthwise. Set aside. 
Bring another pot of water to a boil. Add the spinach and cook for about a minute, until just wilted. Remove from pot and run under cold water to stop the cooking process. Drain and set aside. 
Add ramen noodles to stock mixture and cook 2-3 minutes or according to package instructions. Add some hot sauce, to taste (optional). 
Divide the noodles and broth into 2 large bowls. 
Top with an egg, spinach, carrots and spring onions. Sprinkle with sesame seeds and serve immediately.