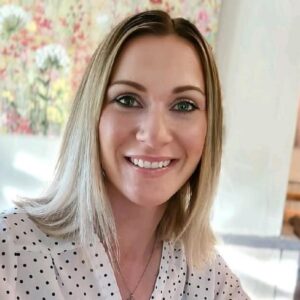 Louise Seddon is an experienced nutritionist helping women to heal and rebalance their hormones the holistic way.
Louise is passionate about women's health. With experience helping ladies with complex hormonal issues, from polycystic ovaries to the menopause. She has a degree in dietetics from The University of Plymouth and has worked both in the NHS and private practice.
Follow Louise on Facebook and Instagram and find out more on her website.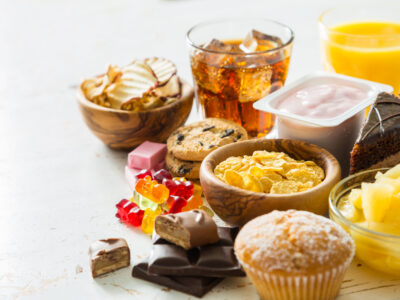 Not all carbs are created equally!
Sugars = these are also known as "free sugars" they're found in foods such as chocolate, cake, biscuits, fizzy drinks and sweets. Foods and drinks such as fruit juices, honey and syrup also contain high levels of free sugars. These foods raise your blood sugar really easily and don't fill you up for a long period of time. They are also linked to health problems such as diabetes, coronary heart disease and cancer.
Starchy carbs = these are found in bread, rice, pasta and potatoes and they give the body energy. I prefer to use wholegrain varieties of starchy carbs as they contain more fibre as it isn't removed during production.
Fibre = Fibre is found in the cell walls of plants. Fibre can be broken down into two kinds; soluble and insoluble. Soluble fibre slows down digestion and helps you absorb nutrients from foods and insoluble fibre draws water into your stools and helps you pass them more easily. So these are good carbs to eat!
Consider the Glycemic Index
The glycaemic index (GI) is a rating system for foods containing carbohydrates. It shows how quickly each food affects your blood sugar (glucose) level when that food is eaten on its own.
Carbohydrates with a high GI enter the bloodstream at a faster rate than those with a lower GI. So sticking to low or medium GI carbs will keep you feeling fuller for longer, and your blood sugars will also be more regulated.
If you're eating a food with a high GI, try to add either some protein or fats with it. For example, adding eggs or peanut butter to toast is going to reduce the GI of that meal as the other foods will balance it out.
The graph below shows the effect that GI has on blood glucose levels, and more information about can be found here https://www.gisymbol.com/about-glycemic-index/.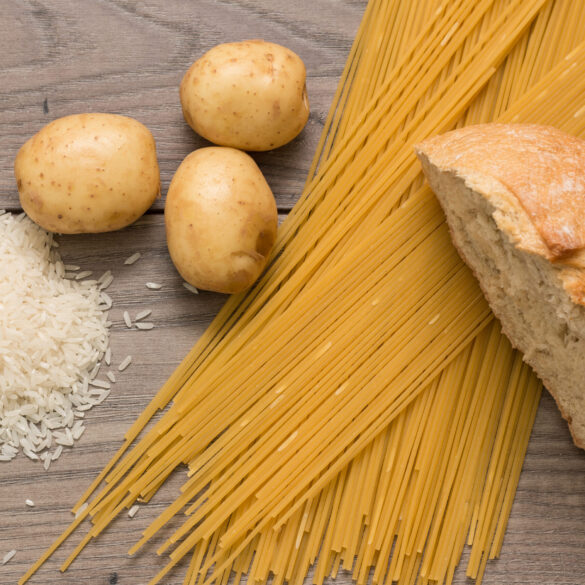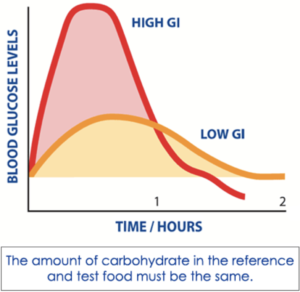 Why do people cut out carbs to lose weight?
As we have said, carbs are converted into glucose in the body and are our main source of energy, so if you take them away your body will begin to burn fat instead. When your body breaks down stored fat instead of glucose to convert to energy the process causes a build-up of ketones in the blood, resulting in ketosis. Which is where the term 'keto diet' comes from, you're basically switching over your metabolism. This way of eating can help with weight loss BUT it is very difficult to sustain long term and can lead to health problems; including; headaches, tiredness, nutrient deficiencies, constipation. One of the other difficulties of eating this way is your lack of choice when it comes to meals and snacks.
Eating carbs sensibly is key to maintaining a healthy weight
You can absolutely still eat carbs, in fact, they're important for a healthy lifestyle. The fibre and other nutrients that they contain are important to keep us healthy. That said, it is important to remember that if you eat too many carbs and they aren't burnt off as energy, they will get converted to fat in our bodies.
When planning meals try to include a protein source, a small portion of starchy carbs and lots of veggies. When you're putting food onto a plate, try to make sure at least half of it is full of veg, a quarter is protein, and the other quarter is a small portion of starchy carbs. Very often people get this balance wrong, overload on pasta and rice and then feel bloated. So getting the quantities in balance will make you feel so much better.
I love this one-pot recipe from my book, and it contains a good mixture of carbs, plus protein and some healthy fats.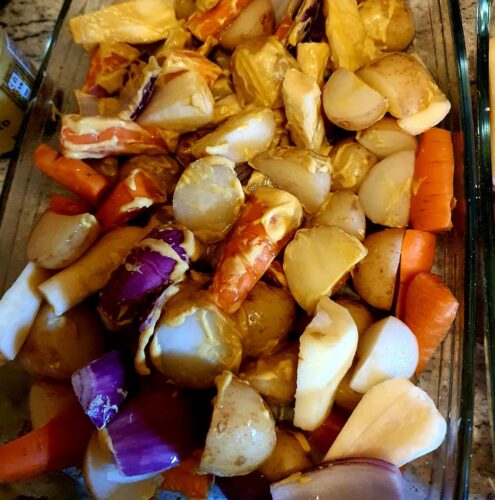 Roasted Honey Mustard Glazed Parsnips with Red Onion
A family favourite in my house, either add chickpeas or cooked chicken breast.
1 parsnip
4 baby potatoes
Drizzle olive oil
1 tbsp wholegrain mustard
Half can chickpeas or cooked chicken breast
Drizzle honey
Method
Preheat your oven to 180c or Gas mark 4.
Fill a large pan with chopped parsnip and the baby potatoes, cover with water and boil until soft.
When they are cooked drain them and put them into an oven dish, add in chopped red onion and drizzle with olive oil and a tablespoon of whole grain mustard.
Roast for 20 minutes.
Remove from the oven and add in half a can of chickpeas or cooked chicken breast, drizzle with a little honey and roasts for a further 15 minutes.
Serve with the honey and mustard sauce it's been cooked in.
You can download all of Louise's recipes from her website here https://www.louiseseddon.com/meals-to-motivate-book
References: The truth about carbs (NHS) https://www.nhs.uk/live-well/healthy-weight/why-we-need-to-eat-carbs/