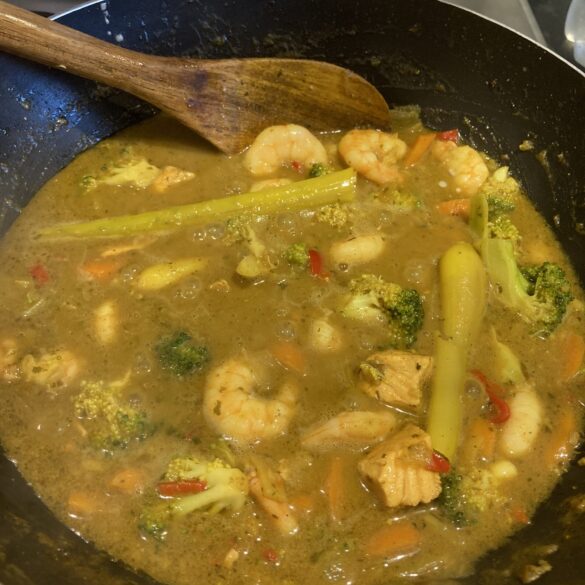 Fish & Vegetable Coconut Curry
This tasty, flavoursome aromatic curry is perfect for the cooling autumnal evenings and sure to be a hit with even the fussiest eater.  If you don't like fish or seafood you can just make it with vegetables (any are fine).
1 tbsp oil
1 onion, finely chopped
Thumb size piece of ginger, minced
3 garlic cloves, crushed
1 red chilli, chopped
2 lemongrass stalks split then bruised with a rolling pin
1 heaped tbsp curry powder
1 tsp coriander
1 tsp turmeric powder
1 tsp cumin powder
1 tsp muscovado sugar
Small bunch coriander, finely chopped stems
400g tin of coconut milk
450g fish fillets, cut into pieces
220g raw whole prawns
Handful of veg of your choice
1 lime, halved
Cooked rice to serve
Method
Heat oil in a wide frying pan (a wok is fine).
Soften the onion for 5 minutes then add in the ginger, garlic, chilli and lemongrass and cook for 2 minutes.
Add the other spices and sugar and keep stirring. When the sugar starts to melt and everything starts to clump together, add the coriander stems, coconut milk and 2 tbsp of water then bring to a simmer.
Add the vegetables to the sauce and cook for 5 minutes then add the fish and cook for 5 minutes, until the fish is cooked.
Add the prawns and cook until they are pink.
Taste for seasoning and add a squeeze of lime to the sauce.
Scatter over the coriander leaves and serve with rice.