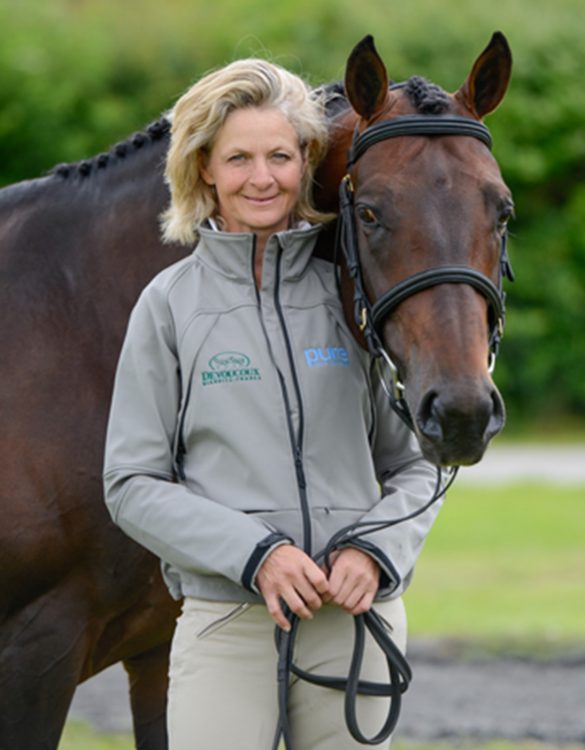 The Taste of Eventing Success
Lucinda Fredericks is a two time Olympic 3 day eventer who is based just outside of Devizes – 2002 was the first year Lucinda rode for Australia having changed from representing Great Britain at junior and young rider level (she changed teams when she was married to Australian event rider Clayton Fredericks).
Lucinda's most memorable partnership is with Headley Britannia, the petite liver chestnut who is the only mare to have won the Burghley, Badminton, and Rolex Kentucky three-day events. At the 2008 Beijing Olympics, Lucinda was part of Australia's silver medal-winning team, and went on to compete at the 2012 London Olympics.
Although Lucinda has retired from eventing following an injury she is still very much training, breeding and developing horses and riders on her yard including Britannia's Mail, son of Headley Britannia, in fact, Lucinda's daughter Ellie (19) is now competing on him (currently at 3* level).  Lucinda has trained some of the top riders and horses over the years, three of which competed in the Tokyo Olympics.
Emma caught up and chatted to Lucinda about her career highlights, the Olympics and foodie favourites!
Find out more about Lucinda at www.lucindafredericks.com 
Images courtesy of Lucinda Fredericks
What's your favourite event to have won and your favourite riding memory? 
There are so many but winning Barbury 2008 has to be up there as one of my favourites – it is the final trial for pretty much all of the Olympic nation riders.  Going around a hunter trial in pairs in 2016 on Brit with my daughter Ellie on her pony Minky was an amazing experience and memory. It was just really cool, my favourite horse and my daughter.
What has been the highlight of your career?
Probably nailing the Rolex at Kentucky 5* with Brit because winning that event gave her her third consecutive 5* win so her own grand slam – it proved she was a horse beyond normality with an incredible will to win. To win this after flying across the world and give a  performance  like that, winning on her dressage score was the highlight of her whole career.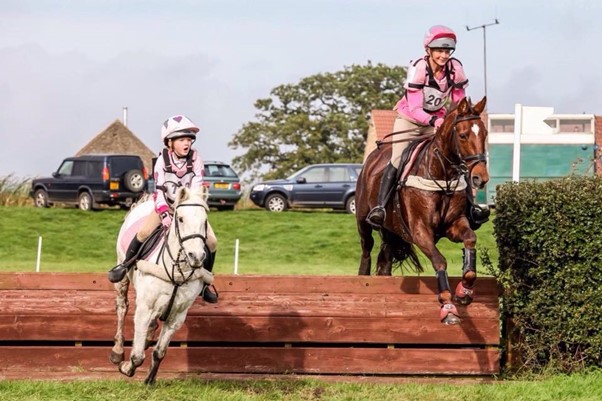 What was it like competing in two Olympics?
I think the dream for eventers is to win Badminton first and then win a medal at the Olympics.  The Olympics is the ultimate for any athlete in all aspects whether you are a swimmer, diver, rider etc.  Our sport has to be one of the toughest and most dangerous, even the good riders get hurt. I've had a lot of injuries and obviously now retired from competing due to my last knee injury.
As it's not just you competing, the horse has to be as good as the rider so both need to be fit and be on top of their game on the day. You can't just go and buy another horse so you have to look after six legs, not two legs and as they can't talk to us they can't tell us when an injury is coming on.
When you get to the Olympics it's a huge reward for both the horse and the rider.  I feel privileged to have ridden at two Olympics and on two different horses, in Beijing, we won team Silver but at London 2012 the team missed out on a medal as unfortunately two of our team riders fell.  I was proud to have completed on a clear showjumping round to finish on a major high.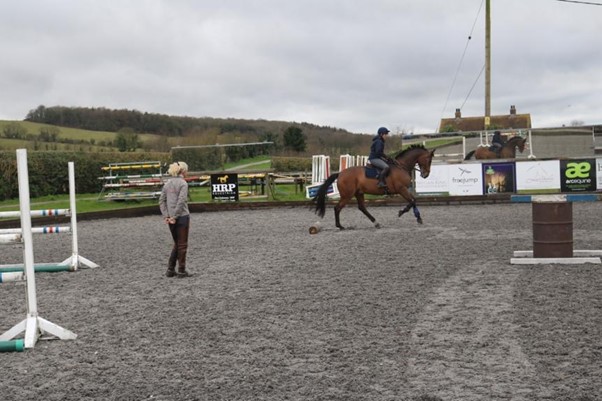 What does an average day look like for you at the moment?
It's weather dependent but every day is different.  If it's very hot my team of staff start the day much earlier, getting the horses ridden and worked is a priority. I fit in my teaching (home and away) and office work in between and stud visits as well. There's always a surprise as plans change eg if we get a call from the stud to take Britannia's Mail in we need to get him there as soon as we can.   The last two weeks have been manic as we've had lorry issues. Everyone has to be prepared to have their daily plans changed and everyone needs to be flexible with a smile.
I spend a lot of time helping daughter Ellie, rider/groom Oceane, yard manager Hattie, working pupil Robin and other pupils based with us. We are also bringing on four homebreds and Ellie has a couple of project horses and liveries too.
Young horses take a lot of work as they have to go out training a lot which is very weather and ground dependent and lorry dependent  (sadly my little red lorry recently blew up!) We can't put the stallions and mares in the same lorry together so managing and arranging things is really busy, a whole day can be planned and the stud rings then everything else has to change things around. Life is not always simple.
What sort of opportunities do you offer on-site for amateur and professional riders?
I offer training at all levels with pupil's own horses.  I also do competition prep training and I can also have horses when riders go on holidays.  We also take break horses although I don't do that often but do have two coming this week.  We can do individual lessons, group lessons, people can come and stay with their horse, day/week boarders etc. I also work with some riding clubs and have a couple of riders through term time at the local private school.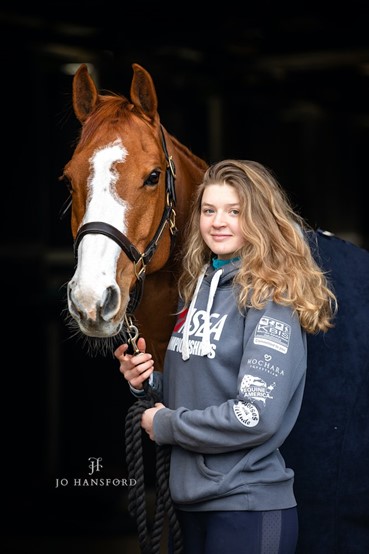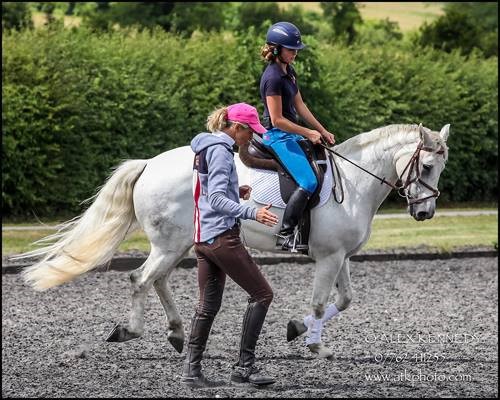 What is the most common issue people come to you about with their horse/s?
I see a lot of riders who want to improve their control with their horse e.g horses who run out, rushing or not jumping straight.  Sometimes the bitt they are using needs to be changed or something as simple as their position needs adjusting.
Two riders recently came who had had runoffs at events and so I sorted to take them up on Salisbury plain to gallop. There's nothing worse than seeing riders out of control on cross country – it really worries me.
How do you unwind and relax after a day at the yard?
I like having a glass of cold rose wine in the garden if it's nice weather with my partner Richard and definitely either a hot bath if it's cold, cold shower if hot and watch tv and eat Richard's good food that he cooks.
What are your favourite foods to eat, do you watch what you eat or can you pretty much eat what you like?
I eat everything and anything apart from I'm not a big fan of olives and wouldn't ever put pepper on food.   I'm a big fan of sweets, chocolate and ice cream – always have been!
Do you like to cook?
No, I really hate cooking so I'm always really incredibly appreciative of anyone else cooking for me.  Before meeting Richard I used to live off ready meals topped with Hellmann's mayo!
I'm very lucky and very grateful as Richard does all the shopping and all the cooking for us.  I do cook for the kids sometimes.  I can end up working long hours, especially in the Summer teaching people who want lessons after work/school so it's great to come home and not have to worry about having to cook.
Where do you like to eat out?
Honestly, our friend's Simone and Adie's house as they are phenomenal cooks (as is Richard), The best meal at a restaurant I've had was at Rick Stein's in Polzeath and I had superb meals in Jersey.
When you are out at an event what sort of things do you like to eat?
We have our own chickens who lay eggs so homemade egg mayo, cos lettuce rolls made with lovely soft rolls and butter – really good.  Ellie always likes to get a crepe or a bacon and sausage bap.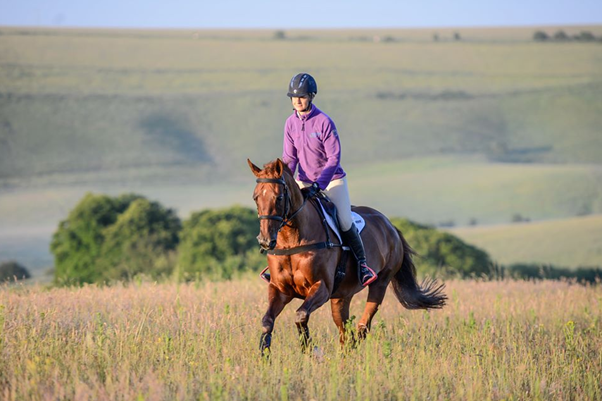 Who would be your dream dinner party guests?
Richard and I love rugby and as he is Welsh I have to support Wales or I wouldn't get fed!   I do support England first and foremost though (and Wales all the time otherwise).   I would invite Dan Biggar – the number 10 for Wales as being a sportsperson too I could relate to him.  I would feel out of place with people in film, music or arts.
I think Princess Anne would be really fascinating too – I have met her a few times and she seems an incredibly interesting person.
Quickfire questions:
Last meal on Earth: Glass of wine with Richard's homemade seafood risotto
Favourite dessert: I love all desserts but if pressed I'd say Eton Mess.
Favourite vegetable: Courgette but cooked with honey and chilli
Favourite fruit: Mixed up in Pimms, please!
Favourite cheese: Cambozola – it's delicious and not too blue.
Favourite fish: Skate with homemade bearnaise sauce
Favourite meat: We rear our own pigs and lamb – I'd go for pork but it's got to be our own reared pigs – they taste totally different, my favourite would be ham with cider and leek sauce.
Favourite drink: Champagne or Gin and Tonic
Favourite tv chefs: I do like watching Gordon, Gino and Fred's road trip, they are really funny.
Any special words to live by? : If you can afford to, follow your passion.
Try out one of Lucinda's favourite recipes below…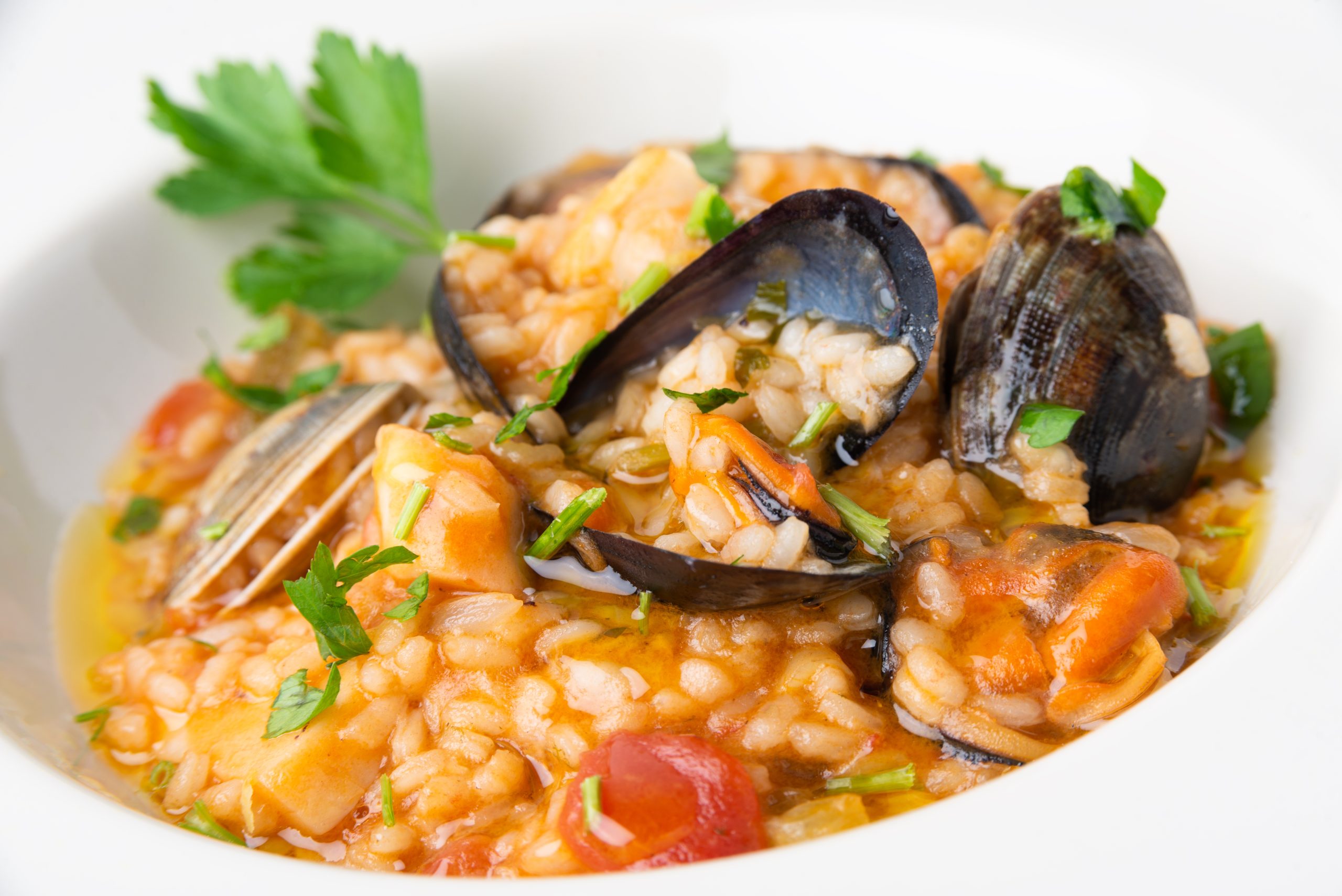 This seafood risotto recipe is infused with a number of fresh herbs, imparting remarkable flavour into the risotto rice base. This recipe uses scallops, prawns and mussels to make up the risotto but you can use whatever seafood that is in season and you like. Serve this risotto alongside a salad for a delicious seafood supper.
400g risotto rice
900ml fish stock
2 tbsp olive oil
2 garlic cloves, peeled & crushed
1 onion, peeled & finely diced
1 sprig fresh thyme
1 bay leaf
100ml white wine
1 pinch of saffron
100g cooked prawn, peeled
100g mussels, cooked & shelled
4 scallops, sliced
75g peas, cooked
1 tbsp coriander, chopped
1 tbsp tarragon, finely chopped
1 tbsp chervil, chopped
1 tbsp dill, chopped
50g butter
50g Parmesan, grated
Salt
Black pepper, freshly ground
Method
Heat the fish stock in a pan and keep warm.
In a heavy saucepan, add the olive oil, onion, garlic, thyme and bay leaf. Cook on low heat for about 10 minutes, without colouring the onion, until soft and translucent.
Add the rice to the pan and with a wooden spoon, mix the rice into the onions. Once you hear the rice crack, add the white wine followed by a ladleful of stock and then the saffron and begin to stir. Make sure the rice has fully absorbed the stock before you add another ladle. Continue adding stock until the rice is tender and cooked through.
Beat the butter into the rice and add the prawns, mussels and lastly – the sliced scallops, peas and herbs. Stir with care, as you want to just warm the seafood and gently cook the scallops.