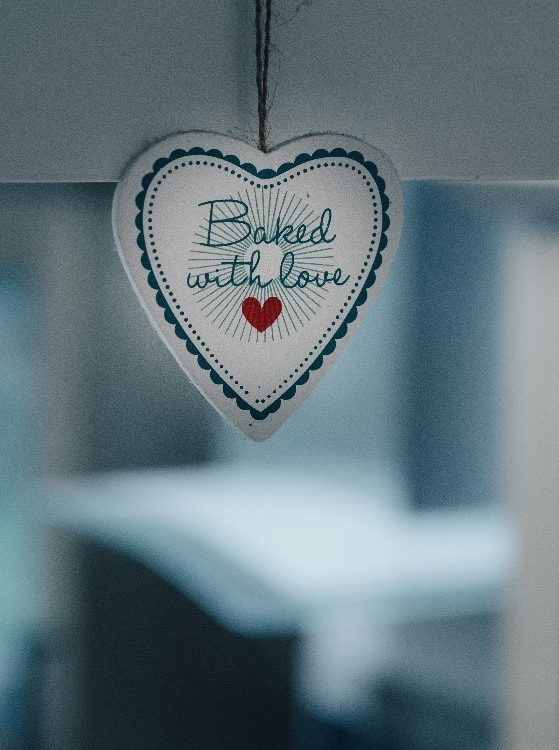 The Food of Love – Happy Valentine's Day!
The origins of Valentine's Day are apparently quite dark – with the Romans holding a feast between the 13 – 15 February where there would be a matchmaking lottery as well as some rather suspect acts of violence. As time has gone on it has been transformed into a day of fertility and love with Shakespeare and Chaucer romanticising it in their writings.
Handmade paper cards became tokens in the middle ages in Europe and eventually, the tradition made it into the New World. And so, the celebration goes on in varied ways, some will celebrate it with single awareness day and some may even celebrate as the Roman's did, but let's not go there!
We all need a bit of love and comfort right now and even if you don't have a partner why not make the day special and treat yourself – they do say you can't love someone else until you love yourself so get started today and get rid of the tracksuit/pyjama bottoms and sweatshirts and dress up, make yourself feel great and treat yourself to a decadent, fun dessert.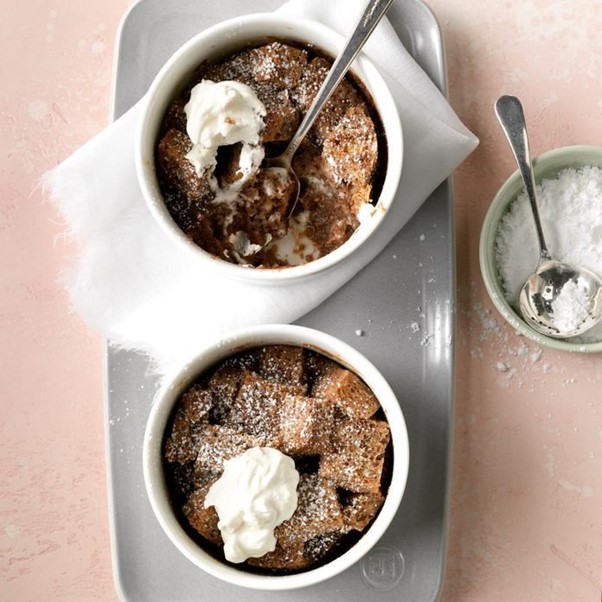 Prep Time: 15 mins + standing
The chocolate makes this different from traditional bread pudding. It's a rich, comforting dessert.
Nutrition Facts
1 serving: 622 calories, 17g fat (9g saturated fat), 145mg cholesterol, 656mg sodium, 105g carbohydrate (79g sugars, 2g fibre), 12g protein.
Source: Taste of Home
57g milk chocolate
7 tablespoons cream
85g cup sugar
120ml milk
1 large egg
1 teaspoon vanilla extract
1/4 teaspoon salt
4 slices day-old bread, crusts removed and cut into cubes
Optional toppings: Icing sugar and whipped cream
Method
In a small microwave bowl, melt chocolate; stir until smooth.
Stir in cream; set aside.
In a large bowl, whisk the sugar, milk, egg, vanilla and salt. Stir in chocolate mixture. Add bread cubes and toss to coat. Let stand for 15 minutes.
Spoon into 2 greased 2-cup souffle dishes (or even a couple of wide mugs). Bake at 180C until a knife inserted in the centre comes out clean, 30-35 minutes.
Sprinkle with icing sugar and top with a dollop of whipped cream if desired.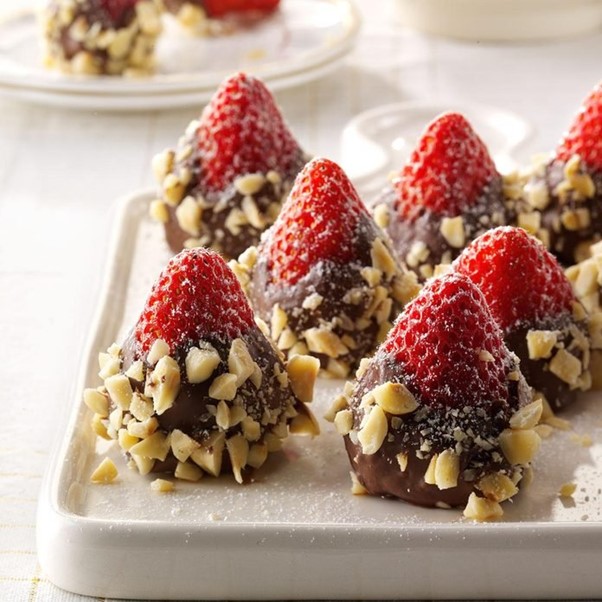 Nutella Stuffed Strawberries
Prep time: 15 mins + chilling
Gourmet strawberries are pricey to order but easy to make. Serve strawberries with Nutella as a crowd-pleasing appetizer or dessert.
Nutrition Facts
1 stuffed strawberry: 100 calories, 6g fat (2g saturated fat), 2mg cholesterol, 10mg sodium, 11g carbohydrate (9g sugars, 1g fibre), 2g protein.
Source: Taste of Home
12 large fresh strawberries
3 large tablespoons Nutella
128g milk chocolate chips, melted
32g chopped hazelnuts
Icing sugar
Method
Remove stems from strawberries. Using a paring knife, cut out centres, pipe Nutella into strawberries.
Insert a toothpick into the side of each strawberry. Holding toothpick, quickly dip stem end of strawberry into melted chocolate; allow excess to drip off. Sprinkle with hazelnuts; place strawberries on a waxed paper-lined baking sheet, point side up. Remove toothpicks; refrigerate strawberries until set. Just before serving, dust with confectioners' sugar.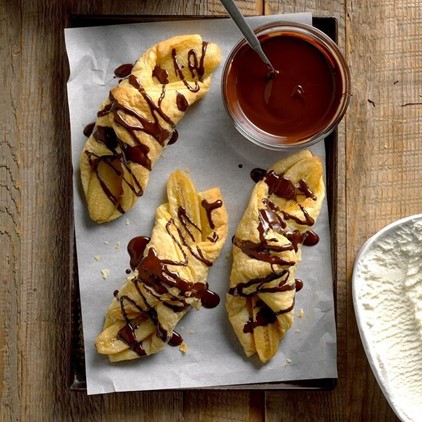 Banana and chocolate are such an irresistible combo! You can also top them with the butter and brown sugar mixture left over from coating the bananas, or sprinkle on a dash of sea salt.
Nutrition Facts
1 serving: 596 calories, 31g fat (12g saturated fat), 15mg cholesterol, 249mg sodium, 78g carbohydrate (35g sugars, 8g fibre), 7g protein.
Source: Taste of Home
2 tablespoons butter
32g brown sugar
2 medium ripe bananas, halved lengthwise
1 sheet frozen puff pastry, thawed
120g milk chocolate, melted
Vanilla ice cream, optional
Method
Preheat oven to 200C/400°F. In a large cast-iron or other heavy skillet, melt butter over medium heat. Stir in brown sugar until blended. Add bananas; stir to coat. Remove from heat; set aside.
Unfold puff pastry; cut into 4 rectangles. Place a halved banana in centre of each square. Overlap 2 opposite corners of pastry over banana, pinch tightly to seal. Place on parchment-lined baking sheets.
Bake until golden brown, 20-25 minutes. Drizzle with chocolate. Serve warm, with ice cream if desired.
This rich velvety chocolate mousse recipe is perfectly served with fresh cream and fresh berries.
Nutrition Facts
1 cup: 367 calories, 31g fat (18g saturated fat), 188mg cholesterol, 29mg sodium, 21g carbohydrate (20g sugars, 1g fibre), 3g protein.
Source: Taste of Home
32g milk chocolate chips
1 tablespoon water
1 large egg yolk, lightly beaten
1-1/2 teaspoons vanilla extract
120ml double cream
1 tablespoon sugar
Optional: Whipped cream and raspberries to top
Method
In a small saucepan, melt chocolate chips with water; stir until smooth. Stir a small amount of hot chocolate mixture into egg yolk; return all to the pan, stirring constantly. Cook and stir for 2 minutes or until slightly thickened. Remove from the heat; stir in vanilla. Quickly transfer to a small bowl. Stir occasionally until completely cooled.
In a small bowl, beat double cream until it begins to thicken. Add sugar; beat until soft peaks form. Fold into cooled chocolate mixture. Cover and refrigerate for at least 2 hours. If desired, top with whipped cream and raspberries.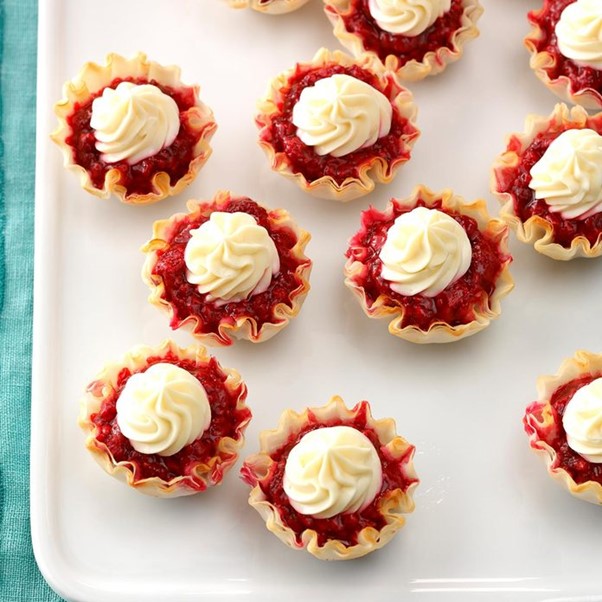 Easy Lemon Berry Tartlets
These fruity, flaky tartlets filled with raspberries and topped with lemon-tinged cream cheese are a sweet ending to a delicious valentines meal.
Nutrition Facts
1 tartlet: 51 calories, 3g fat (1g saturated fat), 7mg cholesterol, 43mg sodium, 5g carbohydrate (2g sugars, 0 fibre), 1g protein.
Source: Taste of Home
85g raspberries
1 teaspoon icing sugar
150g filo pastry
4tbsp melted butter
114g reduced-fat cream cheese
2 tablespoons lemon curd
Method
Preheat oven to 180˚C. Brush the muffin tin with melted butter.
Unroll the pastry, using a pair of scissors, cut pastry into 2″ (5cm) squares.
Brush with melted butter and stack 3 of them together at odd angles and gently press into tin.
Bake for 6-8 minutes, till golden brown.
Wait for them to cool completely before removing.
In a small bowl, combine the thawed raspberries and icing sugar, mash with a fork. Fill the cases.
In another small bowl, combine cream cheese and lemon curd. Pipe or spoon over the filling. Top with fresh raspberries.