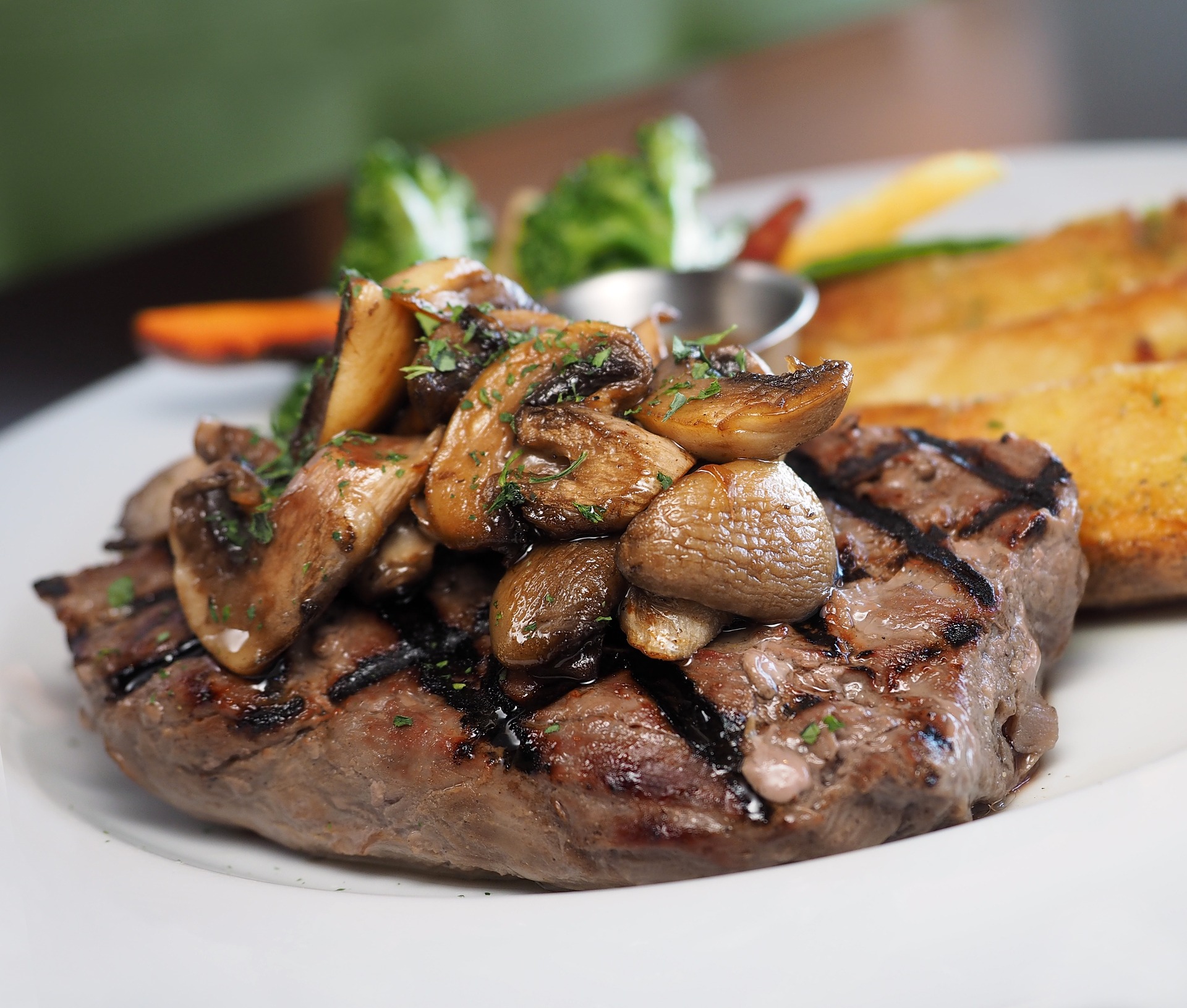 Step By Step Instructions for our Valentine's Menus for Novice Cooks
We've tried to make this guide as easy as possible, there are obviously lots of ways to prepare and make this meal and more complex methods of cooking but this is written for the novice to make it as easy as possible. Read all these instructions in advance of starting cooking.
What I would also recommend if you are nervous about timings is to grab a piece of paper and create a timing sheet, write down when you are going to start with the times and cross them off when you have done each step.
My best advice though is to enjoy cooking and have fun.  Cooking, like anything, takes practice. The more you do it, the better (and faster) you'll get – so keep going, even if your timing isn't perfect on the very first try it's definitely the effort and thought involved in making this meal special that counts.
Preparation – 30 minutes
Preparation is key and you can prepare for some of this meal quite early on which makes it easy when you are ready to start to cook as this will need to be done as you go along (leave your guest with a glass of wine whilst you cook/prepare first and second courses or sit them in the kitchen with you and even get them to help.
Prepare your strawberries
You can prepare these any time in advance and just pop back in the fridge. Wash very briefly, remove the stalk and either keep whole, half or quarter, as required and pop in a bowl and back into your fridge until you want to serve them, they should be sweet enough to not need to add any sugar. Pop the cream in a jug when you are ready to serve.
Preparing your fillet steak in advance
Take the meat out of the fridge at least 30 minutes before cooking and rub it with oil and season (sprinkle) with salt and pepper on both sides.
Prepare your scallops (if you have chosen these)
Wash the scallops, remove the orange roe (if you don't like this part, it can be a little bit bitter) Carefully pat dry with a kitchen towel and pop back in the fridge until you need them. There is a bit more prep to do just before you cook these but is only 5 minutes.
Prepare your oysters (if you have chosen these)
These will have to be prepared just before you are going to eat them so allow yourself 30 minutes before you want to start eating your starter as they can be a little bit tricky to open.
Prepare the vegetables for the main course
Get a large saucepan and fill ½ – ¾ full with water, add a little bit of salt.
Baby Potatoes –Cut any larger potatoes in half – you can leave the skins on – these will cook first.
Green beans –Trim the end of the beans if required and set aside.
Tender stem broccoli –Trim the ends and set aside
Rainbow Chantenay carrots – Scrub (or scrape), trim and chop any larger carrots in half.
Portobello mushrooms – Remove and discard stems. With a paper towel, gently rub off any dirt from the caps. Set aside until ready to cook.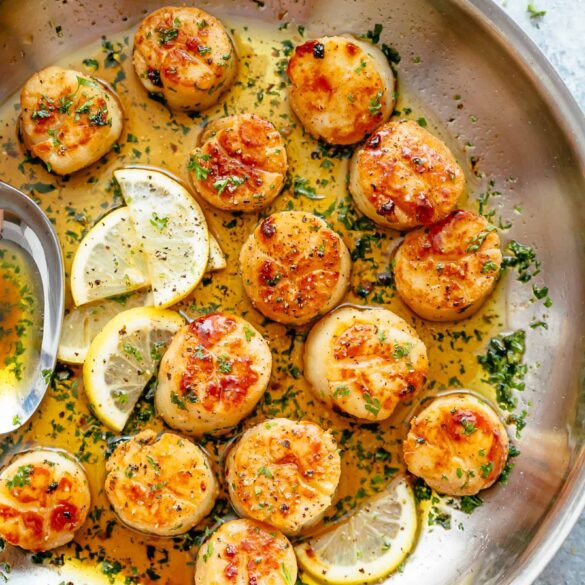 Scallops with garlic, lemon and parsley
Prep time in addition to what you have already done: 5 mins
Cooking time: less than 5 mins
Ingredients:
Scallops (based on 4 each for a starter)
1 lemon
Splash olive oil
2 cloves garlic – crushed
50g butter
1 tablespoon chopped fresh parsley
Tip: The cooked scallops should be firm to the touch, but still slightly soft with a little bounce to them and opaque all the way through. Ensure they are cooked through – cook longer if needed if the scallops are very large.
You should have already prepped your scallops as per prep section to remove the roe.
Prepare your garlic cloves by removing the skin, if you have a garlic crusher use that or chop very finely and crush using the back of your knife.
Finely chop your fresh parsley
Measure out 50g butter
Heat olive oil in a frying pan over a medium heat.
Add the scallops and fry for about 1 – 2 minutes on each side.
Add butter and garlic into the pan; continue to cook for 1 more minute.
Remove the pan from the heat, squeeze ½ lemon over the scallops and sprinkle over the parsley.
Remove scallops and serve drizzled with the juices from the pan.
While you are eating the scallops put your pan of water on to boil – keep an ear out, as soon it starts boiling you can add your potatoes when you are ready and your clock starts… Go to main course instructions.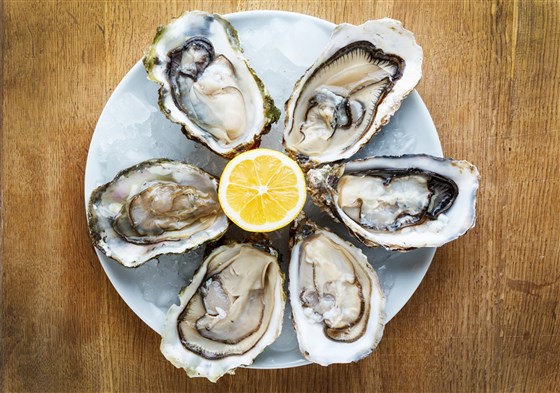 Oysters
Oysters are finger food, best slurped right from the shell,
Skip the condiments, at least on the first go, savour the flavour unadulterated. If you want to add anything a squirt of lemon juice is enough in our opinion as masking the taste misses the point.
Make sure that your oysters are tightly closed and heavy in the hand.
Give them a rinse in cold water.
To open them, you'll need an oyster knife which is short, thick and quite blunt. A screwdriver is probably a better bet if you don't have an oyster knife.
Hold the oyster curved-side down on a chopping board with a folded kitchen cloth between the shell and your hand – this is to help you get a good grip and protect your hand.
Look for the hinge between the top shell and the bottom shell and poke the knife tip into the crack.
You need to push quite hard and work it in there but you should be able to prise the top shell off.
When you get the oyster open, throw away the top shell. If there is any seawater in the bottom shell with the oyster, try and keep it in there.
Pick out any fragments of shell and place the oyster on a plate with a mound of rock salt or crushed ice in the middle.
They are now ready to eat as they are or with a squeeze of lemon juice.
While you are eating the oysters put your pan of water on to boil – keep an ear out, as soon it starts boiling you can add your potatoes when you are ready and your clock starts… Go to main course instructions.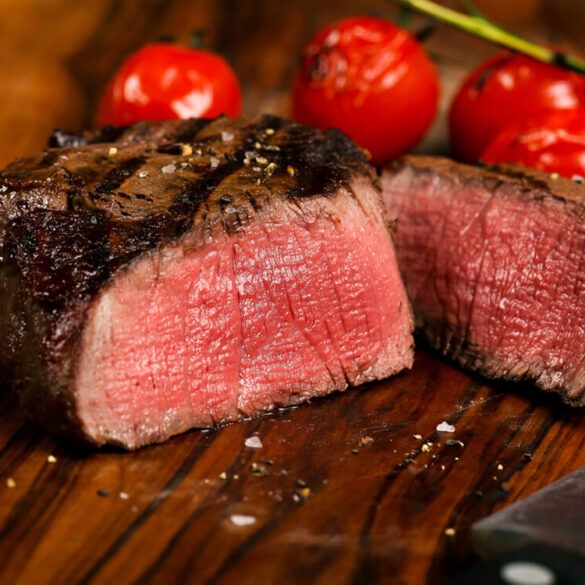 Fillet Steak with new potatoes, veg and peppercorn sauce
We recommend the following cooking times for a 3.5cm thick fillet steak (adjust depending on the thickness):
Rare: 2¼ mins each side
Medium-rare: 3¼ mins each side
Medium: 4½ mins each side
Adjust timings to your requirements
Instructions for the main course
15 minutes left (e.g. 7.00pm – 7.15pm)
Potatoes in…
When your water starts boiling add your potatoes and start your timings  – 15 minutes until ready to serve your meal.  
14 minutes left (e.g. 7.01pm – 7.10pm, rest until 7.15pm)
Cook your steak… 
When your potatoes go on drizzle some oil into a frying pan and leave for a moment to heat. Add the steaks and a knob of butter.  Sear evenly on each side for our recommended time (I am basing this on cooked medium 4 ½ mins on each side), turning every minute for the rest caramelised crust.  
Take out of the frying pan and leave to rest on a board or warm plate for about 5 mins while you are cooking everything else. 
5 minutes left (e.g. 7.10pm – 7.15pm)
Cook your Portobello Mushroom… 
When you have taken out your steak add about a tablespoon of butter to your frying pan and over a high heat. When the butter is foaming add the mushroom and cook for 2-3 minutes on each side, basting with the butter. Season with salt and freshly ground black pepper. 
Beans and Carrots 
With 5 minutes cooking time left pop your green beans and carrots into your saucepan to cook for 5 mins. 
4 minutes left (e.g. 7.11pm – 7.15pm)
Tender Stem Broccoli 
With 4 minutes cooking time left pop your tender stem broccoli into the saucepan to cook for 4 mins. 
3 minutes left (e.g. 7.12pm – 7.15pm) 
In a smaller pan add your peppercorn cooking sauce and heat as per instructions. 
Serve up your food
Finally, serve your strawberries and cream dessert when you are ready to eat it.