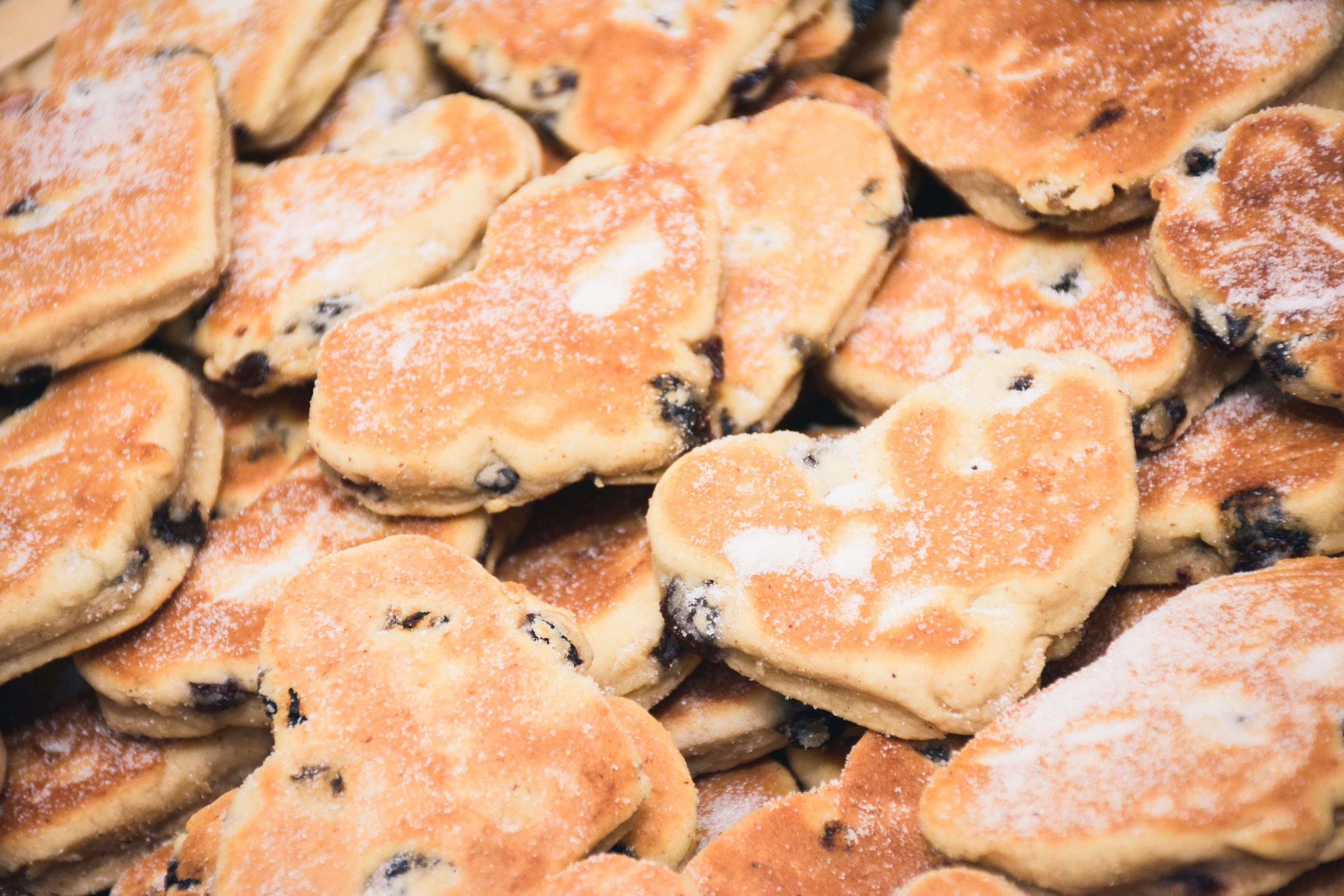 Do the Little Things for St David's Day
Saint David's Day (Dydd Gŵyl Dewi) falls on the 1st March.   St David was born in the year 500, the grandson of Ceredig ap Cunedda, king of Ceredigion. According to legend, his mother St Non gave birth to him on a Pembrokeshire clifftop during a fierce storm. The spot is marked by the ruins of Non's Chapel, and a nearby holy well is said to have healing powers.
St David also has links to the South West of England, founding monastic settlements and churches in Wales, Ireland, Brittany and southwest England – including, possibly, the abbey at Glastonbury. St David reputedly made a pilgrimage to Jerusalem, from which he brought back a stone that now sits in an altar at St David's Cathedral, built on the site of his original monastery.
St David and his monks followed a simple, austere life. They ploughed the fields by hand, rather than using oxen, and refrained from eating meat or drinking beer. St David himself was reputed to have consumed only leeks and water – which is perhaps why the leek became a national symbol of Wales.
The message which St David is most remembered for though is about simplicity, his last words to his followers came from a sermon he gave on the previous Sunday: 'Be joyful, keep the faith, and do the little things that you have heard and seen me do.' The phrase 'Gwnewch y pethau bychain mewn bywyd' – 'Do the little things in life' – is still a well-known saying in Wales.
Perhaps we can all take something from this on St David's Day and do the little things in life to make a difference.
So here is me doing the little things by sharing our favourite Welsh dishes for you to try and enjoy.  I hope you enjoy making them and share them on our Facebook page, what's your heritage, can you share your story with us?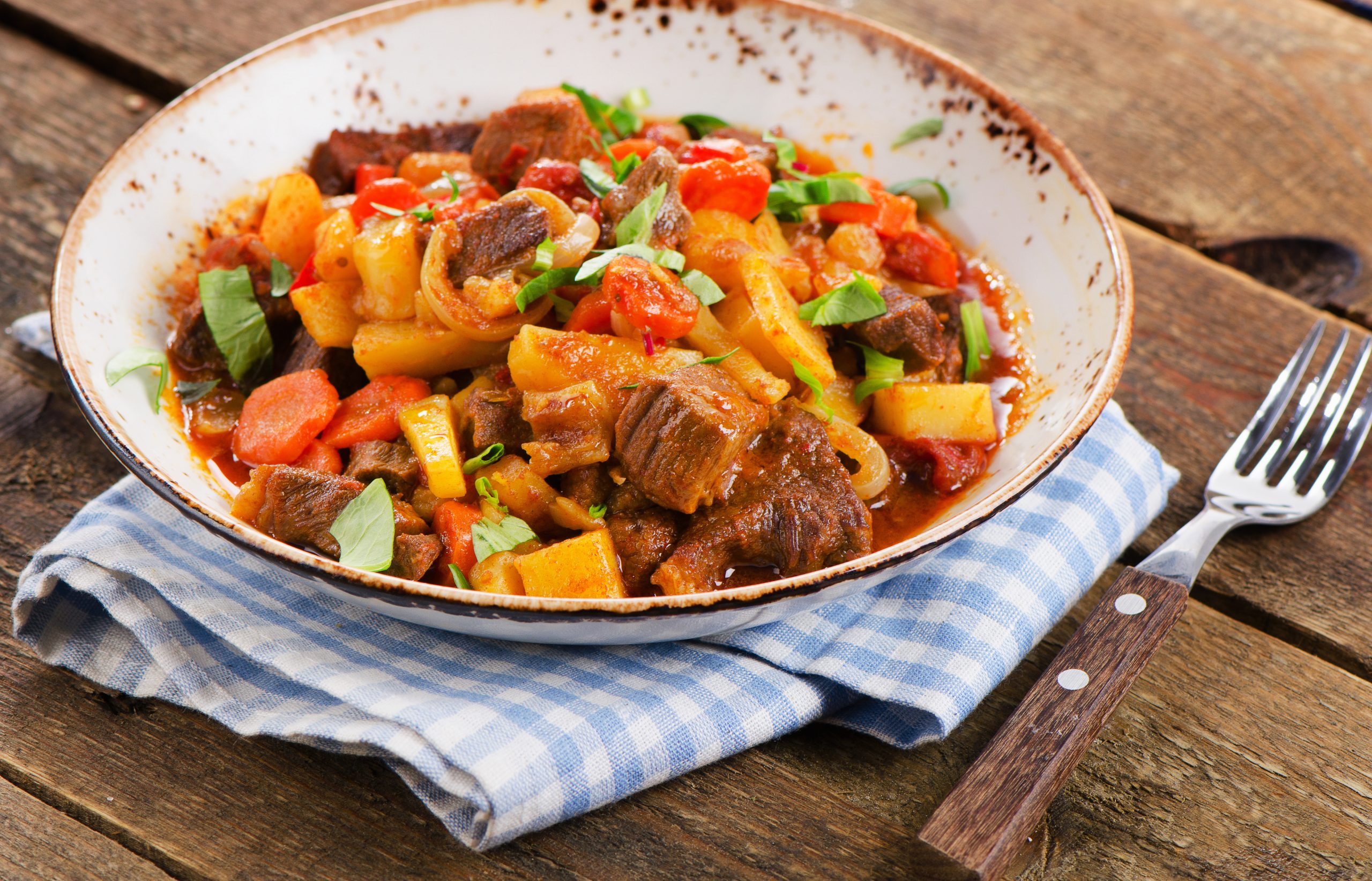 Cawl is a hearty stew made of meat and any vegetables available. There are many recipes often handed down through the family and vary from town to town throughout Wales. It is often better the day after preparing when all the flavours have developed. It is served in some areas in a wooden bowl and eaten with a wooden spoon with chunks of homemade bread and Welsh cheese.  It's the perfect dish to serve around this time of year with all seasonal produce
For vegetarians, you can just make it as a vegetable soup.
1 kg middle neck or shoulder lamb (you can use beef or ham hock as an alternative)
1 onion, roughly chopped
6 medium potatoes, peeled and chopped
3 carrots, peeled and chopped
1 small swede or 2 parsnips or a mix of both, peeled and chopped
2 leeks, washed and sliced
1 small bunch fresh parsley
Vegetable stock
Salt and pepper to taste
Method
Chop the meat and place in a large saucepan with some oil and brown on all sides, cover with stock and bring to the boil.
Add the potatoes, carrots, swede, leeks and parsnips and simmer until cooked. Add more vegetable stock if required at this point. Simmer for 2-3 hours over low heat. Season with salt and pepper.
Just before serving throw in the roughly chopped parsley. You can thicken the cawl if required with a paste made with flour and water or fine oatmeal.
Glamorgan Sausages (vegetarian)
A traditional Welsh vegetarian sausage made with Caerphilly cheese, leek and coated in breadcrumbs. You may wish to add some alternative ingredients to this recipe – for a Mediterranean touch mix together chopped red onion, chopped olives, small capers, and chopped sun-dried tomatoes (this mixture will replace the weight of the leek). Use basil in place of parsley and add some chopped herbs to the coating breadcrumbs. Fry in light olive oil.
225g fresh breadcrumbs
125g grated cheese
3 medium-size free-range eggs
a little milk
salt and white pepper
1⁄2 teaspoon dry mustard
175g leek, shredded and sautéed in a little butter for 2 minutes
1 heaped tablespoon of fresh, chopped parsley
Coating
100g fresh breadcrumbs
1 medium-size free-range egg
4 tablespoons milk
Vegetable oil for frying
Method
Place the breadcrumbs, cheese, seasoning, mustard, leek and parsley into a mixing bowl, mix well.
Beat together the eggs and add to the ingredients. Mix the ingredients to form a firm dough, you may need a little milk if the mixture is a little dry. Divide the mixture into 16 and form each portion into a sausage shape.
Coating the sausages is optional, however this does give a wonderful crispy texture to the sausages. Beat the egg and add the milk. Place the breadcrumbs on a plate and season lightly. Take each sausage and roll it in the egg mixture, drain a little, then roll in the breadcrumbs. Repeat until all the sausages are coated, chill for an hour.
Heat a heavy based frying pan, add a little oil, add the sausages a few at a time and cook over medium-low heat until golden all over. The sausages should fry gently, if the heat is too high they will brown too quickly and not be cooked through.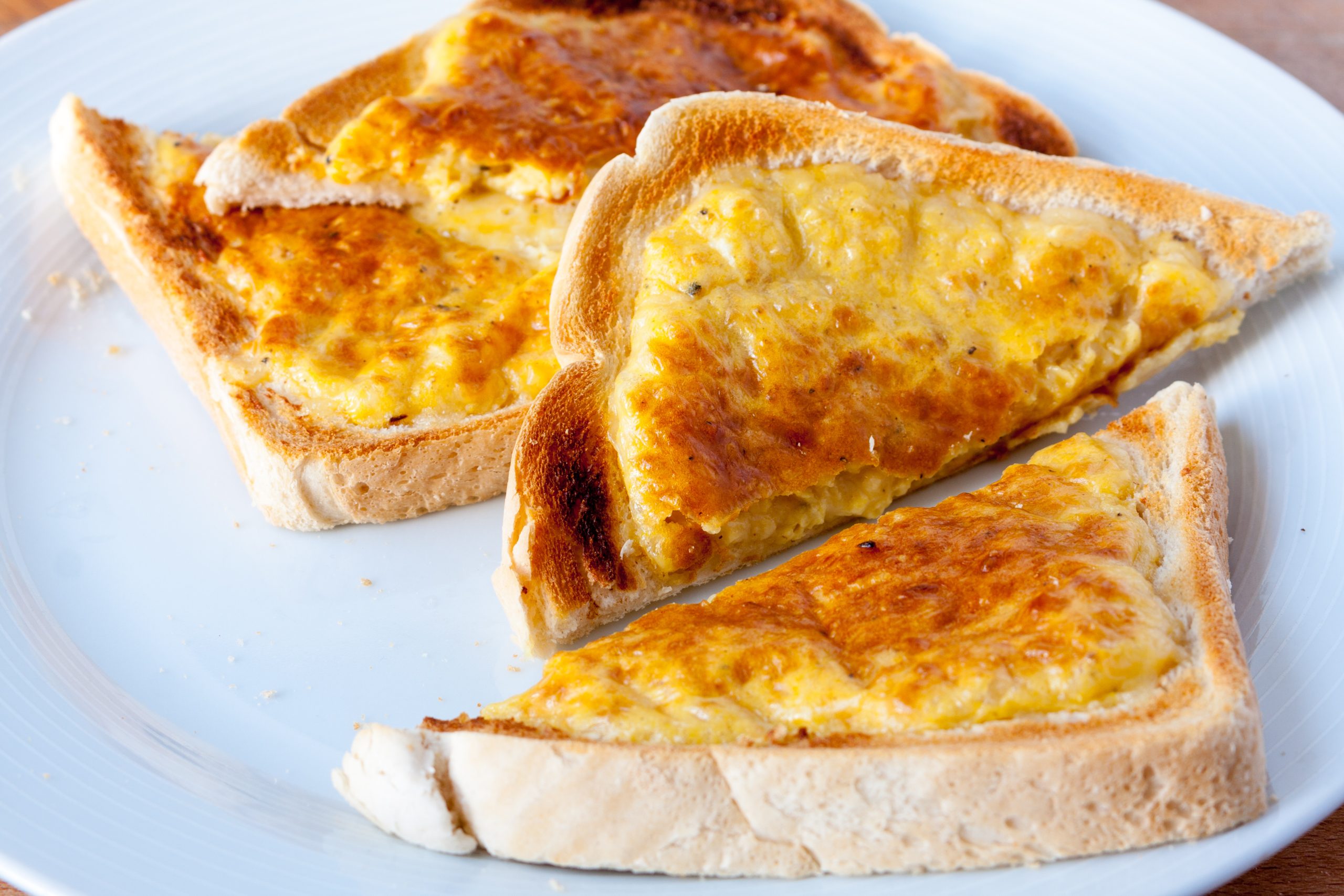 Welsh rarebit, perhaps the most famous Welsh dishes of them all and one which, along with Irish Stew and Scottish Haggis, travelled the world over. I first tried it when I was staying at a friend's family hotel in Ynyshir in Eglwys Fach and the chef in the kitchen cooked it for us for lunch. Tasty and delicious and oh so simple.
225g grated, strong cheese such as Cheddar or Cheshire
1 tablespoon butter
2 teaspoons Worcestershire sauce
1 level teaspoon dry mustard
2 teaspoons flour
Shake of pepper
4 tablespoons beer, Guinness or milk (Guinness gives a stronger flavour)
4 slices bread toasted on 1 side only
Method
Put the cheese, butter, Worcestershire sauce, mustard, flour and pepper into a saucepan.
Mix well and then add the beer, Guinness or milk to moisten. Do not make it too wet!!
Stir over a gentle heat until all is melted, and when it is a thickish paste, stop stirring, and swivel it around the saucepan, which it will do quite easily.
Leave to cool a little, and meanwhile toast the bread on one side only.
Spread the rarebit over the untoasted side and brown under a hot grill.
This mixture can be made and kept in the refrigerator for several days if required. Sweet white wine can be used instead of beer and gives a good flavour.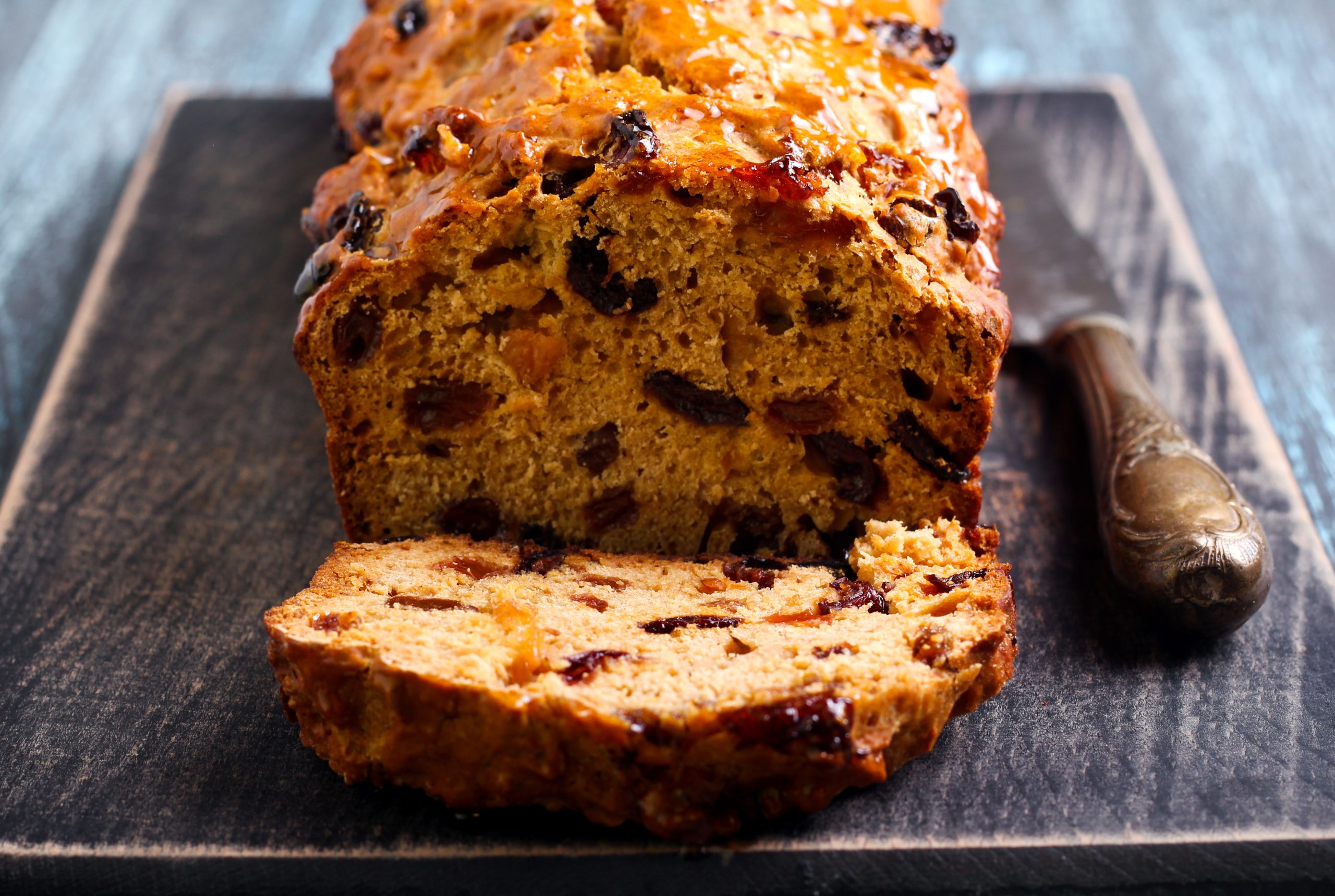 Delicious when spread with salted butter, Bara brith is a rich fruit loaf made with tea.
This is not the traditional recipe for bara brith, meaning 'speckled bread' as the original recipe was based on a yeasted bread. However, this version which is widely served makes a beautifully moist cake as the dried fruit are soaked overnight in tea. It's best stored for a couple of days before eating, allowing the flavours to develop.
400g mixed fruit (e.g. sultanas, raisins, currants)
300ml strong hot tea
250g self-raising flour
1 tsp mixed spice
100g dark brown muscovado sugar
1 free-range egg, beaten
Honey to glaze
Method
Put the dried fruit in a bowl and pour over the tea, mix in the sugar and stir well to dissolve. Leave to soak for at least 6 hours or overnight.
The next day, sift the flour and spice into the soaked fruit (no need to drain the tea) and stir in the egg. Blend well together.
Preheat the oven to 180°C /Gas 4. Line a 900g loaf tin with baking paper and pour in the mixture.
Bake for approximately 1 hour until the cake has risen and cooked through. Leave to cool on a rack and store for 2 days before eating. Serve sliced with butter.
This mixture can be doubled to make 2 loaves and will keep for up to 7 days.
Warm a little honey to drizzle over the surface of the warm cake for a glazed topping.
.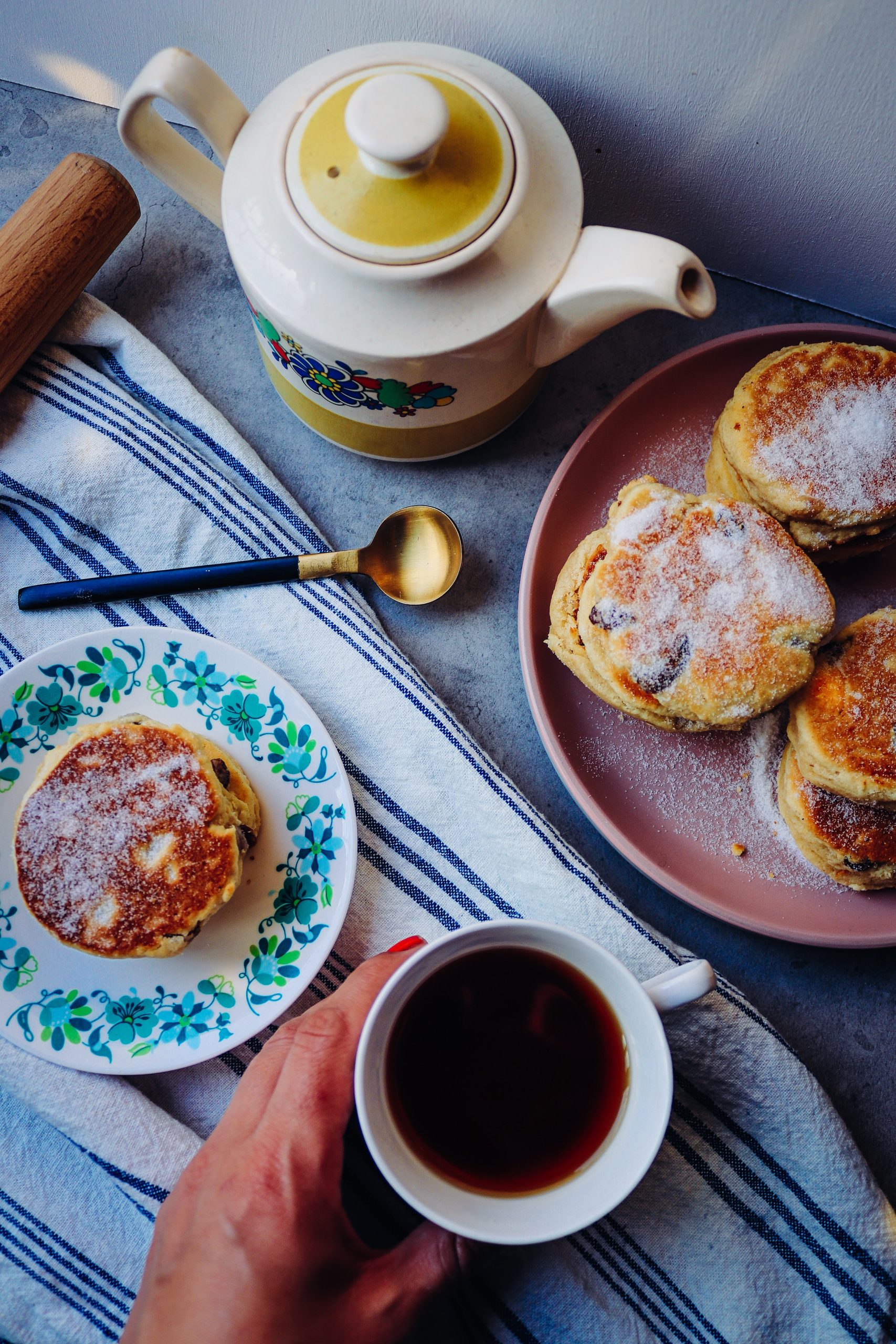 Emma's family recipe. I love nothing more than a Welsh cake, simply delicious.
230g self-raising flour
60g caster sugar
115g margarine or butter
1 or 2 handfuls of sultanas
1 or 2 free-range eggs, depending on mixture
Method
Sieve flour into bowl, then add margarine or butter, rub in finely together.
Add sugar and sultanas and mix.
Add 1 egg and mix. The consistency needs to be bound together, so if too dry add another egg.
Roll out on a floured board, to about a quarter-inch thick.
Cut using a 2 inch (approx) cutter, then cook on a greased pan, or bakestone, on medium heat for about 4 to 5 minutes on each side.
The exact cooking length will depend on what you are cooking your Welsh cakes on, but keep a close eye – too short a period and they won't be cooked in the middle and cooked for too long and they will be dry. When touched during cooking they should feel springy, but not wet to the touch (no mixture should come out of the middle).
Once cooked dust with caster sugar and enjoy.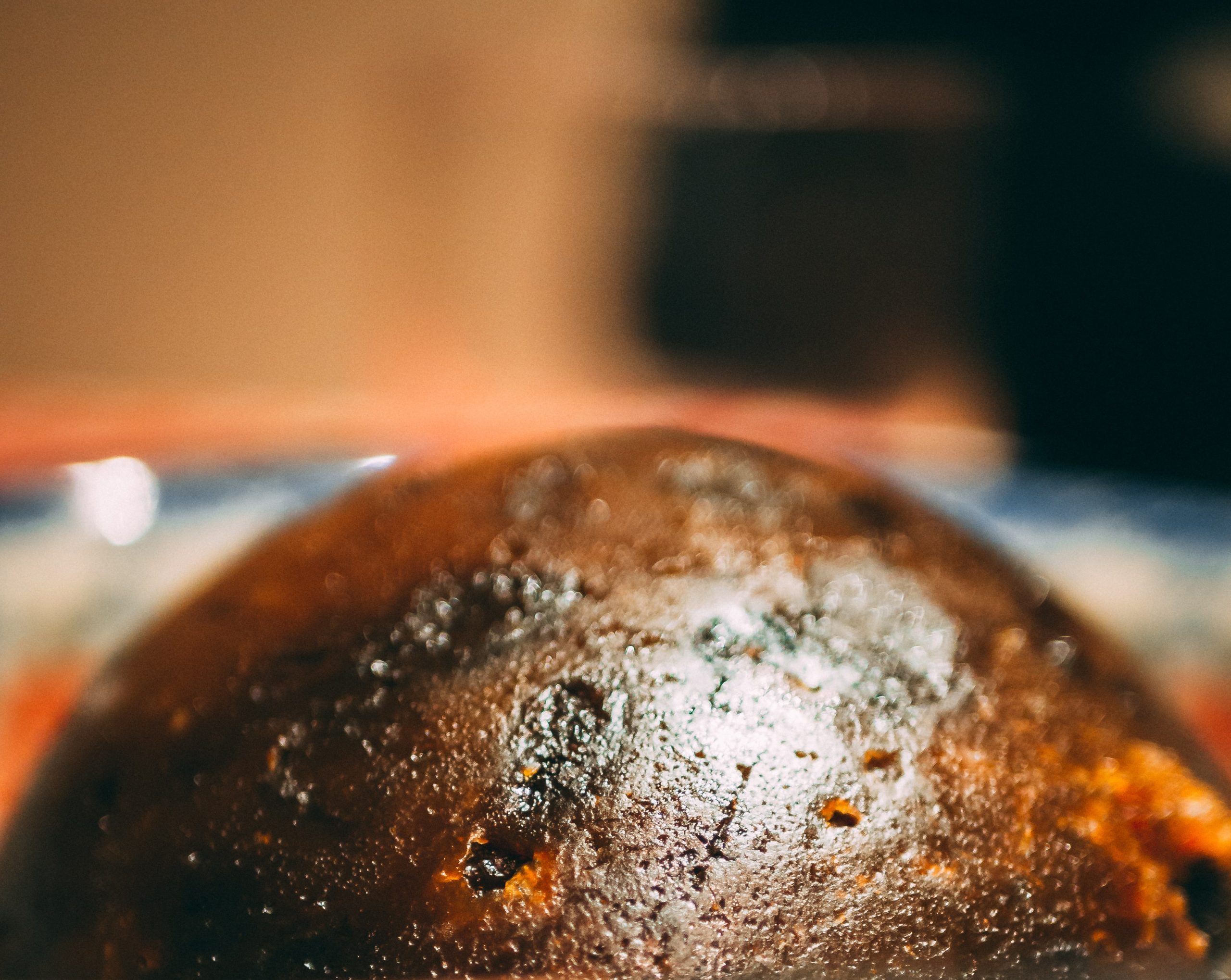 Snowdon Pudding (Pwdin Eryri)
Emma's family recipe. Named after Wales's highest mountain this steamed marmalade pudding is surmounted by a summit of raisins! It was first created in the Victorian era along with most other steamed suet puddings and was served at that time in the hotel at the foot of Mount Snowdon to refuel walkers after their return from the summit. It's perfect fuel for yomping around in the mountains of Snowdonia.
57g raisins
113g suet
Pinch of salt
113g fresh breadcrumbs
Grated rind of 2 lemons
43g ground rice or cornflower
85g brown sugar
3 eggs
85g lemon marmalade
Method
Butter a 1-pint pudding basin.
Cover the base with raisins.
Mix all the dry ingredients together in a bowl.
Beat the eggs and add to the mixture with the marmalade.
Pour the mixture into the basin and cover with greaseproof paper and kitchen foil.
Steam for 1 hr 30 mins topping up the water as necessary.
Serve with hot custard.