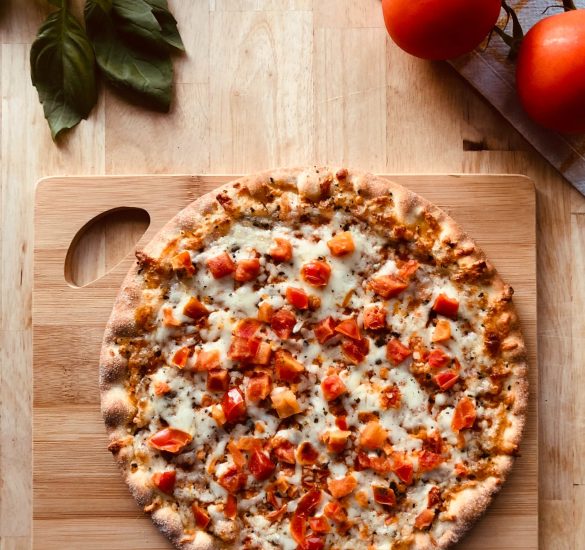 History of pizza
The innovation that led to flatbread pizza was the use of tomato as a topping. For some time after the tomato was brought to Europe from the Americas in the 16th century, it was believed by many Europeans to be poisonous.
By the late 18th century, it was common for people around Naples to add tomato to their yeast-based flatbread, and so the pizza began.
The pizza marinara method has a topping of tomato, oregano, garlic, and extra virgin olive oil. It is named "marinara" because it was traditionally the food prepared by "la marinara", the seaman's wife, for her seafaring husband when he returned from fishing trips in the Bay of Naples.
The Margherita is topped with modest amounts of tomato sauce, mozzarella, and fresh basil. Though recent research casts doubt on this legend, the tale holds that, in 1889, Raffaele Esposito baked three different pizzas for the visit of King Umberto I and Queen Margherita of Savoy. The Queen's favourite was a pizza evoking the colours of the Italian flag — green (basil leaves), white (mozzarella), and red (tomatoes). According to the tale, this combination was named Pizza Margherita in her honour.
Pizza facts
Pepperoni is the most popular pizza topping in the UK.
49% of people in the UK eat pizza at least once a week.
The first pizzas ever created were sweet and not savoury.
Hawaiian pizza actually originates in Canada.
In India, the most preferred topping is tofu, minced mutton and pickled ginger.
In addition these recipes below check our further recipes here.
An easy, homemade pizza dough recipe that will become your favourite go-to for pizza night.  Thick or thin crust you decide.
Top Tip! You can prove your dough in a plastic bag in the fridge for 24 hours, this will deepen the flavour of the dough and ultimately make a better-tasting pizza!
470g lukewarm water
1 pinch sugar
1 1/2 tbsp active dry yeast
680g strong white bread flour
1 1/2 tsp salt
Method
In the bowl of your stand up mixer (or a large bowl if you knead by hand) add warm water then add yeast and sugar, let sit for 5 minutes, then stir to combine.
Add the olive oil, flour and salt, then with a fork mix until the dough starts to come together. On a lightly floured surface remove dough from the bowl and knead until the dough is smooth and elastic approximately 10 minutes (if the dough is really sticky add a little extra flour).
Place in a lightly oiled bowl and cover with cling film and a large clean kitchen towel, leave in a warm place until doubled in size, approximately 2 hours.
Preheat oven to 250°c. Punch dough down a few times and divide into 3 balls, let the dough rest for 20 minutes.
Shape dough into the size of your pizza tray (lightly oiled).
Top with your favourite toppings, bake for approximately 15-20 minutes and then top with grated mozzarella cheese and bake for three more minutes or until cheese is melted. Enjoy!
Makes enough sauce for 4-6 large pizzas
This rich tomato pizza sauce is achieved by cooking it over low heat until thickened and glossy. It's easy to make and is perfect for pizza night.
2 tbsp olive oil
1 small onion, finely chopped
1 fat garlic clove, crushed
800g tinned chopped tomatoes
3 tbsp tomato puree
1 bay leaf
2 tbsp dried oregano
2 tsp brown sugar
1 small bunch basil, finely chopped
Method
Heat the oil in a saucepan over low heat, then add the onion along with a generous pinch of salt. Fry gently for 12-15 mins or until the onion has softened and is turning translucent. Add the garlic and fry for a further min. Tip in the tomatoes and purée along with the bay, oregano and sugar. Bring to the boil and lower the heat. Simmer, uncovered, for 30-35 mins or until thickened and reduced. Season. For a really smooth sauce, blitz with a stick blender, otherwise leave as is.
Stir the basil into the sauce. The sauce will cover 4-6 large pizza bases.
Keeps well in the fridge for 1 week or stored in a container in the freezer.
Frying Pan Margherita Pizza
Most of us don't have a pizza oven at home, but with this frying pan/grill method, you'll be able to get a delicious crisp base and cheesy top in minutes – just like if you owned a pizza oven!
125g pizza dough
50ml pizza sauce
50g mozzarella, torn into pieces
A handful of fresh basil
Grated parmesan
Extra virgin olive oil
Method
Using your fingers, press the dough balls to flatten them out.
Preheat the grill to its highest setting.
Lay the pizza base flat in a dry frying pan (preferably non-stick) that has been on a high heat and is screaming hot.
Spread a thin layer of sauce with a tablespoon across the base, leaving a couple of centimetres around the edge. Add a pinch of parmesan, basil leaves and some mozzarella. Drizzle with some olive oil.
Once the base of the pizza has browned, 1 – 2 minutes, take the frying pan and place it on the highest shelf, under the grill.
Once the crust has taken on some colour, (1-2 minutes), the pizza is ready. Enjoy!
Deep-Dish Pepperoni Pizza
If you're a pizza lover, this crazy-delicious, super-easy, deep dish pepperoni pizza is the stuff dreams are made of! If you've never tried a deep-dish pizza, then you must try this recipe!
125g pizza dough
170ml pizza sauce
170g mozzarella & cheddar, grated
85g pepperoni, sliced
Handful fresh basil leaves
Method
Add 2 tbsp of olive oil in a 10-inch cast-iron pan or 9-inch cake tin.
Flatten the pizza dough out so it fits in the bottom of the pan. Do no work up the sides.
Cover the dough with pizza sauce almost to the edge. Sprinkle the grated cheeses on top then add the pepperoni slices. Add the fresh basil leaves on top.
Preheat the oven to 220°C, with the rack on the lowest shelf.
When ready to bake, cover the pan with foil and place in the oven for 15 minutes, then remove the foil and bake for a further 5-8 minutes or until the cheese has melted and the edges are a light golden brown.
Run a knife around the edge of the crust and transfer the pizza to a chopping board. Slice and enjoy!
A great alternative to a 'normal' pizza is a pizza pasty or better known as a calzone! This one includes kale and ricotta!
3 tbsp oil
2 garlic cloves, sliced
1 red chilli, deseeded & finely chopped
100g kale stalks removed and chopped
250g pizza dough
8 tbsp ricotta
Method
Heat the oil in a pan and fry garlic, chilli, and kale until the kale has wilted a little, then cool.
Flatten 2 x 125g of dough into rough circles so they are about 25cm across. Divide the kale mix between them, placing on one half. Dot over the ricotta then fold over the other half, crimping around the edges so they look like pasties. Dust with flour and place them onto a baking paper-lined baking tray. Cook for 15-20 minutes until they're puffed and golden.