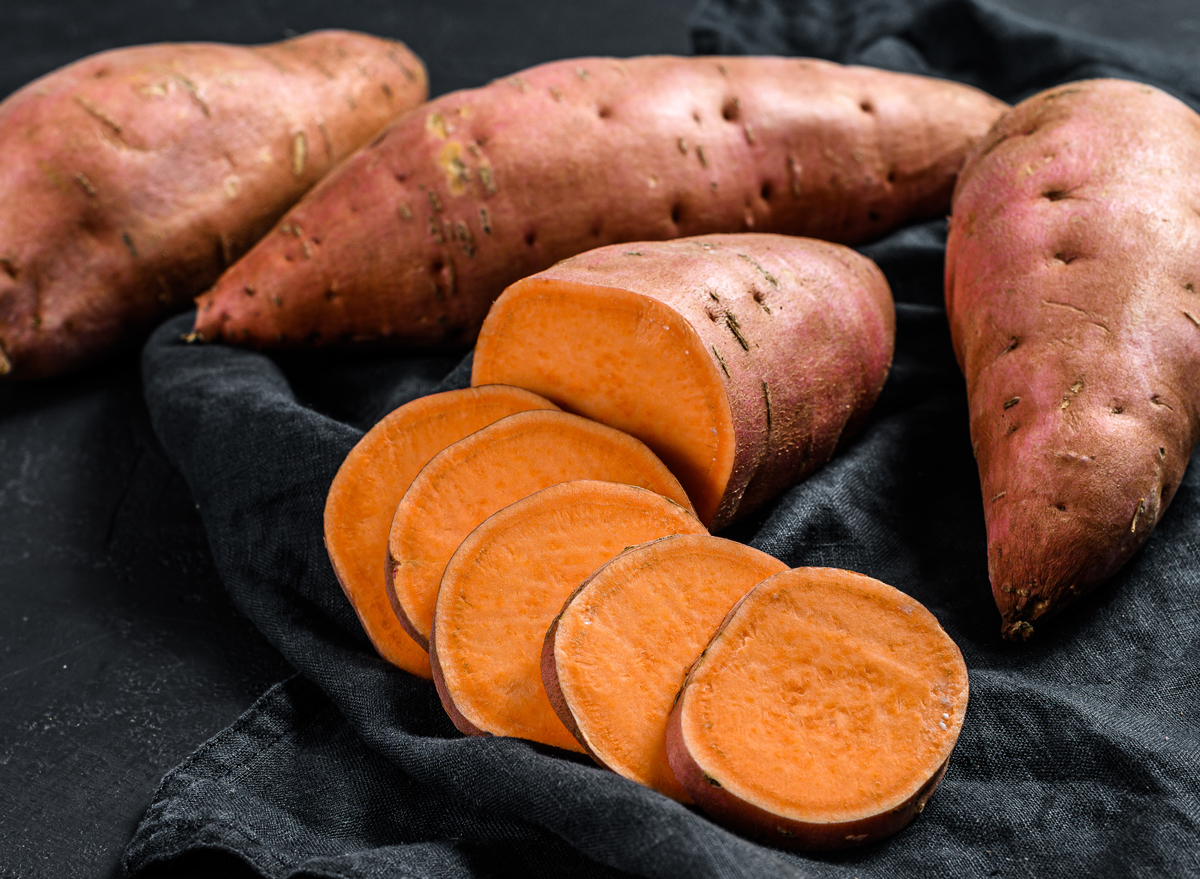 The sweet potato is a large, sweet-tasting, tuberous root that is eaten as a root vegetable. Sweet potatoes come in a few colours the most common being orange – in the US these orange sweet potatoes are known as yams. You can also get sweet potatoes with white, yellow or purple flesh.
Cooked sweet potato is 76% water, 21% carbs and 2 % protein. They contain vitamin A, C B6 and manganese. Unlike white potatoes, sweet potatoes are counted as one of your five a day.
Sweet potatoes have a creamy texture and a sweet-spicy flavour that makes them ideal for savoury dishes although they are still great in some sweet recipes.
Here at Heritage, we love sweet potatoes and have put together some of our favourite recipes below. If you want some more sweet potato inspiration, see our Pinterest board or one of our other recipes – Sausage & Sweet Potato Traybake, Cauliflower Sweet Potato Burgers, Sweet Potato & Chorizo Hash and Loaded Sweet Potatoes.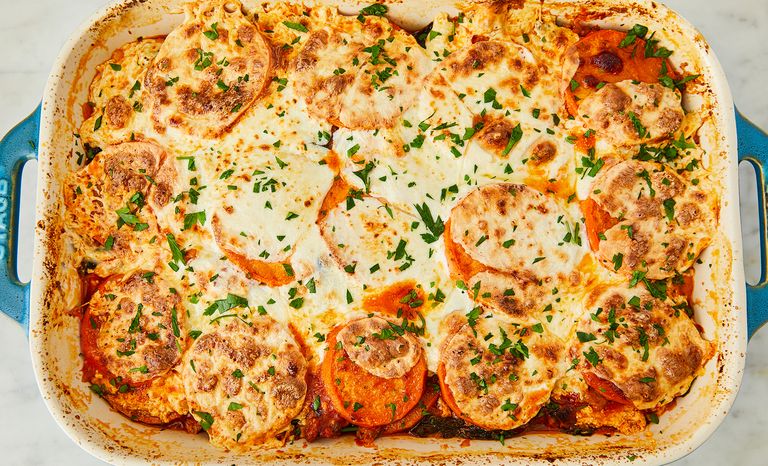 Lasagne can do no wrong. They're the most soul-satisfying food around and this one is no exception. It also proves that pasta isn't necessary.
Source: Delish
Cooking spray
3 large sweet potatoes, peeled and sliced
2 tbsp extra-virgin olive oil
1 large onion, chopped
2 garlic cloves, minced
450g Toulouse sausage, casings removed
Sea salt
Freshly ground black pepper
470ml passata
1 bag baby spinach
450g ricotta
1 large egg, beaten
100g freshly grated Parmesan, divided
1 tsp dried oregano
200g mozzarella, grated
Freshly chopped parsley, for serving
Method
Preheat the oven to 180°C and grease a 20cm x 30cm baking dish with cooking spray. In a large frying pan over medium heat, heat oil. Add onion and cook until soft, 5 minutes then add garlic and cook until fragrant, 1 minute more. Add sausage and cook, breaking up meat with a wooden spoon, until no longer pink, about 6 minutes. Season with salt and pepper.
Pour in passata sauce and bring to a simmer. Cook until sauce thickens slightly, 5 minutes. Add spinach and cook until spinach is wilted. Remove from heat.
In a large bowl, stir together ricotta, egg, 2/3 of the Parmesan, and oregano. Season with salt and pepper.
Spread a thin layer of passata mixture evenly across the bottom of the prepared dish. Layer sweet potatoes on top of the sauce, slightly overlapping. Spread about ⅓ of ricotta mixture over sweet potatoes then pour ⅓ of remaining meat sauce on top. Repeat to make two more layers. Top lasagne with mozzarella and remaining Parmesan.
Cover with foil and bake until sweet potatoes are almost cooked through about 45 minutes, then remove foil and bake until sweet potatoes are fork-tender and cheese is lightly golden, 15 minutes more.
Let rest for 10 minutes, then garnish with parsley before serving.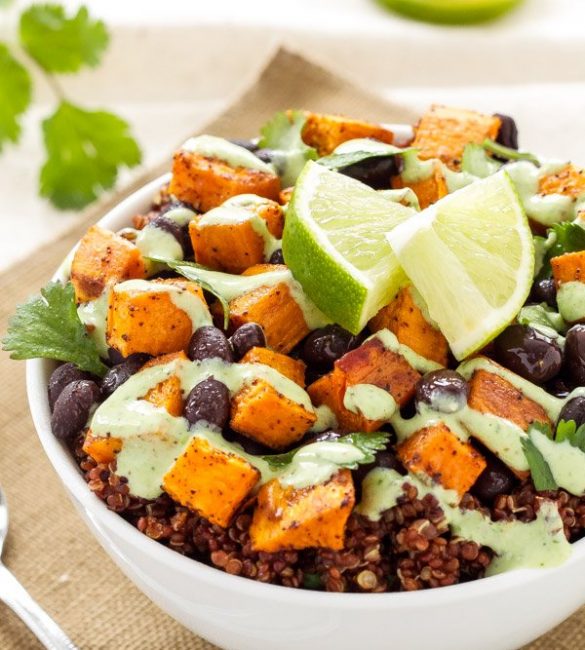 Sweet Potato & Black Bean Quinoa Bowls
These vegetarian bowls have a lot of things going for them that make eating a meatless meal less of a struggle.
Source: Spoonful of Flavor
For the roasted sweet potato
1 large sweet potato, peeled and diced
1 tsp extra virgin olive oil
1/2 tsp chilli powder
1/4 tsp cumin
1/4 tsp salt
Quinoa
100g red quinoa
415ml water
1/2 tsp salt
1/2 tsp chilli powder
1/2 tsp cumin
1/4 tsp garlic powder
Juice of half a lime
2 tbsp coriander, chopped
Coriander Drizzle
35g plain non-fat Greek yogurt
35g coriander, chopped
1/2 tsp honey
Juice of half a lime
Pinch of salt, garlic powder and chilli powder
Other ingredients
130g black beans, rinsed and drained
Coriander, for garnishing
Method
Roasted sweet potato
Preheat oven to 220C then line a baking sheet with foil and spray it with cooking spray.
Toss the diced sweet potato in the olive oil and spices and lay it out in an even layer on the prepared baking sheet. Roast the sweet potato for 12-15 minutes or until it is fork-tender.
Quinoa
Rinse and drain the red quinoa then put it in a medium-sized saucepan with the water and 1/4 teaspoon of salt. Bring the quinoa to a boil, then cover it with a lid and lower the heat to medium-low. Cook the quinoa for about 15 minutes, until all of the liquid is absorbed.
Remove quinoa from the heat and season with the remaining 1/4 teaspoon of salt, chilli powder, cumin, garlic powder, lime juice, and coriander.
Coriander Cream Drizzle
In a blender add all of the ingredients and blend until smooth.
Assembling the bowls
In 2 or 3 serving bowls divide the quinoa mixture. Top the quinoa with black beans and roasted sweet potato. Drizzle the coriander cream on top with a spoon. Top with more coriander, if desired.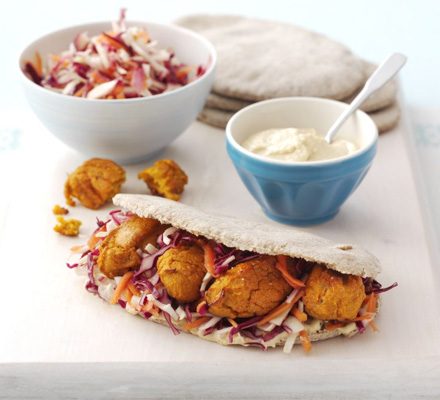 Sweet Potato Falafels with Coleslaw
Pittas bursting with homemade falafels and salad make a low-fat lunch or light supper for less than a pound per serving.
Source: BBC Good Food
1 large or 2 small sweet potatoes, about 700g
1 tsp ground cumin
2 garlic cloves, chopped
3 tsp ground coriander
Handful coriander leaves, chopped
Juice 1/2 lemon
1 tbsp wholemeal pitta
4 tbsp reduced-fat houmous
For the coleslaw
2 tbsp red wine vinegar
1 tbsp golden caster sugar
1 small onion, finely sliced
1 medium carrot, grated
1/4 each white and red cabbage, shredded
Method
Heat oven to 200C/180C fan/gas 6. Microwave sweet potato whole for 8-10 mins until tender. Leave to cool a little, then peel. Put the potato, cumin, garlic, ground and fresh coriander, lemon juice and flour into a large bowl. Season, then mash until smooth. Using a tablespoon, shape mix and into 20 balls. Put on an oiled baking sheet, bake for around 15 mins until the bases are golden brown, then flip over and bake for 15 mins more until brown all over.
Meanwhile, stir the vinegar and sugar together in a large bowl until the sugar has dissolved, toss through the onion, carrot and cabbage, then leave to marinate for 15 mins. To serve, toast the pittas, then split. Fill with salad, a dollop of hummus and the falafels.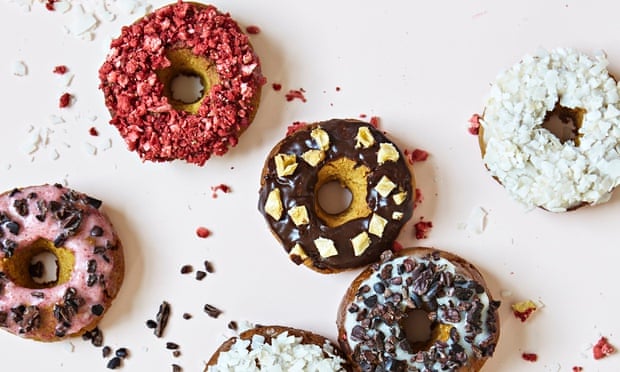 Sweet Potato and Apple Doughnuts
These, picture-perfect as they are, might call for a bunch of niche, pricey ingredients, but that's because they are impeccably nutritious. Their finger-licking sweetness is all down to the sweet potato dough and honeyed dried fruit.
Source: The Guardian
1 small sweet potato, peeled and finely grated
1 medium granny smith apple, peeled and coarsely grated
1 large egg
35g coconut sugar
3 tbsp ghee
90g plus 2 tbsp brown rice flour
50g ground almonds
30g coconut flour
30g plus 2 tbsp tapioca starch
1 tsp baking powder
½ tsp bicarb of soda
¼ tsp sea salt
For the coconut glaze
1 ½ tbsp coconut butter, melted
½ tsp honey
For the chocolate glaze
1 ½ tbsp coconut butter, melted
½ tsp honey
1 ½ tsp unsweetened cocoa powder
For the strawberry glaze
1 ½ tbsp coconut butter, melted
½ tsp honey
1 tsp strawberry powder or ground freeze-dried strawberries, plus more to taste
Suggested toppings
Dried coconut flakes
Ground cacao nibs
Unsweetened dried papaya, chopped
Dried fruit, chopped
Method
Measure about 220g packed shredded sweet potato and put it in a food processor with the shredded apple, egg and coconut sugar and process until well combined. Add the remaining ingredients and mix to a smooth, soft, wet batter. Transfer to a medium bowl.
Preheat the oven to 180C/350F/gas mark 4. Cover a baking sheet with parchment paper. Gather a small ice-cream scoop and a pastry bag tip. Have a small bowl of water ready for dipping them.
Dip the ice cream scoop into the water, and then into the batter. Place scoops of doughnut batter onto the parchment paper, about 5cm apart. Dip the scoop into the water between every scoop of batter, tapping it at the edge of the bowl to shake off the excess. With wet fingers or a spoon, slightly flatten the centre of each scoop. You can bake the doughnuts as is or make doughnut holes.
To make doughnut holes, wet the pastry tip and cut a hole (2½cm wide) in the centre of each doughnut with the wide end of the tip. Remove it carefully and scoop out the batter from the inside of the tip with a narrow knife. Make sure to wet the tip between each doughnut. You may want to dry your fingers occasionally as you're working, as the tip may become slippery and sometimes stubborn when removing it from a doughnut. The batter should be very soft and wet. You can collect all the scooped-out batter and reshape it into a small doughnut at the end.
Bake the doughnuts for 20-25 minutes, until slightly golden and a toothpick comes out dry. Let them cool before glazing.
To prepare the glazes, combine all the ingredients for each glaze in separate bowls and stir. Spoon over the doughnuts and decorate with toppings.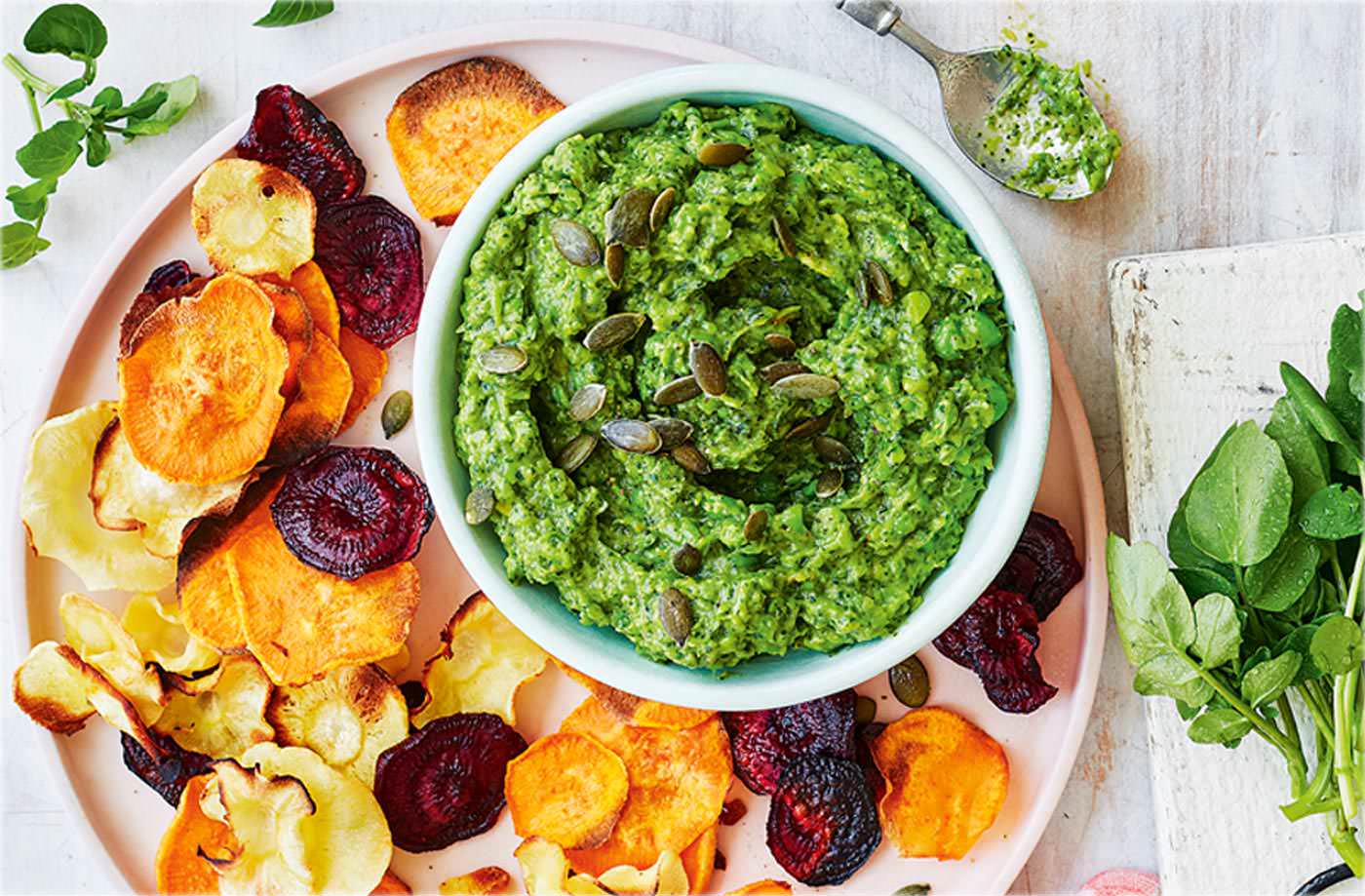 Watercress Guacamole with Homemade Vegetable Crisps
With its strong peppery flavour, watercress really adds a punch to this creamy guacamole. Rather than picking out the leaves for a salad, this recipe makes the most of the veg by blitzing it all into a delicious dip for homemade root vegetable crisps – no need to peel anything, just slice and bake for a colourful, healthy snack.
125g frozen peas
1 tbsp sunflower oil, plus extra for greasing
2 beetroot, very finely sliced
1 sweet potato, very finely sliced
1 parsnip, very finely sliced
1 ripe avocado
40g watercress
1 spring onion, roughly chopped
1 lemon, juiced
1 tbsp pumpkin seeds
Method
Blanch the peas in a pan of boiling water for 3-4 mins, until cooked. Set aside until cool.
Heat the oven to gas 6, 200°C, fan 180°C and brush 1-2 baking trays with a little oil. Toss the finely sliced veg with 1 tbsp oil. Spread out on the oiled trays and bake for 10 mins. Turn the vegetables and bake for 5-10 mins, until crisp. Cool on wire racks.
For the guacamole, put the avocado, watercress, spring onion, most of the lemon juice and some seasoning in a food processor. Blitz until smooth.
Drain the peas, then add to the food processor and pulse to roughly chop. Taste and add a splash more lemon juice if needed, then transfer to a bowl. Garnish with pumpkin seeds. Serve with the crisps.