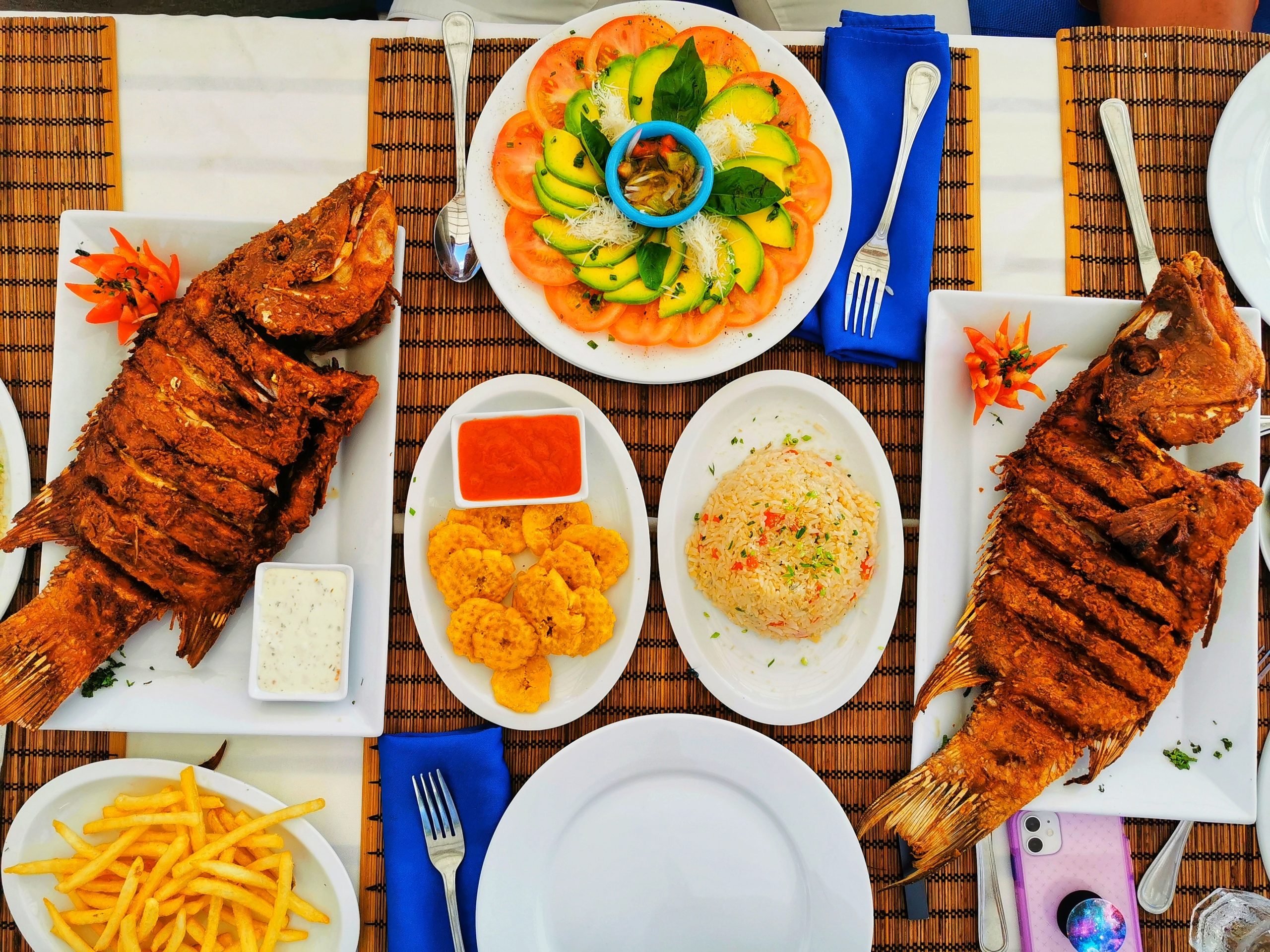 Add a Bit of

Caribbean S

unshine To Your Cooking
With the weather getting even cooler and the evenings becoming darker we all need a little sunshine boost – what better than a bit of Caribbean cooking. 
Caribbean cuisine is vibrant and colourful, with lots of punch of flavours… the cuisine is a fusion of African, Creole, Cajun, Amerindian, European, Latin American, Indian/South Asian, Middle Eastern and even Chinese. 
Many staple foods in the Caribbean and African diet are good for health. From leafy green vegetables to fresh mango, to beans, there are lots of nutrient-rich choices.  
 We've chosen 5 tasty recipes for you to try, don't forget to share them on our Facebook page.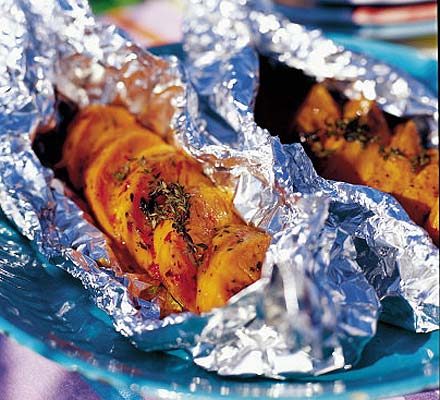 Hot & Spicy Sweet Potatoes
Tantalise your buds with hot and spicy sweet potatoes.
Source: BBC Good Food
2 large sweet potatoes, about 500g
4 tbsp olive oil
2 tbsp fresh thyme leaves, plus 2 sprigs of fresh thyme
1 red scotch bonnet chilli, seeded and finely chopped
Method
Peel the sweet potatoes and cut crossways into slices 2.5cm thick. Lay each potato on a large sheet of foil, keeping the slices together. 
Drizzle each potato with the olive oil, sprinkle with the thyme leaves, about half of the chopped chilli and season with plenty of salt and pepper. With your hands, massage the flavourings into each slice. Replace the slices in their original positions. Lay a thyme sprig across the top of each potato and sprinkle with the remaining chilli. Wrap the foil securely around the potatoes to make two parcels. (You can prepare for this stage up to 24 hours ahead.) 
Put the foil parcels on the rack over the hottest part of the barbecue and cook for 45 minutes until the potatoes are buttery and softened. (Unwrap and test with the point of a knife to check if they're ready).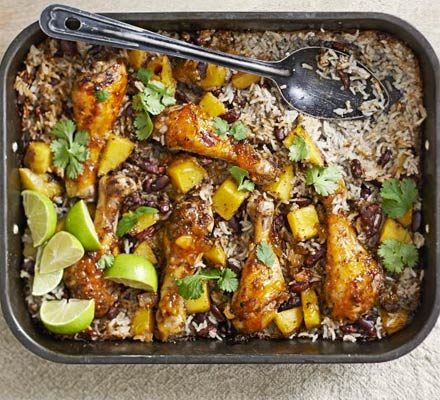 Mango Chicken, Bean & Rice Bake
Drumsticks are ideal for an all-in-one traybake – the rice, beans and spicy seasoning make it a little like Caribbean jerk chicken.
Source: BBC Good Food
Small bunch of spring onions, chopped
Thumb-sized piece ginger, chopped
3 garlic cloves
1 red chilli, seeds removed if you don't like it too hot
Small handful coriander, stalks roughly chopped and leaves picked
1 tbsp thyme leaf
Zest and juice 1 lime, plus 1 lime cut into wedges to serve
1 1/2 tsp ground allspice
2 tbsp sunflower oil
8 chicken drumsticks
300g long grain rice
400g can kidney bean, rinsed and drained
500ml chicken stock
1 ripe mango, peeled, stoned and cut into bite-sized chunks
200g mango chutney, plus extra to serve
Method
Put the spring onions, ginger, garlic, chilli, coriander stalks, thyme, lime zest and juice, allspice and oil in a food processor, then blend to a paste. Pour over the chicken drumsticks and leave to marinate for at least 1 hr, or preferably up to 1 day. 
Heat oven to 180C/160C fan/gas 4. Tip the rice and beans into a large roasting tin with deep sides. Remove the chicken from the marinade and set it aside. Mix the stock into the marinade in the bowl and stir well. Pour the stock over the rice and beans, then put the chicken drumsticks and the mango pieces on top. Cover the tray tightly with foil and bake for 30 mins. 
Take the tray out of the oven and remove the foil. Increase the temperature to 220C/200C fan/gas 7. Spoon the mango chutney over the drumsticks and return to the oven, uncovered, for 35-40 mins, to brown the chicken pieces and allow the rice to absorb all the liquid. Before serving, fluff up the rice a little with a fork and scatter with the coriander leaves. Serve with lime wedges and extra mango chutney, if you like.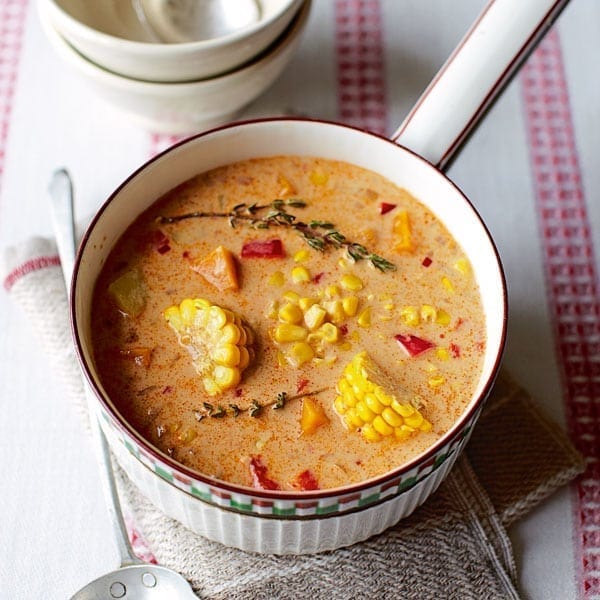 Jamaican Spiced Corn Soup
This Jamaican-inspired sweetcorn soup is hot and spicy, but the creamy coconut milk tempers the fiery heat of the Scotch bonnet chilli. This is great to store in the freezer. 
Source: Delicious Magazine
1 tbsp olive oil
1 large onion, finely chopped
2 garlic cloves, finely chopped
1 tsp cayenne pepper
200g yellow split peas, rinsed well
1-litre vegetable stock
400ml can coconut milk
1 Scotch bonnet chilli
2 fresh thyme sprigs
1 cob of fresh corn, cut into 2cm slices
200g waxy potatoes, diced
200g butternut squash, peeled, deseeded and cut into 1.5cm dice
200g sweetcorn
2 red peppers, diced
Method
Heat the oil in a casserole and soften the onion and garlic for 10 minutes. Increase the heat, add the cayenne and cook for 2 minutes. Add the split peas and the stock. Bring to a boil, then simmer for 30 minutes. 
Add the coconut milk, chilli, thyme, sweetcorn slices, potato and squash. Season and simmer for 10-15 minutes. Add the frozen corn and red pepper for the last 3 minutes of cooking. 
Remove the chilli, thyme and sweetcorn slices. Cool the soup, then blend half in a blender until smooth. Return to the pan, along with the sweetcorn slices and thyme (discard the chilli), and mix with the unblended soup. At this stage, you can freeze the soup for up to 3 months. 
Defrost completely, check the seasoning, heat through and serve.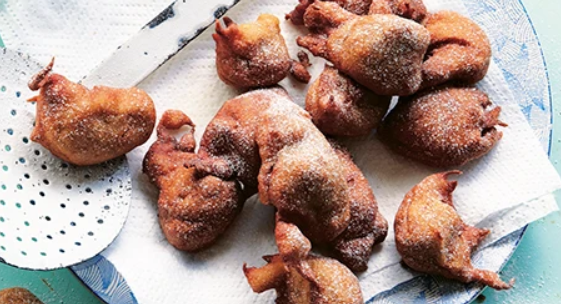 Try this popular French Caribbean sweet snack, delicious any time of year.
Source: Olive Magazine
4 ripe bananas
60g golden granulated sugar
2 eggs
1 tbsp desiccated coconut
125g plain flour
1 tsp baking powder
1 vanilla pod, cut in half lengthwise
1 lime, zested
1 pinch ground cinnamon
1 pinch ground nutmeg
1 tbsp white rum
Sunflower oil
1 tbsp icing sugar
Method
Peel the bananas put them in a bowl and mash with a fork. Whisk in the sugar and eggs, then the coconut (if using), flour and baking powder. Using a small knife, scrape the seeds from the vanilla pod and add to the mixture, then stir in the lime zest, cinnamon, nutmeg and rum. 
In a deep pan, heat some oil (filling a pan no more than 1/3 full) over medium heat until it reaches 180C, or until a cube of bread browns in 30–40 seconds. Make sure the oil doesn't get too hot and start to smoke. Gently drop tbsps of the batter into the oil and cook for about 2 minutes on each side, turning occasionally, until dark golden all over. 
Scoop the fritters out of the oil and drain them on paper towels. Sprinkle with icing sugar and serve hot.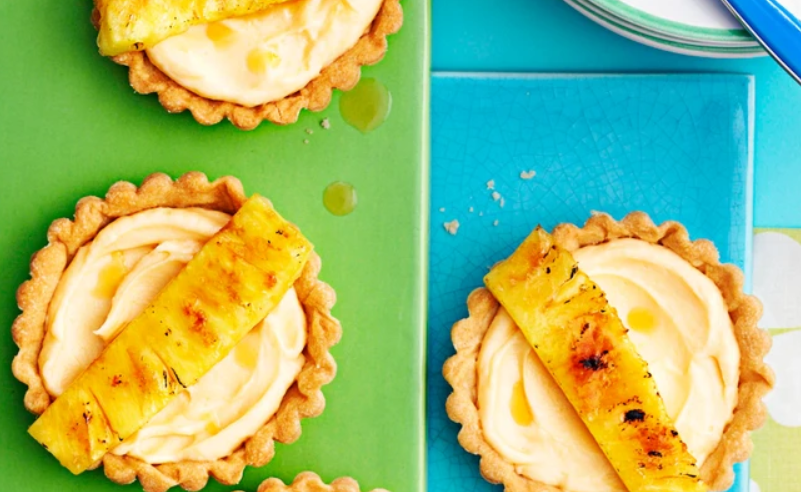 Add a Caribbean twist to your baking with pineapple, coconut and rum flavours of piña colada. Use ready-baked tarts if you want to make this dessert even easier.
Source: Olive Magazine
375g block shortcrust pastry
Filling
4 egg yolks
3-4 tbsp golden caster sugar
4 tbsp cornflour
400ml tinned coconut milk
25g butter
Topping
3 pineapple, freshly cut rings
3 tbsp demerara sugar
1 tbsp dark rum
Method
Roll out the pastry and use to line 6 tartlet tins. Line with baking paper and beans and bake for 10-12 minutes or until the pastry is lightly browned at the edges. Lift out the paper and beans and dry out the pastry base in the oven for 5 minutes. Cool. 
Mix the egg yolks, sugar and cornflour in a bowl. Bring the coconut cream to a simmer. Pour a little onto the egg mix and whisk it in, whisk in a little more and then return the egg mixture to the pan. Whisk over medium heat until the mixture thickens and stops tasting floury. Whisk in the butter. Cover with a layer of clingfilm and cool completely. 
Drain the pineapple very well and sprinkle on the demerara sugar. Grill under a very hot grill until the top begins to caramelize. Cut the pineapple into wedges. Spoon the coconut cream into the tart cases, smooth the top and decorate with wedges of caramelised pineapple. Sprinkle with a few drops of rum.