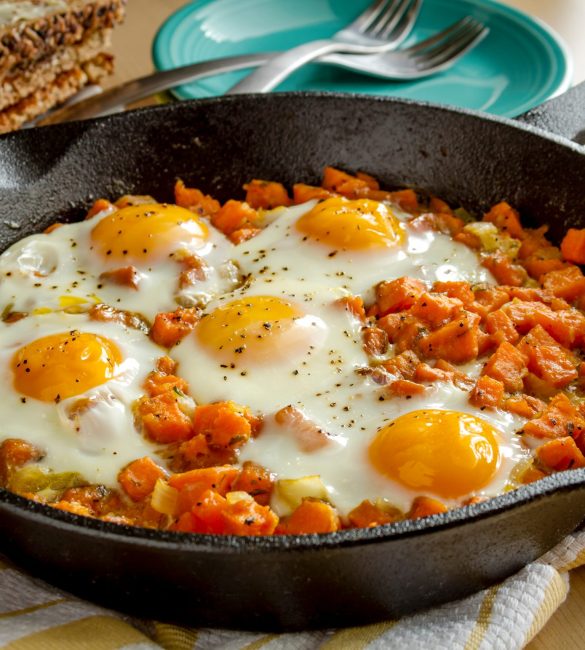 Sweet Potato & Chorizo Hash
Sweet potatoes are super filling an a fantastic source of vitamin A. Unlike white potatoes, sweet potatoes are included as one of your five a day. This dish has eggs as a great source of protein and chorizo for some added smoky flavour. Let us know if you have a go at this dish and tag us in picture on Facebook and Instagram.
Nutritional Information (per serving): Calories 467kcals.
350g sweet potatoes, peeled and diced
350g carrots, diced
2 onions, diced
200g chorizo, roughly cut into chunks
1 teaspoon cumin
1 lemon, zested
4 large free-range eggs
4 spring onions, sliced
Salt and Pepper
Method
Bring a large pan of water to the boil, add the sweet potato and carrots and cook for 6-7 minutes until just tender. Drain and leave for a few minutes to steam dry. 
Meanwhile, heat a large non-stick frying pan with a splash of oil and gently fry the onions for 8 minutes to soften. Add the chorizo and cook, stirring, for 3-4 minutes to brown. Add the cumin and lemon zest and stir for a minute or so more. 
Add the carrots and sweet potato to the frying pan with salt and black pepper, then fry on a medium-high heat for 5-6 minutes, pressing the mixture down gently with the back of a spoon to let it brown. 
Either poach, boil or fry your eggs.
Top the hash with the eggs and scatter with the spring onions, salt and freshly ground black pepper.