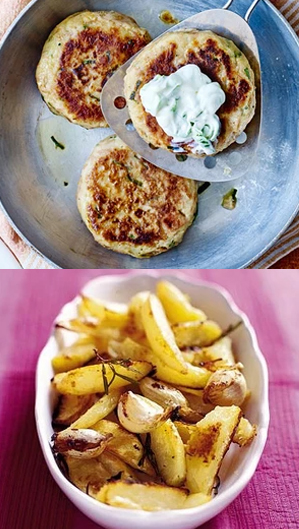 Fishcakes with Lemon & Rosemary Wedges – Eat Healthy For Less
This family favourite is a great way to get seafood into your diet – and by using tinned tuna it fits into even the strictest of budgets. Serve with the lemon and rosemary wedges for a delicious and filling meal. 
Nutritional Information (per serving): Calories 653kcals; Protein 29.4g; Carbohydrates 61.8g; Total Fat 33.7g; Saturated Fat 5.5g; Dietary Fibre 8.2g; Salt 0.2g.
Recipe inspiration: BBC Good Food
For the Fishcakes
For the wedges
2 tbsp olive oil
2 lemons, juiced
1 tsp dried rosemary
Salt & pepper
Method
Heat oven to 200C/fan 180C/gas 6. Peel the potatoes and cut 500g into small chunks and place into a pan of cold, salted water and bring to a boil. Cut the remaining potatoes into thick wedges. Place into a different pan, pour in enough water to cover and bring to the boil. Simmer the wedges for 2 mins, then drain well, shaking the colander. Drain the potato chunks after 10 mins, the drain well and put to one side.  
Put the olive oil, lemon juice and rosemary in a roasting tin with some salt and pepper. Add the potato wedges and toss well until they are coated and glistening. Leave to soak up the oil and lemon for 10 mins, then bake for 20-30 mins, shaking the tin halfway through until the potatoes are nicely browned and glossy. 
Meanwhile, mash the potatoes in a large bowl. Add the tuna and combine, breaking it up with a fork, then add the lemon juice and chives. Season well, add the egg and use your hands to bring everything together. Divide the mixture into 6 and shape into fishcakes. Chill for 10 mins to firm up. 
Whilst the fishcakes are chilling, mix the spring onions with the mayonnaise and chill until ready to serve.  
To cook the fishcakes, heat half the oil in a large non-stick pan and lightly dust the fishcakes with flour. Cook half for 3-4 mins each side until golden and warmed through, then repeat with the rest of the fishcakes. 
Serve with the mayonnaise, a lemon wedge and a handful of the wedges.