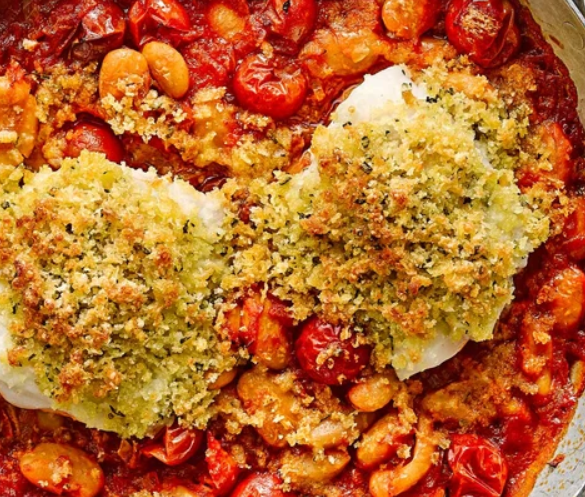 Baked Cod with Butter Beans – Eat Healthy for Less
Flaky, pearly-white baked cod with a rosemary parmesan crust, served on a sweet tomato and butter bean sauce. It's the perfect midweek meal!  Enjoy for £1.59 per serving. Let us know if you have a go at this dish and tag us in a picture on Facebook and Instagram.
Nutritional Information: Calories 521kcals; Carbohydrates 41.7g; Total Fat 16.7g; Saturated Fat 4.3g; Protein 45.6g; Fibre 10.9g; Salt 0.7g.
2 tbsp olive oil
1 onion, chopped
2 garlic cloves, crushed
1/2 tsp fennel seeds, crushed
400g tinned tomatoes
400g butter beans, rinsed & drained
2 skinless cod loins, to save on cost, use frozen and defrost
35g breadcrumbs
1 tsp freshly chopped rosemary
25g parmesan, finely grated
Method
Heat 1 tbsp of the olive oil in an ovenproof frying pan. Cook the onion and garlic for 8 minutes until softened. Stir in the fennel seeds and cook for 1 minute. Add the tomatoes and bring to a simmer. Cook for 15 minutes until slightly thickened. Stir in the butter beans and season. 
Heat the oven to 200C/fan 180C/gas 6. Sit the cod in the saucy beans. Mix together the breadcrumbs, rosemary and parmesan in a small bowl and season, then add the remaining olive oil and toss well. Sprinkle the breadcrumbs evenly over the fish and bake for 15 minutes until golden and the fish is cooked through.