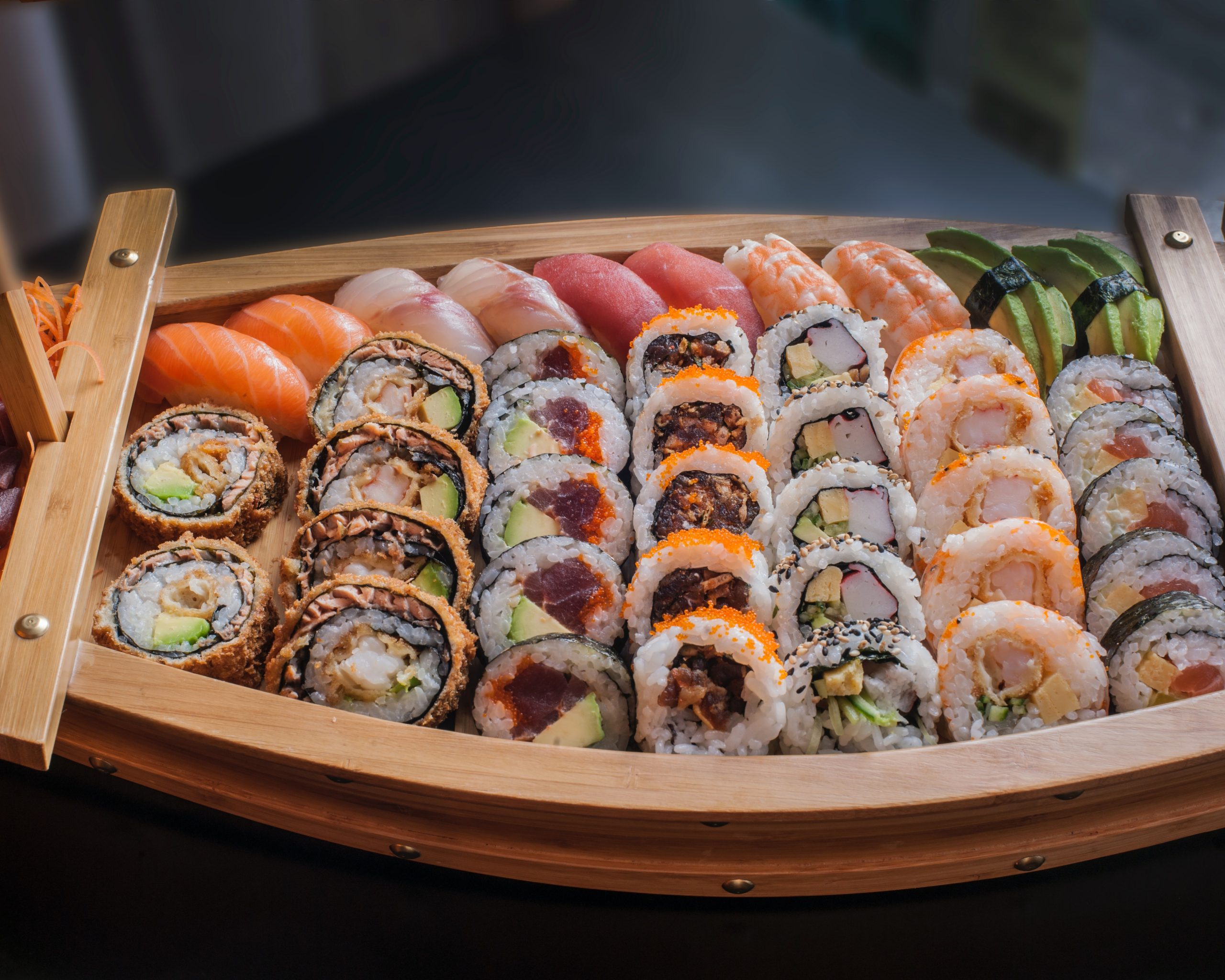 Happy International Sushi Day!
You can't buy happiness, but you can buy sushi, which is kind of the same thing. 
In the last two decades, the traditional Japanese meal known as sushi has become a bit of a sensation. Often considered to be simply raw fish and thus snubbed by many people, the truth behind what sushi is, is more complex, and it can be a delicious repast for those so inclined.  
Tracing sushi's origins leads us on an interesting journey, taking us back to SE Asia and a method of storing and preserving fish for later consumption. Known as Narezushi, fish was stored by being wrapped in salted and fermented rice where it would remain good for months at a time thanks to the fermentation of the rice. Originally the rice was thrown away when it was ready to eat, and only the fish was consumed. 
The next stage in the development of sushi would be far more familiar to the modern palate, known as namanare it was made from partly raw fish that was wrapped in fish and consumed before the flavour changed. Sushi had changed from a way to preserve fish to a new form of cuisine.  It was in the Edo Period, between 1600 and 1800AD in Japan, that the traditional form of sushi we know today came to exist. At this point it was unique to Japanese culture and consisted of fish and vegetables wrapped in rice, the rice was mixed with vinegar. This form of sushi has regional variations, but the basic idea is still one of the most popular forms of sushi today. 
Sushi can contain any number of ingredients, and often includes cooked portions, such as in the case of crab sushi. Sometimes sushi contains no meat proteins at all but instead consists of a purely vegetable mixture. International Sushi Day is your opportunity to explore this cuisine and all it has to offer, and maybe find out that you have new favourite comfort food! 
Make your own sushi 
Ok, so it is probably not going to taste anywhere near the standard of a proper sushi chef, but it is always fun to have a go. The ingredients and the equipment that you will need to create that oh-so-perfect roll are readily available these days. Why not throw a sushi-making competition with your friends? You never know, one of you might be a super chef in the making! 
Makes enough sushi for 6 as a main, or 4 with leftovers for lunchboxes 
Source: BBC Good Food – Find recipe here
Smoked Salmon & Avocado Sushi
This easy recipe makes 32 sushi bites, perfect for lunch or served as canapés.
Source: BBC Good Food – Find recipe here
Impress your friends and family with these fab sushi nori rolls.
Source: All Recipes – Find recipe here
Chicken and Egg Sushi Rolls
This steamed sushi-like dish is very easy to make and can be served as a starter or main course. 
Source: All Recipes – Find recipe here