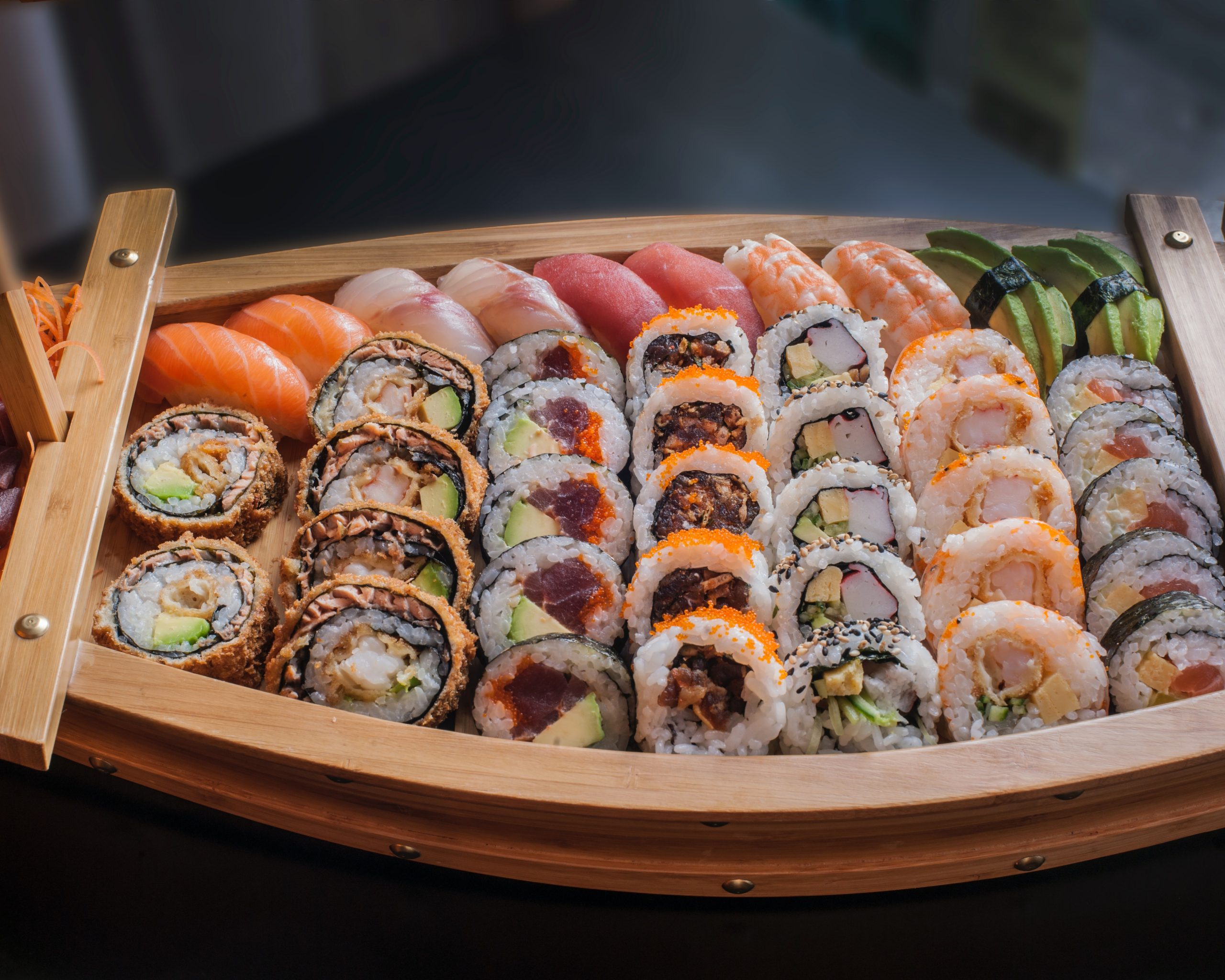 Happy International Sushi Day!
You can't buy happiness, but you can buy sushi, which is kind of the same thing. 
In the last two decades, the traditional Japanese meal known as sushi has become a bit of a sensation. Often considered to be simply raw fish and thus snubbed by many people, the truth behind what sushi is, is more complex, and it can be a delicious repast for those so inclined.  
Tracing sushi's origins leads us on an interesting journey, taking us back to SE Asia and a method of storing and preserving fish for later consumption. Known as Narezushi, fish was stored by being wrapped in salted and fermented rice where it would remain good for months at a time thanks to the fermentation of the rice. Originally the rice was thrown away when it was ready to eat, and only the fish was consumed. 
The next stage in the development of sushi would be far more familiar to the modern palate, known as namanare it was made from partly raw fish that was wrapped in fish and consumed before the flavour changed. Sushi had changed from a way to preserve fish to a new form of cuisine.  It was in the Edo Period, between 1600 and 1800AD in Japan, that the traditional form of sushi we know today came to exist. At this point it was unique to Japanese culture and consisted of fish and vegetables wrapped in rice, the rice was mixed with vinegar. This form of sushi has regional variations, but the basic idea is still one of the most popular forms of sushi today. 
Sushi can contain any number of ingredients, and often includes cooked portions, such as in the case of crab sushi. Sometimes sushi contains no meat proteins at all but instead consists of a purely vegetable mixture. International Sushi Day is your opportunity to explore this cuisine and all it has to offer, and maybe find out that you have new favourite comfort food! 
Make your own sushi 
Ok, so it is probably not going to taste anywhere near the standard of a proper sushi chef, but it is always fun to have a go. The ingredients and the equipment that you will need to create that oh-so-perfect roll are readily available these days. Why not throw a sushi-making competition with your friends? You never know, one of you might be a super chef in the making!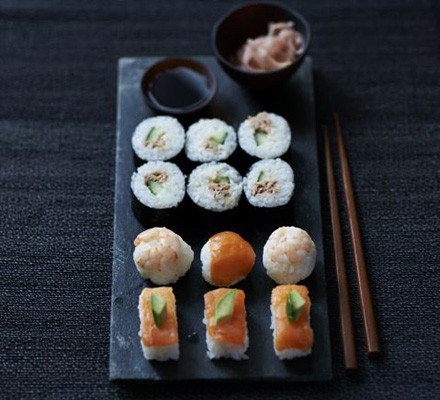 Makes enough sushi for 6 as a main, or 4 with leftovers for lunchboxes 
Kids can help with this Japanese dish. They can help cook the sticky rice and then roll and assemble the pieces with their preferred ingredients.
Source: BBC Good Food
For the rice
300g sushi rice
100ml rice wine vinegar
2 tbsp golden caster sugar
For the Japanese mayonnaise
3 tbsp mayonnaise
1 tbsp rice wine vinegar
1 tsp soy sauce
For the sushi
25g bag nori (seaweed) sheets
Choose from the following fillings:

Cucumber strips
Smoked salmon
White crabmeat
Tinned tuna
Red pepper
Avocado
Spring onion
To serve
Wasabi
Pickled ginger
Soy sauce
Method
TO MAKE SUSHI ROLLS: Pat out some rice. Lay a nori sheet on the mat, shiny side down. Dip your hands in the vinegared water, then pat handfuls of rice on top in a 1cm thick layer, leaving the furthest edge from you clear. 
Spread over some Japanese mayonnaise. Use a spoon to spread out a thin layer of mayonnaise down the middle of the rice. 
Add the filling. Get your child to top the mayonnaise with a line of their favourite fillings – here we've used tuna and cucumber. 
Roll it up. Lift the edge of the mat over the rice, applying a little pressure to keep everything in a tight roll. 
Stick down the sides like a stamp. When you get to the edge without any rice, brush with a little water and continue to roll into a tight roll. 
Wrap in cling film. Remove the matt and roll tightly in cling film before a grown-up cut the sushi into thick slices, then unravel the cling film. 
TO MAKE PRESSED SUSHI: Layer over some smoked salmon. Line a loaf tin with cling film, then place a thin layer of smoked salmon inside on top of the cling film. 
Cover with rice and press down. Press about 3cm of rice over the fish, fold the cling film over and press down as much as you can, using another tin if you have one. 
Tip it out like a sandcastle. Turn block of sushi onto a chopping board. Get a grown-up to cut into fingers, then remove the cling film. 
TO MAKE SUSHI BALLS: Choose your topping. Get a small square of cling film and place a topping, like half a prawn or a small piece of smoked salmon, on it. Use damp hands to roll walnut-sized balls of rice and place on the topping. 
Make into tight balls. Bring the corners of the cling film together and tighten into balls by twisting it up, then unwrap and serve.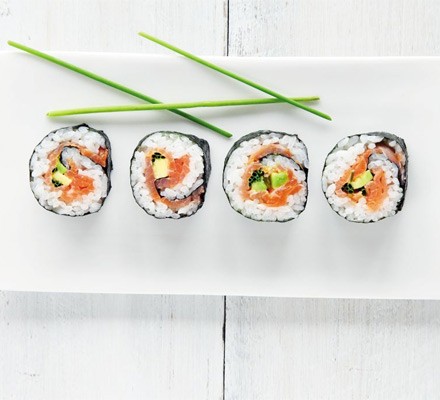 Smoked Salmon & Avocado Sushi
Fancy making sushi at home? This simple recipe makes 32 healthy little bites, ideal for lunch or served as canapés.
Source: BBC Good Food
300g sushi rice
2 tbsp rice or white wine vinegar
1 tsp caster sugar
1 large avocado
Juice 1/2 lemon
4 nori (seaweed) sheets
1 bunch chives
Sweet soy sauce, to serve
Method
Put the rice in a small pan with 600ml water. Bring to the boil and cook for 10 mins until the water is absorbed and the rice is tender. Stir through the vinegar and sugar, cover and cool. 
Skin, stone and slice the avocado. Put in a bowl and squeeze over the lemon juice, turning the avocado to ensure the pieces are covered. 
Divide the rice between the nori sheets and spread it out evenly, leaving a 1cm border at the top and bottom. Lay the salmon over the rice, followed by the chives and finally position the avocado across the centre. 
Fold the bottom edge of the seaweed over the filling, then roll it up firmly. Dampen the top border with a little water to help it seal the roll. Repeat to make 4 rolls. At this stage, the rolls can be wrapped individually in cling film and chilled until ready to serve. 
Using a serrated knife, cut each roll into 8 rounds. Serve with sweet soy sauce for dipping.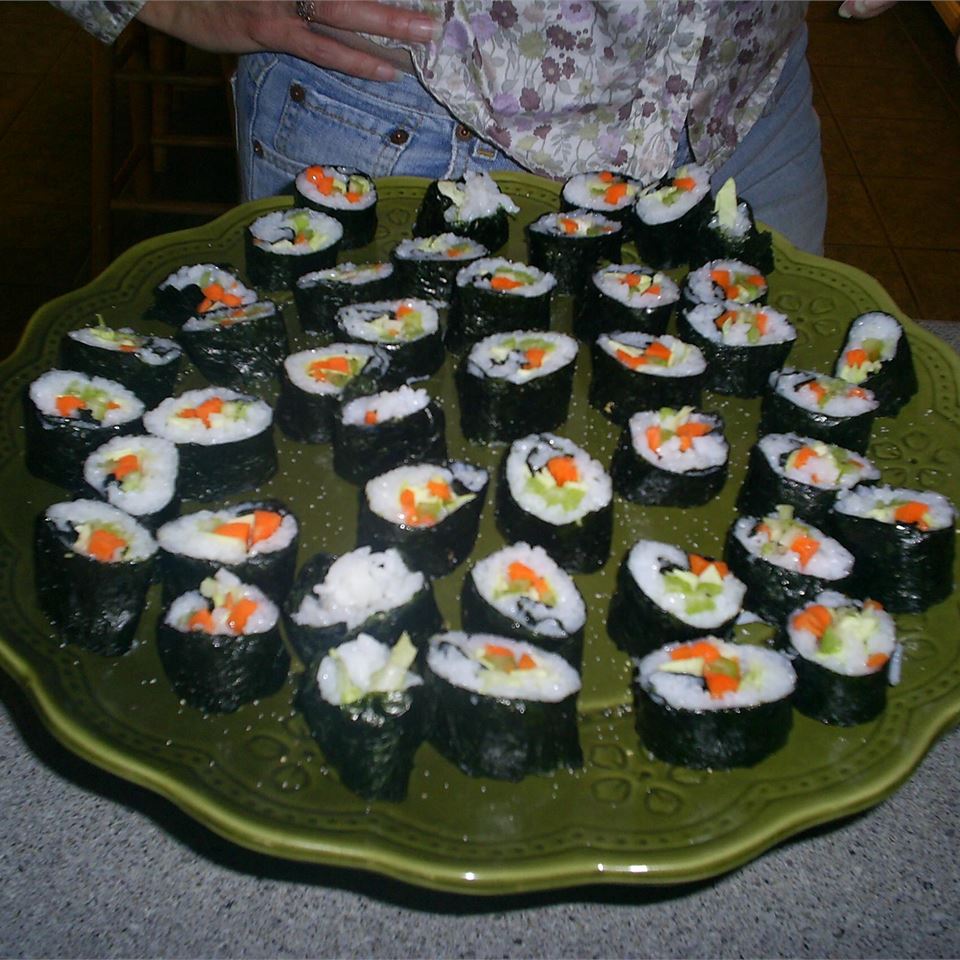 Delicious sushi nori rolls that look great too. Impress your friends!
Source: All Recipes
400g short-grain white rice
550ml water
1 tbsp soy sauce
1 dessert spoon honey
2 garlic cloves, minced
75g firm tofu, cut into strips
2 tbsp rice vinegar
4 nori seaweed sheets
1/2 cucumber, julienned
1/2 avocado, peeled, stone removed and julienned
1 small carrot, julienned
Method
In a large saucepan, cover the rice with water and let stand for 30 minutes. 
In a shallow dish, combine soy sauce, honey and garlic. In this mixture marinate tofu for at least 30 minutes. 
Bring water and rice to a boil and then reduce heat; simmer for about 20 minutes, or until thick and sticky. In a large glass bowl combine cooked rice with rice vinegar. 
Place a sheet of nori on a bamboo mat. Working with wet hands, spread 1/4 of the rice evenly over the nori; leave about 1/2 inch on the top edge of the nori. Place 2 strips of marinated tofu end to end about 2.5cm (1 in) from the bottom. Place 2 strips of cucumber next to the tofu, then avocado and carrot. 
Roll nori tightly from the bottom, using the mat to help make a tight roll. Seal by moistening with water the 1/2 inch at the top. Repeat with remaining ingredients. Slice with a serrated knife into 2.5cm thick slices.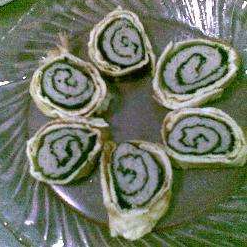 Chicken and Egg Sushi Rolls
A simple and delicious steamed sushi-like dish, which can be served as a starter or main course. Seasoned minced chicken is rolled in a purple seaweed sheet, then an egg sheet and steamed to perfection. 
Source: All Recipes
200g chicken meat, blitzed in a food processor until finely chopped
1 pinch salt
1/2 tsp sesame oil
1 tsp cornflour
1 tsp water
2 tsp oil
3 eggs, beaten
2 sheets purple laver
Method
Minced the chicken with salt, sesame oil, cornflour and water in a bowl. Let sit for 30 minutes. 
Meanwhile, make the egg sheets by heating 2 teaspoons oil in a frying pan until hot. Pour half of the beaten egg into the pan and cook until firm. Flip and fry the other side until golden. Repeat with the remaining eggs. 
Place half of the chicken on the bottom half of one laver sheet and spread evenly. Roll the laver sheet from the bottom to the top to form a roll. Place onto one egg sheet and roll-up. Repeat with the remaining chicken, laver sheet and egg sheet. 
Place the rolls on a heat-safe dish and steam over high heat until cooked (about 15 minutes). Remove and cool. Cut the rolls into bite-sized pieces and serve.