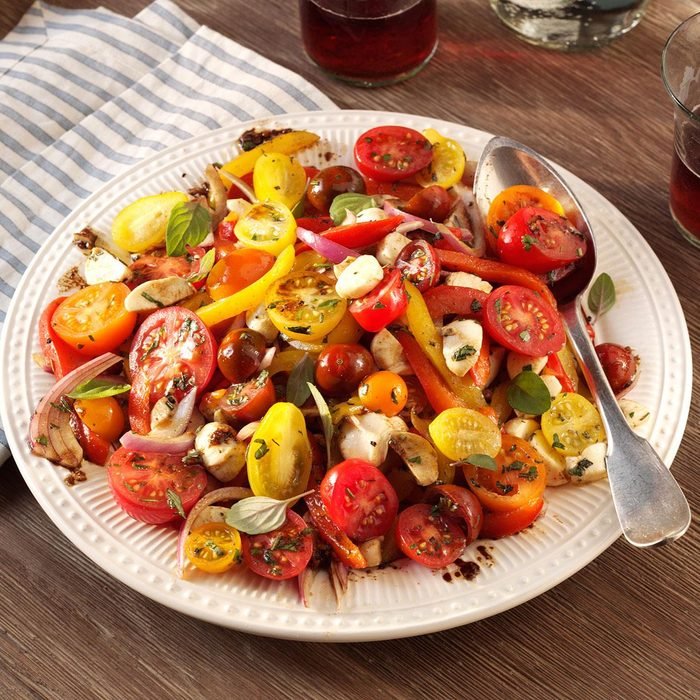 This rainbow salad is perfect for a lighter meal or as a side dish.
4 mixed colour peppers
1 small red onion, finely sliced
200g cherry tomatoes, halved
225g fresh mozzarella cheese pearls
For the dressing
6 tbsp olive oil
3 tbsp balsamic vinegar
1 tbsp each of freshly minced oregano, rosemary, basil & parsley
1 garlic clove, minced
1/2 tsp garlic powder
1/2 tsp cayenne
1/2 tsp pepper
1/2 tsp salt
Method
Grill the peppers until the skins blister, rotating to grill all sides. Immediately place peppers in a large bowl; cover and let stand for 20 mins. Peel off and discard charred skin. Remove stems and seeds.
Cut peppers into thin strips; place in a large bowl. Add the chopped onion. In a small bowl, whisk the dressing ingredients together, pour over pepper mixture and toss to coat. Cover and refrigerate for up to 4 hours. Before serving, allow peppers to come to room temperature. Place on a serving plate; top with tomatoes, cheese and basil leaves.