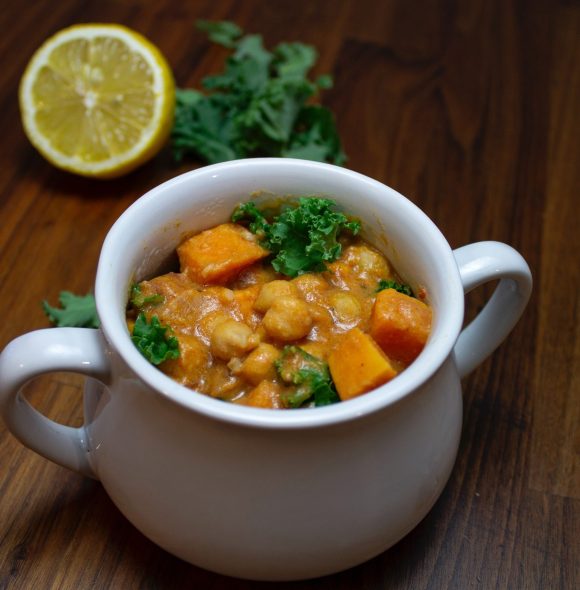 Butternut Squash, Chickpea & Spinach Curry – Eat Healthy For Less
This butternut squash and chickpea curry is delicious, rich and tangy. It is filled with tomatoes and spinach and is ready in about 45 minutes!
Nutritional Information (per serving): Calories 788kcals; Protein 21.6g; Carbohydrate 130.2g; Total Fat 22.8g; Saturated Fat 15g; Dietary Fibre 17.4g; Salt 21.6g.
2 tbsp oil
1/2 medium onion, diced
2 garlic cloves, minced
2 tbsp ginger, minced
3 tsp curry powder
1 tsp coriander
500g butternut squash (or sweet potato), diced into cubes
100g coconut milk
400g tinned chopped tomatoes
180ml water
Bag of baby spinach
400g chickpeas, rinsed and drained
Salt
360g rice
Method
Heat a pan over medium-high heat. Add the oil and then add the onions. Cook the onions for about 2 minutes, until they start to soften. Add the garlic and ginger and cook for another minute.
Next, add the curry powder and coriander and stir to coat the onions. Add the diced butter squash, tinned tomatoes, coconut milk, water and salt. Cover the pan with a lid and bring everything to a boil.
Reduce the heat to medium and let simmer for 15 minutes. Remember to stir the pot every 5 minutes or so to prevent the curry from burning on the bottom. After 15 minutes, pierce the squash with a fork to see if it's tender. If the squash is still firm, keep cooking for another 5 minutes until cooked.
Once the squash is cooked, add the chickpeas and stir through.
Turn off the heat. Add the baby spinach and stir the curry until the spinach starts to wilt. This should take about a minute.
Serve the curry with a side of rice.