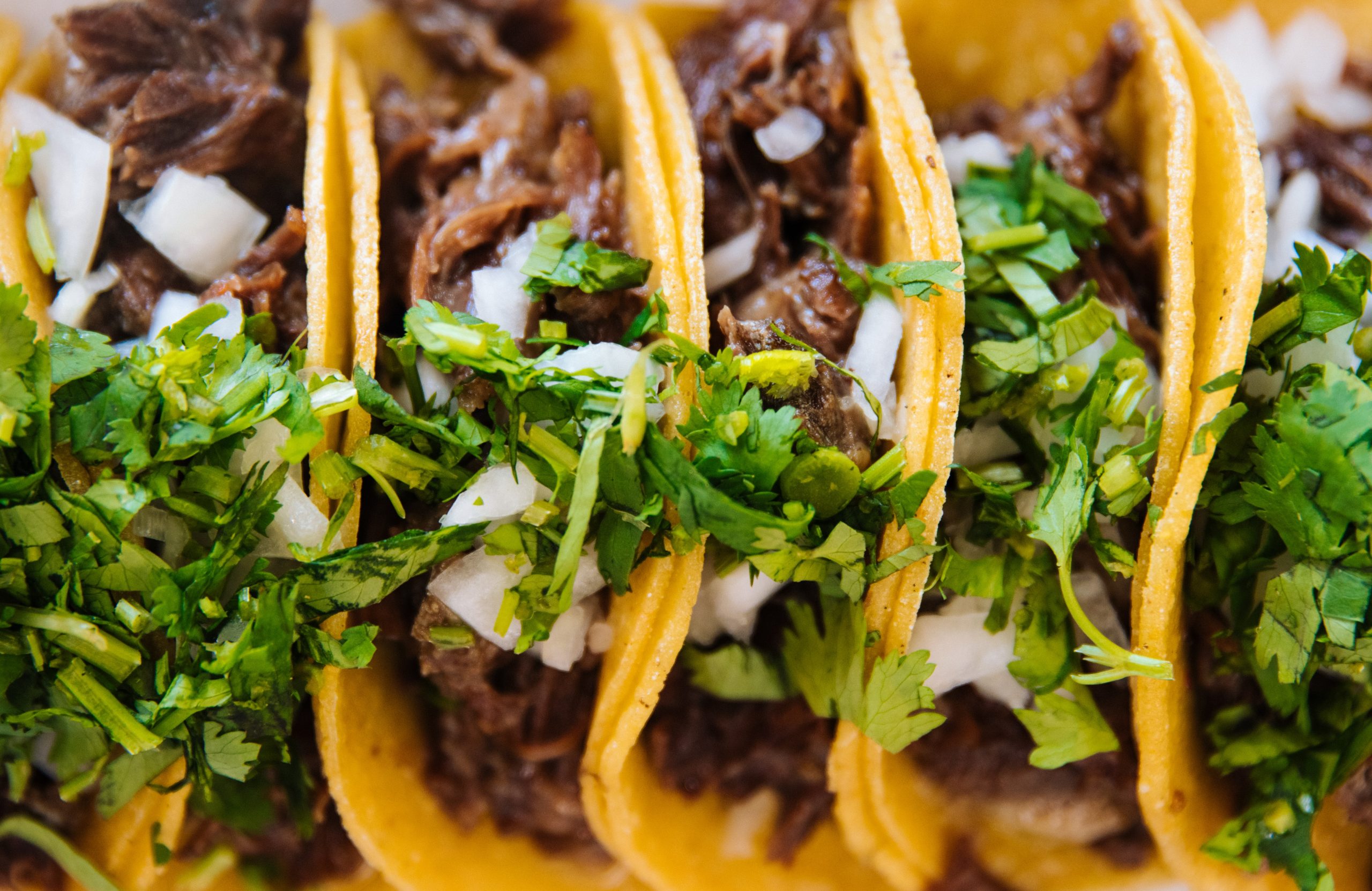 The word taco is the Mexican equivalent of the English word sandwich. The tortilla, which is made of corn or wheat, is wrapped or folded around a filling that is generally made of spiced proteins – beef, pork, fish or beans.
For a dish so widely available, the history of the taco is really unknown. But according to taco expert Jeffrey M. Pilcher, the word originates from the silver mines in Mexico in the 18th century, when taco referred to the little explosives workers used to extract the ore. These were pieces of paper wrapped around gunpowder and placed into holes carved in the rock. "When you think about it, a chicken taquito with a good hot sauce is really a lot like a stick of dynamite," says Pilcher in an online article at Smithsonian.com. "The first references [to the taco] in any sort of archive or dictionary come from the end of the 19th century. And one of the first types of tacos described is called tacos de minero—miner's tacos. So the taco is not necessarily this age-old cultural expression; it's not a food that goes back to time immemorial."
For National Taco Day this October 4, consider the countless variations you can create using traditional meats or with seafood, chicken, beans, cheese and eggs. Yank out your garnishes – salsa, cilantro, avocado, tomatoes, onions and lettuce and you have a dish of great versatility and variety. Try out some of our suggestions and share what fillings you enjoy over on our Facebook.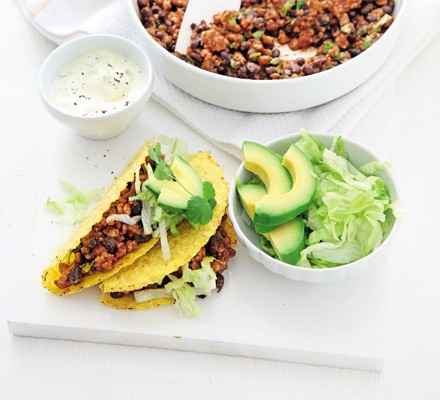 Smoky Pork & Black Bean Tacos
Mexican pork chilli with a smoky barbecued flavour served in crispy tortilla shells with ripe avocado.
Source: BBC Good Food 
2 tsp vegetable oil
1/2 red onion, chopped
2 tsp smoked paprika & ground cumin
500g pack lean pork mince
300ml passata
5 tbsp barbecue sauce
400g tinned black beans, drained
Small bunch coriander, chopped
8 taco shells
1 ripe avocado, peeled & sliced
1/2 iceberg lettuce, finely shredded
Soured cream, to serve optional
Method
Heat the oil in a large frying pan, add the onion and cook for 5 mins until softened. Sprinkle over the spices and cook for 1 min more. Add the mince, breaking it up with the back of a wooden spoon, and stir until cooked through.
Stir the passata and barbecue sauce into the pan along with 4 tbsp water. Increase the heat and allow the sauce to bubble and reduce until it clings to the meat. Add the beans, season and cook for a further 2 mins, then stir in the coriander. Heat the tacos following pack instructions.
Use the pork and bean mix to fill the tacos, top with slices of avocado, shredded iceberg lettuce and a dollop of soured cream, if you like.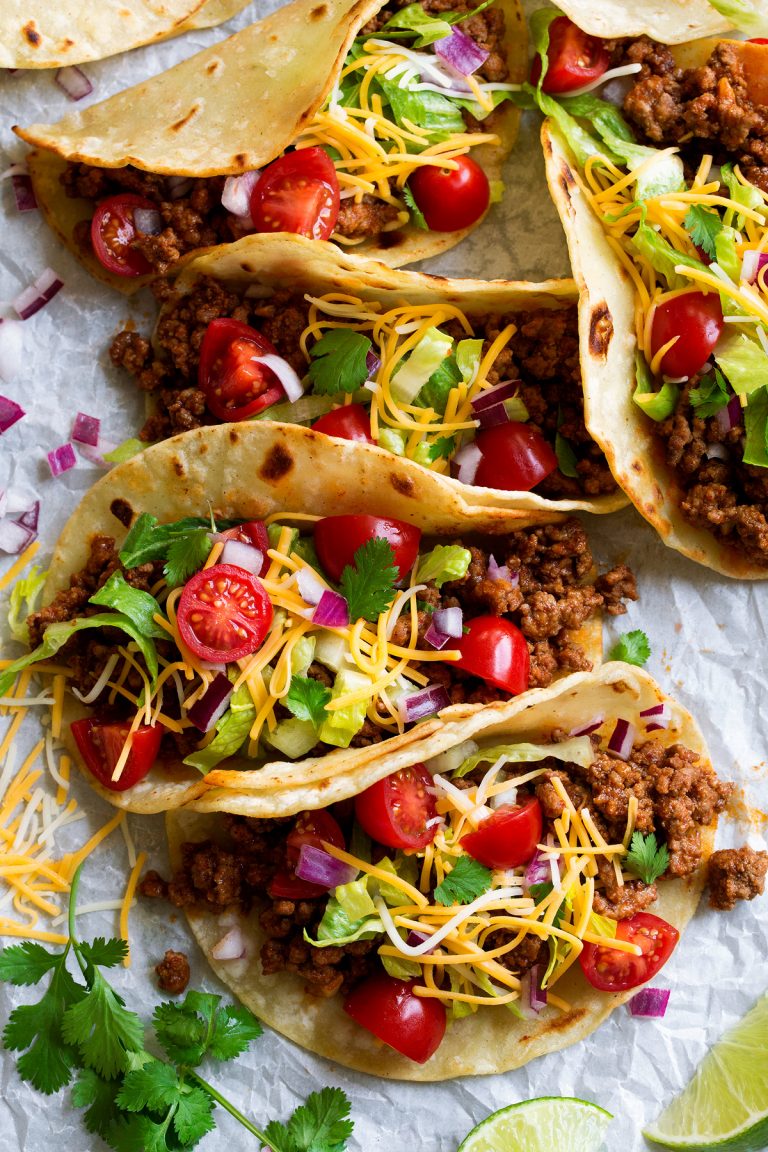 These tacos are made with a deliciously seasoned ground beef filling, served in corn tortillas and finished with all the best toppings. They're likely to become a go-to weeknight dinner the whole family will enjoy, and you'll love how easy they are to prepare! In addition to the chilli powder if you'd like a spicing beef filling then you can add 1/4 tsp cayenne pepper.
Source: Cooking Classy
Filling
1 tbsp olive oil
450g lean mince beef
Salt and freshly ground black pepper
2 tsp minced garlic
2 1/2 tsp chilli powder
1 tsp ground cumin
1/2 tsp onion powder
115g tomato sauce
80ml chicken stock
Tacos
8 corn tortillas
65g cheddar cheese, or shredded Mexican cheese blend
2 tomatoes, diced
2 large handfuls of iceberg lettuce, shredded
Optional toppings
Guacamole or diced avocados
Soured cream
Hot sauce
Chopped red onion
Coriander
Method
Heat 1 tbsp olive oil in a 12-inch non-stick frying pan over medium-high heat. Add beef in large chunks to pan spacing apart. Season with salt and pepper.
Let brown on the bottom, about 3 minutes then flip, break up the beef and continue to cook until almost cooked through about 2 minutes.
Add garlic, chilli powder, cumin, onion powder and continue to cook until beef is just cooked through about 1 minute.
Pour in chicken stock and tomato sauce. Simmer over medium-low heat until sauce has reduced and thickened, about 3 – 5 minutes.
Serve warm over warmed tortillas with lettuce, cheese, tomatoes and other desired toppings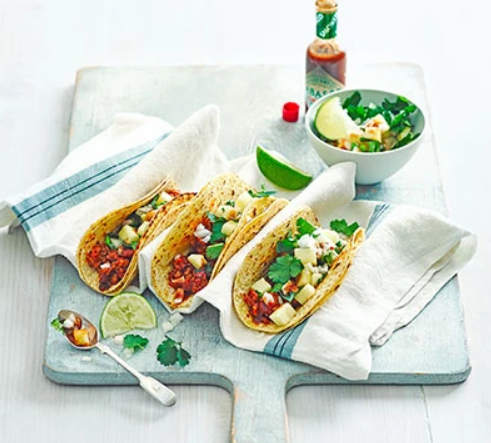 Chipotle Chicken Tacos with Pineapple Salsa
A spicy, smoky chicken filling in soft tortillas, this moreish, low-calorie dinner is on the table in just 20 minutes.
Source: BBC Good Food
500g skinless boneless chicken thighs
1 tbsp vegetable oil
1 medium onion, chopped
2 tsp sweet smoked paprika
2 tsp ground cumin
2 tbsp cider vinegar
1 tbsp chipotle paste
200ml passata
2 tbsp soft brown sugar
1/2 small pineapple, cored, peeled, & chopped
1/2 small pack coriander, chopped
Corn or flour tortillas
Hot sauce, to serve
Method
In a food processor, roughly blitz the chicken thighs into chunky mince. Alternatively, chop into bite-sized pieces.
Heat the oil in a large saucepan. Add half the onion and the chicken mince. Season well and cook for about 5 mins on high heat to brown, breaking up the meat with a spoon. Add the spices, vinegar, chipotle paste, passata and sugar. Cook for another 5 mins, then remove from the heat.
In a small bowl, mix the remaining onion, pineapple and coriander. Serve the chicken and the pineapple salsa with warm tortillas and hot sauce.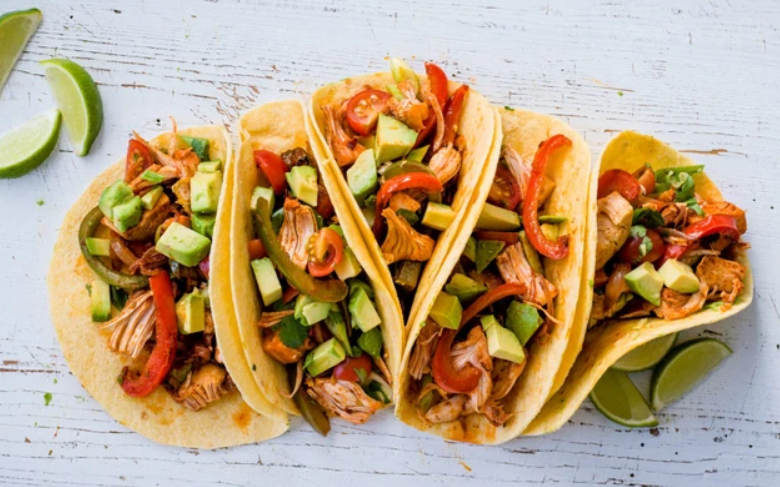 Smoked paprika jackfruit tacos, served with homemade tomato salsa and plenty of chilli sauce… they're the perfect party food whether you're vegan or just going meat-free for the night!
Source: Olive Magazine
3 tbsp vegetable oil
2 onions, thinly sliced
1 red pepper, sliced
1 yellow pepper, sliced
2 garlic cloves, crushed
1 tsp cumin seeds
2 tsp smoked paprika
1 tsp mild chilli powder
400g tin jackfruit, drained and chopped into bite-sized pieces or shredded
Tomato salsa
100g cherry tomatoes, quartered
2 spring onions, sliced on the diagonal
a small bunch of coriander, roughly chopped, plus extra to serve
1 lime, juiced
To serve
6 corn tortillas, warmed
1 avocado, sliced
Coriander, roughly chopped
Lime wedges
Chilli sauce
Method
Heat 2 tbsp of the vegetable oil in a frying pan over medium-high heat and fry the onions with a pinch of salt for 10 minutes until turning translucent. Add the peppers and cook over medium heat for a further 10 minutes until everything is golden and slightly charred, before turning it down and leaving it to cook on low heat, stirring occasionally.
In a separate frying pan, add the remaining vegetable oil and fry the garlic for a couple of minutes. Add the cumin seeds and fry for a further minute. Mix in the paprika and chilli powder, and add the jackfruit, mixing until fully incorporated, adding a good pinch of salt and pepper, and fry on low heat with a splash of water for 10 minutes, breaking up the jackfruit with the side of a spoon.
In the meantime, put all of the salsa ingredients in a bowl with a splash of olive oil and a pinch of salt, and mix together.
Stir the peppers and onions into the jackfruit pan, mix really well and season. Serve with warm tortillas topped with tomato salsa, sliced avocado, coriander, a squeeze of lime and chilli sauce, if you like.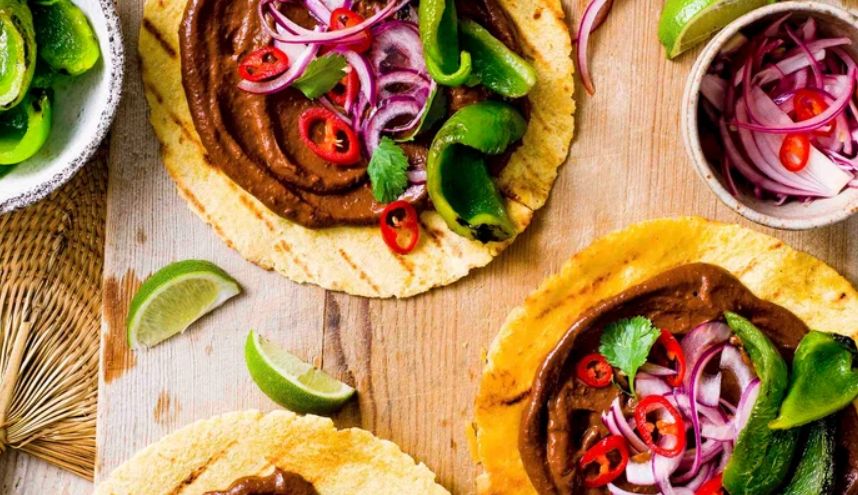 Vegan Grilled Pepper Tacos with Mole Sauce
Mole sauce is a wonderful staple of Mexican cuisine – a satisfying blend of smoky chillies, peanuts, spices and dark chocolate. It's usually found on enchiladas but here it complements the sweet bitterness of green peppers, blistered over the grill
Source: Olive Magazine
Mole Sauce
350ml vegetable stock
1 dried ancho chilli
1 dried chipotle chilli
1 slice white bread, torn into rough strips
200g tinned plum tomatoes
2 tbsp rapeseed oil
1 onion, finely chopped
2 garlic cloves, crushed
20g unsalted peanuts, finely chopped
30g raisins
1/2 tsp dried thyme
1 tbsp cumin seeds
1 tsp ground cinnamon
1/4 tsp ground cloves
1/4 tsp ground allspice
50g vegan dark chocolate, finely chopped
2 tbsp soft dark brown sugar
Pickled onions
1/2 red onion, finely sliced
1 red chilli, deseeded and finely sliced
1 lime, juiced
Tacos
4 green peppers, halved and deseeded
10-12 small corn tortillas
small bunch coriander, chopped
1 lime, cut into wedges
Method
Bring 250ml of the vegetable stock to a boil in a pan over medium heat. Toast the dried chillies and bread strips in a dry frying pan over medium heat for 2 minutes, flipping regularly, until hot and fragrant. Tip them into the boiling stock and remove them from the heat. Soak for 10 minutes, then add the tomatoes, transfer to a food processor and blend until smooth.
Heat the rapeseed oil in a large, deep frying pan over medium heat, then add the onion, garlic, peanuts, raisins, thyme and spices. Cook for 5 minutes, stirring regularly until the onions are soft. Add everything to the food processor with the chillies and blend until smooth.
Pour the purée back into the pan and stir in the remaining 100ml of stock, chocolate, sugar and pinch of sea salt. Bring to a simmer and stir regularly for 10 minutes or until the mixture has reduced and is thick – it should coat the back of a spoon.
To make the pickled onions, mix together the onion, chilli and lime juice in a small bowl. Cover and chill for 20 minutes, until the onions are bright pink.
To assemble the tacos, put the peppers on a BBQ over white-hot coals until slightly blackened and blistered, or under a hot grill until charred. Flip and repeat until fully cooked and quite soft, then remove from the heat and tear into pieces.
Heat a tortilla over the heat of the BBQ or a griddle pan for a few seconds. Top with a good spoonful of mole sauce, some grilled pepper and a few pickled onions. Finish with a sprinkle of coriander and a squeeze of lime.