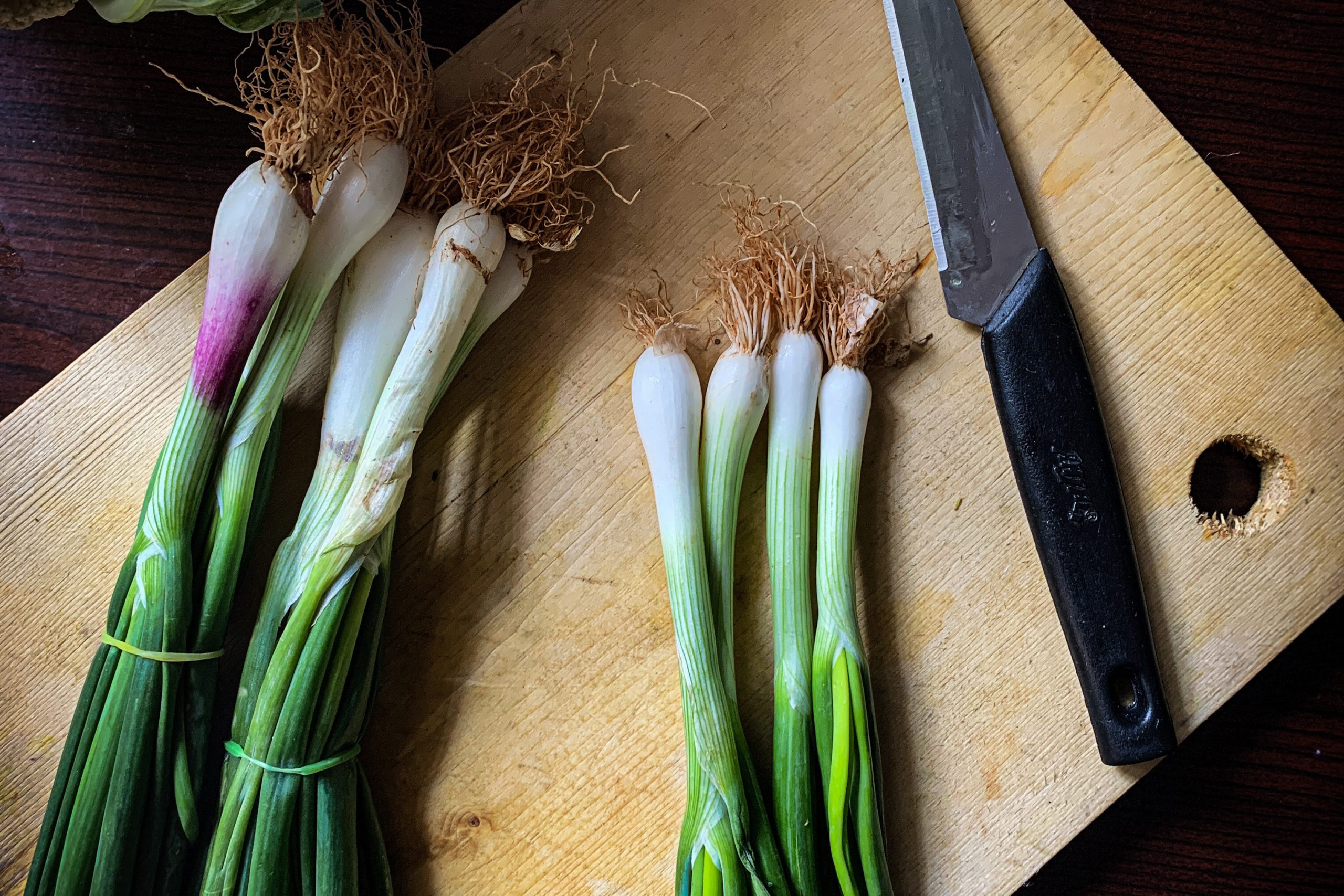 Spring onions are part of the allium family (also known as scallions or green onions) which includes chives, garlics, onions and leeks.  They have a mellower flavour and are often only used as a garnish. Spring onions are a great source of vitamin C, which helps to keep our immune system working properly so that we can fight illness and flu. 8 spring onions or 80g counts as one of your 5-a-day.
Check out our recipes below and let us know how you use spring onions.
Potato and spring onion pancakes
Looking for an easy savoury pancake recipe? Check out these quick potato pancakes.
Recipe and Image Source: Olive
200g mashed potato, chilled
50g plain flour
1 tsp baking powder
1 small egg, beaten
100ml buttermilk
1-2 tbsp milk
4 spring onions, finely chopped, plus extra to serve
30g parmesan, finely grated
for frying butter
TO SERVE
8 slices pancetta, grilled
4 soft-boiled eggs
1 avocado, sliced
Method
Put the potato in a bowl and mix in the flour, baking powder and egg. Stir in the buttermilk, milk, spring onions and parmesan, and season really well.
Heat a frying pan and melt a knob of butter. Spoon in the batter to make small, 10cm-wide pancakes. When small bubbles appear, flip the pancakes and cook until golden. Serve with the pancetta, soft-boiled eggs, avocado slices, and a sprinkle of spring onions.
Spring onion bhajis with mint and coriander chutney
Check out these crispy spring onion bhajis with a fresh and vibrant mint and coriander chutney. Make these bhajis for an impressive way to start your dinner party
Recipe and Image Source: Olive Magazine
160g gram flour (chickpea flour)
25g plain flour
1 tsp ground turmeric
1 tsp ground cumin
1 tsp ground coriander
2 tsp black mustard seeds
½ tsp sea salt, plus extra to serve
250ml lager, chilled
250g (about 12) spring onions, finely sliced at an angle
2 shallots, finely sliced
for deep frying vegetable oil
CHUTNEY
a small bunch mint, leaves picked
a small bunch coriander, chopped
1 green chilli, chopped
a thumb-sized piece ginger, chopped
a pinch ground cumin
1 lemon, juiced
Method
Put the gram flour, plain flour, spices and salt into a large bowl, and slowly whisk in the lager, until a batter forms. Stir in the spring onions and shallots.
For the chutney, put all of the ingredients in a blender with 2-3 tbsp of cold water and whizz until really smooth.
Fill a pan no more than 1/3 full with oil and heat until 180C or until a cube of bread browns in 30 seconds. Take a heaped tbsp of the spring onion batter and carefully drop into the oil. Fry for 3-4 minutes, in batches, or until crisp and brown. Drain on kitchen paper, season with sea salt and keep warm in a low oven while you fry the rest. Serve with the chutney for dipping.
Gnocchi with courgette, mascarpone & spring onions
Try this new way of serving an Italian classic to make a change from pasta.
Recipe and image source: BBC Good Food
300g fresh gnocchi
1 tbsp olive oil
1 red chilli, sliced, deseeded if you like
1 medium courgette, cut into thin ribbons with a peeler
4 spring onions, chopped
zest 1 lemon
2 heaped tbsp mascarpone
50g parmesan (or vegetarian alternative), grated
dressed mixed leaves, to serve
Method
Cook the gnocchi following pack instructions. Drain, reserving a ladle of the cooking water, and set aside.
Heat the oil in a frying pan. Cook chilli and courgette for 3 mins until soft. Add spring onions, zest, mascarpone, half the Parmesan and cooking water. Mix until smooth, add gnocchi and heat through.
Season, divide between 2 ovenproof dishes and scatter with the remaining Parmesan. Grill for 2-3 mins until bubbling and serve with the dressed mixed leaves.
Chilli corn & spring onion quesadilla
Try a new twist on a classic Mexican-inspired snack by adding fiery chillies, sweetcorn and a squeeze of lime.
1 tbsp olive oil
½ finely chopped onion
½ finely chopped red chilli
½ tsp ground coriander
200g canned sweetcorn, drained
3 spring onions, sliced
1 lime, zested
2 large flour tortillas
30g cheddar, grated
30g mozzarella, grated
chilli sauce, to serve (optional)
Method
Heat the oil in a frying pan, add the onion and fry for 10 mins or until softened. Add the chilli and ground coriander and cook for 1 min more. Stir through the sweetcorn, spring onions and lime zest. Season to taste.
Pile the mixture on 1 tortilla, then top with the cheddar, mozzarella and the second tortilla. Heat a frying pan over a high heat. When hot, add the quesadilla, cook for 2 mins on one side, then turn it over and cook for 1-2 mins more, or until the cheese is melted. Cut into four and serve with some chilli sauce, if you like.
Quick charred spring onion and sweet potato salad
Charred sweet potatoes are flavoured with za'tar and combined with spring onions, lamb's lettuce and feta to make a salad that's hearty enough for midweek dinner.
Recipe and image source – Delicious
1kg sweet potatoes, peeled
3 tbsp olive oil, plus extra for brushing
1½ tbsp za'atar (or, if you can't find za'atar, an equal mixture of dried thyme and sesame seeds)
250g spring onions, trimmed and cut in half
½ garlic clove, crushed
1½ tbsp cider vinegar
150g lamb's lettuce
60g feta, crumbled
60g pumpkin seeds, lightly toasted in a dry frying pan
Method
Put the whole sweet potatoes in a large pan of salted boiling water and cook for about 20 minutes until tender but still firm. Drain, slice into 1cm discs and put in a bowl with 1 tbsp olive oil and the 1 tbsp za'atar. Turn gently to coat.
Put a griddle pan over a high heat until smoking. Brush the spring onions with olive oil, then griddle for 1-2 minutes on each side until soft and marked with char lines. Set aside in a large salad bowl.
Put the cooked sweet potato slices in the griddle pan and fry for 2-3 minutes on each side until char lines appear (you might need to do this in batches). Add the charred sweet potatoes to the bowl with the spring onions.
To make the dressing, mix 2 tbsp olive oil with the garlic, cider vinegar and ½ tbsp za'atar. Add the lamb's lettuce, feta and toasted pumpkin seeds to the griddled veg, then toss together with the dressing.