Small but Mighty… Micro Herbs
Micro herbs are just seedlings and are harvested well before they become mature plants. Studies show that younger versions of the plants, such as micro radish, can be more concentrated in important nutrients including vitamin C, beta carotene and vitamin K. Since micro herbs are harvested when the plants are young, they're packed with nutrients and antioxidants they need to grow into full-grown plans.
They don't just add an extra pop of colour to your dishes, but they taste great too!
Add micro herbs to your salads or wraps for some extra crunch. They are great blended into smoothies and juices as well for a healthy way to start off your day. You can sprinkle some micro herbs as a garnish ​onto almost any dish. Try them on top of pizzas, soups, curries, omelettes, stir fries, pasta, and other hot dishes.
All vegetables and greens will last longer if you store them properly, and micro herbs are no exception.
Maintaining moisture is a key part of keeping your micro herbs fresh and crunchy.
One of the best and simplest ways to store them is to put them between damp pieces of paper towels and then seal them in a plastic bag or container.
If you store your micro herbs this way, you should expect them to stay good in your refrigerator for up to a week. It's best to leave your micro herbs in the refrigerator until right up until they need to go on to your plate or into your recipe. That way they won't start to dry out or wilt before you get to serve them.
Why not try incorporating some micro herbs in your cooking? We have an extensive range of micros, including leaves, flowers and sea herbs.
Micro leaves
We have a large range of micro leaves available on our website. Use them in salads or as a garnish. See below all our micro leaves.
Micro Garlic Chives | Micro Lemon Balm | Micro Red Basil | Micro Celery | Micro Coriander | Micro Fennel | Micro Green Basil | Micro Thai Basil | Micro Lovage | Micro Mint | Micro Mizuna | Micro Red Mustard Frills | Micro Pink Radish | Micro Pea Shoots | Micro Rocket | Micro Tarragon | Micro Thyme | Micro Watercress | Nasturtium Leaves | Borage Leaves | Cardamon Leaves | Lemon Verbena | Blue Pepe Nasturtium Leaves | Micro Parsley | Popcorn Shoots | Micro Red Amaranth | Micro Red Vein Sorrel | Micro Ruby Chard | Micro Sweet Cicely | Micro Wasabi Leaves | Purple Shiso Leaves | Tendril Pea Shoots
So how do you use micro leaves, we list some examples below;
Micro Garlic Chives
These beautiful stringy greens have a sweet, chive-like flavour. Their jet black seeds burst with an oniony twang. Try adding garlic chives to quiches, omelettes, savoury tarts or potato salads.
Pea Shoots
Pea shoots have that sweet, juicy flavour you get from a fresh, seasonal garden pea. The only difference is they're available all year round. Try them in place of fresh peas, pea and ham soup, in veggie pasta or chicken risotto.

Micro Radish
These beautiful pink-stemmed greens have a slight peppery kick, similar to radish. They're very versatile and are a great replacement for horseradish. Pair micro radish with roast beef, mackerel, egg mayo sarnies or Caesar salad. Basically, anything rich or creamy can be cut through with a fresh peppery kick.
Popcorn Shoots
Popcorn shoots are tender and crisp with a very sweet, mild corn flavour. The shoots can be used on top of meat dishes or mixed into salads. They pair especially well with cherry tomatoes, lettuce, grilled sweetcorn, chicken and fish.
Micro Sweet Cicely
Sweet Cicely has an aniseed-like flavour. It pairs well with tart fruits such as rhubarb and gooseberries as it has a naturally sweet taste.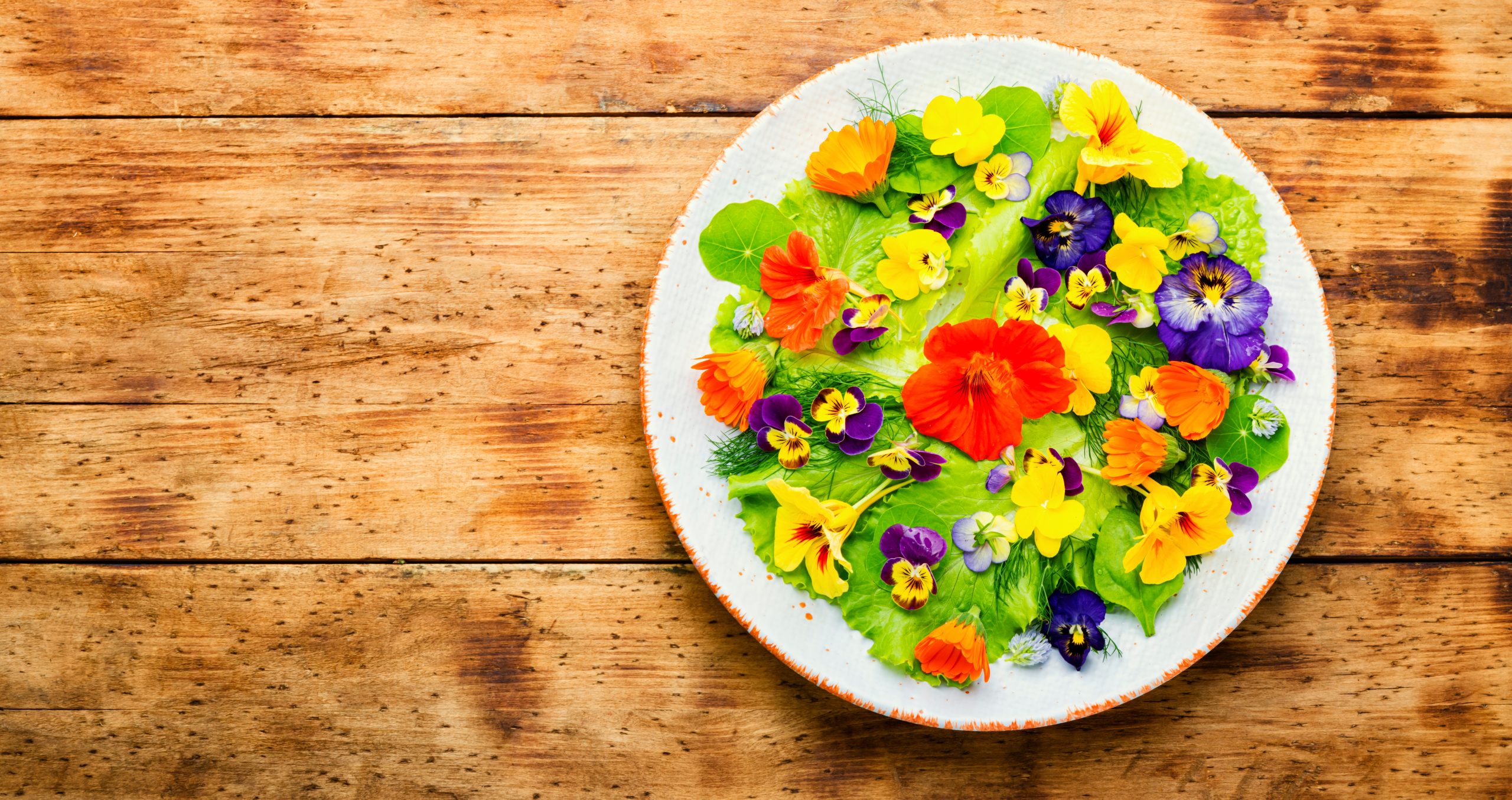 Flowers
We have a range of edible flowers available on our website. Use them in salads, use them to decorate a cake or as a garnish. See below a list of all our edible flowers.
Violas | Fuchsia | Apple Blossom | Borage Flowers | Nasturtium Flowers | Premium Flower Mix | Oyster Leaf Flowers | Garlic Chive Flowers | Sea Buckthorn Berries
How do you use edible flowers? We list some examples below;
Viola 
Slightly sweet, herbaceous & mildly perfumed, sprightly spectrum of colours, violas make a wonderful garnish for any cold starter or cake/dessert.
Borage Flowers
Borage flowers are small, bright blue, and star-shaped. They have a light cucumber flavour and one of their most popular uses is as a garnish in a glass of Pimm's. Traditionally, borage flowers are used in a classic dessert – Blackberry Fool.
Fuchsia
Fuchsia comes in a variety of bright colours and looks lovely as a garnish in salads and cold soups. They are also commonly candied and added to sweets. The stamen needs to be removed before eating.
Nasturtium 
Nasturtiums come in tropical colours ranging from white to red to orange. They taste similar to watercress and have a slightly peppery kick. Perfect in salads.
Apple Blossom 
Apple blossom is tart in taste and their pretty, light features make it a happy contrast in both sweet and savoury dishes. Most popularly used in salads, on top of cakes or in cocktails.
Sea Buckthorn Berries
Sea buckthorn berries have an intense tangy and citrusy taste. They are best used in jellies, juices, purees and sauces.
Taste of the Sea
We have a range of edible sea herbs available on our website. Use them in fish dishes, as a garnish or in salads. See below a list of all our edible sea herbs.
Ice Lettuce | Oyster Leaves | Samphire | Rock Samphire | Salty Fingers | Sea Kale | Sea Purslane | Sea Rosemary
How do you use edible sea herbs? We list some examples below;
Ice Lettuce
Ice lettuce gets its name from the tiny 'bubbles' all over its surface. It has a clean lemony flavour and can be eaten raw or pan-seared – goes great with fish and chicken dishes as well as salads.
Oyster Leaves
Oyster leaves are juicy green leaf that has a similar taste to a salty mushroom with a touch of freshness. You can use them as a garnish to any oyster platter or wild mushroom dish.
Samphire 
Samphire grows in saltwater and has vibrant green, fleshy finger-like leaves. It has a distinctively crisp and salty flavour. Samphire can be used raw in a salad but is more often cooked. It can be fried in butter, boiled in water or steamed for a couple of minutes. You can find some samphire recipes on our blog.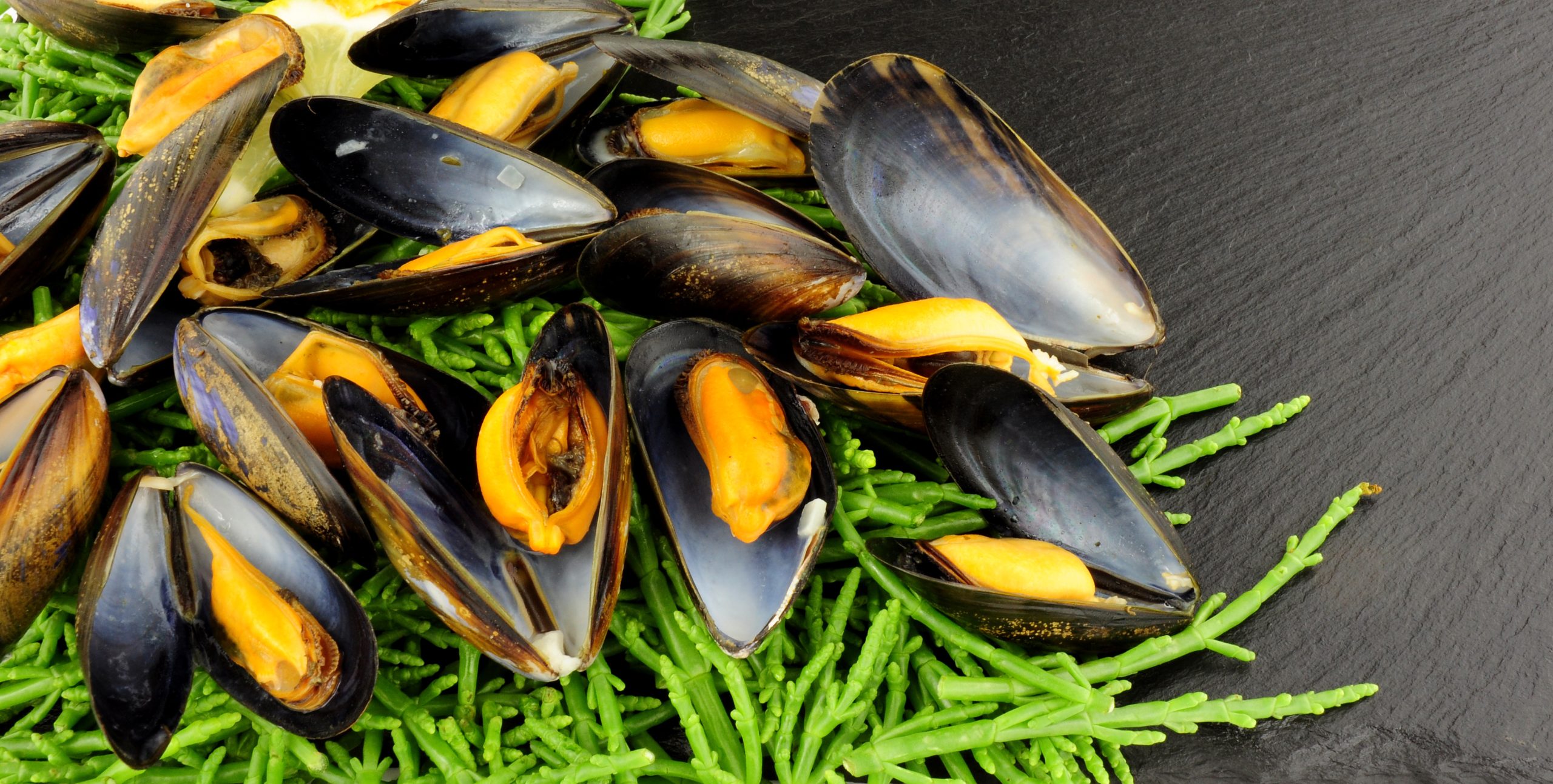 Rock Samphire
Rock samphire has an unpleasant smell when it's fresh and is traditionally pickled to get rid of this. The most common uses are for it to be boiled with fish, added to sushi and salads and is even used in cocktails with spirits, like Rock Samphire Gin.
Salty Fingers
Salty fingers have a not unpleasant, slightly bitter, slightly salty taste. They look a bit like little green tubes filled with a gelatine-like liquid but they are in fact crunchy. Salty fingers go well with seafood, especially scallops.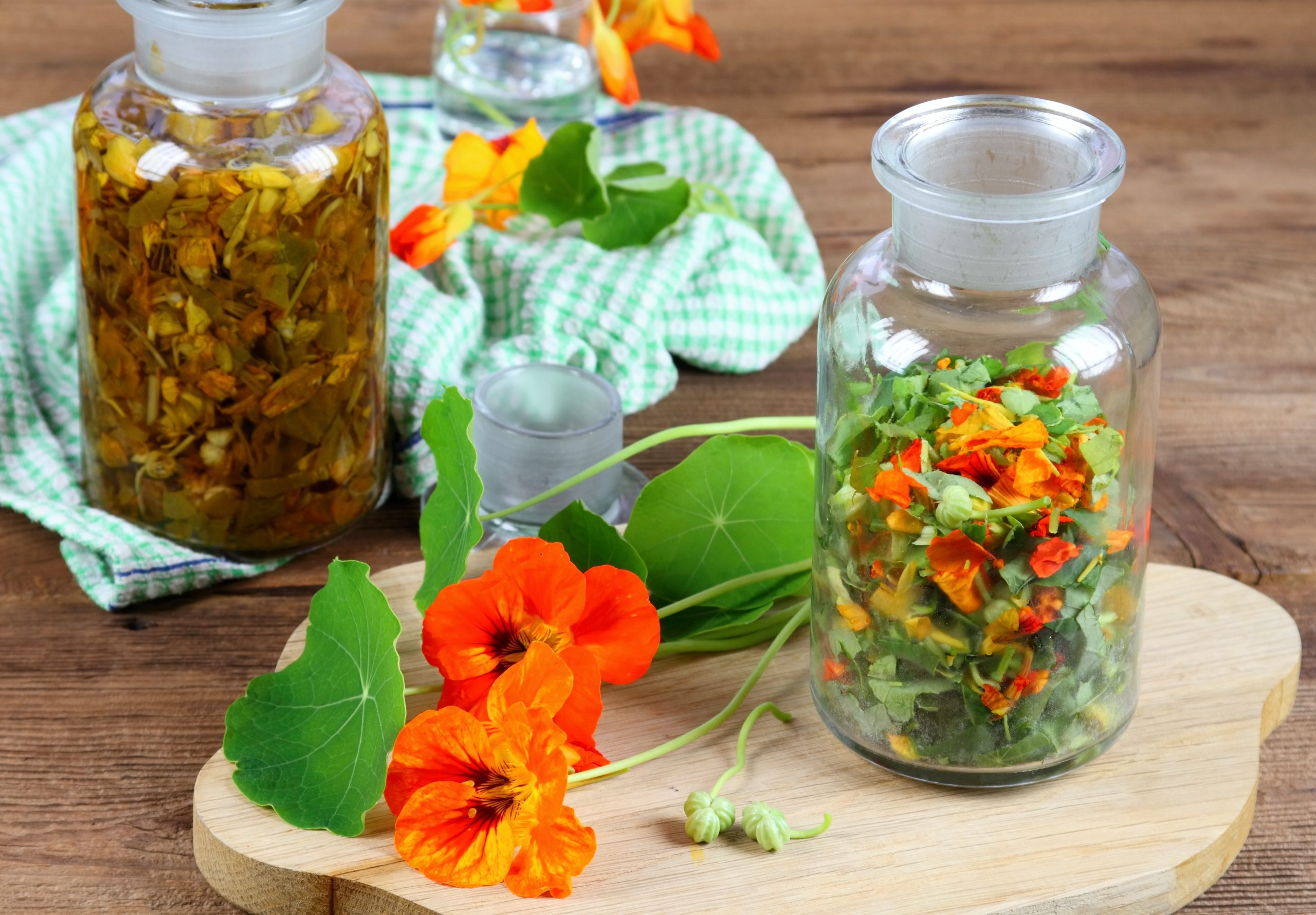 This nasturtium salad uses both nasturtium leaves and flowers, along with rocket, strawberries, and a quick vinaigrette. Make it for a quick and easy summer salad!
Source: Champagne Treats, find the recipe here
Pink Peppercorn & Viola Shortbread
These pretty and unique tasting shortbread biscuits will be great with a cup of tea.
Source: Better Homes & Gardens, find the recipe here
Strawberry chocolate tart with goats cheese and basil micro herbs
Basil micro herbs compliment the strawberries wonderfully in this tart. It's a taste of summer in every bite. If you'd like to just make one regular pie size version instead of two small ones, just double the recipe
Source: Vegetarian ventures, find the recipe here