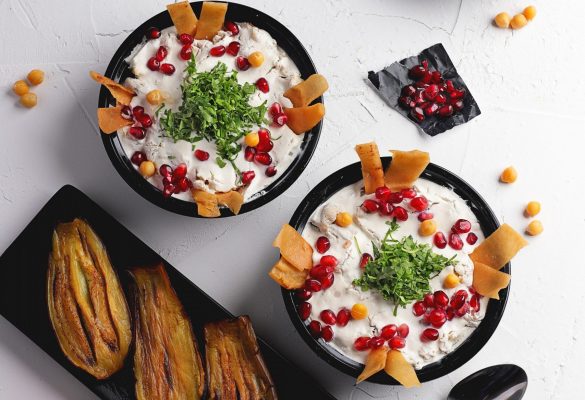 This week we are celebrating Lebanese cuisine. Lebanese food is among the healthiest cuisines in the World because of the ingredients and the way the food is cooked with low-fat options such as hummus, tabbouleh and other dips and salads.  
Lebanese cuisine combines Turkish, Arab, and French cooking styles. Characteristics include the use of lamb (introduced by the Ottomans); the abundant use of nuts, especially almonds and pine nuts; and dressings made from lemon juice. 
If you fancy a quick and easy meal we have a delicious 2-course Lebanese inspired recipe box available on our 5adaybox or Heritage at Home websites to buy.  Check out our next blog for sweet Lebanese dishes.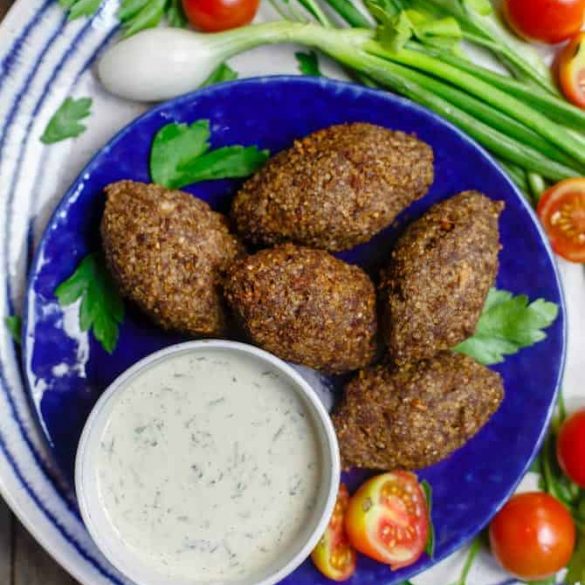 Total time: 2 hrs 15 mins
Kibbeh is a unique mixture of soaked bulgur wheat and other ingredients, typically lamb meat, and it is also considered the national dish of Lebanon. Fragrantly spiced and eaten as a snack for casual or celebratory meals, Kibbeh can be raw, baked, fried, stuffed, or prepared in a vegetarian version, stuffed with potatoes, pumpkins, and tomatoes.
It is typically served with mint leaves and drizzled with olive oil. The word kibbeh stems from an Arabic verb meaning to form into a ball or a circular shape. A fried variety of kibbeh, called kibbeh nabilseeyah is shaped into a ball, stuffed, then fried in oil.  
Source: The Mediterranean Dish
For the Kibbeh (the dough that forms the shells)
320g fine bulgur wheat
Water
1 large onion, quartered
680g lean mince beef (or lamb)
2 tsp ground allspice
1 tsp ground coriander
1/2 tsp ground cinnamon
1 tsp black pepper
Pinch of salt
Oil for frying
For the meat filling
Olive oil
1 medium onion, finely chopped
450g mince lamb or beef, cold
43g toasted pine nuts
1 tsp ground allspice
1/2 tsp ground cinnamon
Pinch of salt and pepper
Method
Cover a fine mesh strainer with a light cloth (a cheesecloth, if you have one). Add the bulgur wheat, then place the strainer into a bowl filled with water. Let the fine bulgur wheat soak in the water for 15 minutes, then pull the cloth, holding the bulgur, and squeeze all the water out. You may do this a couple of times until you are sure the bulgur is rid of water. Set aside for now. 
Now make the kibbeh. Put the onion, mince beef, spices and pinch of salt into the bowl of a large food processor. Process until the meat is very finely ground almost into a paste. Transfer the meat mixture into a large bowl and add the bulgur wheat. Use damp hands to combine the bulgur with the meat mixture to make a dough. Cover and refrigerate until later. 
Now make the filling. Heat about 1 tbsp olive oil in a skillet or frying pan. Sauté the onion until just golden, then add the minced beef. Cook over medium heat, stirring occasionally until the meat is fully browned. Add the toasted pine nuts, spices, and salt and pepper. Stir to combine. Remove from the heat and set aside to cool. 
Remove the kibbeh dough from the fridge. 
To stuff the kibbeh, you need to have damp hands. Place a small bowl of water next to you. Prepare a baking tray and line it with parchment paper.
With both the bowl of kibbeh dough and the filling near, you can begin stuffing the kibbeh. Dampen your hands with some water, take a handful of the kibbeh dough (about 2 tbsp or so) and form into somewhat of an oval-shaped disc in the palm of one hand. Use your finger to make a well in the middle of the disc, and gradually hallow the disc out to make a larger well or hole for the filling. Using a spoon, add about 1 tablespoon of the filling. Seal the dough on top and, using both hands, carefully shape it into an oval (football-type shape). Place the stuffed kibbeh on the baking tray lined with parchment paper. Repeat the stuffing steps until you run out, be sure to have damp hands throughout. 
Chill the stuffed kibbeh for 1 hour. 
Heat the oil in a deep frying pan to 350 degrees F (you'll want the oil hot enough that you can see some gentle bubbling, but not too hot where it will burn the kibbeh shells). Deep-fry the kibbeh in the hot oil, in batches being careful not to crowd them until the kibbeh shells are brown (about 5 minutes or so). With a slotted spoon or tongs, carefully remove the kibbeh and place them on a pan lined with a paper towel to drain. Repeat until you have fried all the stuffed kibbeh. 
Serve hot or at room temperature with tahini sauce, tzatziki sauce or plain Greek yoghurt. Enjoy!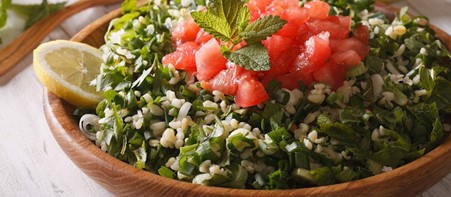 Tabbouleh is a colourful Lebanese national dish that is usually considered a salad, with a crunchy and chewy texture, made with fresh, finely chopped parsley leaves, olive oil, bulgur wheat, and chopped mint leaves as a base. It originated in the mountains of Lebanon and Syria, where edible herbs that are used in tabbouleh were consumed by Arabs since Medieval times. 
Usually served as an appetizer, it is sometimes accompanied by pita bread, baba ghanoush, or hummus. Chopped red tomatoes, diced cucumbers, fresh lemon juice and minced onions can be added to the salad, imparting a tangy flavour. It is best to refrigerate tabbouleh for a few hours before serving to improve its taste. Its refreshing flavours are ideal for a hot summer day, while bulgur provides a rich source of fibre, protein, and minerals, making tabbouleh one of the healthiest food options in Lebanon. Tabbouleh is so popular that it even has its own day, celebrated every year on the first Saturday in July. 
Source: BBC Good Food
50g bulgar wheat
50g flat-leaf parsley
50g mint, chopped
200g ripe tomatoes, deseeded and diced
3 spring onions, finely sliced
1 lemon, juiced
3 tbsp olive oil
Method
Rinse the bulgur wheat in a sieve until the water runs clear. Drain well, then transfer to a bowl. Pour over 200ml boiling water, cover with cling film and leave to soak for 30 mins or so while you prepare the rest of the ingredients. 
Keeping the parsley in a bunch, chop the leaves roughly. Don't worry about the inclusion of some of the stalks; this all adds to the flavour. Now do the same with the mint. Put the chopped herbs in a large bowl and add the tomato and spring onion. 
Thoroughly drain the bulgur, then add to herb mix, along with lemon juice and olive oil. Mix thoroughly, season and serve.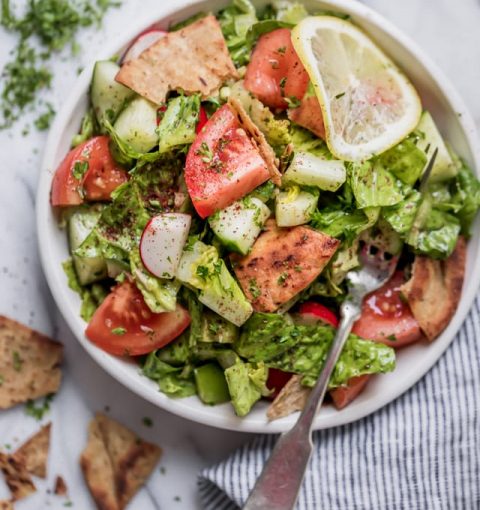 Fattoush is basically a Mediterranean fried bread salad that typically includes lettuce, tomatoes, cucumbers, radishes and fried pieces of pita bread.  You can also add green peppers, green onions and parsley.
So, in Arabic, the word "fattoush" is derived from "fatteh" which literally means "crumbs." As you can imagine, this Fattoush Salad is basically a hodgepodge of pita bread that's been seasoned then fried (or toasted) in addition to other vegetables that are in season. For that reason, there are no rules when it comes to the vegetables you use in Fattoush! It's a great base recipe that you can build upon and dress up how you'd like.
Source: Feel Good Foodie
Salad
1 large double-ply pita bread cut into triangles
3 tbsp olive oil
Salt, to taste
Freshly cracked black pepper, to taste
1 large head of romaine lettuce, chopped
1 large vine-ripe tomato, diced
2-3 mini cucumbers, quartered
1/2 large green pepper, chopped
5 radishes, diced
2 spring onions, chopped
Large handful of fresh chopped parsley
Dressing
3 tbsp olive oil
2 tbsp lemon juice
2 garlic cloves, grated
1 tsp sumac or substitute with grated lemon zest
1 tsp pomegranate glaze or balsamic glaze
1/2 tsp fresh mint
1/2 tsp salt
Freshly cracked pepper, to taste
Method
In a large frying pan, heat 3 tablespoons of extra virgin olive oil on medium heat. Add the pita bread and season with kosher salt and freshly cracker peppers.
Fry the pita for 5-7 minutes until the pieces are crispy and golden in colour. (Alternatively, bake the pita bread at 200'C for 5-10 minutes.) Set the fried bread aside.
In a large bowl, add the salad dressing ingredients: olive oil, lemon juice, garlic, sumac, pomegranate molasses, mint, salt and pepper. Whisk together until the dressing is emulsified and well blended.
Add the lettuce, tomatoes, cucumbers, green peppers, radishes, green onions and parsley to the large bowl of dressing and toss to combine.
Add the fried pita bread to the salad immediately before serving and gently toss again.
Serve chilled or at room temperature.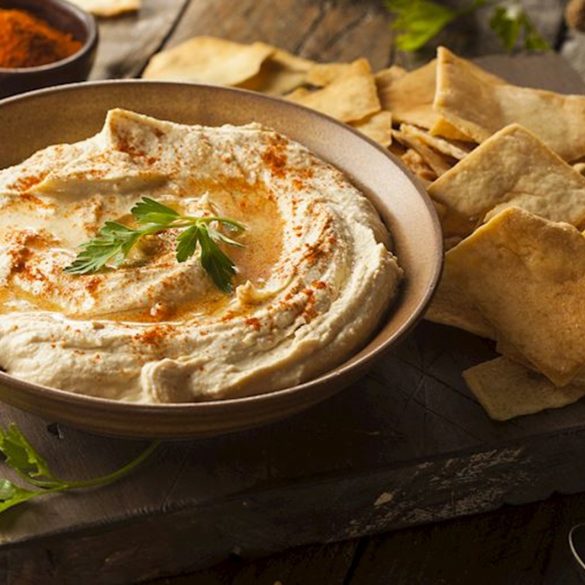 If you've never made hummus before, then you are totally missing out. Homemade Lebanese hummus is super easy to make, tasty, healthy and requires just a few simple ingredients.
The unique flavour of hummus comes from tahini, a sesame seed paste. You can usually find it in the ethnic section of your supermarket.
When served, it is typically dressed with a drizzle of olive oil and is then used as a dip for vegetables or a flavourful filling for flatbreads such as pita. Even today, not much is known about its origins, although the earliest mention of hummus dates back to 13th-century Egypt.
1 tin of chickpeas, skins removed
1 1/2 tbsp tahini
1/2 lemon, juiced
1 1/2 tbsp extra-virgin olive oil + 1 tbsp to drizzle on top
1/2 garlic clove, crushed
1/2 tsp salt
1/4 tsp cumin
Paprika, to garnish
Extra-virgin olive oil, to garnish
Method
Remove the skins from the chickpeas if you want a smoother hummus (it is laborious but I find it's worth the hassle and if a few of you join in it's done in no time).
Put the chickpeas in the bowl of a food processor and blend for 1 minute.
Add the tahini, extra virgin olive oil, lemon juice and keep mixing until it becomes creamy. Stop to scrape down the sides once or twice.
Add the garlic, salt and cumin and blend for 3-4 minutes until thoroughly mixed and smooth.
If it's too thick add 1 tablespoon of water until the consistency is perfect.
Taste and adjust the seasonings, adding more salt or lemon if needed
Place in a shallow bowl, drizzle 1 tablespoon of olive oil, garnish with a few chickpeas and sprinkle with paprika (optional).
Serve the homemade Lebanese hummus immediately with flat bread or cover and refrigerate.
Enjoy!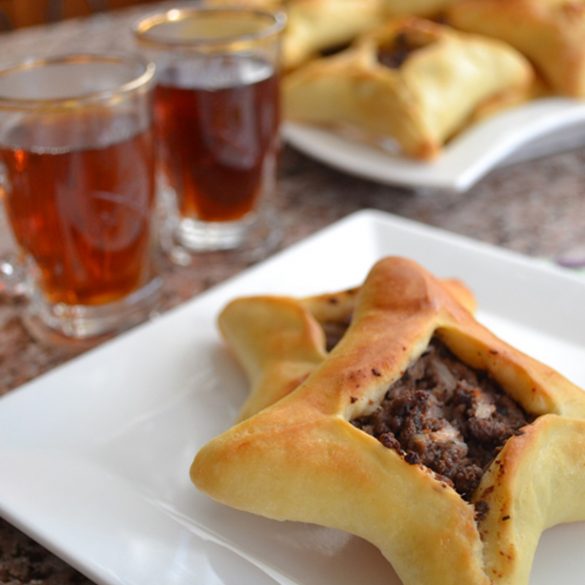 Sfeeha (Lebanese meat pies)
There are MANY recipes out there for the dough and the stuffing, this is my favourite. You may find the addition of tahini, pomegranate molasses and labneh (drained greek yoghurt) a bit strange but they do transform the taste of the meat and take it to the next level..still, they are entirely optional.
To make the dough
272g flour
1 tsp yeast
1/2 tsp salt
1/2 tsp sugar
3 tbsp olive oil
180ml water
To make the stuffing
500g minced beef
1 medium onion, chopped
2 tbsp olive oil
1/2 tsp allspice
1/4 tsp cardamom
1/4 tsp cinnamon
1 tbsp labaneh (or substitute with sour cream)
1 tbsp pomegranate molasses (or substitute with balsamic glaze)
Salt, to taste
1/2 tbsp dried mint
Method
Proof the yeast by mixing the yeast, sugar and water and waiting for the yeast to foam and bubble. (if it doesn't bubble you need to discard it and start over with new yeast).
In a bowl whisk together the flour and salt till combined.
Add the oil and then rub it into the flour mix with your fingertips.
Add the water/ yeast mixture and knead the dough until it forms a smooth soft ball that doesn't stick to your hands.
Cover a bowl with a little olive oil, place your dough it and cover the dough with a clean towel or plastic wrap and leave it in a warm place until it doubles in size (If you are short on time, heat your oven to 200 C and place the rack in the middle. Turn it off. Place a clean towel on the rack and place the bowl with your covered dough on the towel and leave it in the closed oven. It will double in size in 10-15 minutes)
Cut the dough into egg-sized balls and cover them with a clean towel and allow them to rest for 10 minutes.
To make the stuffing saute the onions in the olive oil until translucent.
Add the ground beef and spices and stir until it is half done.
Add the molasses, tahini, labaneh and mint. Stir to combine.
To assemble the sfeeha
Oil your baking sheets.
Centre your oven rack
Heat your oven to 270C.
Roll the dough ball into a small circle, place the stuffing in the centre.
Wet 1 cm of the dough circumference with water using a brush or your finger.
Take two sides of the dough circle and seal them together by pinching them between your finger and thumb
Repeat that with the other sides of the circle until you get 4 corners.
Transfer the dough to the baking sheet and allow to rest for 10 minutes.
If you are making a big amount make sure you cover the meat pies with a clean cloth while they are resting or the surface will dry and crack once you bake them.
When the whole amount is ready re-pinch the sealed dough margins together to make sure they are sealed tight.
Brush the dough with some egg wash.
Bake your meat pies for 10 minutes or until the underside is golden. (They will buff up as they bake so don't place them too close to each other on the baking sheet).
Place them under the oven grill until the tops are golden brown.
Transfer to a wire rack to cool.
Make yourself a cup of tea and ENJOY.