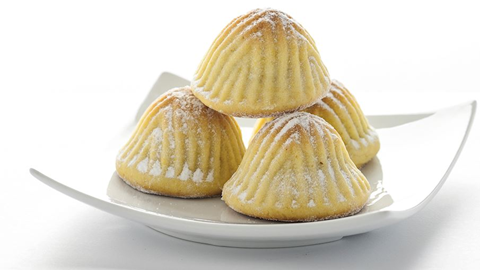 Ma'amoul is an ancient cookie filled with fruits and nuts such as dates, walnuts, and pistachios. The cookies are traditionally prepared for Easter, festivals, and celebrations, and they are typically shaped into balls or domes. In order to differentiate the cookies, the walnut version is usually shaped into a dome with a round top, the date ma'amoul is shaped into a dome with a flat top, while the pistachio ma'amoul has an elongated, oval shape.
It is not uncommon for the cookies to be topped with powdered sugar for extra sweetness, and they are often served with coffee or tea during the day in many Middle Eastern households.
Source: Taste Atlas
For the dough
275g semolina
68g plain flour
100g sugar
1 tsp instant yeast
1/8 tsp salt
170g melted ghee, cooled
4 tsp orange blossom or rose water
1/2 cup water
Date filling
370g pitted dates, pureed or date paste
2 tbsp water
1 tbsp orange blossom or rose water
1/2 tsp ground cinnamon
Walnut filling
260g finely chopped walnuts
100g sugar
3 tbsp orange blossom or rose water
Icing sugar, for dusting
Method
In a large bowl sift and combine the dry ingredients, semolina, flour, sugar, salt, and yeast. Pour in the ghee, flower water and water and knead with hands until you get a smooth, greasy dough. Cover and let rest for 1-3 hours. You can prepare the dough on the previous evening, and refrigerate it overnight. If you do so, before you start making the cookies, allow them to soften a bit at room temperature.
Divide the dough into 24 golf ball-sized pieces. Roll them either into a ball or shape them into an oblong, depending on the filling you would use. Place them on wax paper or a cling film and flatten them with a rolling pin to a ⅛ inch thickness.
To make the fillings, blend the ingredients in a food processor until you get a paste.
If you're shaping the cookies by hand, do it as you would a dumpling. Place one tablespoon of the desired filling into the centre of the dough, then fold up the dough and seal the edges. Form the cookies into a ball or an oblong, taking care not to tear the dough. If any tears do occur, pinch the two sides of the dough with your fingers and smooth out the surface.
Line the baking tray with parchment paper and arrange the cookies, taking care there are two inches of space between each. Bake in an oven preheated at 180C for 20 minutes or when the bottom of the cookies is lightly browned. Note that the top of the cookies should never turn brown, but remain pale. Serve the date ma'amouls plain and dust the walnut ma'amouls with icing sugar.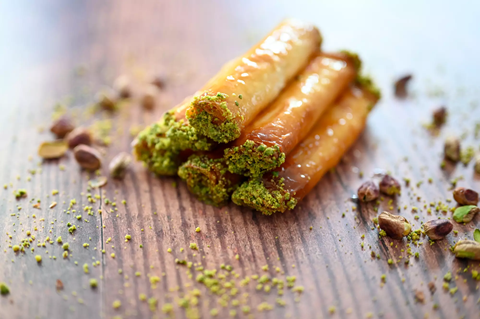 You can find these pastries at any sweet shop in Lebanon, especially during the month of Ramadan, to be eaten as a post-iftar treat. After a long day of fasting, aside from the satisfying iftar, a sweet treat is almost always made to enjoy with a cup of coffee or tea late at night. Znoud El Sit can be eaten at room temperature or cold, making these a great make-ahead dessert.
You can make the ater (rose water simple syrup) ahead of time, up to weeks in advance! The ashta (cream filling) can also be made in advance, up to 1-2 days.
To freeze, line a large tray with parchment paper and place the rolled znoud el sit on the tray. Freeze for at least 3 hours before transferring to a freezer-safe baggie. They can be fried directly from the freezer as needed!
Source: Simply Leb
12 sheets phyllo pastry
375ml whole milk
120ml double cream
3 tbsp caster sugar
3 tbsp cornflour
1 tsp rose water
1 tsp orange blossom water
475ml rose water syrup
Method
Make the ashta (cream filling) by combining the whole milk, double cream, sugar, and cornflour in a small pot. Place over medium heat and begin whisking. After a couple of minutes, the mixture will begin to thicken, keep whisking for about 5 more minutes.
Turn off the stove and add in the rose water and orange blossom water. Whisk thoroughly to combine. Transfer to a bowl and set aside to cool.
Prepare the phyllo dough for the Znoud El Sit by cutting them into long rectangular strips about 4 inches wide.
Place a strip of phyllo horizontally and then place another strip over it vertically towards the bottom.
Add about 2 tablespoons of the ashta right in the middle of the vertical strip and fold over both sides.
Roll the horizontal strip starting from the bottom over the folded one. Use a little bit of water to help seal the Znoud El Sit as needed.
Heat a large frying pan with vegetable oil. Fry the rolls in batches for about 4 minutes, flipping them over halfway through, until golden brown.
Have the warm ater (simple syrup) ready in a large bowl. Drop the rolls immediately from the fryer into the ater, for about 30 seconds then transfer to a serving plate.
Decorate with ground pistachios. Serve at room temperature or cold. Enjoy!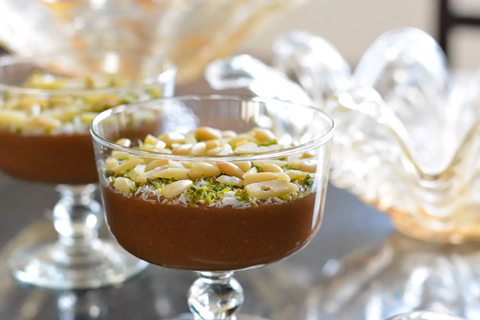 The traditional Lebanese rice pudding called meghli is a vegan, gluten, and dairy-free dish that is traditionally consumed to celebrate the birth of a baby. It is also said that the brown colour of the spiced pudding is symbolic of the richness of the soil, while the rough texture of the nuts on top represents growing seeds.
Meghli is made with rice flour, caraway, water, sugar, spices, a variety of nuts and spices, and is then cooked over low heat until the mixture can hold itself when tilted. It can be enjoyed both warm or cold.
Source: Simply Leb
775g rice flour
150g caster sugar
1 tbsp ground cinnamon
1 tbsp caraway
945ml water
Toppings (Optional)
Shredded Coconut
Crushed Pistachio
Pine nuts
Sliced Almonds
Method
Begin by combining all the dry ingredients in a medium-sized saucepan.
Add the water (cold or room temperature) and whisk thoroughly.
Place the saucepan on the stove on medium-high heat and let come to a boil, about 5 minutes.
Make sure to whisk every now and then so the rice flour does not clump.
Once the pudding has started to boil, lower the heat to low and whisk consistently for an additional 15-20 minutes until the pudding has thickened to the perfect consistency.
Pour the hot pudding into 4 individual bowls.
Top with about 1 teaspoon each of every type of nut and topping you choose to decorate with.
Set aside to thicken and cool. Let refrigerate for a minimum of 4 hours before serving.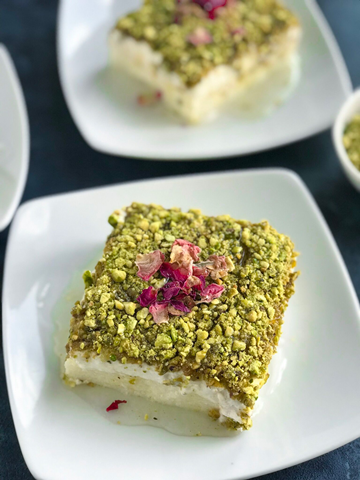 Translated as Lebanese nights, this creamy and versatile dessert is made with a base of milk, semolina, and sugar. The ingredients are cooked into a creamy pudding that is left to set until it is firm and well-chilled. The pudding is usually flavoured with orange blossom or rose water, vanilla, lemon juice, and can also be additionally thickened with mastic.
Traditionally, this dessert is served topped with cream or ashta (thick clotted cream) and crushed or ground pistachios, but additional toppings may include other nuts and sliced fruit such as bananas or strawberries, while the whole concoction is sometimes finished off with a drizzle of honey or syrup.
It can be stored in the fridge for 2 – 3 days
Source: Cookin With Mima
For the base
2 litres whole milk
176g semolina
100g sugar
3 tbsp orange blossoms water
For the whipping cream topping
720 ml double cream, very well chilled
150g icing sugar
1 tsp vanilla extract
1 can of canned fresh cream
For the topping:
300g ground pistachios, processed (not too powdery, halfway through)
Dry rose petals for garnishing optional
For the sugar syrup
400g sugar
237ml water
1 tbsp. rose water
1 tbsp. orange blossoms water
1 tsp. lemon juice
Method
In a pot over medium heat, bring all the base ingredients to boil, stirring occasionally. Once it starts boiling, reduce the heat to between low and medium, stirring constantly until the mixture thickens up very well. This will take anywhere between 10-15 minutes.
Remove and place onto a dish. Cover with plastic food wrap and let in cool at room temperature for 20 minutes. Then place the bowl in the fridge to cool down more for 45 minutes.
Meanwhile, chill the double cream in the freezer for about 10 minutes. Remove and whip the cream until it starts to get firmer, adding in the sugar gradually until the whipped cream is firm. Cover and place in the fridge to chill until the base is ready.
When the base is ready, remove the plastic food wrap and top the base with fresh cream. Then spread out the whipping cream in sections so you can be able to spread it out easily without any hassle.
Top the cream generously with the processed pistachios, covering it entirely. Place in the fridge and let it chill overnight or for at least 6 hours. The longer the better.
To prepare the syrup, bring the sugar and water to boil. Once it starts boiling, let it boil for 7 minutes and then add in the lemon juice. Boil for another 1-2 minutes and then add in the rose and orange blossoms water. Stir well and then remove from heat. Cover and let it cool in room temperate until it's ready to be served with the dessert.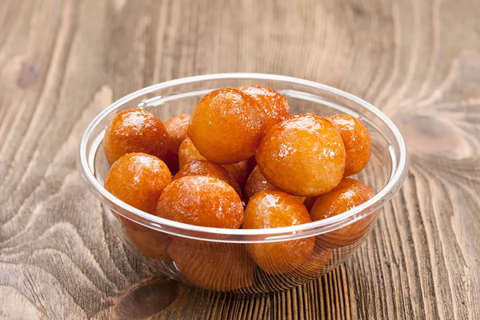 Awamat: Lebanese Crisp Doughnut balls
These sweet treats from Lebanon called awamat are perfect for any occasion. Small balls of dough are fried until golden brown and crispy, and then coated with simple syrup. Make sure you make enough of these to go around—there's no way you can eat just one!
375g flour
 1/2 teaspoon sugar
 1/4 teaspoon salt
 1 1/2 teaspoon active dry yeast
 2 1/2 cups water
 Olive oil for frying
Simple syrup, for topping
Method
In a large bowl, mix pastry flour, sugar, yeast, and salt.
Slowly add the water and mix until a dough forms.
Turn dough out onto a floured surface and knead well for 5 to 7 minutes, until it is shiny and soft and slightly sticky.
Spoon dough by the teaspoonful and form ball shapes with your hands. Place on a plate once completed.
In a frying pan, add enough olive oil so that dough will be submerged. . A good tip for testing the temperature if you don't have a deep-fry thermometer is to place the end of a wooden spoon into the oil; if you see small bubbles form around the spoon then the oil is sufficiently hot.
Carefully place the dough balls into the oil, only a few at a time. (Do not crowd the pan.) When the doughnuts are cooked they will rise to the top of the oil and be golden brown.
Remove the doughnuts from the oil using a slotted spoon and place on a plate covered with a paper towel to absorb excess oil. Let cool a bit until easy to handle.
Make the simple syrup – this is just a combination of water and sugar. For these doughnuts, and perhaps other desserts, you can combine 2 parts sugar to 1 part water. All you need to do to make simple syrup is dissolve the sugar in boiling water and then let simmer for about 10 minutes or so.
Drizzle with simple syrup and toss to coat. Serve immediately.