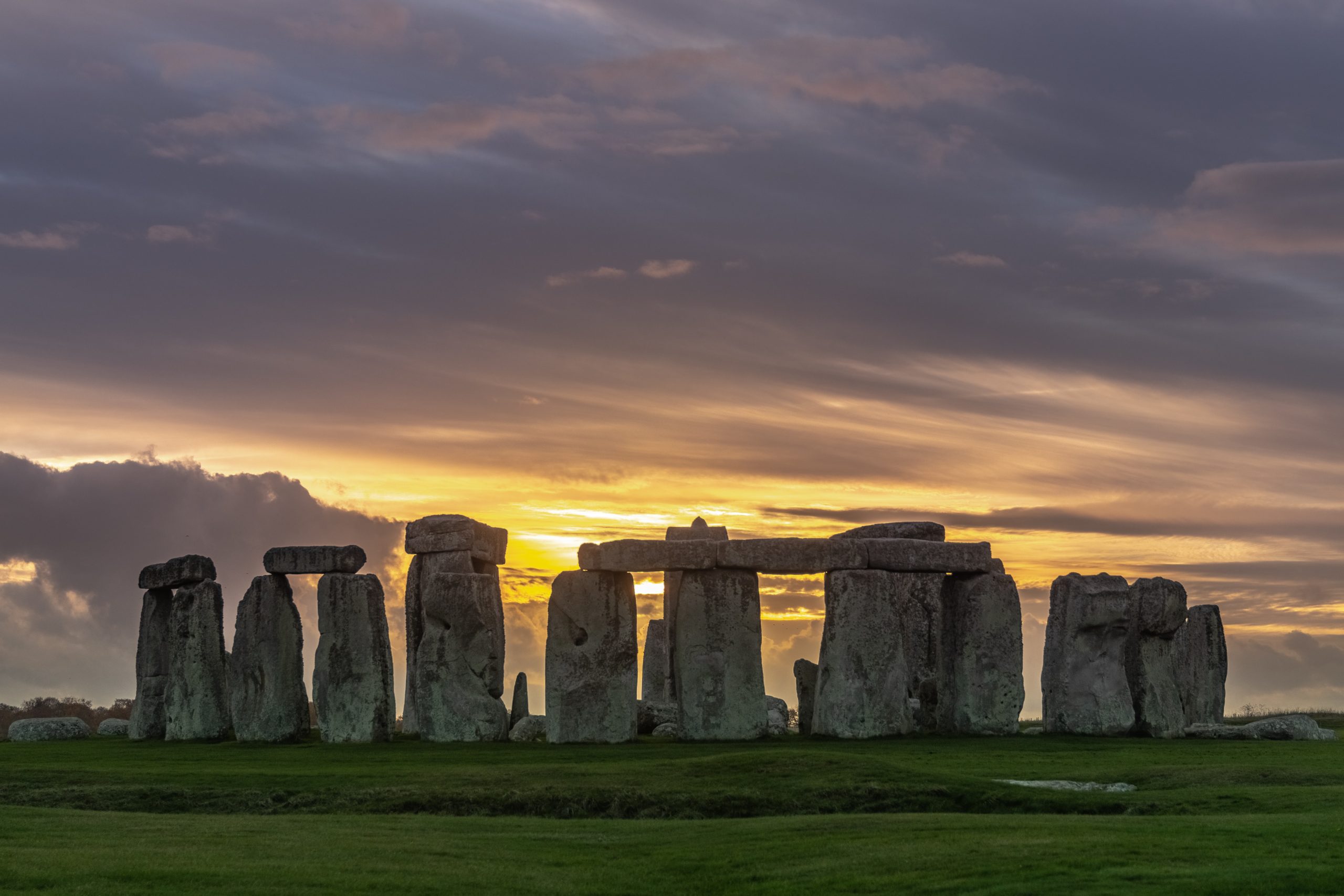 Monday 21st June marks the astronomical start of summer.  This year the astronomical Summer begins on 21 June. This calendar determines the seasons due to the 23.5 degrees of tilt of the Earth's axis, in its orbit around the Sun. (The meteorological summer began on 1 June. The meteorological seasons are split into three months each. They coincide with our Gregorian calendar, making it easier for observing and forecasting to compare seasonal and monthly statistics). 
Here at Heritage, we love facts, here are our top 5 facts (followed by some delicious seasonal summer recipes for you to enjoy). 
Summer Solstice at Stonehenge
Summer for some in the South West kicks off with an annual solstice trip to Stonehenge on 21 June.  At Stonehenge on the summer solstice, the sun rises behind the Heel Stone in the north-east part of the horizon and its first rays shine into the heart of Stonehenge.   Solstices are twice-yearly occurrences, and they mark the day on which one of the Earth's two poles is tilted most prominently towards the sun. 
The 21st also marks the longest day of the year when we have the most daylight as opposed to the shortest hours of darkness – which is reversed exactly six months later on December 21, the winter solstice, also the shortest day of the year. 
Manhattanhenge
Twice a year around 28 May and 12 July, New York is home to a fascinating sunset phenomenon. Owing to the city's design on a grid rotated 29 degrees clockwise from true east-west, twice a year the Sun sets directly at the end of many of New York's major streets. This creates a spectacular sunset to see the Sun slightly above the horizon and nestled between the rows of buildings. Similarly, Milton Keynes' central road is designed so that when the Sun rises on the solstice, it shines straight down Midsummer Boulevard and reflects in the glass of the train station.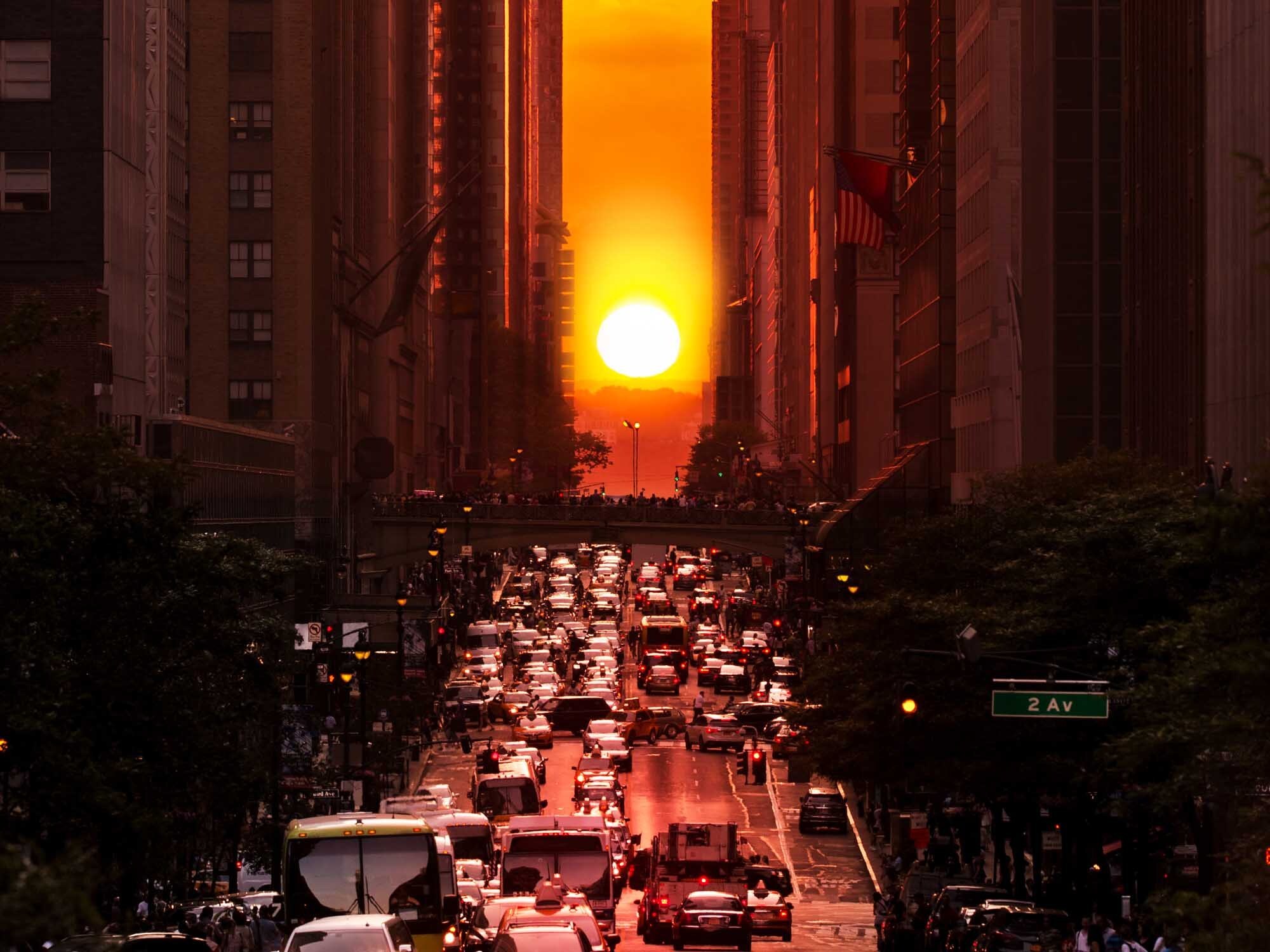 Crickets get chirpy
Next time you hear the sound of crickets chirping on a balmy summer evening, why not try this simple trick to find out the temperature. The frequency of a cricket's chirps is consistent with air temperature, so you simply need to count how many chirps there are over 25 seconds then divide by 3 and add 4 to tell you the temperature in Celsius. 
The best time to look for crickets is in high summer, and the greatest variety of species is found in the south, with the Dorset coast, the New Forest and the East Anglian coast and heaths supporting many species. Look in grassland, woodland edges and bogs. Once you're tuned into their songs, move carefully through any areas of long grass or dense vegetation and use your ears. Before long you'll be able to pinpoint the stridulating insect.  
Snow in June
On 2 June 1975, snow showers forced the abandonment of several cricket matches across the country. The coldest temperature ever recorded in summer in the UK is -5.6 °C recorded on 9 June 1955 in Dalwhinnie, and again on 1 and 3 June 1962 in Santon Downham in Norfolk. 
Top temperatures
The warmest ever summer in the UK was in 2006 when daytime temperatures averaged 15.8 °C. The hottest temperature ever recorded in the UK was on 25 July 2019 when Cambridge University Botanic Garden recorded a sweltering 38.7 °C. 
The Perfect Summer dishes
Here are our top 5 Summertime dishes for you to try out, stock up your box with the ingredients and get cooking and as always don't forget to share what you have made with your box contents.   
Check out our Summer Heritage Bites magazine due out next week on the 28th June for lots more recipe suggestions or how about treating yourself to our seasonal cookbook.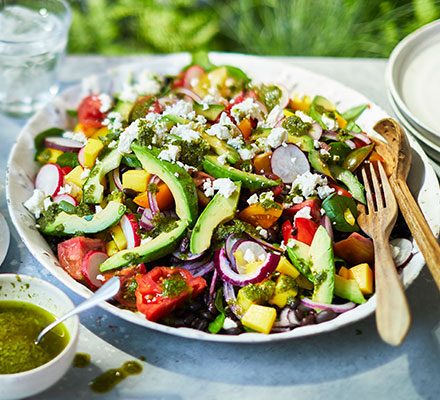 Perfect for BBQs and buffets, this is an assembly job of gorgeous ingredients – no cooking required. Serve it with lamb kebabs for an impressive summer feast. 
Source: BBC Good Food
400g black bean, drained
2 large handfuls baby spinach leaves, roughly chopped
500g heritage tomatoes, chopped into large chunks
1/2 cucumber, halved lengthways, seeds scooped out and sliced on an angle
1 mango, peeled and chopped into chunks
1 large red onion, halved and finely sliced
6-8 radishes, sliced
2 avocados, peeled and sliced
100g feta, crumbled
Handful of herbs, reserved from dressing
For the dressing
Large bunch of mint
Small bunch of coriander
Small bunch of basil
1 fat green chilli, deseeded and chopped
1 small garlic clove
100ml extra virgin olive oil
2 limes, zested and juiced
2 tbsp white wine vinegar
2 tsp honey
Method
Make the dressing by blending all of the ingredients in a food processor (or very finely chop them), saving a few herb leaves for the salad. You can make the dressing up to 24 hrs before serving.  
Scatter the beans and spinach over a large platter. Arrange the tomatoes, cucumber, mango, onion and radishes on top and gently toss them together with your hands. Top the salad with avocados, feta and herbs, and serve the dressing on the side. 
Make lunch fun again with these Thai Peanut Wraps! 
Source: Spiced Blog
350g cabbage, shredded
5 large carrots, shredded
1 red bell pepper, thinly sliced
155g edamame, cooked and shelled
1 bunch coriander, chopped
1 onion, chopped
150g honey-roasted peanuts
1 large handful of wonton strips
5 wraps
For the peanut sauce
2 tbsp rice vinegar
1 tbsp soy sauce
1 tbsp limejuice
1 tbsp honey
1 tsp garlic, minced
4 tbsp peanut butter
1/2 tsp salt
1/2 tsp chilli flakes
Method
For the Peanut Sauce 
Using a small mixing bowl, add rice vinegar, soy sauce, lime juice, honey and garlic. Whisk until well combined. 
Add the peanut butter, salt and chilli flakes. Whisk until smooth. 
For the Thai Peanut Wraps 
Using a large bowl, combine all of the ingredients except for the wraps; mix until well combined. 
Divide the mixture evenly between the wraps. 
Drizzle Peanut sauce on top and then roll up flatbreads; cut in half before serving.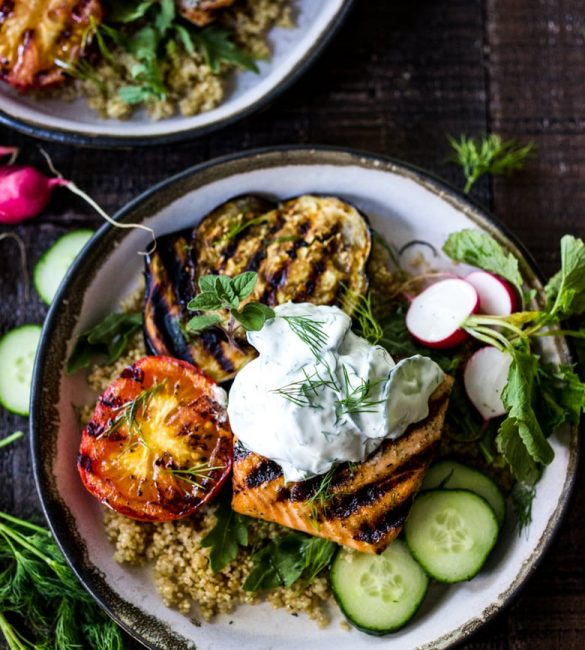 Grilled Salmon with Tzatziki & Grilled Lemon
A fast and delicious weeknight meal loaded up with healthy veggies over a bed of optional Everyday Quinoa, fresh greens, and topped with creamy Tzatziki Sauce. A healthy flavourful Greek-inspired dinner, perfect for summer! Grilled Salmon served over optional quinoa (or rice) with greens, grilled vegetables, fresh veggies and  Tzatziki Sauce. Feel free to substitute chicken or tofu for the salmon. If going grain-free, leave out the quinoa and add more grilled veggies. 
Source: Feasting at Home
2 salmon fillets
Olive oil for brushing
Salt and pepper
1 lemon, sliced in half
1 large tomato, sliced in half
1 small aubergine, sliced
For the tzatziki
1 cucumber, grated
4 tbsp Greek yogurt
1 garlic clove, finely minced
1 tbsp freshly chopped dill or mint
1/4 tsp salt
1/2 tsp pepper
A squeeze of lemon, to taste
Optional additions:
Quinoa or rice
Greens – rocket, spinach or mixed greens
Fresh veggies – radishes, cucumber, microgreens, sprouts
Fresh herbs – dill, mint or parsley
Method
Preheat heat grill to medium-high. 
Set the quinoa or rice to cook on the stove, according to directions.  (Quinoa only takes roughly 20-30 minutes) 
Brush salmon with olive oil and season with salt and pepper. Set aside. Brush the aubergine with olive oil and season with salt and pepper. 
Make the Tzatziki Sauce. 
Peel and grate cucumber and place in a bowl and place in a clean tea towel and squeeze out the water. 
In a medium bowl, whisk yogurt, garlic, fresh herbs, salt, pepper and lemon juice. 
Fold the cucumber into yogurt mixture, taste and adjust salt and lemon juice to taste. 
Cover and refrigerate until ready to use. Garnish with fresh dill or mint with a drizzle of olive oil to serve. 
Place salmon on a well-greased grill, along with the lemon (open side down), the tomato (open side down) and the sliced aubergine.  Grill salmon on both sides for 3-4 minutes, shorter or longer depending on the thickness of the cut. Grill the lemon and tomato until deep grill marks appear, and flip the aubergine, grilling till tender and translucent. (You will use the grilled lemon to squeeze over the salmon before serving.) 
When veggies and salmon are done, assemble the 2 bowls. 
Divide quinoa among two bowls. Top with a handful of greens. Add any fresh veggies you like and drizzle with a little olive oil, sprinkle with salt and pepper and a squeeze of the grilled lemon. Arrange the grilled vegetables and salmon over top. Squeeze more of the grilled lemon over the whole bowl. Spoon a few generous spoonfuls of tzatziki sauce over top of the salmon.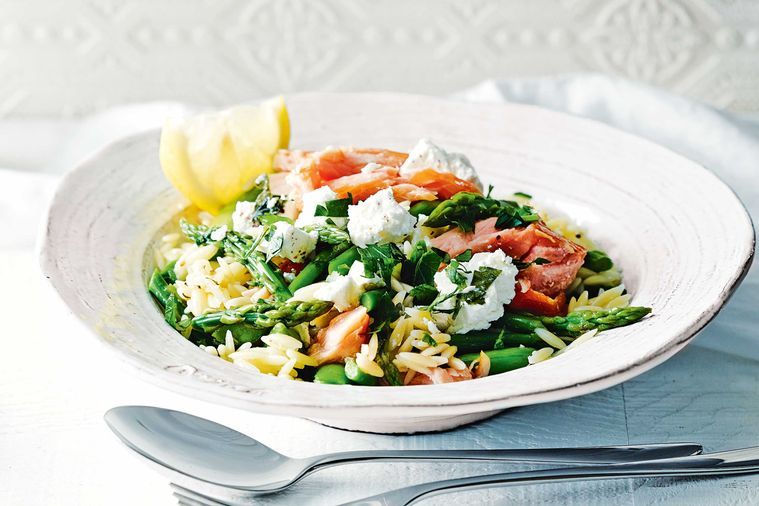 Create art on a plate with this colourful summer risoni, loaded with flakes of hot-smoked salmon and fresh asparagus.
Source: Delicious
400g risoni or orzo pasta

 

1 bunch asparagus, trimmed, cut into 2cm lengths

 

200g sugar snap peas

 

200g feta

 

80ml o

live oil

 

1/2 bunch parsley, leaves chopped

 

Finely grated zest and juice of 1 lemon

 

2 hot-smoked salmon fillets

 
Method
Boil the kettle. Place a saucepan over high heat and add boiling water and 1 tsp salt. Add risoni, reduce heat to medium, then simmer for 7 minutes or until al dente, adding asparagus and sugar snap peas for the final 2 minutes. Drain, reserving 125ml cooking liquid. Return reserved liquid to the pan with risoni mixture. 
Add oil mixture to pan with parsley and zest. Season. Break up the salmon and feta into bite-sized pieces, add to the risoni mixture and toss to combine. Squeeze over lemon juice to serve.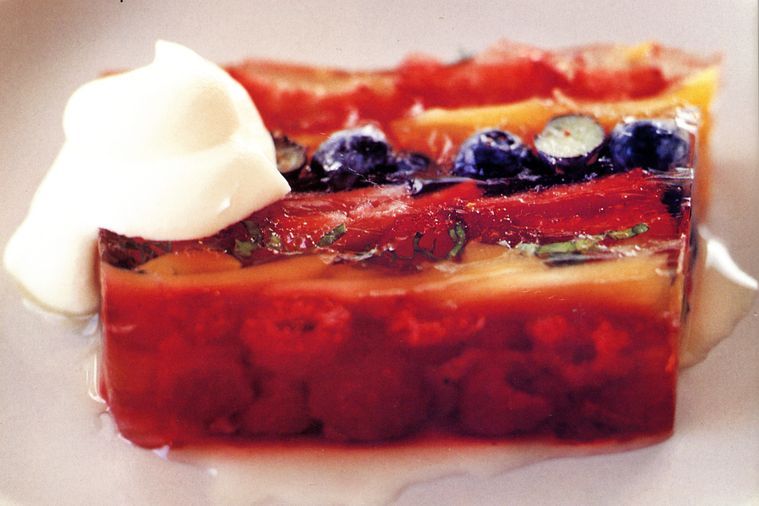 Forget jelly shots and serve your guests this beautifully crafted terrine made with layers of sweet summer fruit. 
Source: Delicious
6 sheets leaf gelatine
200g caster sugar
60ml vodka
1 mango, peeled, stone removed
500g strawberries, hulled, sliced
250g raspberries
230g blueberries
12 basil leaves, shredded
Double cream, to serve
Lime syrup
50g caster sugar
4 limes, zested, juiced
1 tbsp arrowroot
1 tbsp vodka
Method
Line the terrine dish with plastic wrap leaving some plastic overlapping. 
Place the gelatine leaves in a bowl of cold water for 5 minutes to soften. Place the sugar and 500ml  water in a saucepan over low heat and stir to dissolve the sugar. 
Squeeze the excess water from the gelatine and add to the sugar syrup. Add vodka and stir to dissolve the gelatine. Pour into a jug. 
Slice the mango into thin strips. 
Fill a large bowl with cold water and ice. Pour a little jelly in the bottom of the terrine dish and place the dish in the bowl of iced water. Leave for 10 minutes or until set. 
Start layering the fruit and jelly, alternating with basil leaves as you go, returning to the iced water to set between each layer. When the terrine is full, refrigerate (ensuring it's on a very flat surface) for 2 hours until set. 
Meanwhile to make the lime syrup, place the sugar, lime juice and 150ml water in a saucepan over low heat, stirring to dissolve the sugar. 
Combine the arrowroot with 2 tablespoons of cold water, then add to the mixture. Allow the mixture to simmer for 1 minute, then remove from heat. Strain, discarding the solids. Add the lime zest and vodka, then set aside at room temperature to cool. Refrigerate for 30 minutes to chill completely. 
Gently pull on the plastic wrap to help remove the jelly from the terrine dish. Cut into slices and serve with lime syrup and cream.