As a child there are some key things I remember from our family Christmas' (and some that can stay back in the 70s and 80s!).  I remember finishing school and racing into the kitchen to make sweets, biscuits and cakes to give to friends (okay we ate most of them) packaging them up into cellophane bags and proudly giving them away.  So I thought it would be fun to reincarnate some of the retro sweet, biscuit and cake classics for you to try, why not make a selection and box them up for gifts.  Share with us your retro childhood favourites over on social and let's get cooking.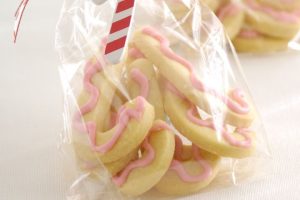 Use your imagination to decorate these festive bikkies as you please, then wrap up for someone you love.
Source: Taste
272g plain flour
50g icing sugar mixture

200g butter, chopped

1 tsp vanilla essence

170g icing sugar

1 egg white, lightly whisked

Red food colouring
Method
Line 2 large baking trays with baking paper. Place flour and icing sugar mixture in a food processor. Add butter. Process in short bursts until the mixture resembles coarse breadcrumbs.
Add vanilla essence and 2 tablespoons of cold water. Process, in short bursts, until mixture just comes together. Turn dough onto a piece of baking paper. Divide dough in half. Roll each portion out between 2 pieces of baking paper until 7mm thick.
Using a 7cm to 8cm long candy cane-shaped cutter, cut out shapes. Place shapes on prepared trays. Roll together remaining dough and repeat. Refrigerate for 20 minutes. Preheat oven to 180°C.
Bake biscuits for 10 minutes, swapping trays over halfway through cooking. Allow to cool on trays for 5 minutes. Transfer to a wire rack to cool completely.
Sift pure icing sugar into a bowl. Add egg white. Stir until smooth. Add 2 to 3 drops of red food colouring. Stir until icing is pink. Spoon icing into a snap-lock bag. Snip off one corner. Pipe icing over cookies. Set aside for 20 minutes to set. Place cookies in cellophane bags. Secure with ribbon.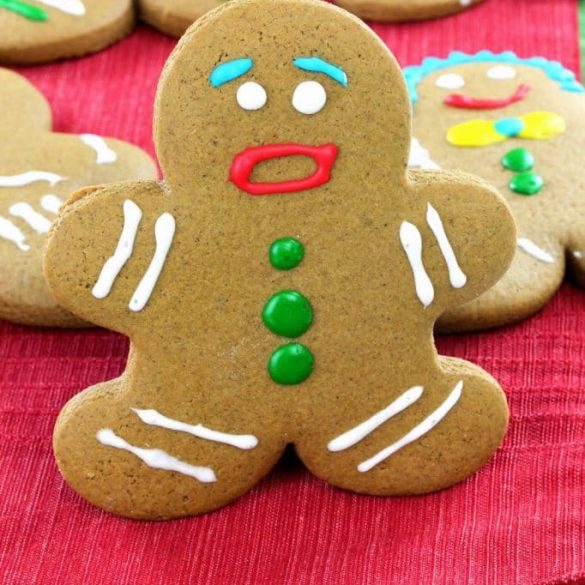 Classic old-fashioned gingerbread cookies
Source: The Stay at Home Chef
6 tablespoons salted butter softened
55g brown sugar tightly packed
113g dark molasses
1 large egg
3/4 teaspoon ground cinnamon
3/4 teaspoon ground ginger
1/2 teaspoon ground allspice
1/2 teaspoon ground cloves
1/2 teaspoon baking soda
1/4 teaspoon salt
220g all-purpose flour
Method
Use a hand mixer or stand mixer to cream butter and brown sugar until fluffy. Mix in molasses, egg,
cinnamon, ginger, allspice, cloves, baking soda, and salt until smooth, scraping the sides as necessary. Add in the flour until well incorporated.
Remove the dough from the bowl and wrap the dough in plastic wrap. Refrigerate 1 hour.
Preheat oven to 180C. Line a baking sheet with greaseproof paper.
Roll the dough out to 1/4-inch thickness on a lightly floured surface. Use a gingerbread man cookie cutter (or other shapes) to cut out cookies. Lay cut cookies on the prepared baking sheet, 1 to 2 inches apart. Re-roll the dough as necessary to cut out cookies until dough is gone.
Bake in the preheated oven for 10-12 minutes.
Let cool on pan for 2 minutes before removing and cooling on a wire rack. Cool completely (about 30 minutes) before decorating.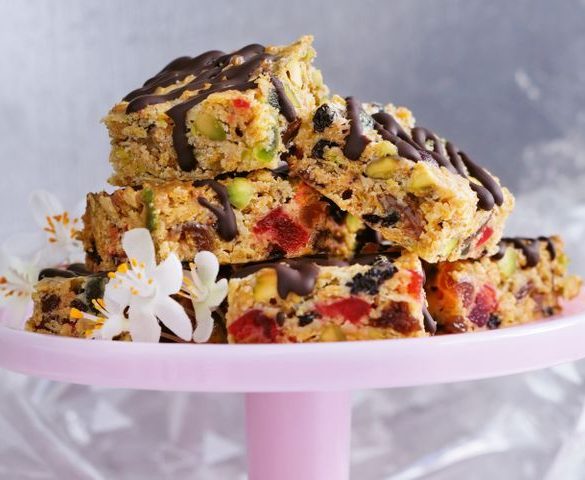 Christmas Florentine bars
75g cornflakes
160g currants
160g sultanas
34g cup plain flour
80g pistachio kernels, chopped
100g mixed glace cherries, chopped
395g can sweetened condensed milk
70g dark chocolate, melted
Method
Preheat oven to 180°C/160°C fan. Lightly grease a 3cm-deep, 16cm x 26cm (base) slice pan. Line with baking paper, allowing a 2cm overhang at long ends.
Place cornflakes in a snap-lock bag. Seal. Using hands, lightly crush. Transfer to a bowl.
Add currants, sultanas, flour, pistachios, cherries and condensed milk. Stir to combine. Spoon into prepared pan. Using the back of a spoon, press mixture into pan. Bake for 25 minutes or until dark golden and firm. Cool completely in pan.
Cut into squares. Transfer to a wire rack over a baking tray. Spoon chocolate into a small snap-lock bag. Snip off 1 corner. Pipe chocolate in a zigzag pattern across squares. Set aside to set.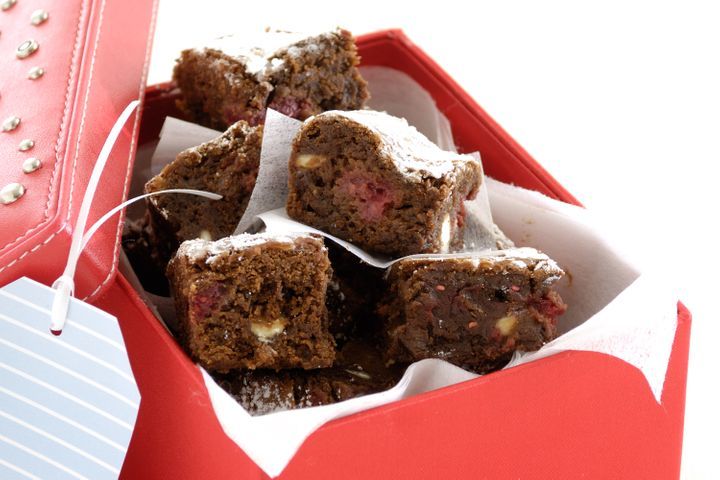 Cook time: 35 mins, Cool in refrigerator
A perfect treat to make with the kids in the kitchen – tasty treats to give away (or eat yourselves!)
Source: Taste
250g butter, chopped250g dark chocolate, chopped3 eggs200g brown sugar96g plain flour, sifted34g self-raising flour, sifted125g frozen raspberries85g white chocolate bits

Icing sugar, to serve
Method
Preheat oven to 170°C. Lightly grease a 4cm-deep, 27cm x 17cm (base) slice pan. Line with baking paper, allowing a 2cm overhang at both long ends.
Place butter and dark chocolate in a heatproof, microwave-safe bowl. Microwave on medium-high (75%) for 2 to 3 minutes, stirring every minute with a metal spoon, or until smooth and melted. Set aside for 5 minutes to cool slightly.
Using an electric mixer, beat eggs and sugar until light and fluffy. Add chocolate mixture. Beat to combine. Fold in flours.
Pour half the mixture into prepared pan. Sprinkle with raspberries and white chocolate bits. Pour over remaining mixture. Bake for 35 minutes or until just firm to touch. Allow to cool completely in pan. Refrigerate for 4 hours or until firm.
Lift brownie from pan. Cut into squares. Dust with icing sugar. Store in airtight container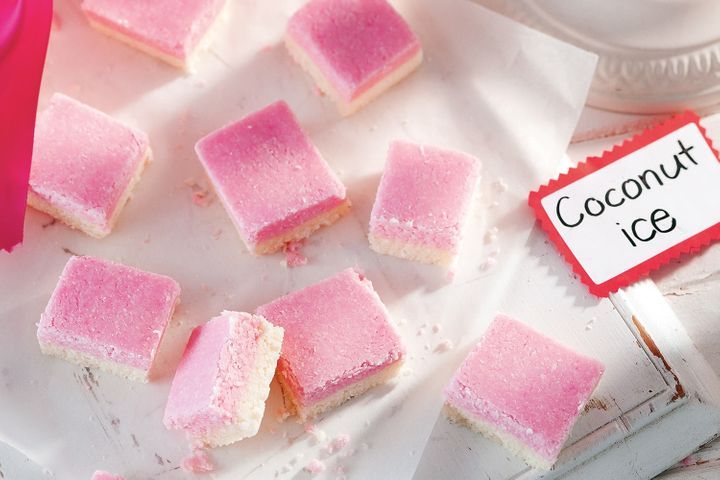 Bright and tasty, these old favourites are melt in the mouth favourites.
Source: Taste
260g icing sugar
1/2 tsp baking powder

665g desiccated coconut

2 x 390g cans sweetened condensed milk

Pink food colouring

1 tsp vanilla essence
Method
Grease two 18cm (base) square cake pans. Line bases and sides with baking paper, extending paper 2cm above edges of pans.
Sift icing sugar and baking powder into a large bowl. Add coconut and condensed milk. Mix well to combine. Remove half the mixture to a separate bowl.
Tint 1 portion pink with food colouring. Add vanilla to remaining portion. Mix both portions well to combine using your hands as the mixture can be quite firm.
Divide vanilla mixture evenly between the 2 cake pans. Press firmly into pans. Top evenly with pink mixture, pressing firmly. Cover with cling film. Refrigerate for 3 hours, or until set.
Remove coconut ice from pans. Cut into 3cm squares to serve. Store in an airtight container.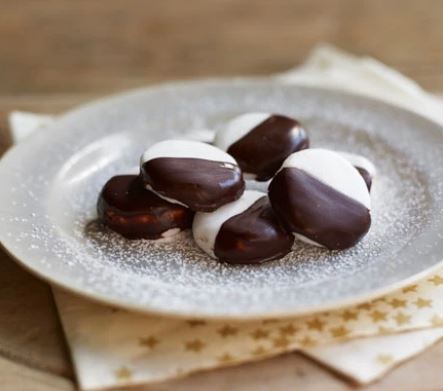 Simple, creamy, peppermint treats you can make with just a handful of ingredients. They make a tasty homemade gift for anyone with a sweet tooth
Source: BBC Good Food
250g icing sugar
1 egg white
few drops of peppermint essence
dark chocolate (optional)
Method
Sieve the icing sugar into a large bowl. Add a little of the egg white and a few drops of the peppermint essence and mix really well. You want the mixture to come together as a soft dough, so keep adding a little egg white until this starts to happen (you might not need to use all of it). Taste the mixture and add more peppermint essence if desired.
Divide the mixture into 20 small balls, then flatten them gently with your fingertips into discs.
Place baking parchment on a large board or tray and space out the discs. Meanwhile, tip the chocolate into a microwavable bowl and heat in 30 second intervals in the microwave until melted, stirring after each blast. Once melted, leave the chocolate to cool for 5-10 mins then carefully dip the peppermint creams in the melted chocolate until they are half coated. Lay them back on the baking parchment to set for 3-4 hours or overnight.