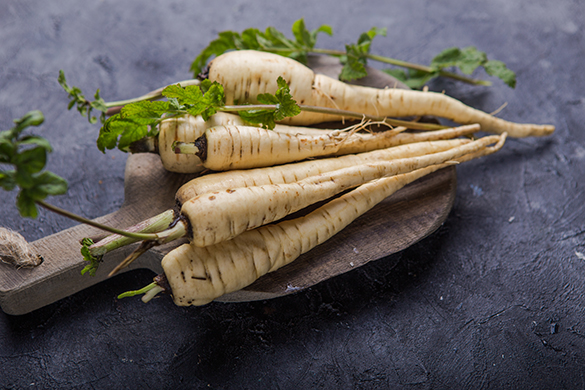 In your boxes this week are the first pick (or should we say dig!) of parsnips from Bromham.  Parsnips are a root vegetable that are a member of the parsley family. They can be eaten raw but are often roasted, boiled, fried, or steamed. Parsnips have a thin, tan peel that is typically removed before use, revealing white flesh underneath.
Along with vitamin C, parsnips are rich in potassium, one serving of parsnips provides about 10 percent of your DRI of potassium.
Enjoy the recipes below and don't forget to share any recipes you tried out over on our facebook page.
Comforting Parsnip Mash Lentil Pie that is gluten free & vegan and incredibly easy to make!
Source: Healthy Living James
Parnsip Mash
3 large parsnips roughly chopped
2 tbsp vegan butter
Generous Pinch Salt & Pepper
Lentil Pie
1 tbsp olive oil
1 red onion roughly diced
2 garlic cloves crushed
1 tbsp ground coriander
1 tbsp dried oregano
3 bay leaves
2 tbsp vegan gravy granules (make sure it's gluten free)
2 tbsp tamari
1 x 400g tin chopped tomatoes
2 x 400g cans of cooked lentils drained & rinsed
Optional Veg
3 carrots chopped
1 head of broccoli chopped
1 cup frozen peas
1 can sweetcorn
Handful spinach
Method
Pre-heat your oven to 200C
Roughly chop the parsnips and place in a pot with water and bring to a boil
Meanwhile heat a large pot with olive oil, add in the 1 onion, 2 garlic, 1 tbsp ground coriander, 1 tbsp oregano and 3 bay leaves
Now add 2 tbsp tamari, 2 tbsp vegan gravy, 2 cans lentils, 1 can tomatoes and mix
Add the veg you selected and mix, cook together until the parsnips have finished boiling
Drain the parsnips, place back into the pot they boiled in and add 2 tbsp vegan butter along with a generous pinch of salt & pepper and roughly mash
Add all the lentil pie mixture to a large baking dish and simply top with the parsnip mash
Finally place in the oven at 200C for 30 minutes
Parsnip purée is a dish for mashed potato lovers who are craving something light but still silky smooth. It's the perfect comfort food accompaniment—playing a supporting role to hearty Italian pot roast or under a mound of crispy roasted vegetables. To take the dish from a humble side to front-and-center dish, try finishing the purée with chopped fresh herbs and a few pats of butter.
Source: Good Food AU
4 parsnips, peeled and diced into 2-cm pieces
4 garlic cloves, roughly chopped
1L milk
75g salted butter
Method
In a medium-sized saucepan, add the parsnips, garlic, milk and butter. Bring to a simmer and cook for 25 minutes.
Season well, puree in a food processor and serve on the table in a warmed bowl.
Roasted parsnip soup with walnut pesto
The perfect autumnal soup full of flavour.
Source: Bon Appetit
900g medium parsnips, peeled, cut into 1/2-inch pieces
3 tablespoons extra-virgin olive oil, divided
Kosher salt and freshly ground black pepper
2 tablespoons walnuts, toasted
1 tablespoons finely chopped mixed fresh herbs (such as tarragon, flat-leaf parsley, and chives)
4 teaspoon fresh lemon juice
950ml vegetable stock
Method
Preheat oven to 200°. Toss parsnips with 1 Tbsp. oil in a large bowl and season with salt and pepper. Arrange parsnips in a single layer on a rimmed baking sheet and roast until tender and lightly caramelised, 22–25 minutes.
Meanwhile, pulse walnuts and herbs in a mini-processor until very finely chopped. (Alternatively, crush walnuts and herbs with a mortar and pestle to form a coarse paste.) Add remaining 2 Tbsp. oil and lemon juice and pulse to combine. Season pesto to taste with salt and pepper. Set aside.
Let parsnips cool slightly, then transfer to a blender. Add stock; purée until smooth. Pour soup into a large saucepan and heat over medium heat until warmed through. Season with salt and pepper and divide among bowls. Drizzle with pesto and serve.
Make this parsnip dhal recipe for some cosy autumnal comfort food. Creamy lentils are spiced with cumin, turmeric and chilli and topped with roasted parsnips. Serve with roti for scooping up the dhal! (583 kcal per serving)
500g parsnips, peeled and cut into 1cm cubes
3 tsp ground cumin
1 tsp turmeric
2 tbsp vegetable oil
1 onion, finely chopped
15g ginger, finely grated
2 garlic cloves, crushed
1 red chilli, (deseeded if you like) finely chopped
250g red lentils
1 vegetable stock cube, made up to 600ml
350g roti
Method
Heat the oven to gas 6, 200°C, fan 180°C. Tip the parsnip cubes onto a baking tray and sprinkle over 1 tsp ground cumin and ½ tsp turmeric. Drizzle over 1½ tbsp oil and toss everything together, so the spices and oil coat the parsnips. Season and roast for 25-30 mins until golden brown and tender.
Meanwhile, heat ½ tbsp oil in a large saucepan over a medium heat. Add the onion and fry for 10-15 mins until soft and lightly golden. Stir in the ginger, garlic and chilli and fry for another 1-2 mins until fragrant. Add the remaining cumin, turmeric, lentils and the stock. Bring to a boil, cover and reduce the heat slightly to medium-low. Cook for 20 mins, stirring occasionally and topping up with a little more water if it's all been absorbed, then remove the lid and simmer for another 5-10 mins until the lentils have broken down and the dhal has thickened.
Heat the roti in the oven for 4-5 mins on a baking tray until warmed through. Stir most of the roasted parsnips into the dhal, then top with the remaining. Using a spatula, scrape any of the spiced oil from the roasting tin over the top. Serve with the warmed roti for scooping up the dhal.
Parsnip and Porchini Wellington
Give it some welly with this fabulous vegan parsnip and porcini wellington. It's a fail-safe option if you're looking for a meat free centre piece which will entertain meat-eaters, veggies and vegans alike.
Don't be put off by the number of stages. Each element can be prepared a couple of days before assembling. (537 kcal per serving)
Source: Delicious magazine
For the butter bean purée
2 tsp olive oil
1 small onion, finely sliced
1 garlic clove, finely chopped
2 fresh thyme sprigs
2 fresh sage leaves, finely chopped
½ x 400g tin butter beans, drained
1 tsp sherry or balsamic vinegar
1 tbsp truffle oil or paste
For the parsnips
3 large (even-size) parsnips, about 750g, quartered lengthways
2 tbsp olive oil
2 tbsp dijon mustard
For the mushroom & chestnut filling
5 tbsp olive oil
400g mixed mushrooms, finely chopped
Pinch chilli flakes
20g dried porcini mushrooms, soaked in 250ml freshly boiled water for 20 minutes
75g cooked chestnuts, chopped
2 tbsp truffle oil or 1 tbsp truffle paste, to taste
For the cavolo nero
175g cavolo nero, trimmed and halved lengthways
To assemble
Plain flour to dust
500g readymade vegan puff pastry block (I use Jus Rol)
45g dried cranberries (optional)
1 tbsp maple syrup
1 tbsp olive oil
Method
For the butter bean purée, heat the oil in a large frying pan, add the onion and a pinch of salt, then cook, stirring frequently, over a medium heat until caramelised and soft (about 20 minutes). Add the garlic and herbs after 10 minutes.
Meanwhile, heat the oven to 200°C/180°C fan/gas 6. Toss the parsnips in a roasting tin with oil, sea salt and black pepper and roast for 20-25 minutes until golden and almost cooked, turning halfway through. Coat with the mustard and leave to cool. (Or pan-fry over a low- medium heat until caramelised on both sides and almost cooked. Coat with the mustard and allow to cool.
Once the onions have caramelised, transfer to a small food processor or blender with the butter beans, add the vinegar and truffle oil/paste, then pulse to form a rough purée.
For the mushroom and chestnut filling, heat 2 tbsp oil in a large non-stick frying pan. Add half the fresh mushrooms and the chilli flakes, then season with salt and black pepper. Cook until all the mushroom liquid has evaporated and the mushrooms are browned and have reduced in volume by half. Set aside to cool, then repeat with 2 tbsp oil and the remaining fresh mushrooms.
Squeeze out the soaked porcini mushrooms over the bowl to catch the liquid (reserve the liquid to make a vegan gravy – see p49). Heat the remaining tbsp oil in the pan and fry the rehydrated mushrooms until dry. Remove from the heat, then add to the cooked mushrooms along with the chestnuts and truffle oil/paste. Mix well, season and set aside to cool (see tips).
Blanch the cavolo nero in boiling salted water until tender (4-5 minutes), then refresh in cold water. Drain and pat the leaves dry.
When ready to assemble the wellington, roll the pastry out on a sheet of baking paper dusted with flour to a 27cm x 37cm rectangle.
Spread the butter bean mixture lengthways down the centre of the pastry, leaving a 3cm margin at the edges. Add a layer of half the cavolo nero leaves and half the mushroom mixture, then sprinkle with the dried cranberries (if using). Next add the parsnips, then top with the rest of the mushroom and chestnut mixture. Finish with the rest of the cavolo nero leaves.
Mix the maple syrup and olive oil in a small bowl to make a glaze, then brush some along the edges of the pastry. Fold the pastry over the filling, as you would a swiss roll, using the paper to help roll and keep the filling tightly packed. Make sure the join is on the underside. Glaze the top of the pastry, then chill for 30-45 minutes (see Make Ahead). Heat the oven to 220°C/200°C fan/gas 7.
Lightly score the top using the tip of a sharp knife, then brush all over with the remaining glaze. Bake for 30-40 minutes until puffed and golden. Remove from the oven, let the wellington stand for 5 minutes, then slice with a serrated knife. The wellington is wonderful with a parsnip and porchini gravy which is below.
Parsnip and Porchini Gravy
Searching for a vegan gravy? We've got just the recipe. Chef Maria Elia's parsnip and porcini vegan gravy works perfectly with the wellington above but would work well with any savoury dish – meaty, veggie or vegan – that needs a gravy. (93 kcal per serving)
Source: Delicious magazine
2 tbsp olive oil
1 sliced shallot
Handful of parsnip trimmings
1 finely sliced parsnip
1 tbsp plain flour
100ml vegan red wine
reserved porcini soaking liquid made up to 400ml with hot water
1 tbsp truffle oil or 1 tsp cranberry sauce (for a sweeter flavour)
Method
Heat 2 tbsp olive oil in a medium saucepan, then add 1 sliced shallot and a handful of parsnip trimmings or 1 finely sliced parsnip.
Cook over a medium heat, stirring, for 10-15 minutes until dark gold and caramelised. Add 1 tbsp plain flour and cook, stirring, for 2 minutes.
Add 100ml vegan red wine a little at a time, followed by the reserved porcini soaking liquid made up to 400ml with hot water, stirring continuously until the gravy thickens.
Simmer for 5 minutes, add salt and pepper to taste, then pass through a sieve and serve. For an extra flourish, add 1 tbsp truffle oil or 1 tsp cranberry sauce (for a sweeter flavour) just before serving, if you like.
Keep the gravy covered and chilled for up to 2 days. Reheat until piping hot.