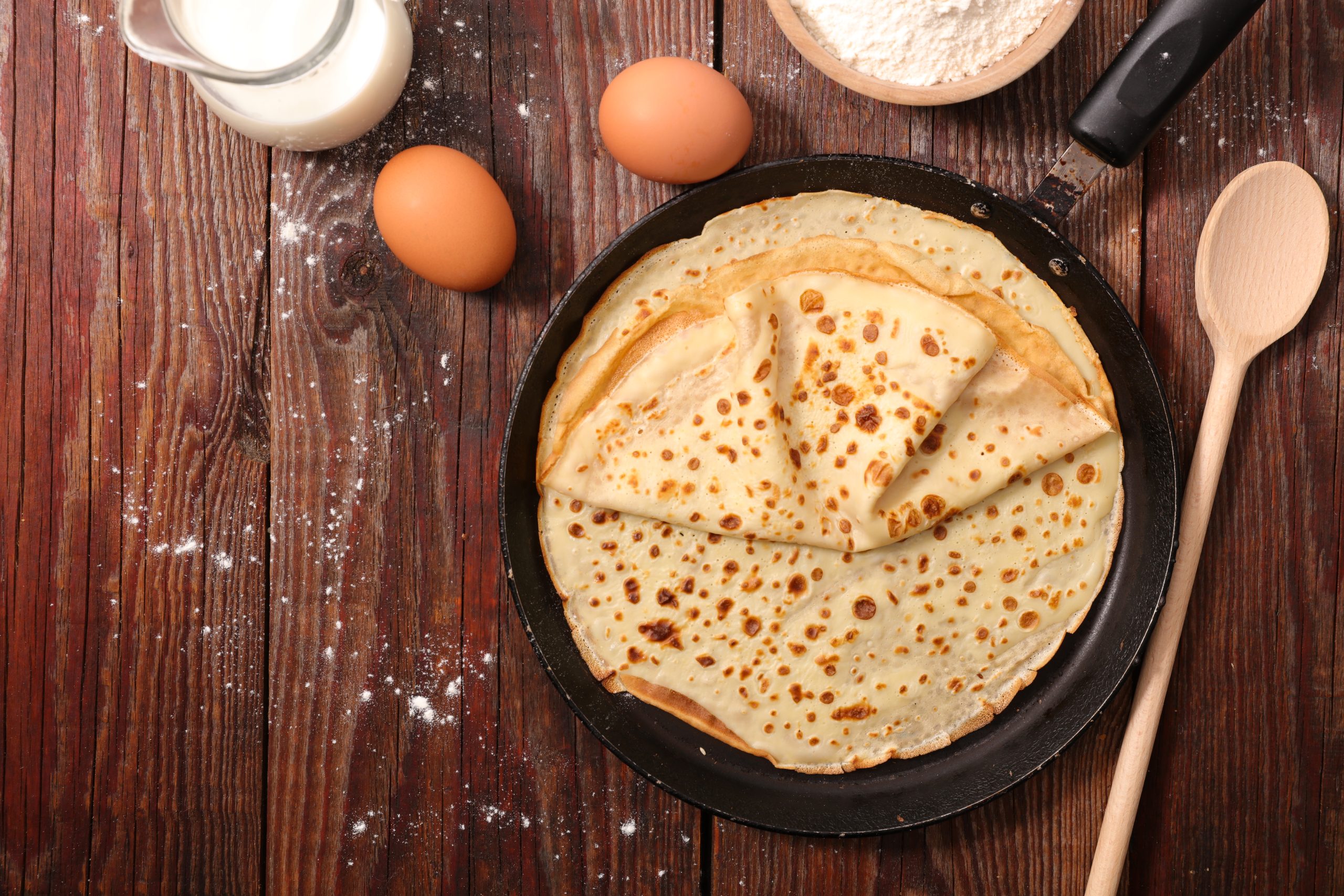 This year, Pancake Day falls on Tuesday 21st February
Pancake Day, or Shrove Tuesday was the last day Christians had to use up their fresh produce like eggs and fats and pancakes were the ideal recipe to use up all these ingredients that would otherwise spoil.
We have put together 5 fantastic pancake recipes from traditional to something a bit different.
For more pancake recipe ideas, head over to our Pancake Pinterest Board. 
*Competition Time*
This Pancake Day we are holding a competition to see who can do the best pancake flip! Share your pictures/videos of you flipping your pancakes and send them in on Facebook, Instagram or Twitter using hashtag #heritagepancakeflip making sure you add the first part of your postcode so we can see if you are in our delivery area. The winner will receive a free fruit and veg seasonal box. Submit your entries by 5pm Monday 27th February
T&Cs: Winner will be chosen on Tuesday 28th February. Prizes not exchangeable. Prize winner will be contacted directly. You must live within our postcode delivery area or be able to collect. 
Traditional Crepe Pancakes
This is a traditional pancake recipe that most UK households have grown up with. The perfect pancake to perfect your flipping skills. Tasty served with lemon and sugar.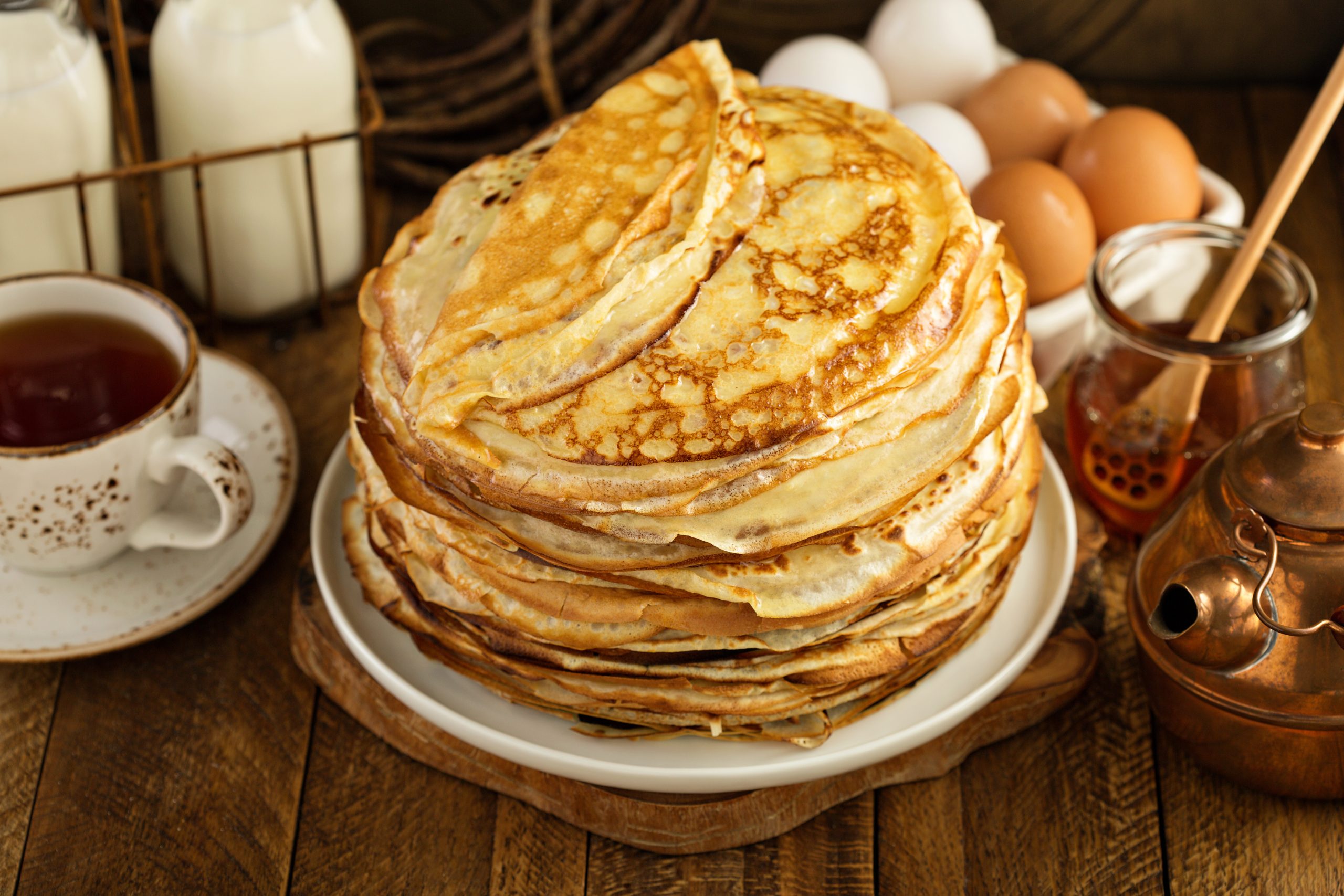 100g plain flour
2 large eggs
300ml milk
1 tbsp oil, plus extra for frying
Lemon wedges, to serve
Caster sugar, to serve
Method
Put 100g plain flour, 2 large eggs, 300ml milk, 1 tbsp sunflower or vegetable oil and a pinch of salt into a bowl or large jug, then whisk to a smooth batter.
Set aside for 30 mins to rest if you have time or start cooking straight away.
Set a medium frying pan or crêpe pan over a medium heat and carefully wipe it with some oiled kitchen paper.
When hot, cook your pancakes for 1 min on each side until golden, keeping them warm in a low oven as you go.
Serve with lemon wedges and caster sugar, or your favourite filling. Once cold, you can layer the pancakes between baking parchment, then wrap in cling film and freeze for up to 2 months.
This easy American pancake recipe makes light and fluffy pancakes that are great for a weekend brunch. Try adding a large handful of fresh blueberries  to the batter before cooking.
135g plain flour
1 tsp baking powder
1/2 tsp salt
2 tbsp caster sugar
130ml milk
1 large egg, lightly beaten
2 tbsp melted butter
Maple syrup and butter, to serve
Method
Sift the flour, baking powder, salt and caster sugar into a large bowl. In a separate bowl or jug, lightly whisk together the milk and egg, then whisk in the melted butter.
Pour the milk mixture into the flour mixture and, using a fork, beat until you have a smooth batter. Any lumps will soon disappear with a little mixing. Let the batter stand for a few minutes.
Heat a non-stick frying pan over a medium heat and add a knob of butter. When it's melted, add a ladle of batter (or two if your frying pan is big enough to cook two pancakes at the same time). It will seem very thick but this is how it should be. Wait until the top of the pancake begins to bubble, then turn it over and cook until both sides are golden brown and the pancake has risen to about 1cm/½in thick.
Repeat until all the batter is used up. You can keep the pancakes warm in a low oven, but they taste best fresh out the pan.
Serve with lashings of real maple syrup and extra butter, if you like.
The 'Dutch' Pancake does not actually originate in Holland but from the German-American community known as the Pennsylvania Dutch. It is essentially a giant sweet Yorkshire Pudding. Delicious with fresh fruit, crème Fraiche and a good glug of maple syrup.
3 large eggs
1 tsp caster sugar
150ml milk
100g plain flour
1 1/2 tsp vanilla paste
Salt
Freshly grated nutmeg
25g unsalted butter
To serve
Icing sugar
Berries
Creme fraiche
Maple syrup
Method
Preheat the oven to 220°C/200°C Fan/gas mark 7/425ºF, and straightaway put your pan into the oven to heat up while you prepare the batter.
Beat the eggs with the caster sugar in an electric mixer until light and frothy. Whisk in the milk, flour, vanilla, salt and grated nutmeg, and beat until you have a smooth but thin batter.
Wearing a thick oven mitt, remove the pan from the oven and put the butter carefully into the hot pan or tin and swirl it to melt, then quickly pour in the batter and return it to the oven.
Bake until puffed and golden brown, about 18–20 minutes.
Serve
Potato Pancakes with Spiced Beetroot
Try this alternative pancake recipe made with potatoes and served with spiced beetroot.
For the pancakes
700g floury potatoes
125g self-raising flour
1 tsp baking powder
400ml milk
4 large eggs
Vegetable oil
For the filling
500g cooked beetroot, non-pickled
2 tbsp vegetable oil
50g butter
125g honey
3 tbsp red wine vinegar
Pinch of ground nutmeg
Big handful of baby spinach
1 tbsp pine nuts, toasted
Creme fraiche
Method
Cook the potatoes in their skins in a pan of boiling water, until tender. Drain and, when cool enough to handle, peel and pass through a potato ricer (or sieve) into a bowl. Add the flour and baking powder and season well. Add the milk, a little at a time, stirring to combine, then whisk in the eggs to make a thick batter.
Heat some oil in a frying pan over a medium-high heat and spoon in 2 large, heaped spoonful of the batter. Tilt the pan to spread the mixture over the pan. Cook for about 1 minute, or until the mixture bubbles up, then turn the pancake and cook for a further minute on the other side.
Remove from the pan and keep warm while cooking the rest of the pancakes, lightly greasing the pan with a little oil between each one.
For the filling, cut the beetroot into wedges. Heat the oil and butter in a pan until the butter begins to foam, then add the beetroot. Cook without stirring for 2 minutes, then toss the beetroot in the butter and oil.
Add the honey and stir to coat the beetroot. Add the vinegar, nutmeg and seasoning, and cook for a couple of minutes, then stir in the spinach and pine nuts. Spoon some filling on to each pancake, finish with a dollop of crème fraîche and fold over. Serve with a little bowl of crème Fraiche.
Use overripe bananas to make these 3 ingredient pancakes.
1 ripe banana
1 medium egg
2 tbsp self-raising flour
Oil
Method
Mash banana in a medium bowl until smooth. Whisk in egg, then flour until smooth. Set aside for 5 minutes.
Lightly spray a medium non-stick frying pan with oil and heat over medium heat. Spoon 2 tablespoons batter into pan and spread out with the back of a spoon until 1cm thick. Repeat with remaining batter to make 2 more pancakes.