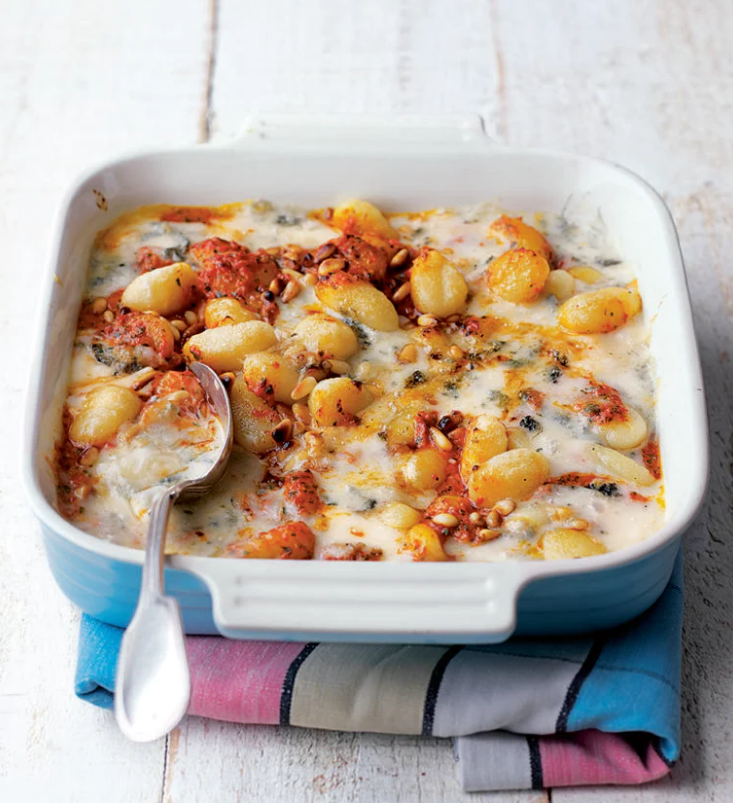 Gnocchi with Red Pepper Pesto- Eat Healthy for Less
This vegetarian gnocchi with red pepper pesto recipe is cheesy with a hint of spice! The perfect indulgent comfort food that's just £1.40 per serving. Let us know if you have a go at this dish and tag us in a picture on Facebook and Instagram.
Source: Adapted from Delicious Magazine
Nutritional Information: Calories 541kcals; Carbohydrates 45.9g; Total Fat 31g; Saturated Fat 10g; Protein 18g; Sugar 1.3g; Salt 2g.
290g red peppers
1 red chilli, deseeded & finely chopped
Large handful fresh flatleaf parsley
2 garlic cloves, crushed
75g grated vegetarian Parmesan
1 tbsp mascarpone
40ml olive oil, plus extra for frying
500g gnocchi
75g vegetarian blue cheese
Method
Heat the oven to 220C/ 200C fan/ gas 7. 
Line a large baking tray with baking parchment 
Halve the peppers and arrange them on the baking tray, cut side down.  
Roast for 30-35 minutes until the skin is shrivelled and lightly blistered.  
Set aside to cool completely before peeling. 
Preheat the grill to medium-high.  
Put the peppers, chilli, parsley, garlic, parmesan and mascarpone in a blender and whizz together. Season, then, gently pour in the olive oil through the feeder tube until it forms a luscious sauce. Set aside.  
Drop the gnocchi into a pan of boiling salted water and cook for 2 minutes until they float to the surface. Drain. Heat a drizzle of oil in a pan over medium-high heat and fry the gnocchi for 3 minutes until lightly golden. Stir in the sauce and warm through for 2-3 minutes.  
Pour into an ovenproof dish. Crumble over the blue cheese and grill for 3-4 minutes until the cheese melts. Serve with a green salad.