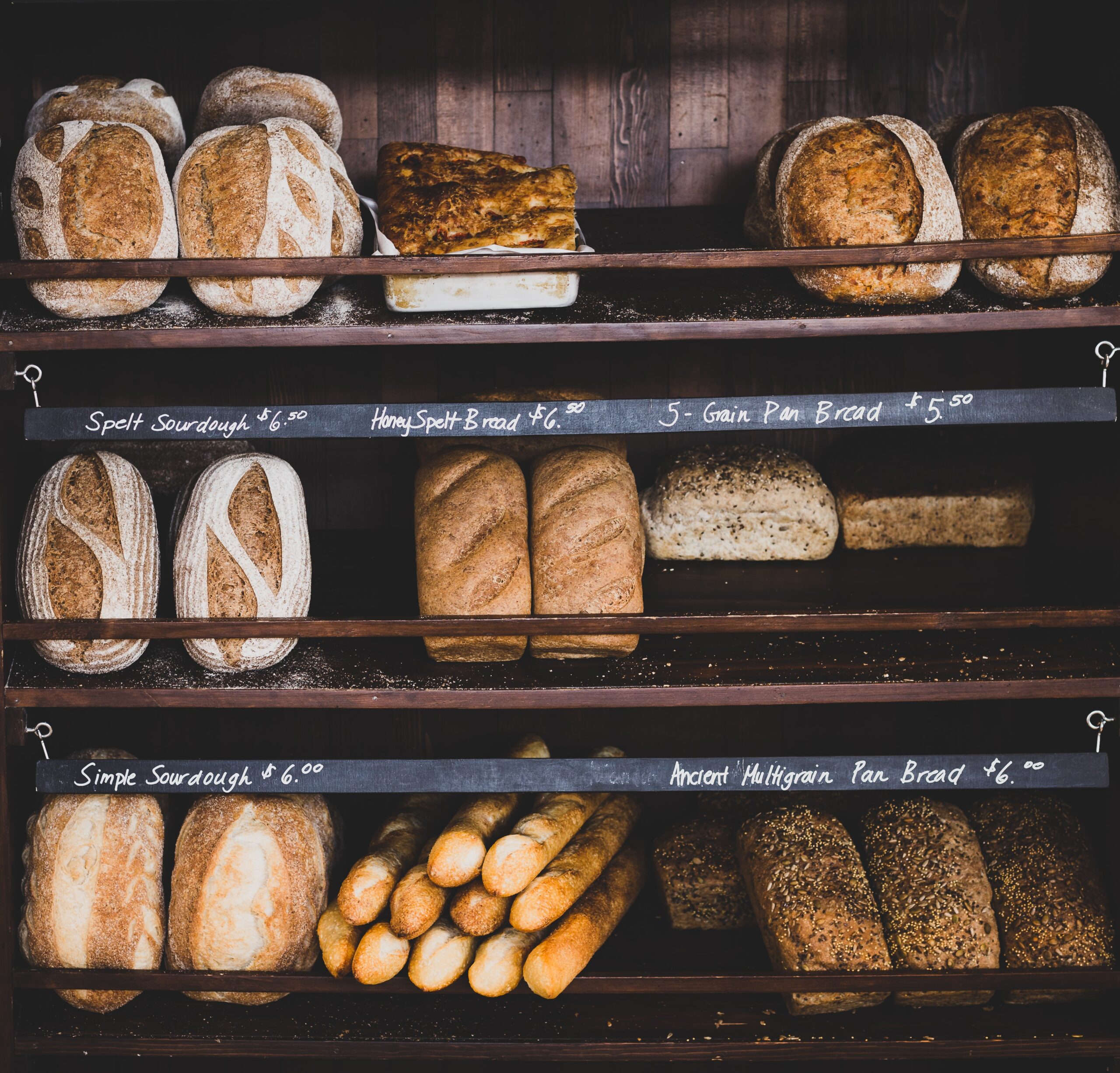 The Real Bread Campaign started in November 2008. Their mission is to encourage people to each real bread by either making it at home or supporting local bakeries. They define real bread as bread made without the use of any processing aids or other artificial additives.
They have some really great initiatives such as supporting local 'real' bakers and teaching children in schools how to make their own bread.
2020 Lockdown saw the popularity for baking real bread, with sourdough being a popular choice of bread people made at home.
This week, we are encouraging you to get involved in Real Bread Week – whether it's making a simple flatbread or trying something a bit more technical like a sourdough loaf.
Real Bread week runs from 20th – 28th February and we want to see all your bread making creations. We have 5 bread recipes, both sweet and savoury and one that doesn't use yeast! If you're looking for more inspiration – see our Pinterest Board.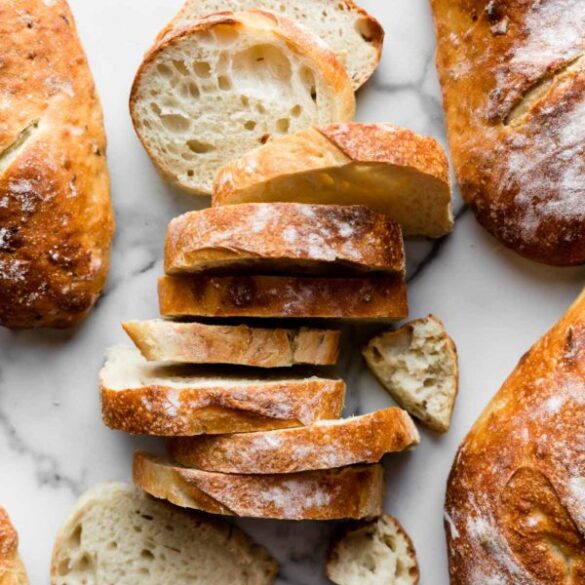 Even if you've never made homemade bread or worked with yeast before, this homemade artisan bread is for you.
Source: Sallys Baking Addiction
460g bread flour
1 tsp instant yeast
2 tsp coarse salt
360ml cool water
Method
In a large un-greased mixing bowl, whisk the flour, yeast, and salt together. Pour in the cool water and gently mix with a rubber spatula or wooden spoon. The dough will seem dry and shaggy but keep working it until all the flour is moistened. If needed, use your hands to work the dough ingredients together. The dough will be sticky. Shape into a ball in the bowl as best you can.
Cover the dough tightly with cling film and set aside at room temperature. Allow to rise for 2-3 hours. The dough will just about double in size, stick to the sides of the bowl, and have a lot of air bubbles.
You can continue with step 4 immediately, but for the absolute best flavour and texture, let this risen dough rest in the fridge for at least 12 hours and up to 3 days. Place covered dough in the fridge for 12 hours – 3 days. The dough will puff up during this time but may begin to deflate after 2 days. That is fine and normal– nothing to worry about.
Lightly dust a large non-stick baking tray with flour. Turn the dough out onto a floured work surface. Using a sharp knife or bench scraper, cut dough in half. Some air bubbles will deflate as you work with it. Place dough halves on prepared baking sheet. Using floured hands, shape into 2 long loaves about 3 inches apart. Loosely cover and allow to rest for 45 minutes. You will bake the dough on this prepared baking sheet.
During these 45 mins, preheat the oven to 240°C.
When ready to bake, using a very sharp, score the bread loaves with 3 slashes, about 1/2 inch deep. If the shaped loaves flattened out during the 45 minutes, use floured hands to narrow them out along the sides again.
For a slightly crispier crust: After the oven is preheated and bread is scored, place a shallow baking tray on the bottom oven. Carefully and quickly pour 3-4 cups of boiling water into it. Place the scored dough/baking pan on a higher rack and quickly shut the oven, trapping the steam inside. The steam helps create a crispier crust.
Place the shaped and scored dough in the preheated oven on the centre rack. Bake for 20-25 minutes or until the crust is golden brown. Gently tap the loaves– if they sound hollow, the bread is done.
Remove the bread from the oven and allow it to cool for at least 5 minutes before slicing and serving. Store leftovers loosely covered at room temperature for up to 5 days or in the refrigerator for up to 10 days.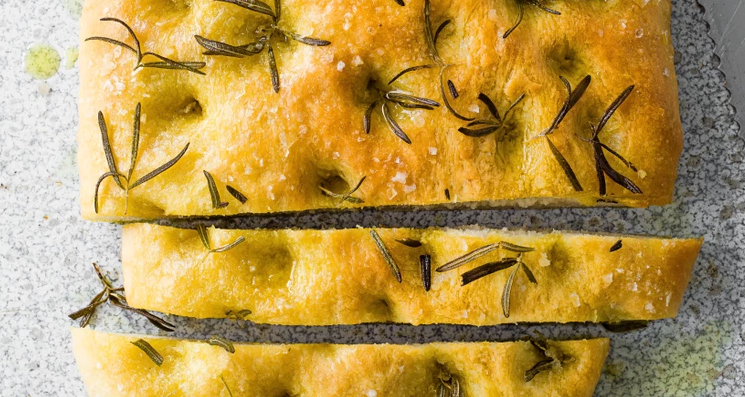 Time: 45 mins + proving & cooking
Try this incredibly moreish Italian bread glistening with olive oil and studded with rosemary for a satisfying side dish.
Source: Olive
9 tbsp extra-virgin olive oil
3 sprigs rosemary, leaves picked
300g strong white bread flour
7g sachet fast-action yeast
Sea salt flakes
Method
Put 6 tbsp of the oil in a bowl with the rosemary and leave to sit while you make the bread.
Put the flour, yeast and the remaining 3 tbsp olive oil in a bowl with 1 tsp sea salt flakes. Gradually add 175ml water and mix until you have a sticky dough.
Knead the dough on a lightly oiled non-porous work surface for 6-8 minutes. It will seem really sticky at first but keep kneading until it becomes smooth and elastic. Tip into a clean, lightly oiled bowl, cover with a tea towel and leave to prove for 1 hour or until doubled in size.
Oil a heavy baking sheet. Punch down the dough in the bowl then tip out and knead briefly. Put onto the baking sheet and form into a 20cm x 28cm rectangle. Leave to rise for 30 minutes until puffed up.
Heat the oven to 220C/fan 200C/gas 7. Use your fingers to make dimples in the top of the dough then drizzle with the rosemary-infused oil and rosemary leaves, and sprinkle with extra sea salt flakes. Bake for 20 minutes or until golden brown. Cover loosely with foil (this creates a little steam to keep the crust soft) and let it cool. Drizzle with a little more oil before serving, if you like.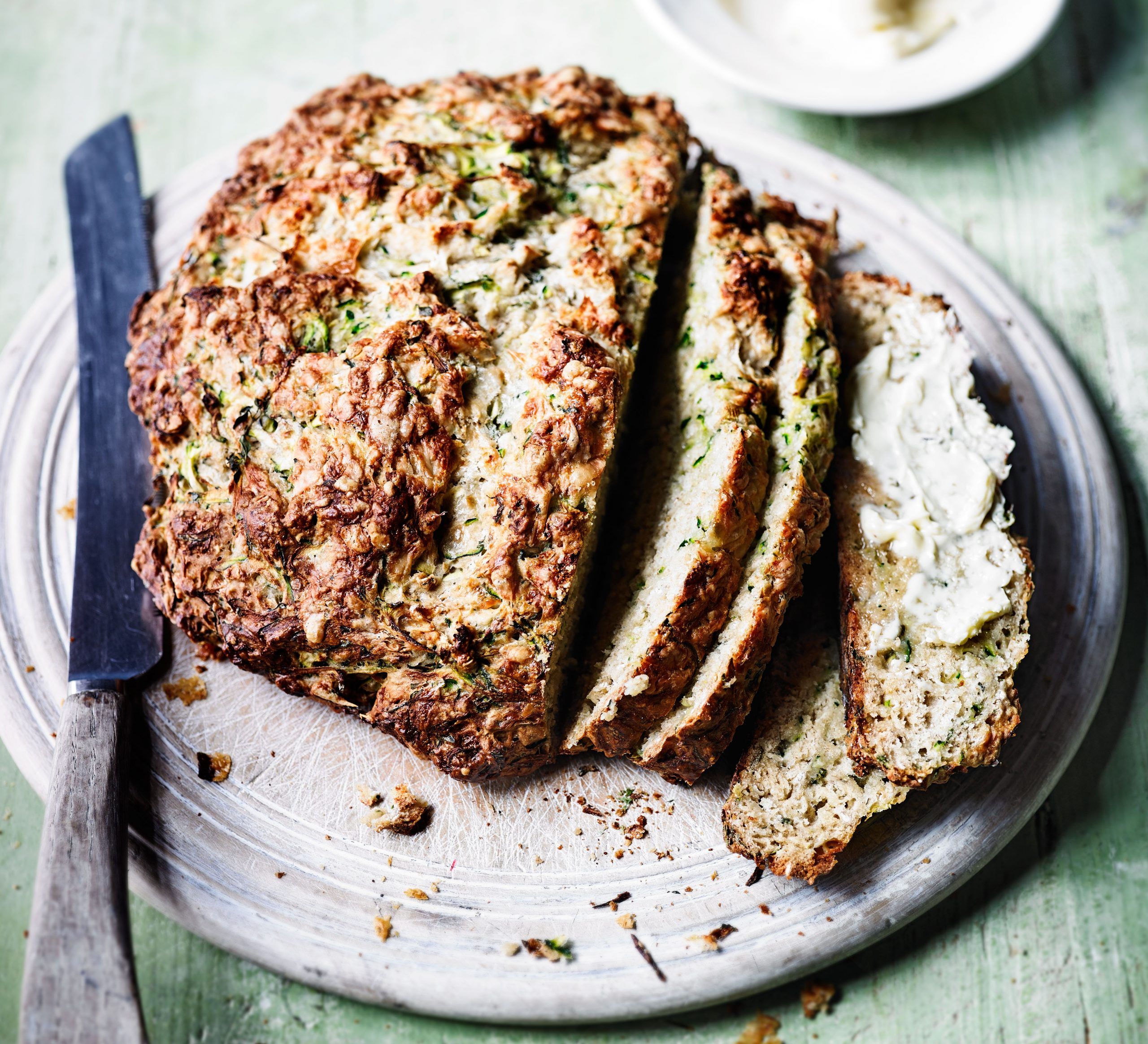 Courgette & Cheddar Soda Bread
This simple loaf is easy to make but big on flavour and texture, with mature cheese, grated courgettes, oats and thyme. This requires no yeast.
Source: BBC Good Food
400g self-raising flour
2 medium courgettes
50g rolled oats
1 ½ tsp bicarb of soda
75g mature cheddar, grated
Small bunch thyme leaves
284ml buttermilk
1 tbsp clear honey
1 egg, beaten
Method
Heat oven to 200C/180C fan/gas 6 and dust a baking sheet with a little flour. Place a box grater on top of a clean tea towel and coarsely grate the courgettes. Lift the corners of the tea towel and, holding it over the sink, twist to compact the courgettes and squeeze out as much liquid as you can.
Put the flour, oats, bicarb and 1 tsp fine salt in a large bowl. Add most of the cheddar (save a little for the top), the thyme and the courgette. Mix the buttermilk and honey, then pour into the flour mixture. Stir with a wooden spoon until the dough starts to clump together, then tip onto a work surface and knead briefly to bring all the loose bits together – try not to overwork the dough or the bread will be heavy.
Shape into a round loaf and place on the baking sheet. Brush with egg and sprinkle with the remaining cheese. Use a sharp knife to score a deep cross on top of the loaf, then bake for 40 mins until deep golden brown. Best served warm, but leftovers will keep for 1-2 days.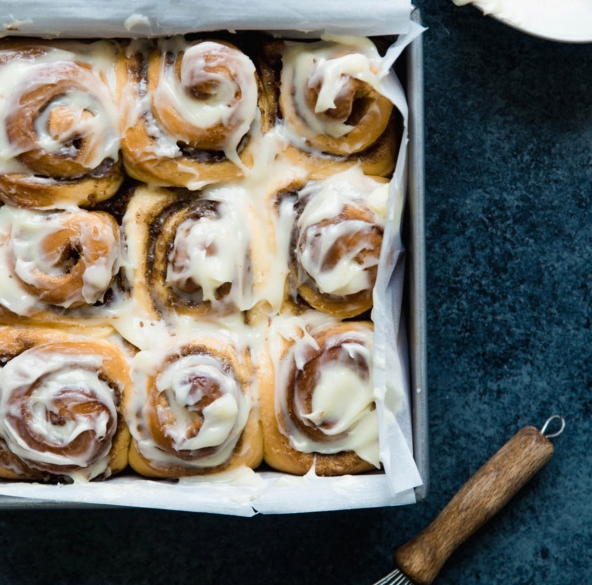 Big, fluffy, soft and absolutely delicious. You'll never go back to any other recipe once you try this one! This is Courtney's go-to Cinnamon Roll recipes!
Source: Ambitious Kitchen
180ml warm milk
2 ¼ tsp active yeast
30g sugar
1 egg + 1 yolk
30g butter, melted
380g bread flour
1 tsp salt
For the filling
45g dark/light brown sugar
1 1/2 tbsp cinnamon
30g butter, softened
For the frosting
110g cream cheese, softened
3 tbsp unsalted butter, softened
95g icing sugar
1/2 tsp vanilla extract
Method
Warm milk the milk by placing milk in a microwave-safe bowl and microwaving it for 40-45 seconds. Transfer warm milk to the bowl of an electric mixer and sprinkle yeast on top. Add in sugar, egg, egg yolk and melted butter. Mix until well combined. Next, stir in flour and salt with a wooden spoon until a dough begins to form.
Place dough hook on stand mixer and knead dough on medium speed for 8 minutes. The dough should form into a nice ball and be slightly sticky. If it's TOO sticky (meaning it's sticking to the bottom of the mixer, add in 2 tablespoons more bread flour.) If you don't want to use an electric mixer, you can use your hands to knead the dough for 8-10 minutes on a well-floured surface.
Transfer dough ball to a well-oiled bowl, cover with cling film and a warm towel. Allow dough to rise for 1 hour to 1 ½ hours, or until doubled in size. This may more or less time depending on the humidity and temperature in your home.
After the dough has doubled in size, transfer the dough to a well-floured surface and roll out into a 14×9 inch rectangle. Spread softened butter over dough, leaving a margin at the far side of the dough.
In a small bowl, mix together brown sugar and cinnamon. Use your hands to sprinkle the mixture over the buttered dough, then rub the brown sugar mixture into the butter.
Tightly roll the dough up, starting from the 9-inch side and place seam side down making sure to seal the edges of the dough as best you can. You will probably need to cut off about an inch off the ends of the dough as the ends won't be as full of cinnamon sugar as we'd want them to be.
Cut into 1-inch sections with a serrated knife or floss. You should get 9 large pieces.
Place cinnamon rolls in a greased 9×9 inch baking pan or round 9-inch cake tin. (I also recommend lining the pan with parchment paper as well, in case any of the filling ends up leaking out.) Cover with plastic wrap and a warm towel and let rise again for 30-45 minutes.
Preheat oven to 180C. Remove cling film and towel and bake cinnamon rolls for 20-25 minutes or until just slightly golden brown on the edges. You want to underbake them a little so they stay soft in the middle, that's why we want them just slightly golden brown. Allow them to cool for 5-10 minutes before frosting. Makes 9 cinnamon rolls.
To make the frosting: In the bowl of an electric mixer, combine cream cheese, butter, powdered sugar and vanilla extract. Beat until smooth and fluffy. Spread over cinnamon rolls and serve immediately. Enjoy!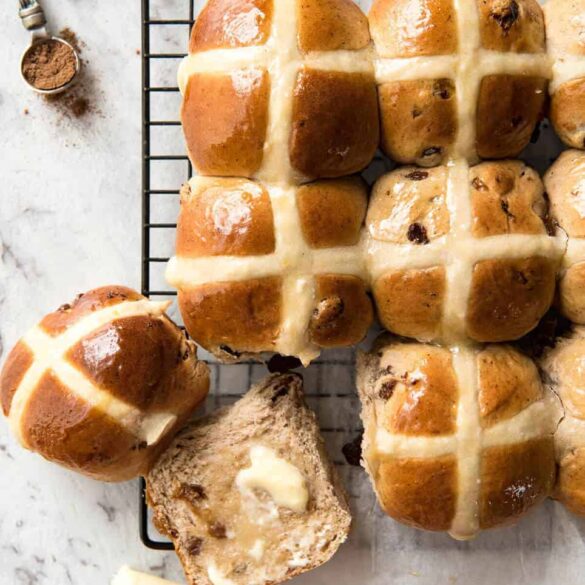 Big, fluffy, fragrant Hot Cross Buns and even better when you make them yourself, and it's easier than you think. Serve toasted with butter.
Source: Recipe Tin Eats
1 tbsp instant yeast
110g caster sugar
375ml warm milk
640g bread flour
2 tsp cinnamon powder
2 tsp allspice
½ tsp salt
210g sultanas
2 oranges, zest only
50 melted butter
1 egg
Extra flour for dough
Crosses
75g plain flour
5 tbsp water
Glaze
1 tbsp apricot jam
2 tsp water
Method
Place flour, yeast, sugar, allspice, cinnamon, and salt in a large bowl. Briefly mix with a stand mixer fitted with a dough hook (or mix by hand).
Add butter, milk, egg, sultanas and zest.
Stand mixer: Mix until a smooth elastic dough forms – 5 minutes on medium speed. After a minute, add extra flour if required. You want the dough to come away from the side of the bowl and doesn't stick to your fingers.
Hand kneading: dust a work surface with flour and knead by hand for 10 minutes.
When the dough is smooth and doesn't break when stretched, you can finish needing it.
Leave the dough in a bowl, cover with cling film and place in a warm place to rise until it's doubled in size. About 30 – 90 minutes.
Line a large tray with baking paper.
Remove cling film and punch the dough to deflate it.
Dust a work surface with flour and shape the dough into a log and cut into 12 equal pieces.
Place the ball with the smooth side up on the tray. Repeat with the remaining dough. Line them up 3 x 4.
Cover the tray and leave to rise for 30 – 45 mins.
Preheat the oven to 180C.
Mix the plain flour and water together until it forms a thick, running paste. Spoon into a piping bag or zip sealed bag. Snip the corner and pipe crosses over all the buns.
Bake for 22 minutes, or until the surface is a deep golden brown.
Meanwhile, place jam and water in a bowl, microwave for 30 seconds. Mix to combine.
Remove buns from the oven. Brush with jam mixture while warm. Allow to cool to warm before serving.