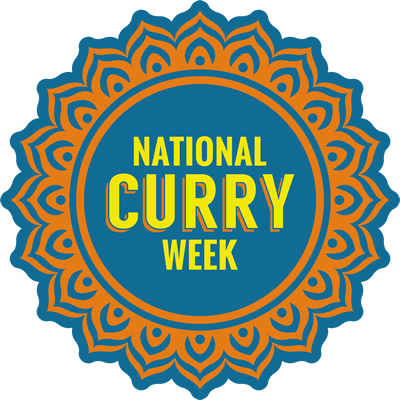 National Curry Week – 4th-10th October
It has often been said that curry is the new national dish of Britain and it's certainly easy to see why. Since the 1970s, curry houses have become a staple of high streets up and down the country and millions of curries are consumed every single week. The love affair shows no signs of slowing and that's what we're celebrating with National Curry Week!
The 23rd National Curry Week takes place from the 4th to the 10th of October 2021. It's been a difficult year but for one week only, let's talk about curry instead of coronavirus. Whether you're heading out to your local curry house or cooking up a storm, we want you to be rejoicing in all things curry! Why not try out one of these five recipes and let us know what your favourite curry is over on our Facebook.
See also our videos for the following curries:
Sweet potato, cauliflower and chickpea mild curry
Side of cucumber, onion and mint relish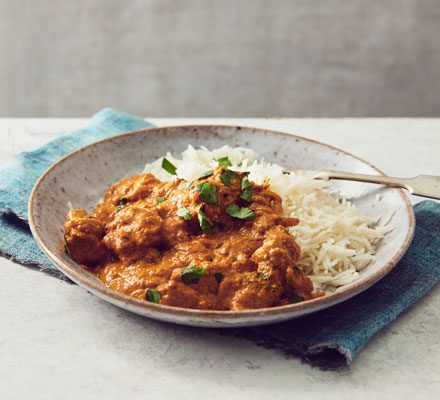 This easy staple chicken curry is a fantastic recipe for family dinners. It's made with just a handful of ingredients and is enriched with creamy yogurt.
Source: BBC Good Food
2 tbsp sunflower oil
1 onion, thinly sliced
2 garlic cloves, crushed
Thumb-sized piece of ginger, grated
6 chicken thighs, boneless and skinless
3 tbsp medium spice paste
400g tin chopped tomatoes
100g Greek yogurt
1 small bunch of coriander, leaves chopped
50g ground almonds
Naan breads or cooked basmati rice, to serve
Method
Heat the oil in a flameproof casserole dish or large frying pan over medium heat. Add the onion and a generous pinch of salt and fry for 8-10 mins, or until the onion has turned golden brown and sticky. Add the garlic and ginger, cooking for a further minute.
Chop the chicken into chunky 3cm pieces, add to the pan and fry for 5 mins before stirring through the spice paste and tomatoes, along with 250ml water. Bring to the boil, lower to a simmer and cook on gentle heat uncovered for 25-30 mins or until rich and slightly reduced. Stir through the yogurt, coriander and ground almonds, season and serve with warm naan or fluffy basmati rice.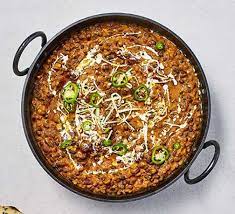 Cook time: 2 hrs + 12 hrs soaking
Make no excuses for how rich this delicious black dhal is  – the buttery lentil dish is meant to be enjoyed as a comforting celebration dish.
Source: BBC Good Food
200g whole urad dhal, also called urad beans or bean lentils
1 tsp bicarbonate of soda
Thumb-sized piece of ginger, 1/3 finely sliced, 1/3 grated, 1/3 cut into fine matchsticks
2 green chillies, 1 whole, 1 chopped
1/2 tsp turmeric
100g butter
1 tsp cumin seeds
2 tbsp dried fenugreek leaves
1 tbsp ground coriander
5 garlic cloves, crushed
100g tomato puree
400g tin kidney beans, undrained
1/4 tsp garam masala
50ml double cream
Method
Tip the dhal into a sieve and rinse under cold water several times until the water runs clear. Put in a large bowl or pot and cover in double their volume of warm water. Stir in the bicarbonate of soda and leave to soak at room temperature for at least 12 hrs.
Drain the dhal (but don't rinse), tip into a pan and cover with 1.5 litres water. Add the sliced ginger, whole chilli and turmeric, then bring to the boil, skim off any scum that rises to the top and reduce the heat. Simmer uncovered for 1 hr until very tender, or cook in a pressure cooker for 20 mins. Remove the ginger and chilli.
Heat the butter in a separate pan over medium-high heat until it has foamed up and turned nut-brown. Pour half into a small container and set aside. Return the pan and remaining butter to the heat and add the cumin seeds, fenugreek leaves, ground coriander, garlic, grated ginger and tomato purée and cook for 2 mins more. Stir the spice mixture into the cooked dhal, then add the kidney beans along with the liquid from the can and season generously with salt.
Roughly mash the dhal mixture with a potato masher until some of the pulses are crushed. Cook, stirring, over very low heat for 15-20 mins until the dhal is thick and creamy. Stir through most of the reserved brown butter, the garam masala and half the cream. Tip the dhal into a serving dish and drizzle over the remaining cream and brown butter. Scatter over the chopped chilli and ginger matchsticks and serve.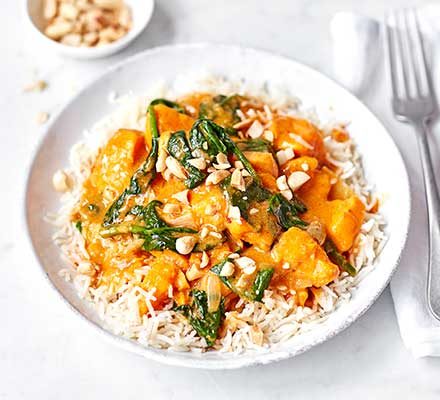 Cook this tasty vegan curry for an exotic yet easy family dinner. With spinach and sweet potato, it boasts two of your five-a-day and it's under 400 calories.
Source: BBC Good Food
1 tbsp coconut oil
1 onion, chopped
2 garlic cloves, grated
Thumb-sized piece of ginger, grated
3 tbsp Thai red curry paste
1 tbsp smooth peanut butter
500g sweet potato, peeled and cut into chunks
400ml tinned coconut milk
200g bag spinach
1 lime, juiced
Cooked rice, to serve
Dry roasted peanuts, to serve
Method
Melt 1 tbsp coconut oil in a saucepan over medium heat and soften 1 chopped onion for 5 mins. Add 2 grated garlic cloves and a grated thumb-sized piece of ginger, and cook for 1 min until fragrant.
Stir in 3 tbsp Thai red curry paste, 1 tbsp smooth peanut butter and 500g sweet potato, peeled and cut into chunks, then add 400ml coconut milk and 200ml water.
Bring to the boil, turn down the heat and simmer, uncovered, for 25-30 mins or until the sweet potato is soft.
Stir through 200g spinach and the juice of 1 lime, and season well. Serve with cooked rice, and if you want some crunch, sprinkle over a few dry roasted peanuts.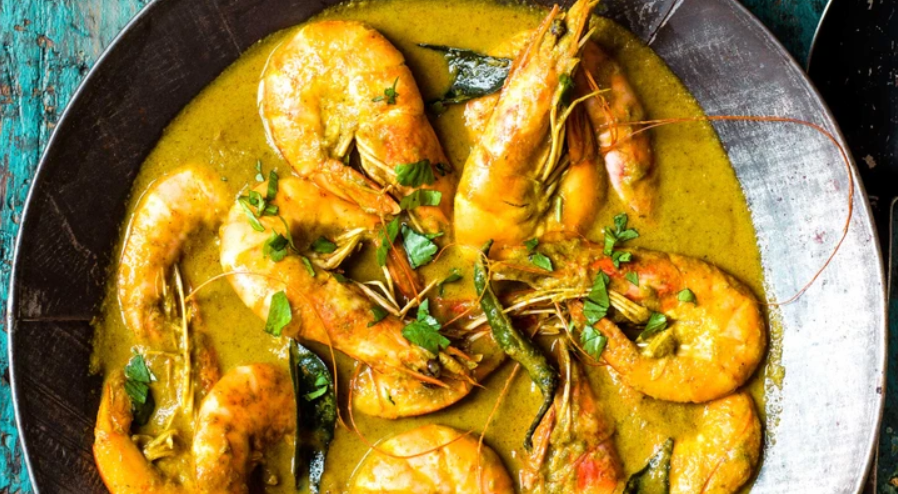 Hirwa kolambi kalwan is a vibrant green coconut prawn curry with chilli, coriander and curry leaves. We've used shell-on prawns as they add so much flavour, although you could make this with shelled prawns as well.
Source: Olive Magazine
12 large whole shell-on raw prawns
1/2 tsp group turmeric
2 tbsp vegetable oil
1 green bird's eye chilli, slit lengthwise
10-12 curry leaves
400ml coconut milk
A pinch of caster sugar
3 tbsp tamarind paste
1 tbsp coriander leaves, chopped
Paste
1/2 onion, roughly chopped
A large bunch of coriander, leaves and stem chpped
5 garlic cloves, roughly chopped
A thumb-sized piece of ginger, roughly chopped
1 green bird's eye chilli
Method
Put the prawns, turmeric and a pinch of salt into a bowl and toss well.
Put the paste ingredients and 70ml of water into a blender or food processor and whizz to a smooth paste.
Heat the oil in a large, lidded, heavy-bottomed pan over low heat. Add the green chilli and curry leaves, and, as they begin to sizzle, add the paste and fry for 3 minutes. Add the prawns, stir well and fry for 1 minute. Add 100ml of water, season and cook with a lid on for 2 minutes. Add the coconut milk, sugar and tamarind paste. Stir well and simmer for 4-5 minutes or until the curry has thickened slightly and the prawns are cooked through. Scatter over the coriander and serve with rice, if you like.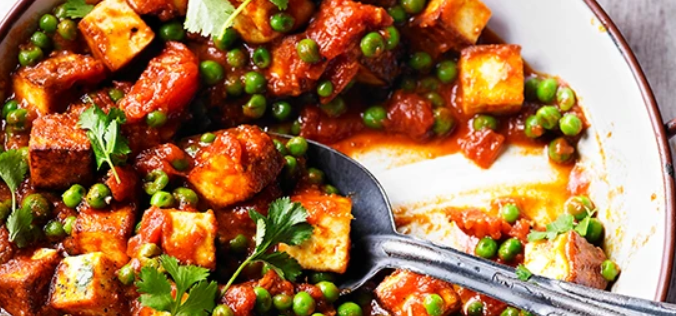 Mutter paneer is a traditional north Indian curry. The texture of fresh peas stands up well against the paneer, but frozen is fine too. This can be ready in just 30 minutes, and you won't feel like you're missing out, even though it's veggie. Serve it as a side curry with some naan or rice.
Source: Olive Magazine
Oil
450g paneer, cubed
5cm ginger piece, grated
1/2 tsp ground cumin
1 tsp turmeric
1 tsp ground coriander
1 tsp chilli powder
400g tin chopped tomatoes
200g podded peas, fresh or frozen
1 tsp garam masala
A small bunch of coriander
Naan or rice, to serve
Method
Heat oil 1/2cm deep in a pan until it is shimmering hot and a cube of paneer will sizzle when you add it. Fry the paneer until it starts to turn brown at the edges. Don't overdo it or it will melt, and be careful as the oil will spit. Scoop the cheese out and drain it on kitchen paper.
Tip out the oil and then put the pan back on the heat. Add the ginger, cumin, turmeric, ground coriander and chilli powder and fry everything for a minute until the spices sizzle. Add the tinned tomatoes, break them up with a spoon and simmer everything for 5 minutes. Add the peas and simmer for a further 5 minutes, then stir in the paneer and garam masala and season well. Serve with naan, roti or rice.