National Cholesterol Month
October is National Cholesterol Month. Too much cholesterol in your blood can lead to a build-up in your arteries, which increases your risk of having a heart attack. Eating a healthy, well-balanced diet that is low in saturated fat and high in fibre is a good way to keep your cholesterol healthy. We've put together some tips and recipe suggestions that are great to help keep your heart healthy.
Take a look at some of our recipes which help to promote a healthy cholesterol balance.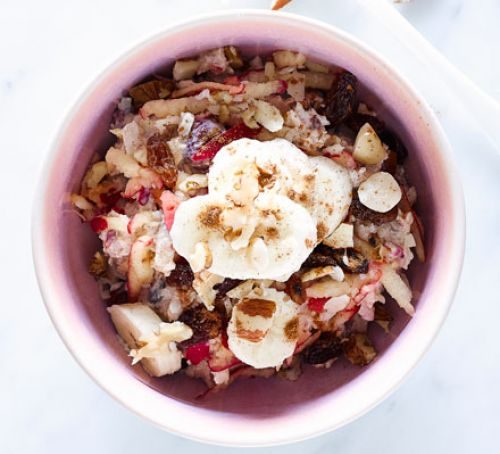 Bircher Muesli with Apple & Banana
Chill time: Several hours
If warm porridge is not your thing, you could try starting your day with Bircher.  Bircher is made by soaking oatmeal overnight in yogurt and adding fruit, nuts and/or seeds. Soaking oats and seeds overnight make them easier to digest, and the muesli will be extra creamy. Great for a quick breakfast straight from the fridge.
Source: BBC Good Food
1 eating apple, coarsely grated
50g jumbo porridge oats
25g mixed seeds, such as sunflower, pumpkin, sesame and linseed
25g mixed nuts, such as Brazils, hazelnuts, almonds, pecans and walnuts, roughly chopped
1/4 tsp ground cinnamon
100g full-fat natural bio-yogurt
1 medium banana, sliced
25g organic sultanas
Method
Put the grated apple in a bowl and add the oats, seeds, half the nuts and the cinnamon. Toss together well. Stir in the yogurt and 100ml cold water, cover and chill for several hours or overnight. Spoon the muesli into two bowls and top with the sliced banana, sultanas and remaining nuts.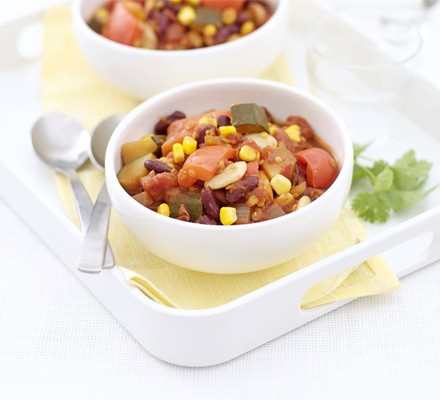 This healthy veggie chilli makes for a quick and satisfying supper, crammed with pulses and colourful fresh vegetables.
Source: BBC Good Food
1 tbsp olive oil
1 garlic clove, finely chopped
Ginger, finely ground
1 large onion, chopped
2 courgettes, diced
1 red pepper, deseeded and chopped
1 yellow pepper, deseeded and chopped
1 tbsp chilli powder
100g red lentils, washed and drained
1 tbsp tomato puree
2 x tinned chopped tomatoes
195g tinned sweetcorn, drained
420g tinned butter beans, drained
400g tinned kidney beans in water, drained
Method
Heat the oil in a large pan. Cook the garlic, ginger, onion, courgettes and peppers for about 5 mins until starting to soften. Add the chilli powder and cook for 1 min more.
Stir in the lentils, tomato purée, tomatoes and 250ml water. Bring to the boil and cook for 15-20 mins.
Add the sweetcorn and beans, and cook for a further 10 mins.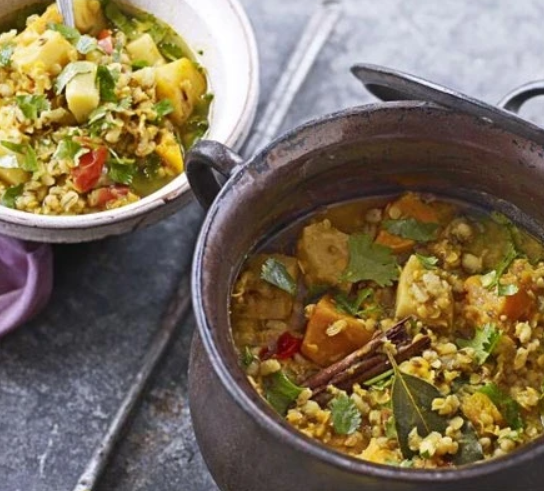 This warming winter soup is high in fibre, low in fat and can be frozen for ultimate convenience.
Source: BBC Good Food
100g pearl barley
2 tbsp vegetable oil
1/2 tsp brown mustard seeds
1 tsp cumin seeds
2 green chillies, deseeded and finely chopped
1 bay leaf
2 cloves
1 small cinnamon stick
1/2 tsp ground turmeric
2 garlic cloves, finely chopped
1 parsnip, cut into chunks
200g butternut squash, cut into chunks
200g sweet potato, cut into chunks
1 tsp paprika
1 tsp ground coriander
225g red lentils
2 tomatoes, chopped
Small bunch coriander, chopped
1 tsp grated ginger
1 tsp lemon juice
Method
Rinse the pearl barley and cook following pack instructions. When it is tender, drain and set aside. Meanwhile, heat the oil in a deep, heavy-bottomed pan. Fry the mustard seeds, cumin seeds, chillies, bay leaf, cloves, cinnamon and turmeric until fragrant and the seeds start to crackle. Tip in the onion and garlic, then cook for 5-8 mins until soft. Stir in the parsnip, butternut and sweet potato and mix thoroughly, making sure the vegetables are fully coated with the oil and spices. Sprinkle in the paprika, ground coriander and seasoning, and stir again.
Add the lentils, pearl barley, tomatoes and 1.7 litres of water. Bring to the boil then turn down and simmer until the vegetables are tender. When the lentils are almost cooked, stir in the chopped coriander, ginger and lemon juice.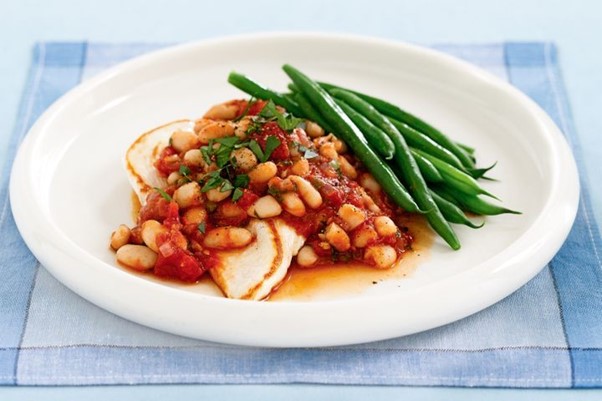 Chicken with Cannellini Bean and Tomato Sauce
A budget-busting pantry staple, fibre-packed cannellini beans get a kick from salty capers and fiery chilli.
Source: Taste
Olive oil
1 small red onion, finely chopped
2 garlic cloves, chopped
1 tsp chilli flakes
1 x 400g tinned chopped tomatoes
1 x 400g tinned cannellini beans, rinsed, drained
2 tsp salted baby capers, rinsed, drained, coarsely chopped
2 tbsp chopped fresh parsley
2 chicken breasts, halved horizontally
Steamed green beans, to serve
Method
Heat a saucepan over medium-low heat. Drizzle with a little olive oil to grease. Add the onion and cook, stirring occasionally, for 5 minutes or until soft. Add the garlic and chilli, and cook, stirring, for 1 minute or until aromatic.
Add the tomato. Increase heat to high and bring to a boil. Reduce heat to low and simmer for 5 minutes. Add the cannellini beans and capers, and simmer for 5 minutes or until the mixture thickens slightly. Season with pepper. Stir in half the parsley.
Meanwhile, heat a large non-stick frying pan over high heat. Spray with olive oil spray. Add the chicken and cook for 2-3 minutes on each side or until golden and cooked through.
Divide the chicken among serving plates. Top with the cannellini bean mixture and remaining parsley. Serve with steamed green beans.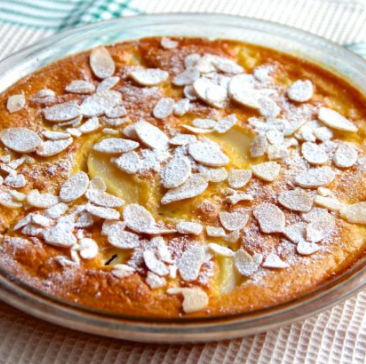 The pear and almonds are a simple combination that gives a wonderful flavour. Perfect for parties or cosy days at home.
Source: Heart UK
240g fresh poached pears or tin of pears, drained
40g ground almond
10 tsp sweetener
2 medium eggs
150ml soya milk
1 1/2 tbsp soya single cream
1/2 tsp vanilla bean paste
1 tsp brandy/whisky
Almond flakes, to decorate
Low fat spread, to grease
Icing sugar to spring lightly, if preferred
Method
Preheat the oven to 180°C. Grease an ovenproof dish with low fat spread. Slice the tinned pears and arrange them neatly in the greased dish.  Set aside.
In a bowl, whisk two eggs thoroughly until aerated and add the sweetener and vanilla bean paste into the mixture. Then add the ground almond and mix until integrated. Pour in the soya milk and soya single cream whilst stirring and lastly add the brandy or whisky.
Pour the entire mixture on top of the pears in the dish, and place in the oven for 35-40 minutes or until cooked. After 25 minutes, sprinkle some almond flakes onto the flan and return to the oven for a further 15 minutes.  Use a skewer to check the centre of the flan, which should come out clean if cooked.