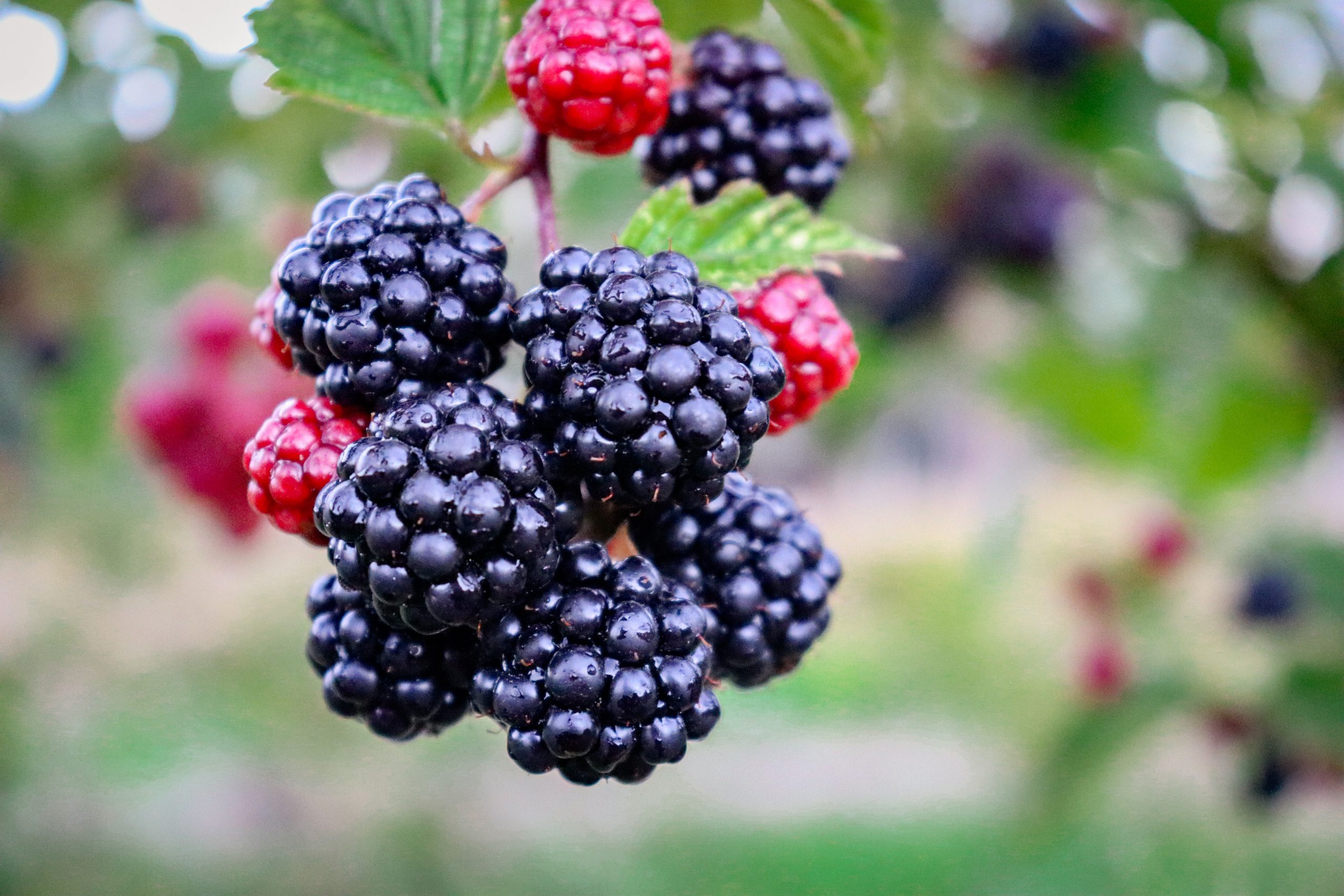 As summer draws to a close, there are many signs that nature is already gearing up for the next season.  Autumn is nature's last hurrah before the cold, bleak winter months and late August to early September is prime time for blackberries. These sweet, juicy fruits are delicious in cakes and crumbles as well as for sauces for savoury dishes – check out our scrummy blackberry recipes.
Blackberries are a delicious addition to any diet and are also packed with essential nutrients and antioxidants. They can easily be included as a part of any healthy diet. A popular method is to consume blackberries with breakfast adding to a fruit salad, Greek yogurt or to cereals and porridge or a fruit smoothie.
Blackberries also work well in desserts, such as apple and blackberry pie or crumble. We've pulled together some of the tastiest recipes we can find for you to enjoy this autumnal fruit.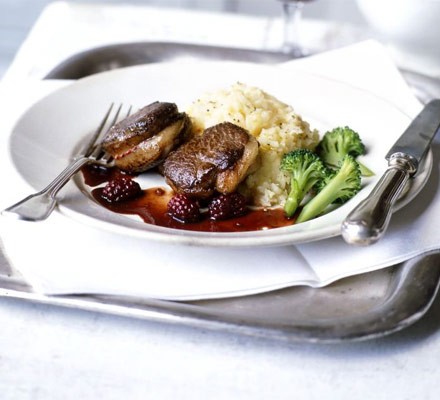 Pan-Fried Venison with Blackberry Sauce
Blackberries are delicious in savoury sauces, and this version is the perfect match for the richly flavoured venison.
Source: BBC Good Food
1 tbsp olive oil
2 thick venison steaks, or 4 medallions
1 tbsp balsamic vinegar
150ml beef stock
2 tbsp redcurrant jelly
1 garlic clove, crushed
85g fresh blackberries
Method
Heat the oil in a frying pan, cook the venison for 5 mins, then turn over and cook for 3-5 mins more, depending on how rare you like it and the thickness of the meat (cook for 5-6 mins on each side for well done). Lift the meat from the pan and set it aside to rest.
Add the balsamic vinegar to the pan, then pour in the stock, redcurrant jelly and garlic. Stir over quite a high heat to blend everything together, then add the blackberries and carry on cooking until they soften. Serve with venison, mash and broccoli.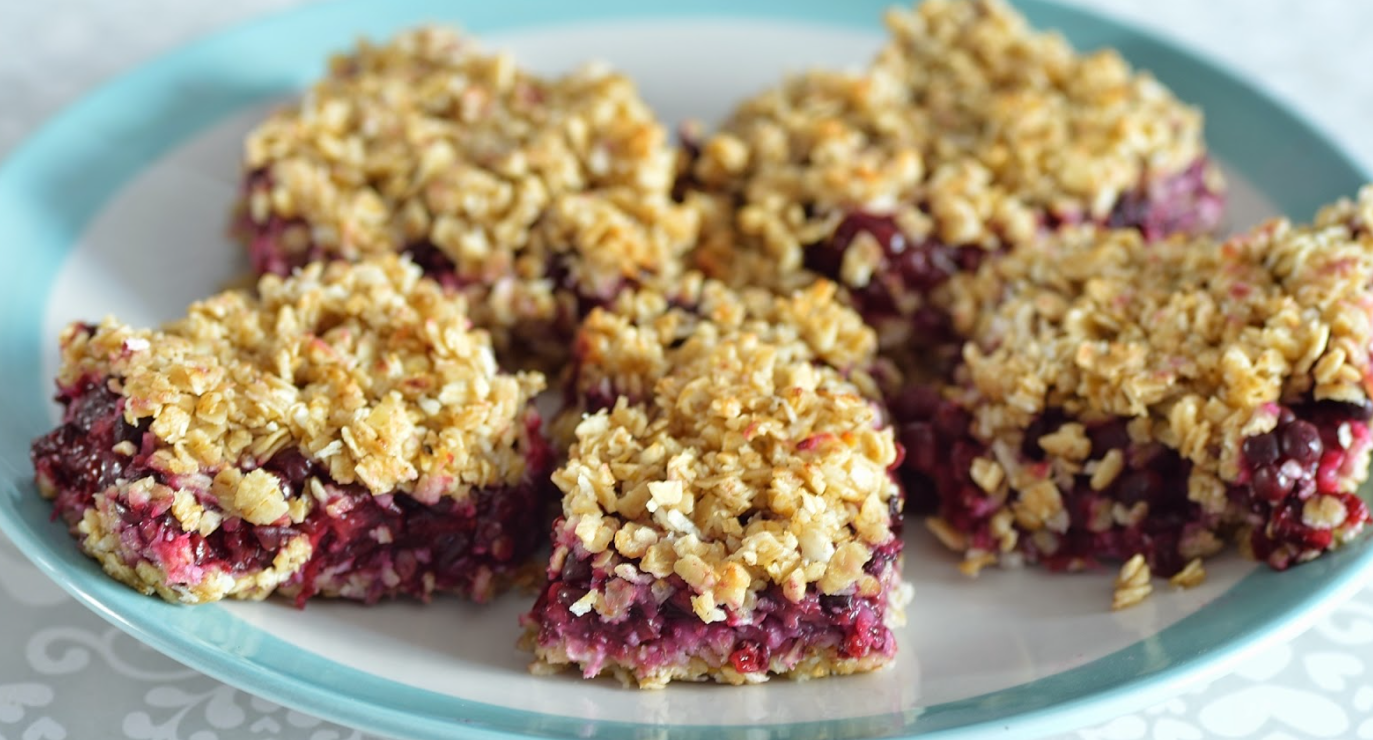 These yummy bars are just the right mix of chewy and fruity. This recipe makes around 10 bars and they're great for popping in your packed lunches.
Source: Woodland Trust
350g blackberries
25g golden caster sugar
250g porridge oats
140g butter, cut into cubes
50g light brown sugar
140g golden syrup
Method
Preheat the oven to 190C/gas 5.
Grease a tin of around 18cm square.
Put the blackberries and caster sugar in a small saucepan with two tablespoons of water, put the lid on and simmer on low heat until they're soft. Keep giving them a stir to make sure they're not burning. Mash them up a bit and then let them cool.
Slowly melt the butter, brown sugar and syrup in another saucepan. Stir in the oats and mix well.
Press half the oat mix into the tin, spread the blackberries on top and cover with the rest of the oat mixture.
Bake for 25 minutes or until golden. Cut into bars and leave to cool before taking them out of the tin.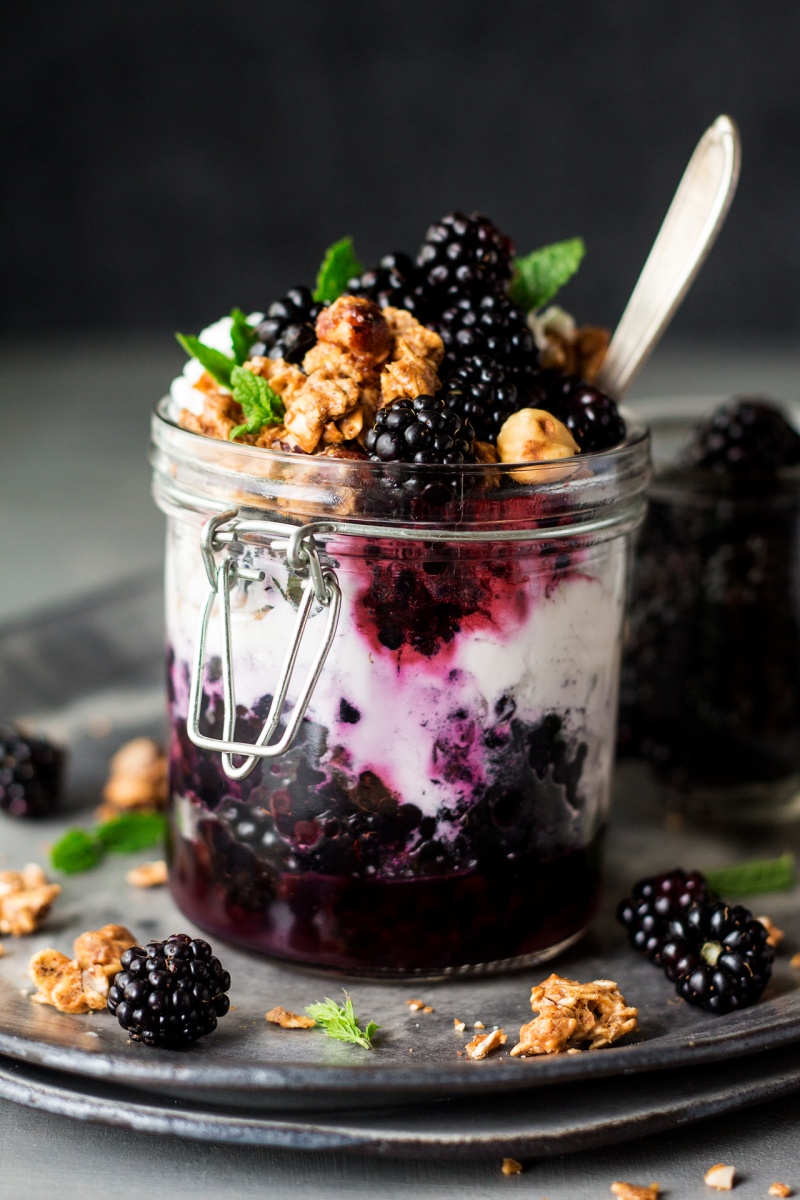 The sharp blackberries with an indulgent hazelnut and maple-glazed granola with a touch of cardamom and a generous dollop of creamy coconut yoghurt. The granola is nutty, crunchy and sweet and it's a real challenge not to eat it on its own, straight from the jar.
Source: Lazy Cat Kitchen
90g rolled jumbo oats
50g hazelnuts, roughly chopped
3-4 green cardamon pods**, seeds crushed in pestle and mortar
60ml maple syrup
60ml peanut butter
500g fresh blackberries
400g thick yogurt
Method
Preheat the oven to 130°C fan (or 150°C without the fan) and line a large baking tray with a piece of baking paper.
In a large bowl, mix the maple syrup and peanut butter well.
Mix in the oats, chopped hazelnuts and crushed cardamom seeds.
Spread the granola mixture on the prepared baking tray and bake for about 40 minutes. Do not stir.
Allow the granola to cool down (it will crisp up) before using. Store in an airtight container. Use within a few weeks.
ASSEMBLY
Prepare four medium size glasses.
Place a layer of fruit at the bottom, followed by a dollop of yogurt and sprinkle with granola chunks.
Follow with another layer like the one described above, squashing some fruit to achieve beautiful colours.
The perfect Autumnal dessert, blackberries in a delicate almond sponge. This makes for a great pudding or tea time treat. Serve with fresh blackberries or cream.
Source: Berry World
175g blackberries
150g caster sugar
215g shortcrust pastry
110g ground almonds
50g butter, softened
3 free-range eggs, beaten
Few drops of each vanilla and almond essence
15g flaked almonds, toasted
Sifted icing sugar
Method
Place the fruit in a small pan with 50g of the sugar and warm through until the juices begin to rest. Remove the fruit from the heat and cool.
Preheat the oven to 200C/400F/gas mark 6. Roll out the pastry on a lightly floured surface large enough to line an 18cm loose-bottomed flan tin. Ease the pastry gently into the corners without stretching and trim the edges. Chill until required.
In a mixing bowl cream together the rest of the sugar, the almonds, butter, eggs and flavourings until soft and well blended.
Spoon the fruit into the pastry case, spread over the topping and flatten. Place in the oven and bake for 30-40 minutes or until the topping is set and lightly golden.
Serve warm or cold topped with the flaked almonds and a shake of sifted icing sugar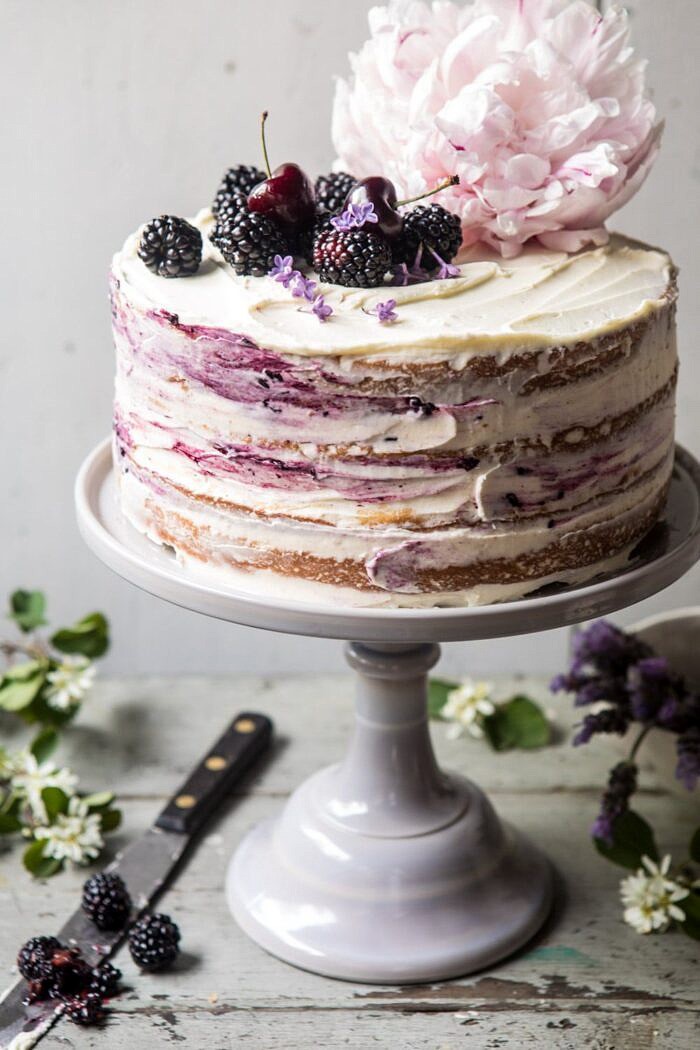 Blackberry Lavender Naked with White Chocolate Buttercream
Four layers of light and fluffy vanilla cake with homemade blackberry lavender jam, and white chocolate buttercream. This cake is nothing short of delicious. Every bite is layered with fresh berries, hints of lavender, and sweet vanilla cake. The perfect berry-filled cake for any and all occasions.
Source: Half Baked Harvest
240ml vegetable oil
120ml plain Greek yogurt
3 large eggs
270g caster sugar
1 tbsp vanilla extract
355ml buttermilk
500g plain flour
1 tsp bicarbonate of soda
1 tsp baking powder
1 tsp salt
Blackberry jam
1.2kg blackberries, fresh or frozen
170g honey
1 tbsp lemon juice
1-2 tsp dried lavender
White chocolate buttercream
345g butter, at room temperature
200g icing sugar
230g white chocolate, melted and cooled
Method
Preheat oven to 180C. Grease 2 (20cm) round cake pans. Line with parchment paper, then butter/spray with cooking spray.
In the bowl of a stand mixer (or use a hand-held mixer) beat together the vegetable oil, yogurt, eggs, sugar, vanilla, and buttermilk. Add the flour, bicarbonate of soda, baking powder, and salt and mix until just combined.
Pour the batter among the cake pans and bake 30-35 minutes, until the tops are just set and no longer wiggly in the centre. Remove and let cool for five minutes, then run a knife around the edges of the pan and turn the cakes out onto a cooling rack. Cover and let the cakes cool completely before assembling.
To make the jam. Add the blackberries, honey, lemon juice, and lavender to a medium size pan set over high heat. Bring the mixture to a boil, once boiling use a potato masher or fork to break down and mash the berries. Continue to cook for 5-8 minutes or until the jam has reduced and thickened by 1/3. Remove from the heat and let cool. Should thicken as it cools.
To make the buttercream. Add the butter and icing sugar to the bowl of a stand mixer. Beat the butter and icing sugar together until the butter is light and fluffy. Add the melted white chocolate and beat until combined.
To assemble. Using a large serrated knife, carefully cut each cake in half horizontally. Place one cake layer on a serving plate. Spread 1/4 of the buttercream over the cake and layer with about 30g of jam. Repeat with the remaining 3 cake layers. Be careful not to overfill your layers or the cake will be hard to slice. Lightly frost the outside of the cake. Chill 30 minutes. Serve or store in the fridge for up to 3 days.