Summer Lunchbox Ideas for Work
If you don't have the luxury of a staff canteen or are near to somewhere you can pick up a tasty lunch then a packed lunch is essential. Bored of the same old sandwiches why not give one of these ideas a go.
Mediterranean Quinoa & Vegetable Bowls
Quinoa bowl topped with vegetables, hummus and more! A healthy, easy, and fresh meal. Feel free to use your favourite combination of vegetables. Roasted red peppers, grilled veggies, or avocado would be great in this dish too.
Source: Celebrating Sweets
270g cooked quinoa
10g mixed greens, baby spinach or shredded kale
9 cherry tomatoes, halved
1/4 cucumber, chopped
3 artichoke hearts, quartered
8 olives
2 tbsp hummus
1 tbsp feta
Pita or pita chips, as garnish
Tzatziki, lemon vinaigrette, or oil and vinegar, for dressing
Method
Place the quinoa in the bottom of a bowl. Place remaining ingredients on top of the quinoa. Drizzle with tzatziki or salad dressing of choice. Serve immediately.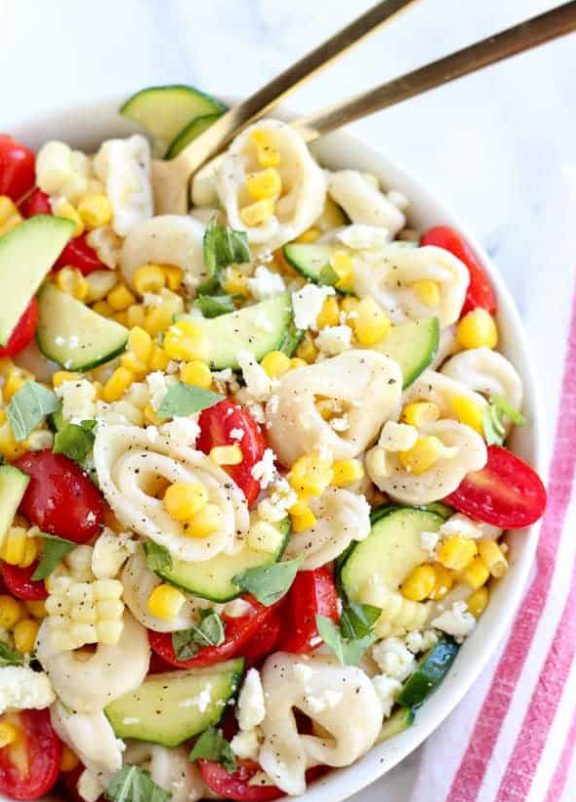 Summer Corn, Tomato and Tortellini Pasta Salad
A summery pasta salad filled with cheese tortellini, corn, tomatoes, courgette, and basil topped with a fresh lemon vinaigrette.
Source: Celebrating Sweets
For the vinaigrette:
3 tbsp extra virgin olive oil
2 tbsp fresh lemon juice
1 garlic clove, finely minced or grated
Season with salt and pepper
For the pasta salad
300g cheese tortellini
1 tin sweetcorn
15 cherry tomatoes, quartered
1 small courgette, halved and thinly sliced
2 tbsp feta, crumbled
3 fresh basil leaves, torn or chopped
Salt and pepper, to taste
Method
For the vinaigrette, combine all ingredients and whisk to combine.
For the pasta salad, cook tortellini according to package instructions. Once it has drained, drizzle a little olive oil or lemon vinaigrette over the pasta to keep it from sticking. Set aside to cool to room temperature.
Once cooled, combine tortellini, corn, tomatoes, courgette, feta, basil, and dressing. Toss to combine. Season to taste with salt and pepper. Serve immediately or refrigerate.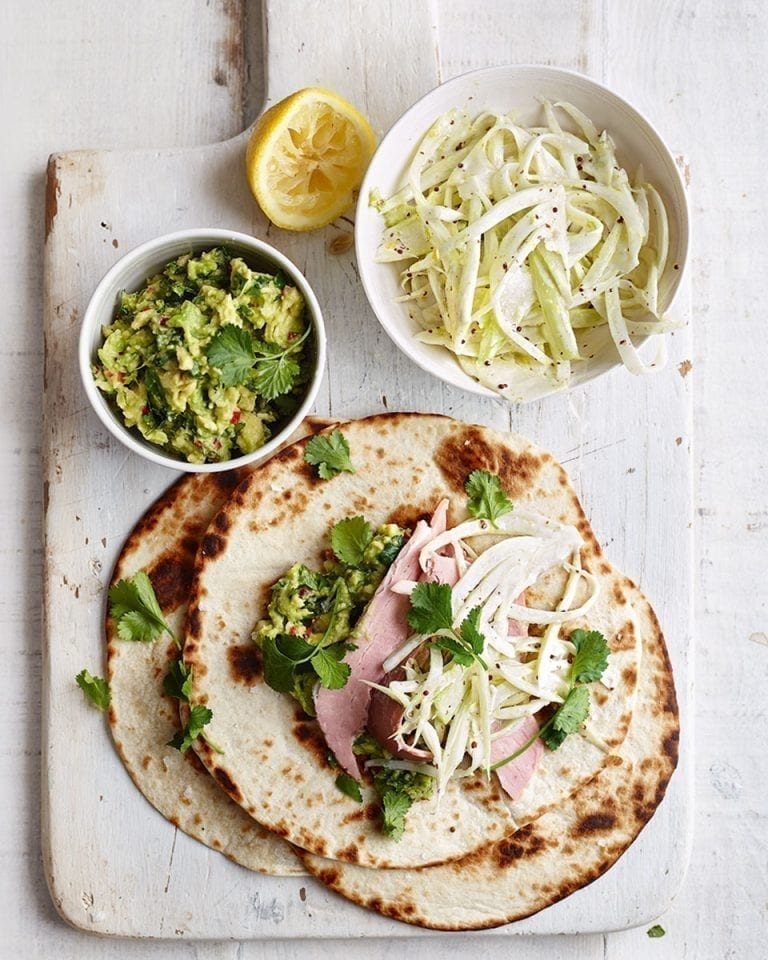 Ham, Fresh Fennel Slaw and Spicy Avocado Wraps
Move over ham sandwich, there's a new lunch in town. This one combines fresh fennel coleslaw, spicy avocado and leftover ham in a tortilla wrap.
Source: Delicious Magazine
1 very ripe avocado, peeled, stones removed
1/2 red chilli, seeds removed, finely chopped
1 garlic clove, crushed
Large bunch fresh coriander, leaves picked and roughly chopped
1/2 large fennel bulb, very thinly sliced
Finely grated zest and juice 1/2 lemon
1/2 tbsp wholegrain mustard
30g mayonnaise
2 tortilla wraps
2-4 slices ham
Method
For the spicy avocado, mash the avocados in a bowl with the chilli, garlic and half the coriander. Taste, season, then set aside.
In a separate bowl, combine the fennel, lemon juice and zest, mustard and mayonnaise. Mix well, taste and season.
Heat a griddle pan or frying pan over high heat, then lightly scorch the wraps for 1 minute on each side to heat through. Spread over the avocado, top with the fennel and ham, then scatter with the remaining coriander. Roll up and serve.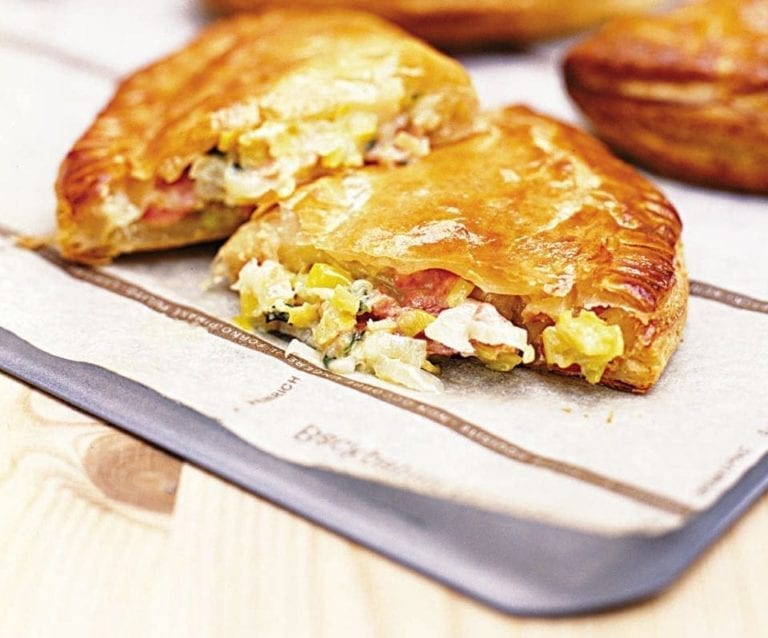 These cheese puffs can be enjoyed as a satisfying lunch. They're also great for on the go lunches, just wrap them up and off you go.
Source: Delicious Magazine
50g butter
1 small onion, finely diced
1 leek, sliced and washed
225g soft goat's cheese
2 slices smoked ham or Parma ham, diced
2 sprigs fresh thyme, leaves picked
375g pack ready-rolled puff pastry
1 egg, beaten, to glaze
Method
Melt the butter in a frying pan over medium heat. Add the onion and leek, cover, and sweat for 5 minutes, until soft but not coloured. Set aside to cool.
Put the cheese in a large bowl and beat until creamy. Add the ham, thyme leaves and cooled onion and leek. Mix and season to taste.
Unroll the pastry and roll out until slightly thinner. Using a saucer, cut out 4 x 16cm circles. Divide the mixture between the centres of each pastry round. Brush the edge of the pastry with some of the egg and fold the pastry over to make a semicircle. Press with a fork to seal the edges and chill for 5-10 minutes.
Preheat the oven to 200C/fan180C/gas6. Put the puffs onto a non-stick baking tray and brush with the remaining egg. Bake for 20 minutes, until golden. Serve hot or cold.
These can be prepared a day in advance. Chill at the end of step three, so they're ready to bake when you need them.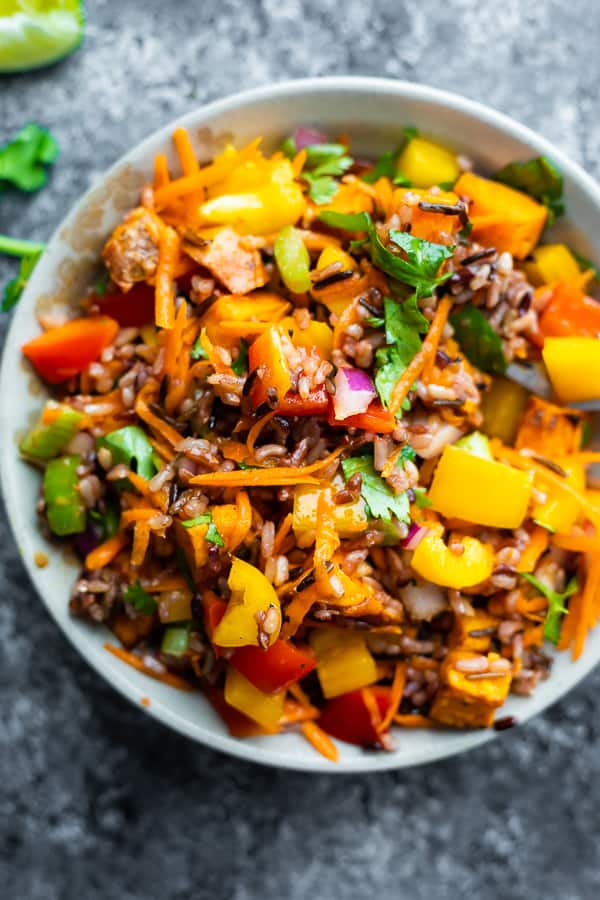 Southwestern Wild Rice and Sweet Potato Salad
Wild rice and sweet potato salad is loaded with healthy veggies and tossed in a chilli lime vinaigrette. Gluten-free, vegan-friendly, and perfect for lunch or a side salad!
Source: Sweetpea and Saffron
1 large sweet potato, peeled and cut into 1-inch cubes
1 tbsp olive oil
Salt & pepper
For the salad
155g wild rice blend, uncooked
1 carrot, peeled and grated
1 celery, finely chopped
1 red pepper, diced
1 yellow pepper, diced
1 small red onion, finely chopped
Large handful coriander leaves, roughly chopped
For the vinaigrette
3 tbsp olive oil
3 tbsp white wine vinegar
2 tsp lime juice
1 tsp chilli powder
2 tsp honey
1 garlic clove, minced
1/4 tsp salt
Method
Roasted Sweet Potato
Heat oven to 425°F. Toss sweet potato in olive oil, and season with salt & pepper. Arrange on a baking sheet or baking dish. Bake for 15 minutes, stir up and continue to bake for another 10-15 minutes until a fork goes into the sweet potatoes easily. Remove from oven and set aside to cool.
Salad
Cook rice according to package directions. Allow cooling completely before assembling the salad. Combine cooled sweet potato, cooled rice, and remaining salad ingredients. Shake together all vinaigrette ingredients and toss salad thoroughly.
Storage
If you are planning to make this salad ahead, leave off the coriander until just prior to serving.
For meal prep- omit the coriander and add a can of black beans. Portion out in containers and refrigerate for up to 4 days.