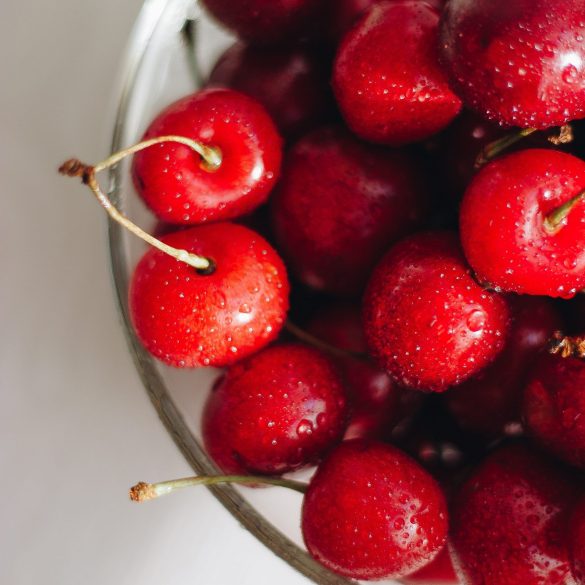 One of the many delights of the summer, cherries are much loved for their succulent texture, flavour and gorgeous good looks. The juicy flesh can be sweet or sour, depending on which of the hundreds of varieties they are. Sweet cherries are generally eaten as is whereas sour cherries are used in cooking. All cherries have a stone in the middle which must be removed before eating or cooking.
Cherries are a good source of fibre, vitamins and minerals, including potassium, calcium, vitamin A and folic acid. They are also well known for their antioxidant properties. A portion of 14 cherries counts as one of your five-a-day.
Below are some of our favourite cherry recipes but you can find more cherry recipes on our Pinterest board.
Order a 200g bag of cherries from us for just £1.50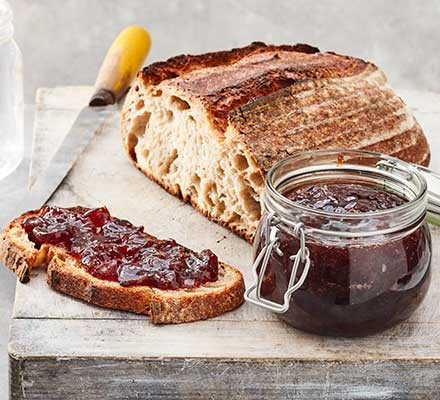 Celebrate cherries with this homemade cherry jam. Perfect in cakes or slathered over fresh bread, it also makes a lovely gift for family and friends.
Source: BBC Good Food
2kg cherries, pitted, 1/2 roughly chopped, 1/2 halved
1.2kg jam sugar (with added pectin)
2 lemons, juiced
Method
Put two saucers in the freezer for testing the jam later on. Tip the cherries, sugar and lemon juice into a large, heavy-based saucepan and simmer uncovered over medium-high heat for 35-50 mins, stirring frequently until thick and glossy.
After 35 mins, spoon a little of the jam onto one of the chilled saucers. Leave for 1 min, press a fingertip into the jam. If it starts the wrinkle, it's ready. If it slides away, continue to boil the jam for 10 mins, then test again on the other saucer.
Spoon the jam into sterilised jars and seal. Will keep for six months unopened (when stored in a dark, cool place), or opened in the fridge for three months.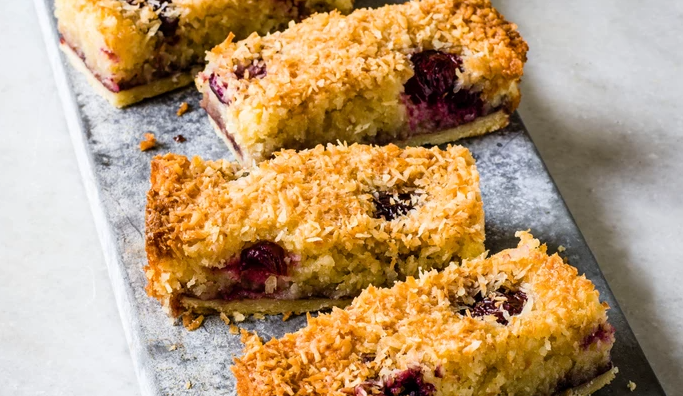 This Bakewell slice with juicy cherries and crunchy desiccated coconut are easy to make and delicious with an afternoon cuppa.
Source: Olive Magazine
375g shortcrust pastry
200g unsalted butter, softened
200g caster sugar
3 eggs
2 tbsp plain flour, plus extra for dusting
150g desiccated coconut, plus 60g to decorate
1 tbsp whole milk
6 tbsp black cherry jam
10-12 fresh whole cherries, pitted and halved
Method
Line a 25cm x 20cm rectangular brownie tin with baking paper. Roll the pastry out on a lightly floured work surface to about 3mm thickness, slightly larger than the tin. Line the base of the tin with the pastry, trimming any excess, then prick with a fork and chill for 30 minutes.
Heat the oven to 180C/fan 160C/gas 4. Line the tin with more baking paper (on top of the pastry) then fill with baking beans and bake for 15 minutes. Take out the tin, remove the beans and the top layer of paper, and cook for another 5 minutes or until the pastry is sandy coloured and cooked through. Take out of the oven and cool.
Beat together the butter with the caster sugar until pale and fluffy. Add in the eggs, one at a time, beating between each, then add the flour and mix until fully combined. Finally, fold in the ground almonds and desiccated coconut until just combined, then add the milk to loosen the mixture.
Spread a thin layer of jam over the pastry and spoon over the almond mixture, keeping it as level as possible. Gently press the cherries evenly in the cake so that you can still see them. Top with the remaining toasted coconut and bake in the oven for 30-35 minutes or until set. Remove from the oven and leave to cool in the tin completely. Cut into slices and serve.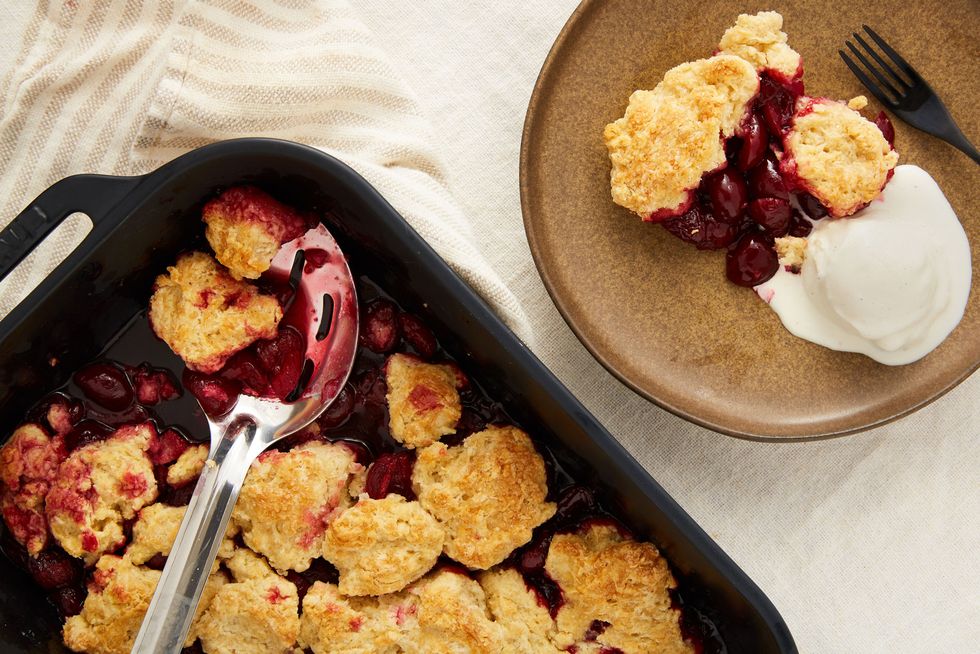 This easy Cherry Cobbler is adorned with a buttery, buttermilk biscuit topping. The cherries create their own sauce while baking, but hold their shape well and stay nice and tart.
Source: Delish
900g cherries, halved and pitted
65g sugar
2 tbsp cornflour
1/2 tsp salt
Juice of 1 lemon
1/2 tsp almond extract
For the topping
260g plain flour
2 tbsp caster sugar
1 tbsp baking powder
1 tsp salt
65g cold butter, cubed
180ml buttermilk
Melted butter, for brushing
Demerara sugar, for topping
Ice cream, to serve
Method
Preheat an oven to 180C. In a large bowl, combine the cherries, sugar, cornflour, salt, lemon juice and almond extract. Let sit whilst making the topping.
In another large bowl, whisk together flour, sugar, baking powder and salt. Add cold butter and cut it into the flour using your hand until the butter is pea-sized. Add buttermilk and mix until just combined.
Pour cherries into 25 cm x 35 cm baking dish and spoon dollops of the dough on top. Brush the tops with butter and sprinkle with demerara sugar.
Bake for 1 hour or until the tops are golden and the sauce is bubbling. Let cool for 5 minutes before serving. Serve with ice cream.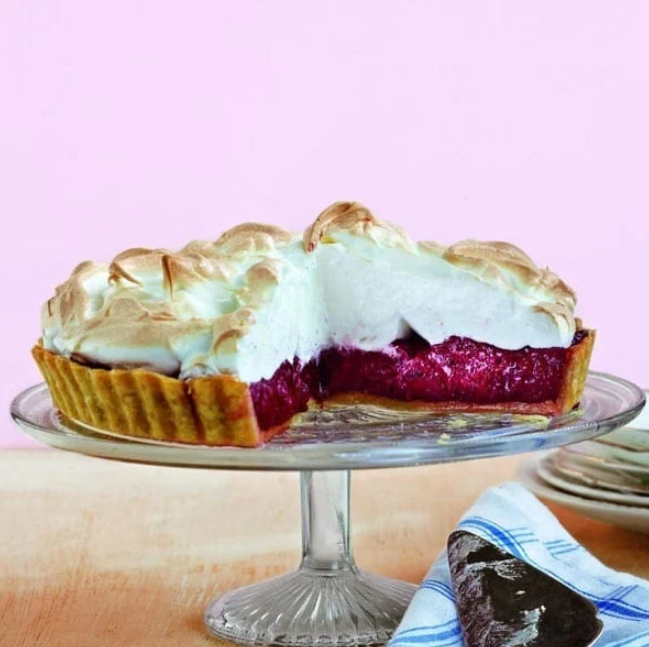 Cook time: 1 hr + chilling
This take on a lemon meringue pie recipe uses seasonal fresh red cherries for a summery, succulently sweet dessert.
Source: Delicious
1.5kg fresh red cherries, stoned
100g caster sugar
3 tbsp kirsch
6 tbsp ground arrowroot
Juice of half lemon
5 large free-range egg yolks
60g butter
For the pastry
150g plain flour, plus extra for dusting
30g caster sugar
85g unsalted butter
1 large free-range egg yolk
For the meringue
3 large free-range egg whites
175g caster sugar
Method
Make the pastry. Pulse the flour, salt, sugar and butter in a blender, until it resembles breadcrumbs. Add the egg yolk and 1 tbsp cold water. Pulse until it comes together to form a dough. Wrap in cling film, then chill for at least 10 minutes.
Preheat the oven to 190°C/fan170°C/gas 5. Roll out the pastry on a floured surface to the thickness of a 50p coin and use to line a deep (3cm) 21cm fluted tart tin. Line with baking paper and fill with baking beans or rice. Place on a baking sheet and bake for 15 minutes. Remove the beans/rice and paper and bake for a further 10-12 minutes until golden and crisp. Set aside to cool. Reduce the oven temperature to 180°C/fan160°C/gas 4.
Put the cherries, sugar and kirsch in a pan over low heat. When the sugar has melted, increase the heat a little and cook for 5-10 minutes until the cherries start to break down. Whizz in a food processor and press through a sieve, back into the pan. You should have approximately 650-700ml juice – top up with water if you don't have enough.
In a bowl, mix the arrowroot with the lemon juice and 1 tbsp water until it forms a paste. Whisk into the cherry mixture and cook over medium heat until it reaches boiling point. Cook for 3-4 minutes, stirring continuously until it is really thick. Remove from the heat and beat in the yolks and butter. Cool completely, then pour into the pastry case and chill for 20 minutes to firm up.
For the meringue, whisk the egg whites in a clean bowl until they form stiff peaks. Gradually whisk in the sugar until you have a glossy meringue. Pile on top of the filling, swirling with a palette knife to create peaks. Bake for 10-12 minutes until the meringue is lightly golden (if you have chilled the pie for longer it will need a couple of minutes more). Serve immediately with plenty of cream or ice cream.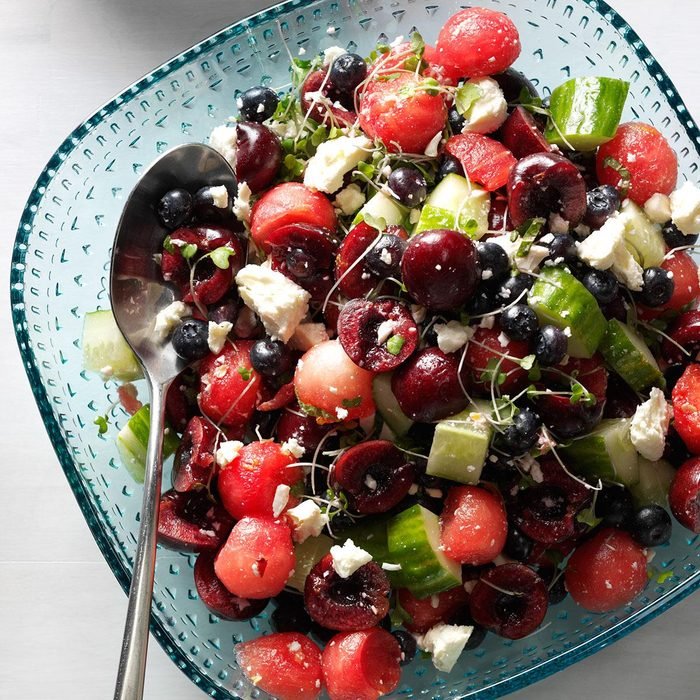 Enjoy this for picnics and barbecues! Make a sweet salad of watermelon, cherries, blueberries and microgreens. No matter where you take it, it always delivers on the wow factor.
Source: Taste of Home
260g watermelon balls
260g fresh sweet cherries, pitted and halved
130g fresh blueberries
65g cucumber, cubed
65g microgreens
65g feta, crumbled
3 fresh mint leaves, finely sliced
30g honey
1 tbsp lemon juice
1 tsp lemon zest
Method
Combine the watermelon balls, cherries, blueberries, cucumber, microgreens, feta and mint. In a small bowl, whisk together the honey, lemon juice and lemon zest. Drizzle over salad and toss together.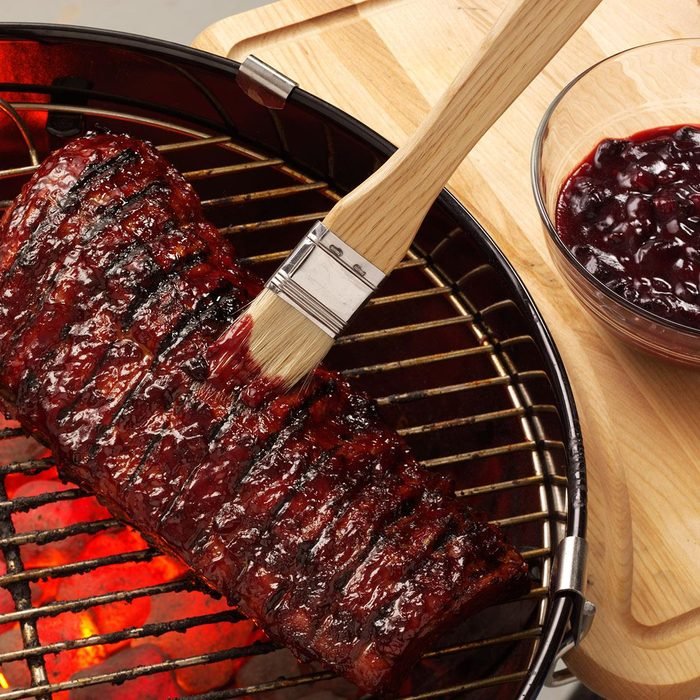 You can use fresh or frozen cherries to make this flavorful barbecue sauce. It tastes phenomenal on ribs and chicken!
Source: Taste of Home
1 onion, chopped
2 tbsp butter
2 garlic cloves, minced
260g sweet cherries, pitted and coarsely chopped
130g ketchup
85g brown sugar
65g cider vinegar
1 tbsp Worcestershire sauce
2 tsp mustard powder
1/2 tsp pepper
Method
In a large saucepan, fry the onion in butter until tender. Add garlic; cook for 1 minute. Stir in the remaining ingredients. Cook, uncovered, over medium-low heat for 20 minutes until the cherries are tender and the sauce is thickened, stirring occasionally.