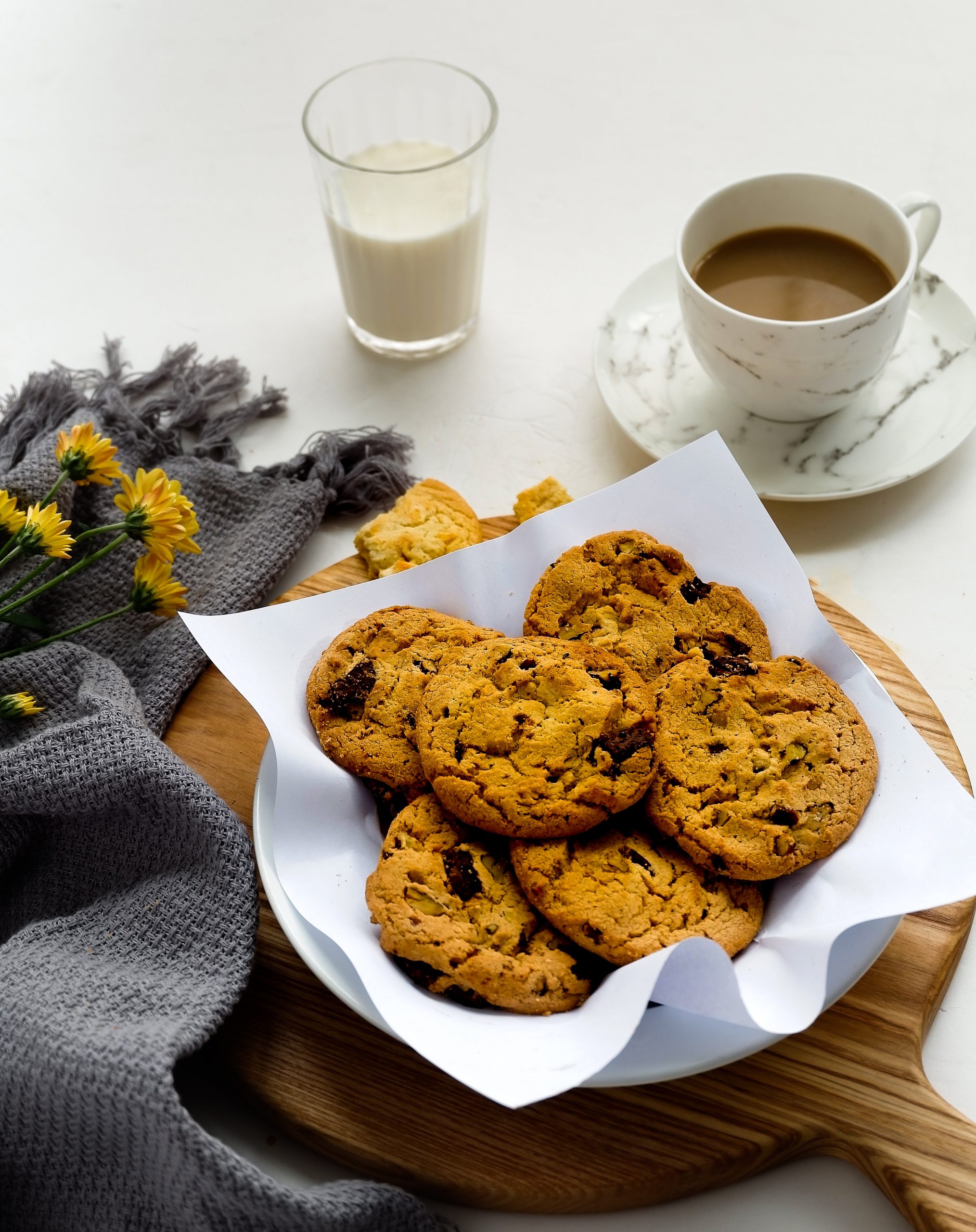 National Biscuit Day is a chance to celebrate the humble biscuit. You might be surprised to hear that biscuits are recorded as an essential source of nutrition to many different people and civilisations throughout history.
Biscuits are not a modern invention and originated as a way of making flour and other ingredients last longer so that they could be taken on long journeys. They were a staple on long sailing expeditions for the Ancient Egyptians and kept many a Roman soldier energised during their conquests of different lands.
Biscuits didn't become known as a sweet confectionary until the 7th century when the Persians experimented by adding different ingredients to the standard water and flour mixture.
How to celebrate National Biscuit Day
Celebrate National Biscuit Day by baking and eating as many guilt-free biscuits as you'd like.
Whether you decide to go for something traditionally British, something fancier, or even an ancient recipe – baking is a fantastic way to celebrate National Biscuit Day with the whole family.
See some of our biscuit recipe suggestions below.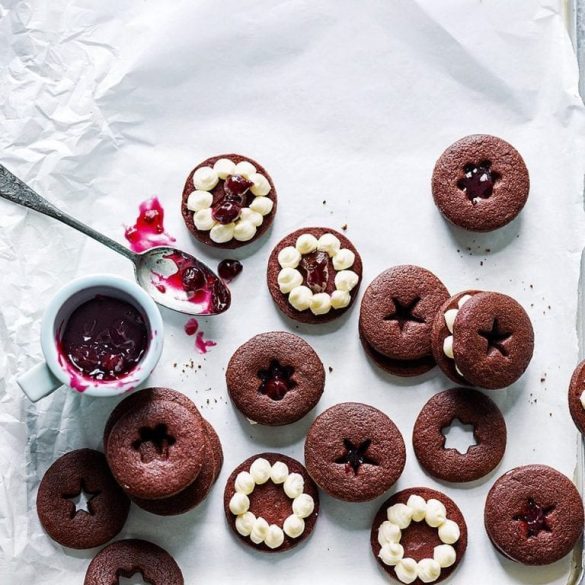 Mint, Chocolate & Blackcurrant Biscuits
Perfect for an afternoon tea, these double-layered biscuits have a touch of jammy dodger! Simple to make, even easier to eat.
Source: Delicious Magazine
125g unsalted butter, softened
75g soft light brown sugar
75g caster sugar
1 tsp vanilla extract
1 medium free-range egg
200g plain flour
50g cocoa powder
For the filling
75g unsalted butter
150g icing sugar
1 tsp whole milk
1/2 tsp peppermint extract
200g blackcurrant jam
You will also need:
4cm round cutter
a small star or flower cutter
a piping bag
Method
Heat the oven to 200°C/180°C fan/gas 6 and line 2 baking sheets with non-stick baking paper. Put the 125g butter, brown sugar and caster sugar in a mixing bowl. Beat with a wooden spoon or electric mixer for a few minutes until slightly paler. Mix in the vanilla and egg. Gradually add the flour and cocoa powder, beating as you go, until the mixture starts to clump together. Bring it together with your hands, wrap it in cling film and chill for 45 minutes.
Remove the biscuit dough from the fridge and roll it out between 2 pieces of cling film to 5mm thick. Using a 4cm round cutter, cut out 16 circles, re-rolling as necessary. Use a small flower or star cutter to stamp out the centre of half the circles to make the biscuit tops.
Arrange the biscuits on the baking sheets and bake for 12-14 minutes. Cool for a few minutes before moving to a wire rack to cool completely.
To fill, use an electric mixer to beat the butter with the icing sugar, milk and peppermint until fluffy. Pipe in small blobs around the edge of the cooled biscuit bases, spoon 1 tsp jam into the centre, then add the tops.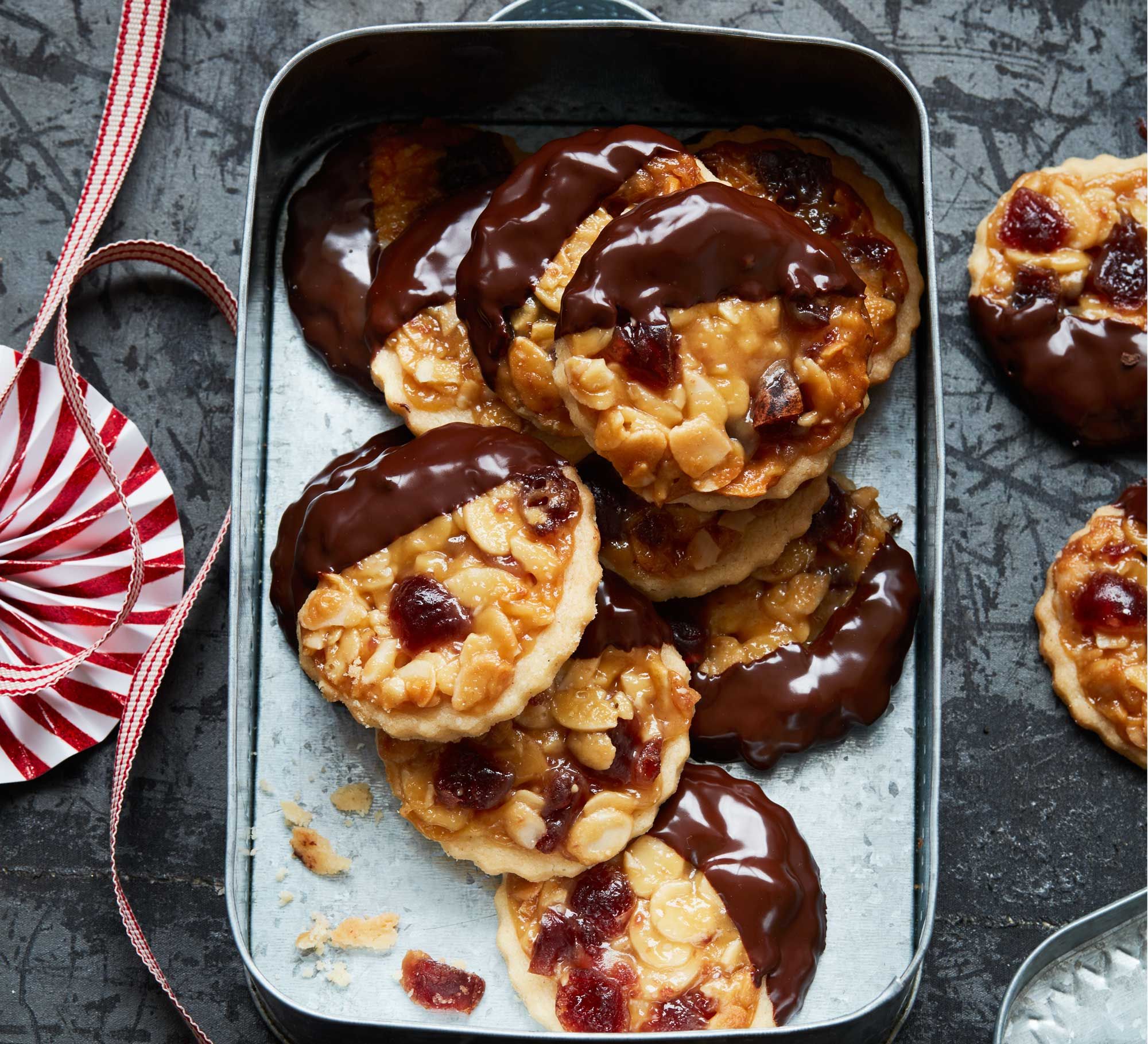 We've given the classic Florentine a chocolate covered biscuity base so they're perfect for dunking. Enjoy yourself or give as a homemade gift.
Source: BBC Good Food
For the biscuit base
175g slightly salted butter, softened
85g golden caster sugar
1/2 tsp vanilla extract
225g plain flour, plus extra for dusting
1/4 tsp ground cinnamon
For the Florentine topping
50g butter
50g light brown soft sugar
50g golden syrup
1/2 tsp salt
50g plain flour
75g glace cherries, chopped
75g flaked almonds
150g dark chocolate, chopped
Method
To make the biscuits, put the butter, sugar and vanilla in a bowl and beat with an electric whisk until creamy. Add the flour and cinnamon, and combine with a spatula to make a soft dough. Form into a ball, wrap in cling film and chill for at least 1 hr.
In a saucepan, melt the butter, sugar, golden syrup and salt. Remove from the heat and whisk in the flour, then stir in the cherries and almonds. Set aside to cool and firm up a little. Heat oven to 180C/160C fan/gas 4 and line a baking sheet with parchment.
Tip the dough onto a floured work surface and roll out to the thickness of a £1 coin. Using a 6cm fluted cookie cutter, stamp out as many circles as you can, then scrunch up the trimmings, re-roll and stamp out some more. Transfer to the baking sheet, and spoon some of the Florentine mixture onto each biscuit until it's all used up. Bake on the middle shelf for 12-15 mins until the biscuits are golden and the topping has melted. Leave to cool on the sheet for at least 15 mins.
While the biscuits cool, melt the chocolate in a small heatproof bowl suspended over a pan of gently simmering water, or in short bursts in the microwave. Stir every 30 secs or so to ensure it doesn't burn. Dip each biscuit about a third of the way into the chocolate, then return to the sheet to set. You may need to spoon the chocolate over the final few. Will keep for up to four days in a sealed container.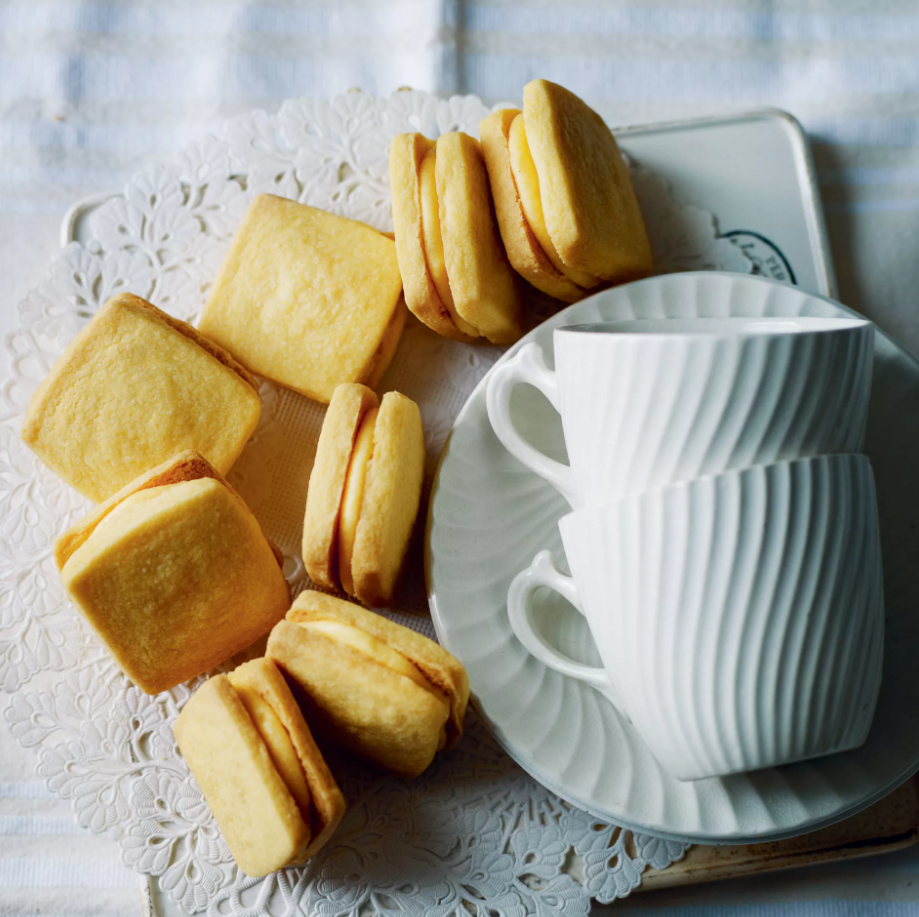 These biscuits are perfect with a cup of tea.
Source: Woman & Home
100g unsalted butter, softened
50g caster sugar
100g plain flour, plus extra for rolling out
25g custard powder
25g cornflour
For the custard cream
150g icing sugar
45g unsalted butter, softened
20g custard powder
3 tsp full-fat milk
You will also need:
A lined baking tray
6cm square or round biscuit cutter
A piping bag
Method
To make the biscuits, beat the butter and sugar together until light and fluffy: this can be done either with an electric hand whisk or in a bowl with a wooden spoon. Sift the flour, custard powder and cornflour into the bowl and mix until thoroughly combined and smooth.
Wrap the dough in cling film and chill in the fridge for 20 minutes.
Meanwhile, preheat the oven to 170°C/325°F/Gas Mark 3.
Dust the work surface with flour and roll the dough out to a thickness of 3–4mm. Using the cutter, stamp out biscuits and place them on the lined baking tray. Gather any dough offcuts into a ball, then re-roll and stamp out more biscuits.
Pop the baking tray into the fridge to chill for 10 minutes.
Bake on the middle shelf of the preheated oven for 10-12 minutes until the biscuits are pale golden and firm. Leave to cool on the baking tray for a couple of minutes then transfer the biscuits to a wire rack until cold.
To make the filling, mix all the ingredients together until smooth using a hand-held whisk or in the bowl of a free-standing mixer. Spoon into a piping bag fitted with a 1cm round nozzle and pipe the filling onto one-half of the biscuits, then sandwich together with the remaining biscuits.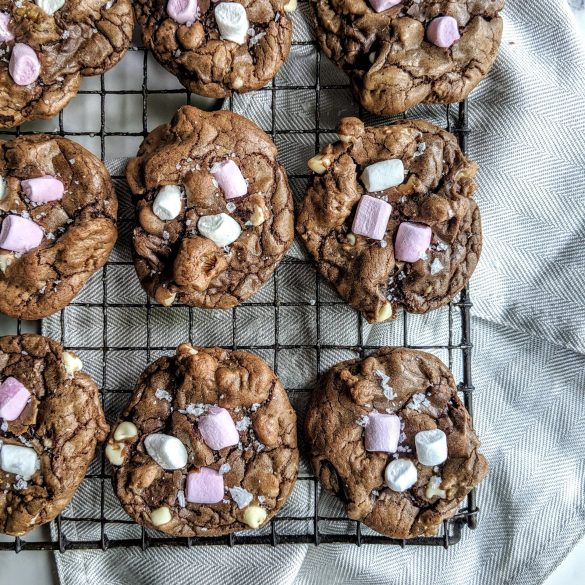 These cookies are a twist on the classic rocky road and classic cookie. Merged together to make a soft, chewy cookie filled with everything you'd get if you were making a rocky road.
Source: Baking Mad
55g butter
40g dark chocolate chips
100g light muscovado sugar
1 egg
1/2 tsp vanilla extract
100g plain flour
1/2 tsp baking powder
1/4 tsp salt
60g walnuts
25g mini marshmallows
40g white chocolate chips
Method
Preheat the oven to 200'c/180'c fan oven/ gas mark 6.
In a small saucepan, melt together the butter and the dark chocolate chips.
Remove from the heat and set aside to cool once it's all melted together.
In a separate bowl, mix together the melted chocolate mixture with the light muscovado sugar, egg and vanilla extract.
Sift together the flour, baking powder and salt in a separate bowl and then add this to the chocolate mixture mixing together until fully incorporated.
Sift in the white chocolate chips and the walnuts.
Using a spoon, drop walnut (in shell) sized pieces onto a baking tray which is lined with parchment paper (Make sure you leave enough room between each ball as these will spread apart when baking).
Bake 8-10 minutes (8 if you prefer them slightly chewy, 10 if you're more into a crunch). Bring them out of the oven and while they're still soft, add a few marshmallows to the top of each. Transfer these to a wire cooling rack.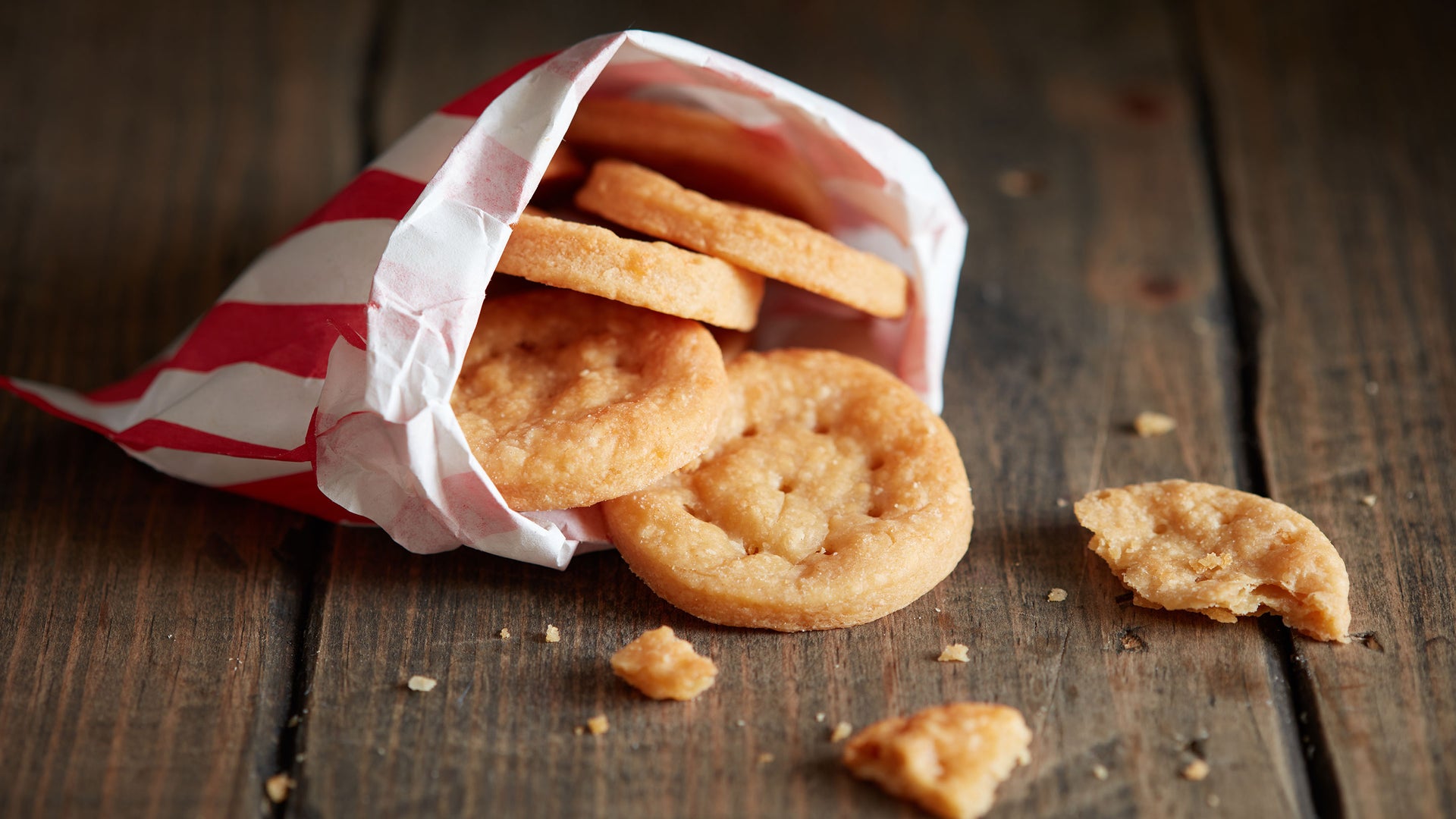 These mini cheddar biscuits are tiny bites of sheer delight. These are easy to make and perfect for snacks and lunch boxes. This recipe includes marmite which really brings out the cheese flavour. This is optional, so if you're not a fan, you do not need to add this.
Source: Baking Mad
190g cheddar cheese
50g salted butter
100g plain flour
1/2 tsp salt
1 tbsp Marmite
Method
Preheat oven to 180C.
Mix together all the ingredients with a spoon, or in a food processor.  When they start to form a ball, knead together lightly then roll out the dough onto a lightly floured surface. You want to make it about 3 mm thick.
Using a small cutter or shot glass, cut out the biscuits. Poke some holes into the biscuits using a fork. Try to keep your hands cool whilst handling the dough to prevent the cheese from melting and the dough from becoming sticky. You can always refrigerate the dough for 30 minutes to bring it back down to cool.
Lay the biscuits on a silicon mat or parchment paper onto a flat baking tray. Bake for 15 minutes.
Leave to cool on the tray then remove the biscuits. Store in a dry place for up to 3 days.