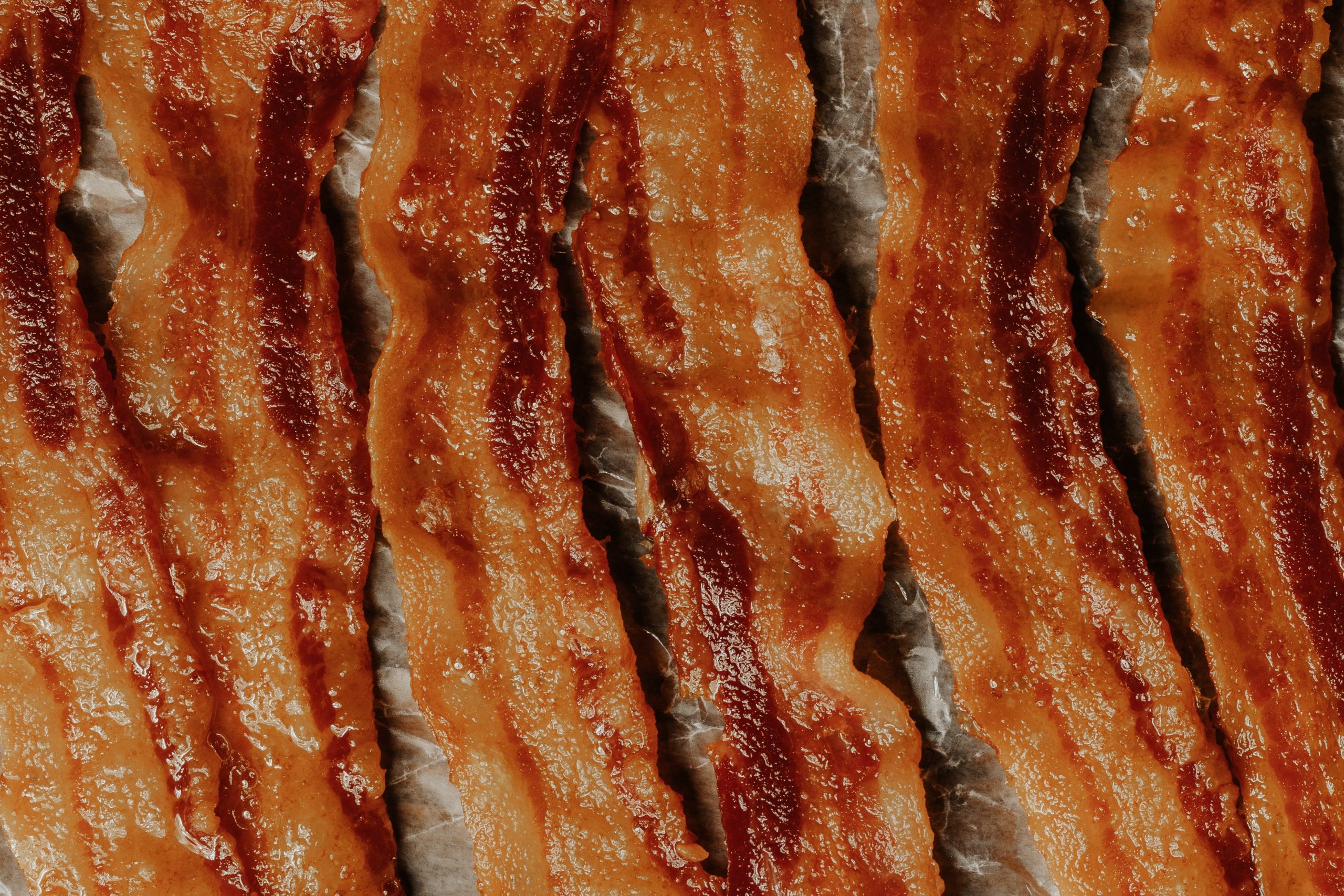 National Bacon Lover's Day
National Bacon Lover's Day is annually on August 20th, we sell the most delicious bacon via the Lowerfields Farm butchers on site.  They also source the bacon from Cameron Naughton, West Farm, Bishop Cannings who is part of the RSPCA assured scheme.
So we've rounded up some of our favourite recipes that feature this beloved ingredient! Tell us how you love to eat your bacon over on our Facebook page.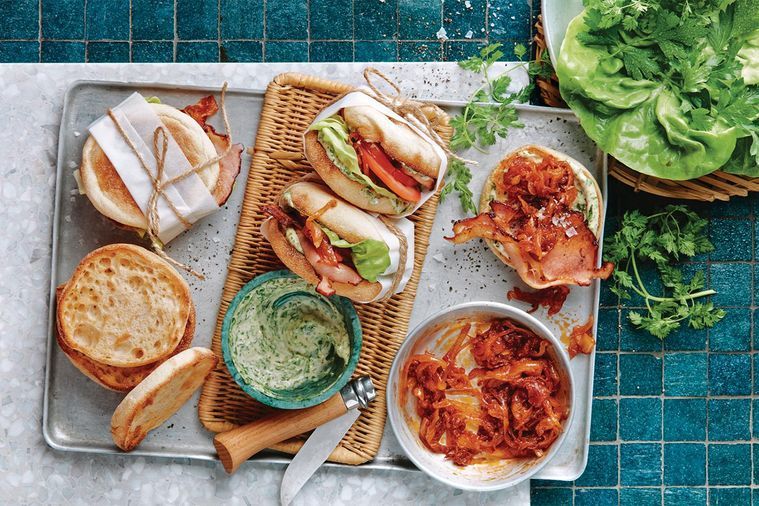 BLT with Herby Aioli & Caramelised Onions
Bacon, lettuce and tomato, only made more delicious by the addition of homemade aioli and caramelised onions.
Source: Delicious
60ml extra virgin olive oil
2 large onions, thinly sliced
1 tsp brown or white sugar
2 tsp red wine vinegar
2 tbsp tomato paste
6 bacon rashers
150g mayo
1/2 garlic clove, crushed
1 tsp Dijon mustard
65g chopped soft herbs, chervil, tarragon & parsley
6 English muffins, halved, tasted
6 butter lettuce leaves
2 tomatoes, sliced
Method
Heat oil in a large frypan over medium-low heat. Add onion and a pinch of salt flakes and cook, stirring, for 20 minutes or until softened and lightly golden. Add sugar, vinegar and tomato paste and cook, stirring frequently, for a further 10 minutes or until caramelised and coloured. Transfer to a bowl and set aside to cool slightly.
Wipe out the pan, add bacon and place over medium heat. Cook, turning once, for 6-8 minutes until cooked to your liking. While the bacon is cooking, combine mayonnaise, garlic, mustard and herbs in a bowl. Spread herb aioli over the muffin bases. Top with lettuce, tomato, bacon, caramelised onion and sandwich with tops of muffins. Serve immediately.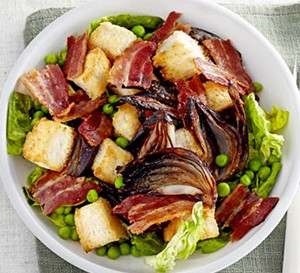 Bacon & Roast Onion Salad
A rustic salad for one – contrast peas and caramelised onion with salty, streaky bacon and mustard dressing.
Source: BBC Good Food
1 red onion, cut into 8 wedges, root left intact
2 tbsp olive oil, plus extra for drizzling
Handful of peas, fresh or frozen
1 tsp sherry vinegar
1 tsp Dijon mustard
2 sliced smoked streaky bacon
1 slice of bread, cut into cubes
1 baby gem lettuce, leaves torn
Method
Heat oven to 220C/200C fan/gas 7. Arrange the onion wedges on one side of a baking tray. Drizzle with ½ tbsp of olive oil and season. Put in the oven and roast for 15 mins.
Meanwhile, cook the peas in boiling water for 2 mins, drain and rinse in very cold water. Set aside.
Make the dressing by mixing together another ½ tbsp of the oil, the vinegar, mustard and seasoning. Turn the onions, and put the bacon slices and bread next to them on the baking tray. Drizzle the remaining oil over the bread. Return the tray to the oven for 12 mins more, until the bacon and bread are golden.
Put the lettuce and peas in a bowl, add the dressing and toss to combine. Arrange the onion and bread on top. Break up the bacon slightly and scatter over. Drizzle with a little more olive oil, if you like, and eat straight away.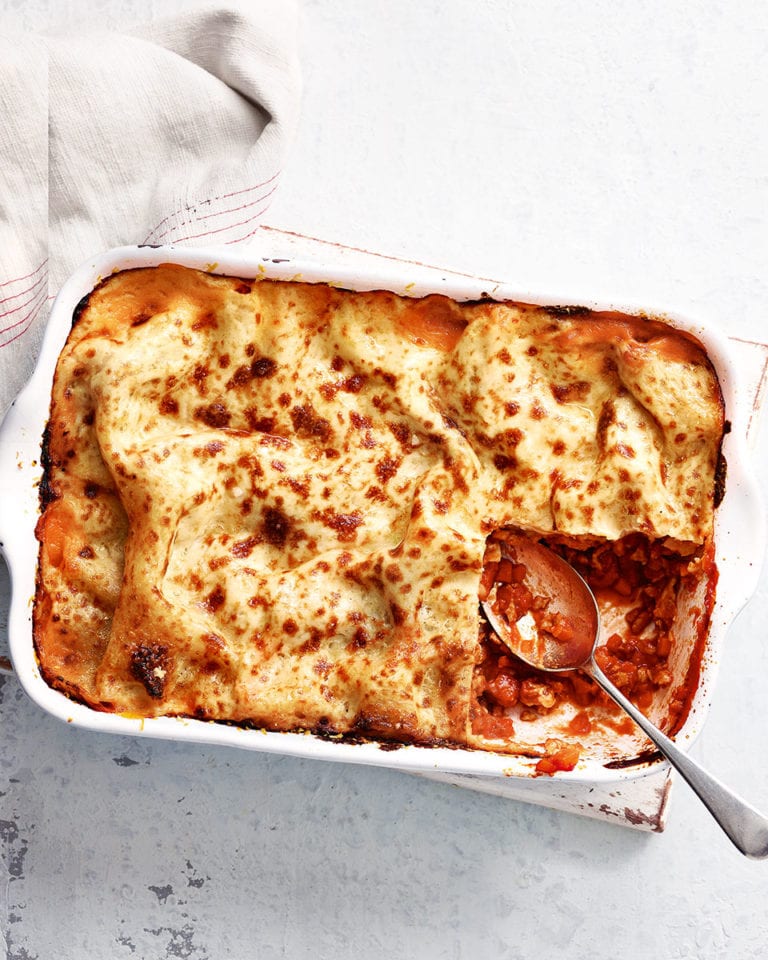 Traditionally lasagne can pack a heavy calorific punch. Our fresher take swaps beef for pork mince while the béchamel is made with skimmed milk and olive oil to reduce calories and sat fat. It still tastes rich and indulgent, but is a little bit better for you!
Source: Delicious Magazine
2 tbsp olive oil
200g smoked bacon lardons
250g lean pork mince
1 large celery stick, finely chopped
1 large carrot, finely chopped
3 garlic cloves, chopped or sliced
200ml white wine
700ml passata or chopped tomatoes
1 veg stock pot
6 large fresh lasagne sheets
For the bechamel sauce
750ml skimmed milk
2 bay leaves
6 black peppercorns
3 tbsp olive oil
3 tbsp plain flour
Whole nutmeg, for grating
Method
Heat a splash of the 2 tbsp olive oil in a large deep frying pan and cook the bacon until browned. Transfer to a plate with a slotted spoon, then add the pork mince to the pan and fry, stirring, until browned. Transfer the pork to the plate with the bacon.
Add the remaining oil to the pan, then cook the vegetables for 10 minutes until softened. Stir in the garlic and cook for a minute or so. Add the wine, let it bubble for a minute, then add the tomatoes, stockpot, pork mince and bacon. Bring to the boil, then turn the heat down and leave to simmer gently for 30 minutes until thickened. Season to taste.
Meanwhile, make the béchamel sauce. Put the milk in a saucepan with the bay leaves and peppercorns and bring to a boil. Remove from the heat and set aside to infuse. Heat the olive oil in another saucepan, stir in the flour and cook, stirring, for 2-3 minutes until it smells biscuity. Gradually stir in the warm milk (discarding the bay leaves and peppercorns) to make a smooth sauce. Cook, stirring, until thickened. Add nutmeg, salt and pepper to taste. Heat the oven to 200°C/180°C fan/gas 6.
Spread a little ragù or béchamel in the base of a large (2 litre) baking dish, then add 2 pasta sheets. Next, smooth over one-third of the béchamel, followed by half the ragù. Add another layer of pasta, half the remaining béchamel, then the rest of the ragù. Add the remaining pasta, then cover with the remaining béchamel. Sprinkle with parmesan and bake for 30 minutes until golden and bubbling at the edges.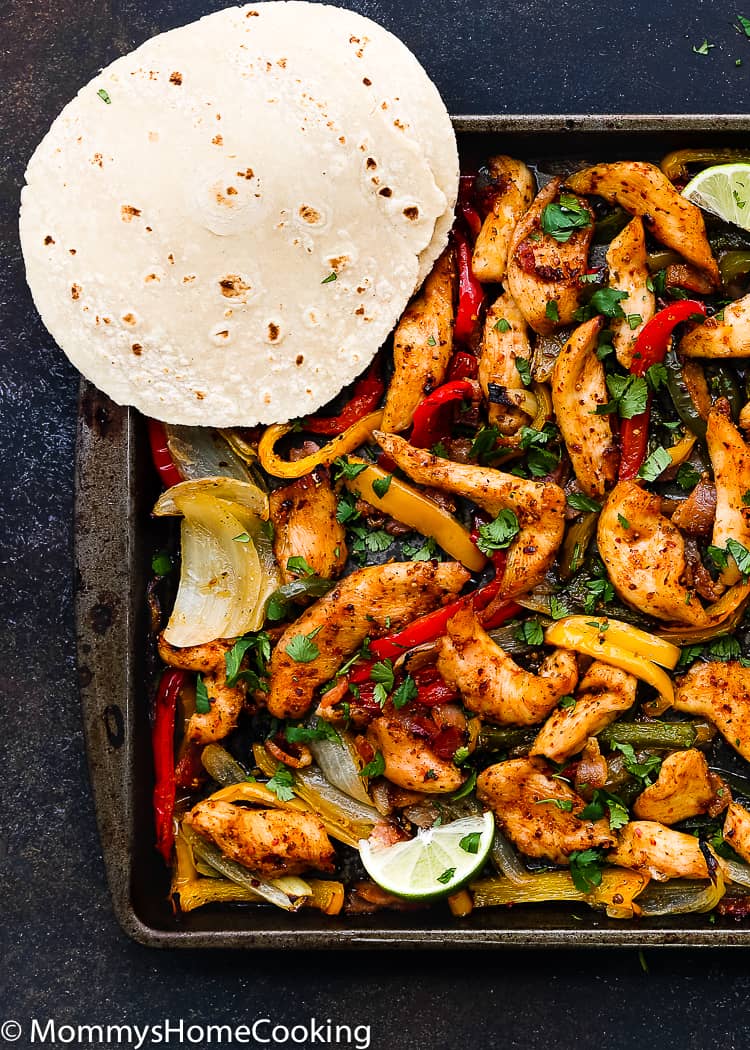 Traybake Barbecue Bacon Chicken Fajitas
Traybake Barbecue Bacon Chicken Fajitas are zesty, smoky and oh-so-welcome on a busy weeknight. Plus, it is happily mess-free.
Source: Delicious Magazine
4 boneless, skinless chicken breasts, sliced into 1/2 inch thick strips
4-6 bacon slices, cut into 1/4 inch pieces
1 red, green and yellow bell peppers, sliced into strips
1 yellow onion, sliced
3 tbsp sweet & smoky BBQ rub, or more to taste
2 tbsp olive oil
To serve
8-10 warm tortillas
Lime wedges
2 tbsp fresh coriander, chopped
Soured cream
Cheddar cheese, shredded
Avocado, sliced
Method
Preheat oven to 200 C. Grease a large rimmed baking tray with oil.
Place chicken, bacon, bell peppers, and onion on the sheet. Add Sweet & Smoky BBQ Rub. Gently toss to combine.
Roast in a preheated oven, tossing once halfway through cooking until chicken and veggies are cooked through and tender, about 20 – 25 minutes.
Serve immediately with warm tortillas, lime wedges and garnished with coriander, if desired.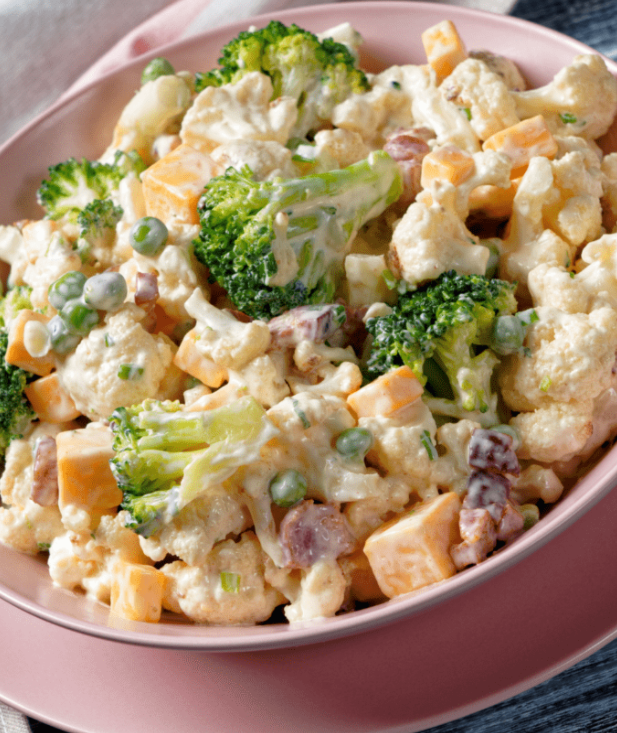 The ingredients may be basic, but the flavour and texture combinations are so on point. This salad is so delectable, even kids can't say no to it.
Source: Insanely Good Recipes
1 head broccoli, chopped
1 head cauliflower, chopped
16 tbsp mayo
16 tbsp soured cream
100g sugar
1/2 tsp salt
20 strips bacon, fried, chopped into small pieces
85g cheddar cheese, chopped into small pieces
Method
In a large bowl, combine the chopped broccoli and cauliflower.
For the dressing, stir together mayonnaise, sour cream, sugar, and salt in a separate bowl.
Add the dressing into the bowl of broccoli and cauliflower. Toss well to coat the veggies evenly.
Mix in the bacon and cheese, leaving a small portion out for sprinkling.
Chill the salad until ready to serve. Sprinkle with remaining bacon and cheese right before serving. Enjoy!