Marco's stuffed courgette provencal
Time: 30 mins cooking plus 20 mins cooling time
It's always nice to have a taste of the south of France. These courgettes, stuffed and baked, will take you there. If using passata, you should add to the filling 2 garlic cloves, peeled, crushed and chopped to a purée.
Source: Marco Pierre White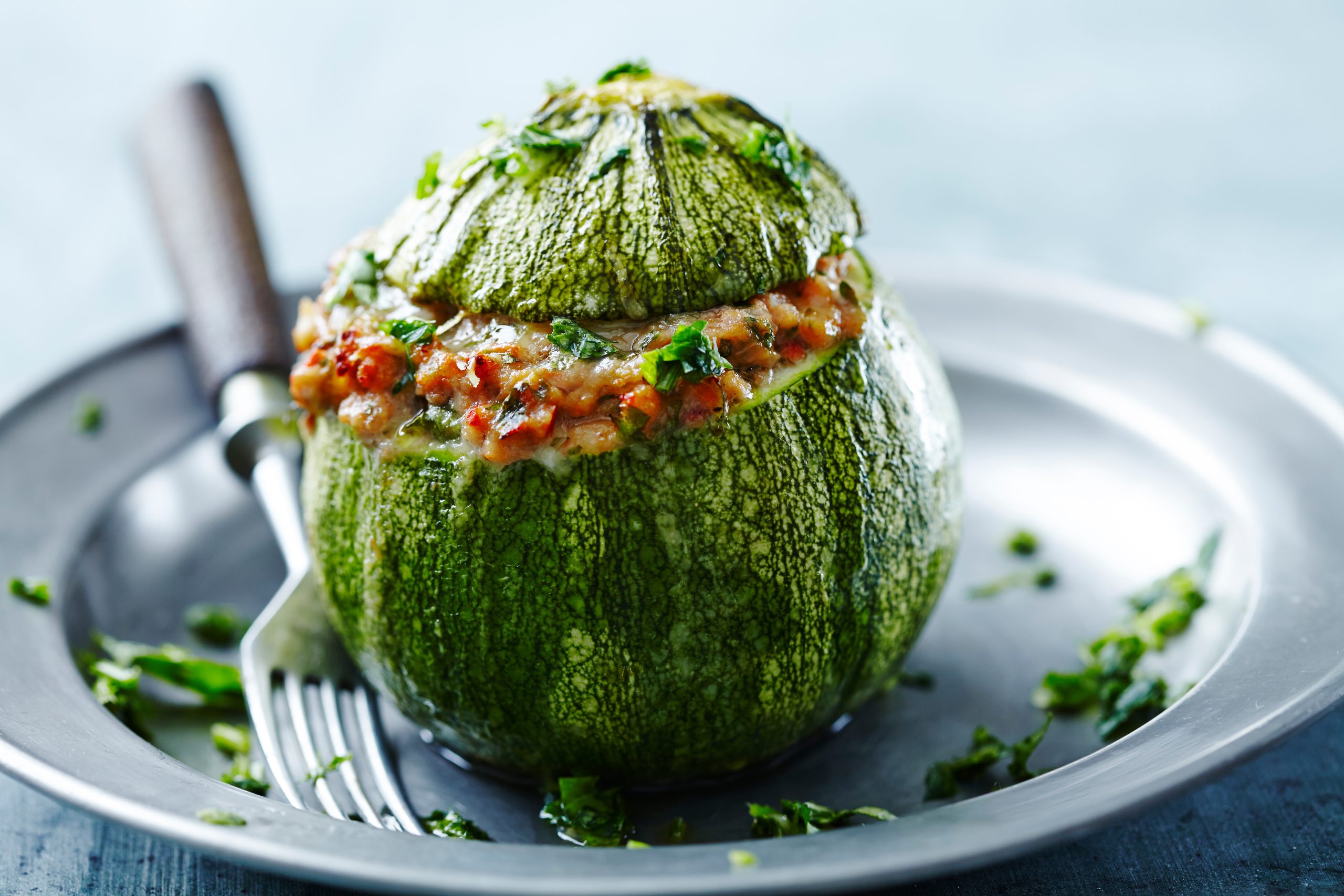 1 aubergine
Juice of ½ a lemon
Sea salt flakes
3 small, round courgettes, halved
60ml tomato passata
6 basil leaves, chopped
Extra-virgin olive oil
6 black pitted olives, finely chopped
60g Italian-style vegetarian hard cheese
A small handful of micro parsley (or flat-leaf parsley, chopped), to garnish
Method
Peel the aubergine, coarsely chop the flesh and place it in a microwave-proof bowl. Add a squeeze of lemon juice and a couple of pinches of salt. Tightly wrap in microwave proof clingfilm. Microwave for 8 minutes, then leave the aubergine in the wrapped bowl for at least 20 minutes to cool. Finely chop the cooled flesh; taste and add more lemon juice and seasoning if needed. Return it to the bowl and set aside.
Preheat the oven to 220°C/fan 200°C/ gas 7. Slice the base from the courgette halves so they can stand upright on a baking tray. Use a teaspoon to remove the seeds and leave a hollow for the filling.
To the bowl of aubergine, add the passata with garlic and basil. Mix well, taste and adjust with lemon juice, olive oil and salt.
Stand the courgette halves upright on a baking tray and spoon the filling into the hollows – run a finger around the edges to remove excess filling. Scatter the chopped olives over the filling and sprinkle with the grated cheese. Bake for 20 minutes and serve, garnished with parsley.