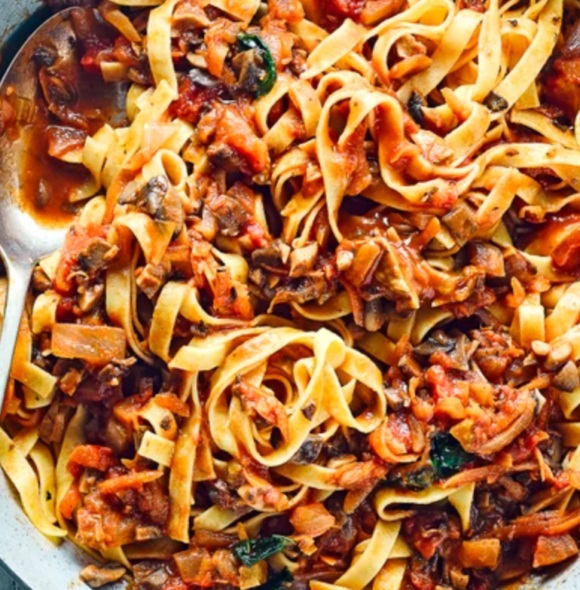 Mushroom Bolognese – Eat Healthy For Less
Make your bolognese meat-free with a rich ragu of chestnut mushrooms and plenty of vegetables for a low-fat meal. Add this delicious vegan dinner into your midweek regulars for just £1.07 per serving.Nutritional Information (per serving): Calories 363 kcals; Protein 14.1g; Carbohydrates 59.9g; Total Fat 5.6g; Saturated Fat 0.8g; Dietary Fibre 8.5g; Salt 0.5g.
Method
Heat a large non-stick pan until hot and add 1 tbsp olive oil. Add the chestnut mushrooms and a pinch of salt and pepper, and fry, stirring, until they start to soften and give out liquid. Keep frying until all the moisture has disappeared and the mushrooms have coloured to a dark golden brown. Don't skimp on this bit as this will ensure you get the maximum flavour in the finished sauce. Scoop out the mushrooms then add the onions, garlic, carrots and celery to the same pan with another tbsp of olive oil and stir well. Put on a lid and cook for 10 minutes, stirring now and again, or until the veg has softened. Add the herbs and tomato purée. Tip the cooked chestnut mushrooms back in.
Cook, stirring, for a minute then tip in the chopped tomatoes and bring to a simmer. Cook for 30 minutes until the sauce is rich and thick, and stir through the basil just before serving. Cook the tagliatelle following pack instructions, then drain and toss with the sauce before serving.