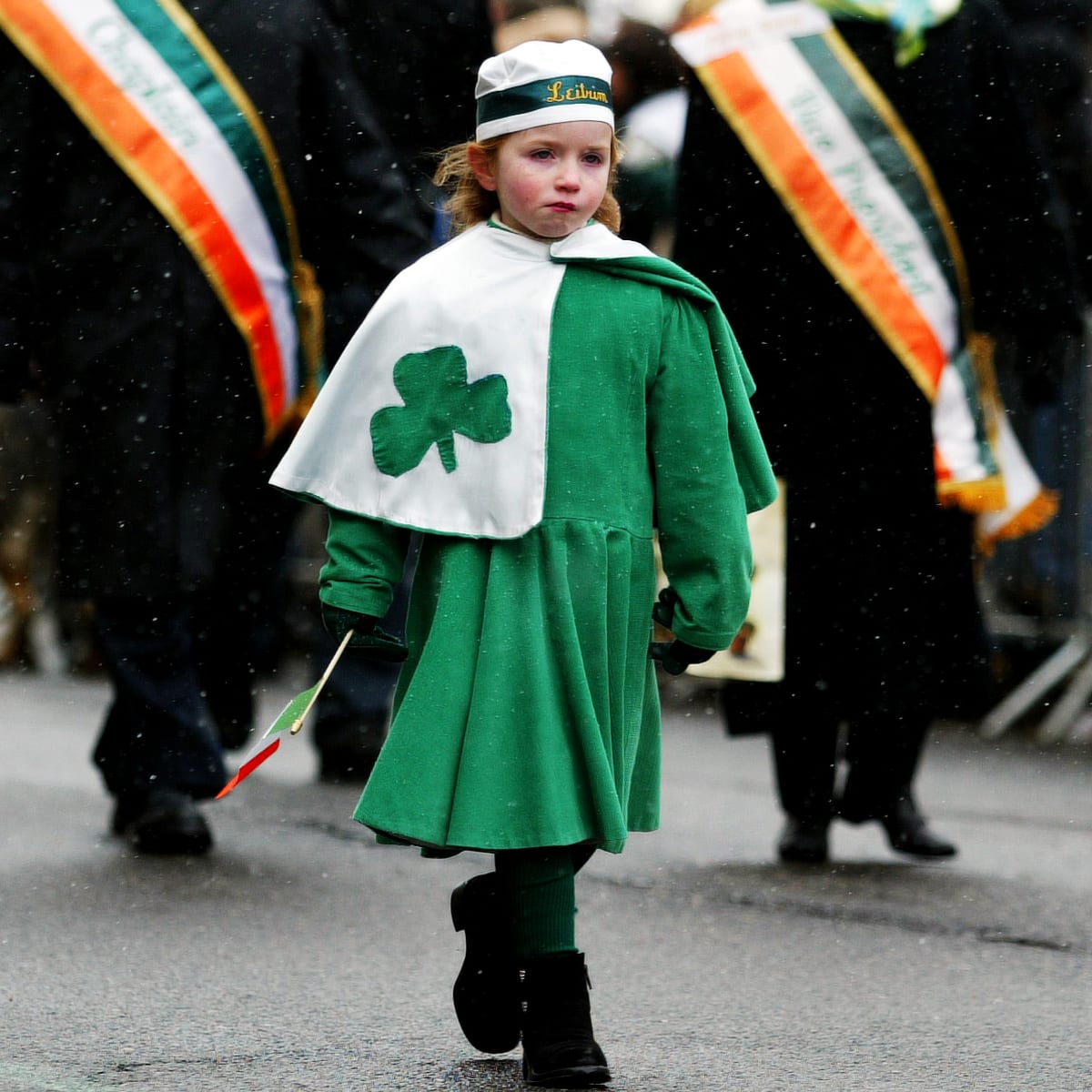 St Patrick's Day Celebrations
St. Patrick's Day is celebrated annually on March 17, the anniversary of his death in the fifth century. The Irish have observed this day as a religious holiday for over 1,000 years, to celebrate the arrival of Christianity in Ireland and to celebrate the heritage and culture of the Irish. On St. Patrick's Day, which falls during the Christian season of Lent, Irish families would traditionally attend church in the morning and celebrate in the afternoon. Celebrations generally involve public parades and festivals, céilís, and the wearing of green attire or shamrocks.
St Patrick's Day celebrations happen all over the World. One of the most famous traditions outside of Ireland happens in Chicago, where they use vegetable dye to colour the Chicago river green. Over the years, other famous landmarks around the world have turn green on March 17th, including the London Eye and Nelson's Column in London, the Burj Al Arab in Dubai, the Sydney Opera House in Australia and Christ the Redeemer statue in Rio de Janeiro.
This year, most St Patrick's Day celebrations will be taking place online but you can still take part by having a pint of Guinness and enjoying one of these delicious Irish recipes.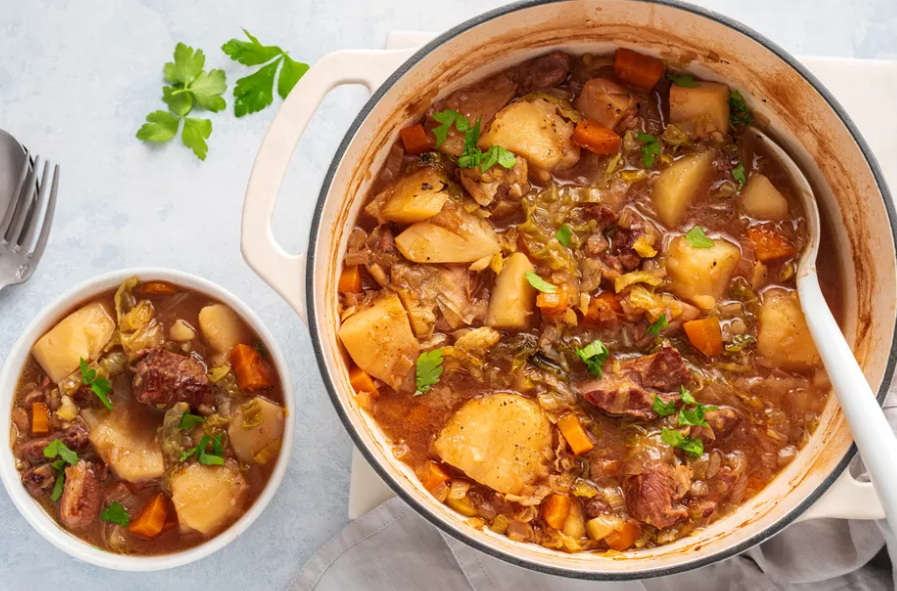 What could be more warming and filling than a delicious bowl of Irish stew, a popular dish from Ireland and loved the world over. It was traditionally made with mutton (sheep), but it is now often made with the easier-to-find lamb. Though a hugely popular dish on St Patrick's Day, this dish is far too good to reserve for a few days a year; eat it when you want a comforting and warming dish. Serve with crusty bread or soda bread to soak up all of the delicious sauce.
Source: The Spruce Eats
2 tbsp vegetable oil, divided
450g mutton or lamb cutlets, bones removed, cut into 2-inch chunks, divided
900g potatoes, peeled and cut into quarters, divided
130g roughly chopped onion, divided
130g finely sliced leeks, cleaned, divided
130g roughly chopped carrots, divided
2 tbsp plain flour
700ml beef stock
2 or 3 cabbage leaves, thinly sliced
Salt & pepper, to taste
Method
Heat the oven to 180C/ gas mark 4.
In a large frying pan, heat 1 tbsp of oil until hot but not smoking. Add half the lamb pieces and brown all over by turning in the hot oil.
Remove the lamb pieces with tongs and place them in a Dutch oven or oven-proof stockpot.
Cover with half of the potatoes, half of the onion, half of the leeks, and half of the carrots.
Add the remaining oil to the frying pan and heat. Add the remaining lamb and brown all over as before and add to the Dutch oven.
Cover with the remaining potatoes, onions, leeks and carrots.
Add the flour to the still-hot frying pan and stir really well to soak up any fat and juices. Cook over low heat for 3 minutes.
Add the stock a ladle at a time and mix until you have a thick, lump-free sauce. You will not add all the stock.
Pour this sauce over the lamb and vegetables.
Add the remaining stock to the dutch oven, cover with a tight-fitting lid, and cook in the preheated oven for 1 hour.
Add the cabbage, replace the lid, and cook for another hour. Check from time to time to make sure the stock hasn't reduced too much. If it has, add a little boiling water. The meat and vegetables should always be covered in liquid. If the sauce is too runny at the end, you can always cook the stew a little longer with the lid removed.
Season with salt and pepper to taste. Serve piping hot and enjoy.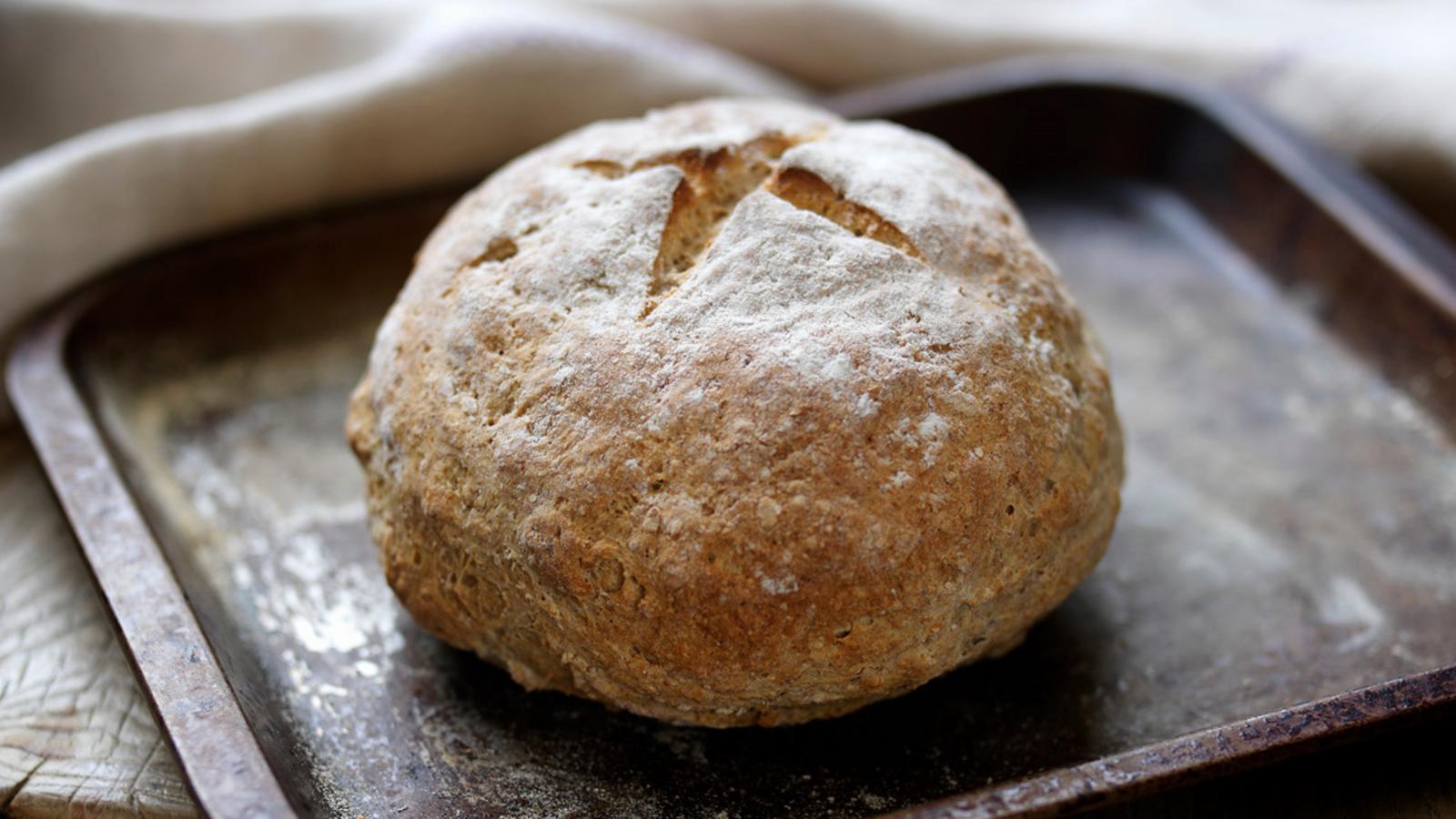 Try this easy soda bread recipe for when you want bread in a hurry – it's ready in less than an hour with no kneading, proving (or yeast). This makes a small loaf, but you can easily double the recipe and make two.
170g wholemeal flour
170g plain flour, plus extra for dusting
1/2 tsp salt
1/2 tsp bicarbonate of soda
290ml buttermilk
Method
Preheat the oven to 200C/180C fan/ Gas 6.
Tip the flours, salt and bicarbonate of soda into a large bowl and stir. Make a well in the centre and pour in the buttermilk, mixing quickly with a large fork to form a soft dough. If the dough is too stiff, add milk 1 tsp of milk but it shouldn't be too wet or sticky.
Turn onto a lightly floured surface and knead briefly. Form into a round and flatten the dough slightly before placing it on a lightly floured baking sheet.
Cut a cross on the top and bake for about 30 minutes or until the loaf sounds hollow when tapped. Cool on a wire rack.
Recipe Tip! If you don't have buttermilk, you can use half-and-half plain yoghurt mixed with milk. You can also use milk that has been soured by stirring in a tablespoon of lemon juice and allowing it to stand for 10 minutes.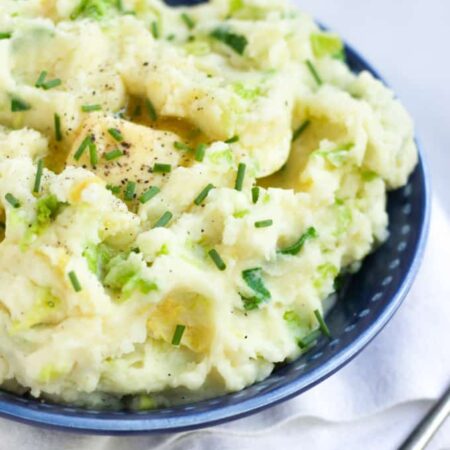 Delicious, light and fluffy mashed potatoes with spring onions, cabbage, cream, plenty of butter and seasoning. Topped with chives, this Irish potato recipe is the ultimate comfort food side dish.
Source: Taming Twins
1kg potatoes, peeled & cut into large chunks
4 garlic cloves, peeled and chopped
200g butter
300g cabbage, finely sliced
100g spring onion, finely chopped
100ml single cream
20g fresh chives
Sea salt & cracked black pepper, to season
To garnish
A knob of butter and chopped fresh chives
Method
Boil the potatoes with the garlic for 15 – 20 minutes until cooked through.
While the potatoes are cooking, melt 100g of the butter in a small frying pan and saute the cabbage and spring onions for 3 – 4 minutes until softened.
Drain the potatoes and mash, leaving the garlic in.
Add the cabbage and spring onions (including the butter they were cooking in) to the potatoes.
Meanwhile, warm the remaining butter and cream until the butter is melted. Add to the potato and cabbage mixture.
Add the chives and plenty of salt and pepper and stir until thoroughly combined. Serve immediately with extra butter and chives to garnish.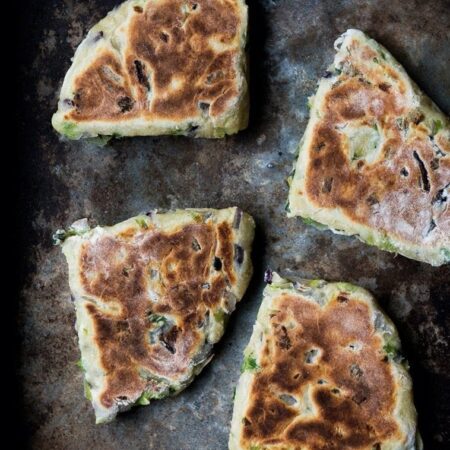 Sticking with the potato theme, we have Irish potato bread (or potato farls). These are the star of the famous Irish breakfast and makes a great accompaniment to many meals, Irish or otherwise.
Source: Delicious Magazine
125g boiled potatoes (about 200g raw potatoes)
15g unsalted butter, melted
Sea salt & ground white pepper, to taste
50g plain flour
1/2 tsp baking powder
2 tbsp sliced red onion (about 1 small onion)
2 spring onions, finely sliced
Method
Preheat the oven to 200C/ 180C fan/ gas 6.
Mash the potatoes with melted butter and season to taste. Add the flour, baking powder, red onion and spring onions and mix together until well incorporated.
Push your potato dough to form a disc about 12cm across, then cut the disc into 4 pieces. Place them in a hot, dry ovenproof pan (no oil) for 4 minutes, then carefully turn them over and cook for an additional 4 minutes – you can do this on the hob or in the oven. If doing on the hob, be careful that they don't burn.
Take out of the oven or pan and serve.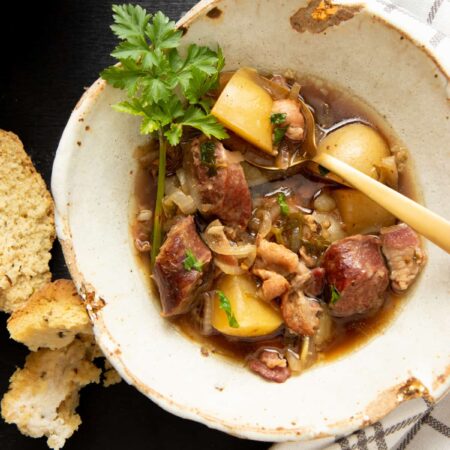 Dublin Coddle is a traditional Irish potato and sausage stew that slow cooks in the oven. It's great for St. Patrick's Day or any day you need comfort food!
Source: Wholefully
8 slices bacon, chopped into small pieces
450g pork sausages
3 tbsp plain flour
1 bottle Guinness beer
900g potatoes, peeled and cut into bite-sized pieces
2 large onions, cut into slices
4 garlic cloves, minced
4 tbsp fresh parsley, chopped
3 bay leaves
1 tsp dried thyme
Fresh cracked black pepper
480ml beef/chicken stock
Method
Preheat the oven to 150C.
Heat a large oven-proof Dutch oven over high heat. Add n the bacon and cook until crisp, about five minutes. Remove the bacon to drain on paper towels. Leave the grease in the dutch oven.
Add the sausages in a few at a time (don't crowd the pan), and cook on each side until just golden brown – no need to cook all the way through. Remove to a plate and continue with each additional sausage. When cool enough to handle, slice the sausages into 1-inch pieces.
Reduce the heat to low, and whisk in the flour. Cook for 2 minutes, whisking constantly. Then remove from the heat completely.
Whisk in the bottle of Guinness or 350ml beef/chicken stock if you're not using Guinness.
Place half of the potatoes in the gravy, followed by half of the onions, garlic, bacon, sausages, parsley, bay leaves, thyme and black pepper. Repeat layers with the remaining ingredients.
Pour the stock over the whole thing. Place the lid on and bake in a preheated oven for at least 2 hours.
Recipe Tips! Bacon, sausages and stock can make this dish inherently salty. Do not add more salt without tasting first.
The coddle will be ready to eat after 2 hours but it can easily stay cooking for 3-5 hours without any consequence.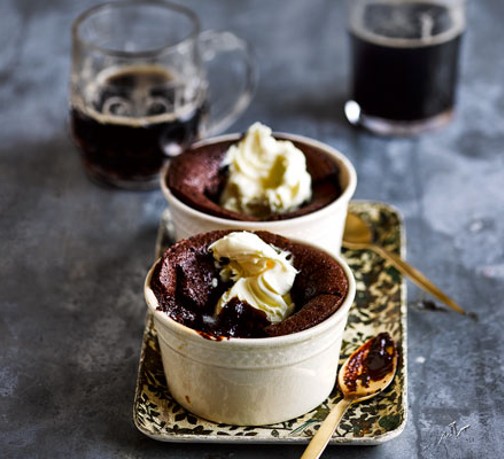 Guinness Chocolate Puddings
Bake these indulgently boozy chocolate puddings with just five ingredients. Perfect if you're celebrating on St Patrick's Day – or at any time of year.
Source: BBC Good Food
150g unsalted butter, plus extra for the ramekins
200g dark chocolate (70% cocoa), roughly chopped
90g golden caster sugar
3 large eggs
90ml Guinness or other stout
Clotted cream or thick double cream, to serve
Method
Butter four 9 x 5 cm ramekins and set aside. Tip the butter, chocolate and a generous pinch of salt into a heatproof bowl. Set over a small pan of just simmering water and stir until melted, then remove from the heat and leave to cool a little.
Put the sugar and eggs in a large mixing bowl and beat with an electric whisk until pale, almost doubled in volume and thick enough to a trail when the beaters are lifted up. Gently fold in the melted chocolate and the Guinness. Spoon the mixture into the ramekins, then chill in the fridge for 1 hr. Heat the oven to 200C/180C fan/ gas 6 and put a baking tray on the top shelf to heat up.
Place the ramekins on the hot baking tray and bake for 18 mins. Remove from the oven and leave to stand for a minute, then serve with a dollop of cream.