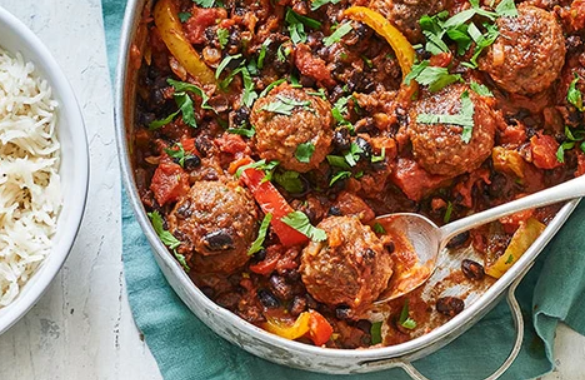 Meatball Black Bean Chilli – Eat Healthy for Less
Double the amounts for this one-pot black bean chilli, then freeze the leftovers for busy days. It tastes just as great reheated as it does freshly cooked. Enjoy for just £1.28 per serving. Let us know if you have a go at this dish and tag us in a picture on Facebook and Instagram.
Nutritional Information: Calories 423 kcals; Carbohydrates 36g; Total Fat 16g; Saturated Fat 4g; Protein 24g; Fibre 14g; Sugar 21g; Salt 1.1g.
2 tbsp olive oil
12 beef meatballs
1 onion, finely chopped
2 mixed peppers, sliced
1/2 large bunch coriander, leaves and stalks, chopped
2 large garlic cloves, crushed
1 tsp hot smoked paprika
2 tsp ground cumin
1 heaped tbsp light brown sugar
2 x 400g tinned chopped tomatoes
2 x 400g tinned black beans, drained and rinsed
240g rice, cooked, to serve
Method
Heat the oil in a large flameproof casserole dish over medium heat. Fry the meatballs for 5 mins until browned, then transfer to a plate with a slotted spoon.
Fry the onion and peppers with a pinch of salt for 7 mins. Add the coriander stalks, garlic, paprika and cumin and fry for 1 min more. Tip in the sugar, tomatoes and beans, and bring to a simmer. Season, return the meatballs to the pan and cook, covered, for 15 mins.
Serve the chilli with the rice and the coriander leaves scattered over.