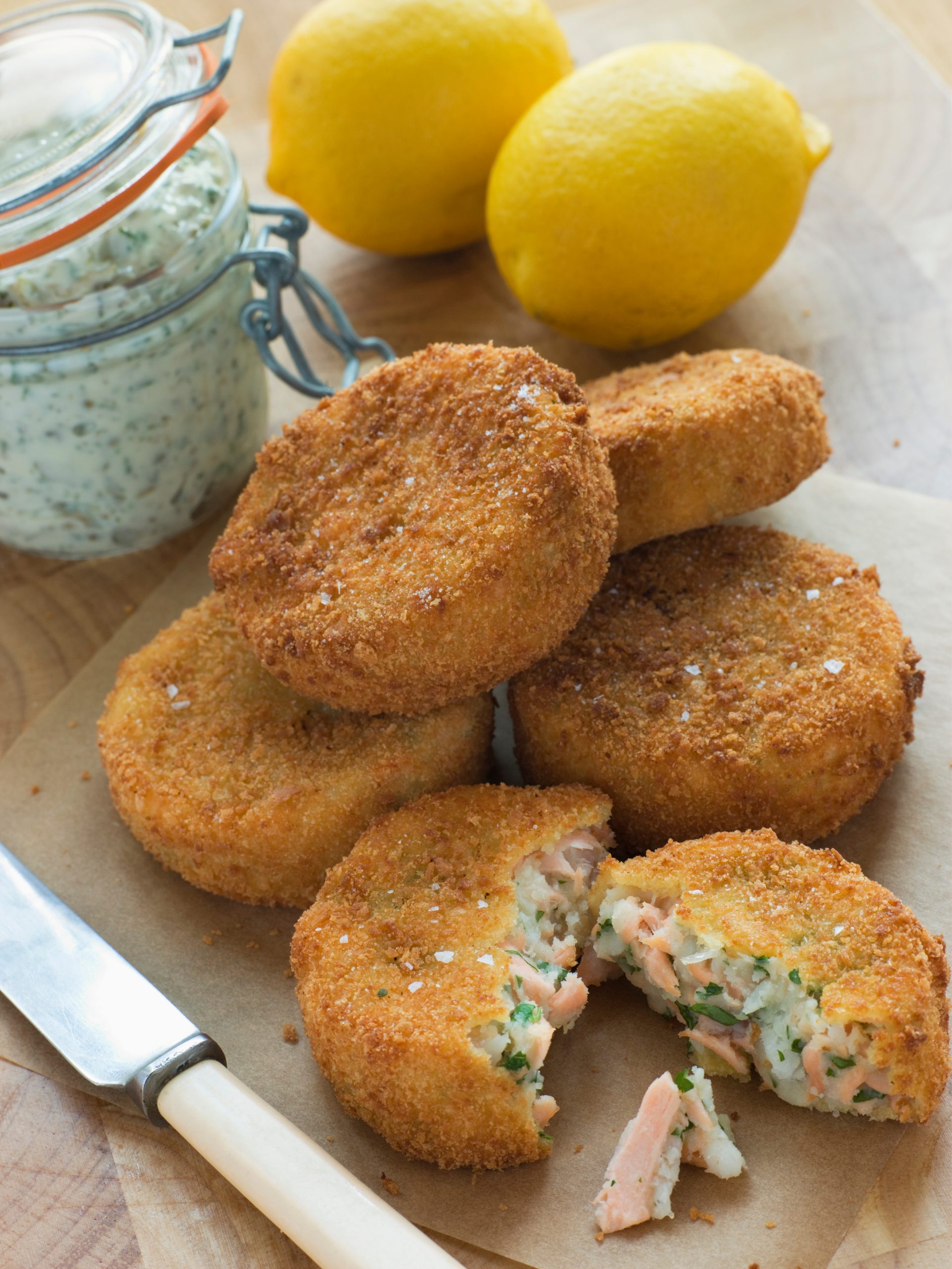 Marco's salmon fishcakes with tartare sauce
I recommend making a batch and freeze so that you prep two or three dinners. This is  also a great way of using up leftover mashed potatoes, although you could also use the flesh of baked potatoes, either mashed or put through a ricer.
Source: Marco Pierre White
500g Maris Piper potatoes, peeled and chopped
500g salmon fillets, skin removed
Milk, for poaching the salmon
1 tbsp tomato ketchup
Tabasco, to your taste
Lea & Perrins Worcestershire sauce, to your taste
Sea salt and white pepper
300g plain flour
3 eggs, beaten
500g dried breadcrumbs
Vegetable oil, for frying
Tartare sauce (see recipe, below)
Wilted spinach, to serve
6 poached eggs, to serve
Tartare sauce
50g shallots, finely sliced
50g mini capers, finely sliced
50g gherkins, finely sliced
50g parsley, finely chopped
Mayonnaise
Salt and black or white pepper, to your taste
Method
Cook the potatoes in a saucepan of boiling water until tender. Drain and set aside until they have stopped steaming. Mash.
Place the salmon fillets in a pan with enough milk to cover them, simmer and poach for three to four minutes, until half cooked. Lift out of the pan and leave to cool.
Add the tomato ketchup, Tabasco, Worcestershire sauce and Smash to the mashed potatoes and mix well.
Flake the fish and fold it into the mashed potatoes. Season with sea salt and white pepper.
Shape the potato mixture into balls, each weighing about 160g. Roll first in the flour, then the beaten eggs, then the breadcrumbs, ensuring they are completely coated.
Press each patty into a suitable round cutter (I use one that's 8 cm in diameter) to form a flattened circle.
Sprinkle with breadcrumbs again and refrigerate until ready to use.
Preheat the oven to 180C fan 160C/gas 4 and put a baking tray in to heat.
In a large saucepan, heat enough oil to come halfway up the fishcakes and fry them for two minutes on each side, or until golden.
Transfer to the preheated tray and bake until hot in the middle of the oven — about five minutes.
To make the tartare sauce in a bowl, mix the shallots, capers, gherkins and parsley. Add enough mayonnaise to bind it all together.
Taste and add more mayonnaise, if needed. Season, cover and refrigerate.
Lightly warm the tartare sauce, but don't let it boil.
Arrange the fishcakes on a serving dish on a bed of wilted spinach, and put a poached egg on top of each fishcake.
Serve the tartare sauce on the side or spoon it generously over the eggs.