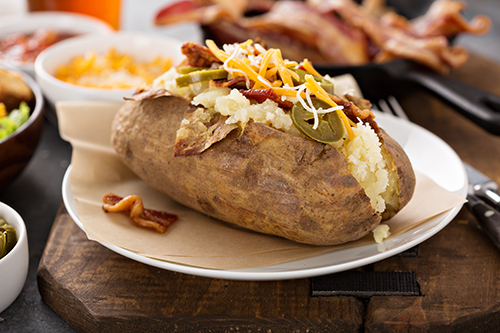 Jacket potatoes – the winning

easy comfort

food
What's better than a delicious stuffed baking potato or sweet potato? So what's your favourite filling? Share with us on our Facebook page what you love to include.
Baked/jacket Potatoes are great value, easy to make and fantastic served alongside a steak dinner or even as an easy lunch with your favourite fillings! Bake your spuds until the skin is crisp, and the insides are soft and fluffy. Any kind of potato can be baked (sweet potatoes are also a winner although the texture of thin-skinned potatoes is more buttery and less starchy/fluffy. 
Top Tips for cooking…
Do not wrap potatoes in aluminium foil for baking. Foil holds in moisture and steams the potatoes, resulting in a 'boiled' taste and texture.
Poking the potatoes prevents steam from building up inside of the potatoes while they bake. A potato can explode (and make a big mess of your oven) if steam builds up!
Turn the potatoes over halfway through the baking time to prevent browning of the undersides where they touch the baking tray or over rack.
It's all in the potato prep! 
A baked potato is very simple to make with 3 simple stages to get a deliciously crisp skin and a fluffy interior perfect for topping! 
If dirty s

crub

 the

 potatoes to remove any dirt or debris. Poke holes all over the potato using a fork.

 
Brush the potatoes with olive oil and salt. The oil helps the skin crisp and salt adds flavo

u

r.

 
Place the potatoes directly on the oven rack and bake (per cooking times below).

 
Cooking times can vary depending on the size of the potatoes and the temperature of the oven, so the easiest way to test them is with a fork to make sure they're soft throughout but roughly speaking a large potato will take around 1 ½ hours at 200°C, gas mark 6. 
Here are five tasty filler suggestions for you to try:
Caramelised Red Onion and Bacon
Roughly chop smoked streaky bacon and fry off with thinly sliced red onion and a handful of fresh thyme sprigs. Stir through a handful of baby spinach leaves, then pile into your potato with a spoonful of natural yoghurt. 
Emma's tasty meat or veggie chilli with cheddar cheese
I always make a huge batch of meat or vegetarian chilli and then freeze in portions ready to defrost to throw on a jacket potato for a really easy weeknight tea. Here's my recipe to make 4 big servings of chilli. 
2 rashers streaky bacon (omit if doing 

ve

g

gi

e

 version)

 

1 large onion chopped

 

2 garlic cloves crushed

 

450g lean minced meat (or minced 

Quorn

 for 

ve

g

gi

e

 version)

 

1 can chopped tomatoes

 

2 tablespoons tomato puree

 

1 green pepper seeded and chopped

 

1 heaped teaspoon hot chilli powder

 

1 heaped teaspoon of ground cumin

 

150 ml of stock (beef or veg)

 

1 can kidney beans

 

Salt and pepper to season

 
Method
Cook the bacon in a non stick pan for 5 mins 
Add the onion and garlic and cook until soft. 
Add the beef (or Quorn) and cook stirring until browned. 
Stir in tomatoes, tomato puree, pepper, chilli powder, cumin and stock and seasoning. 
Bring to the boil, cover and simmer for 45 mins stirring occasionally. 
Stir in the kidney beans and cook for 10 minutes more. 
Homemade Baked Beans and Cheese
Rather than just using tinned baked beans (which can also contain a lot of sugar) why not make your own tasty version. 
In a saucepan add one chopped fresh red chilli (to the heat you like!) and a chopped clove of garlic.  
Add a tin of cannellini beans, a can of chopped plum tomatoes and a teaspoon of smoked paprika.  
Add a splash of Worcestershire sauce.  
Simmer and stir until thickened. Spoon over your potato and add a sprinkling of grated Cheddar cheese. Tasty! 
Emma's Super Slaw with Feta
I will never ever buy coleslaw again, it is so much better when you make it yourself, you can adapt and change it in so many ways to meet your taste buds but here is my basic recipe. 
Grate or chop very finely some red cabbage (as much as you want, 1 carrot, 1 apple, and one small onion – in a separate bowl mix a big dessert spoon of whole grain Dijon mustard, 5 tablespoons of mayo, 1 dessert spoon of cider vinegar and a pinch of salt and pepper, combine with the slaw and pile over your potato.  
Crumble over feta cheese for even more tang. 
Thomas' 

Sage and Onion Paxo 

Stuffing filled jackets
Serves 2  
This is my son's favourite jacket potato filling, if we are stuck for inspiration of things to cook or feel like a night off from cooking too complex a meal then this is a Winter winner.  
Bake your potatoes until cooked through.  
Take 200g Paxo sage and onion stuffing mix and loosen with 150ml boiling water and 1-2 tbsp butter 
When the potatoes are cooked take out of the oven and cool for 5 minutes then cut the potatoes in  half and scoop out the flesh into a bowl leaving the potato skins on the side. 
Stir in the stuffing and mash it together with the potato mix and then spoon back into the potato skins. 
Add a knob of butter onto the top of the potatoes and put back in the oven for 15 minutes. You can serve these with a sprinkling of cheddar cheese, extra baked beans on the side or with some sour cream with chives.  You could also cook some sausages and slice them up and add into the mix too.