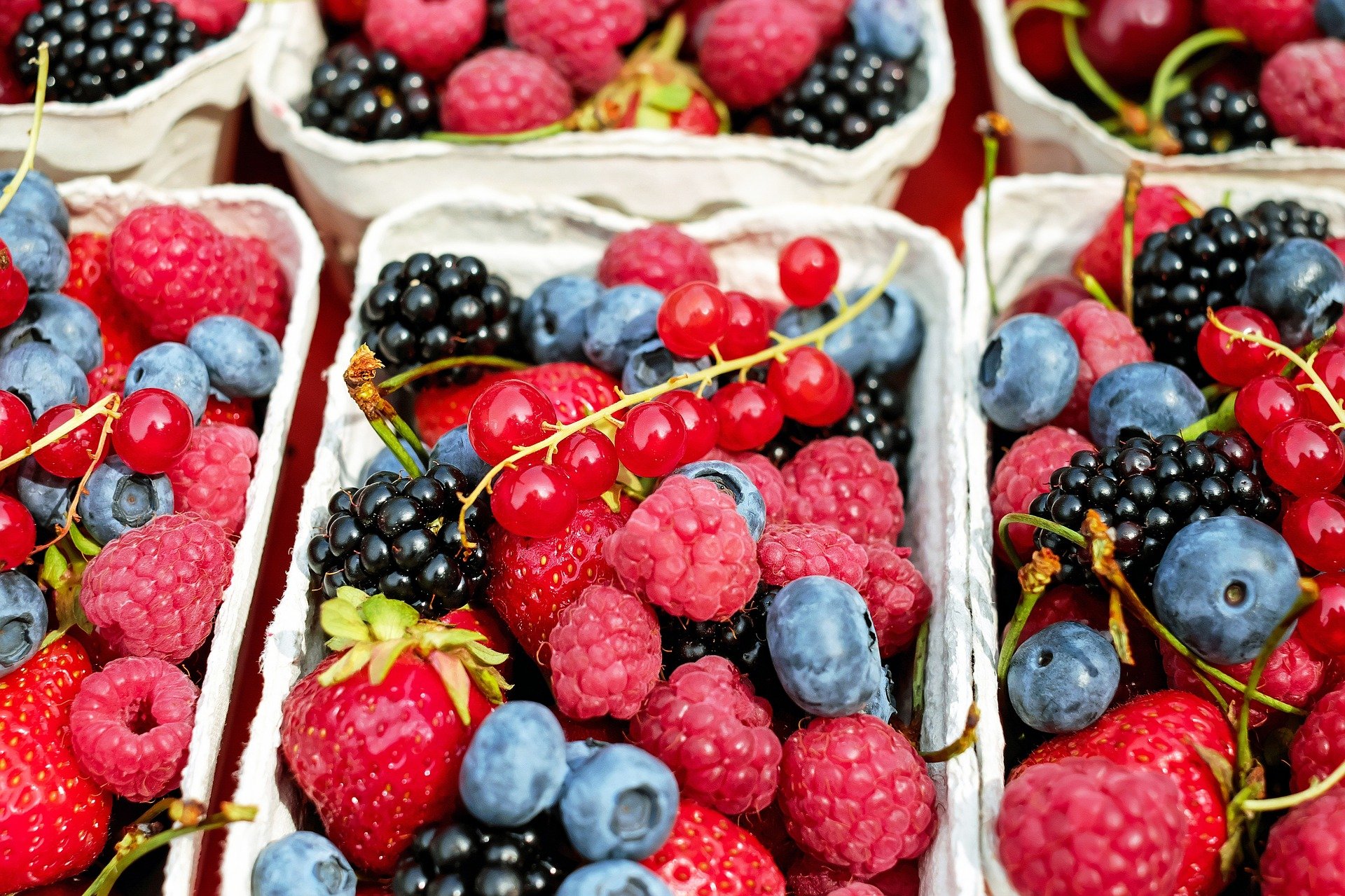 With British summer now in full swing and the sun finally making an appearance, it's time to start making the most of British produce by getting together with friends and family and enjoying some delicious food.
BBQ's, afternoon teas and picnics are most popular in the summer season, but what would be great is if you finished your foodie gathering with a delicious summer dessert. We've pulled together some tasty summer desserts using some British seasonal fruit including a Cucumber Key Lime Pie, raspberry eclairs and blueberry swirled meringues.
If you have a favourite go-to summer dessert, please let us know on Facebook, Twitter or Instagram.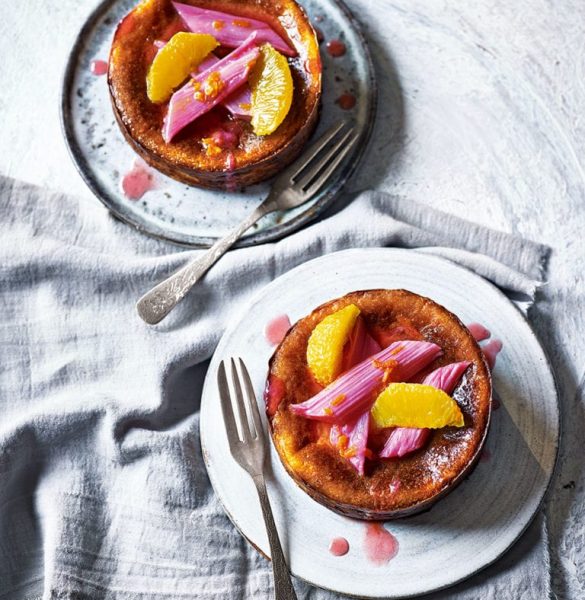 Mini Burnt Cheesecakes with Rhubarb & Orange Compote
Cook/Chill time: 4 hrs 45 mins
Don't be put off by these individual cheesecakes being 'burnt' it means the toasty caramelised edges pack in more flavour… plus you can't go wrong with the recipe!
Source: Delicious
2 x 280g packs full fat cream cheese
110g caster sugar
2 large free-range eggs
150ml double cream
1 1/2 tbsp plain flour
For the compote
400g rhubarb, cut into 5 cm chunks
2 oranges
2 tbsp demerara sugar
You'll also need:
6 x 8.5cm individual cooking rings set on a baking tray, greased and bases and sides lined with cling film
Method
Heat the oven to 220°C/200°C fan/gas 6. Put the rhubarb in a roasting tin with the zest and juice of 1 orange and the 2 tbsp demerara. Roast for 8 minutes, then cool. Cut the remaining orange into segments over a bowl to catch any juice. Add the segments to the juice, then add the cooled rhubarb and its syrupy juice. Chill.
In a large mixing bowl, beat together the cream cheese and sugar, then beat in the eggs one at a time, followed by the double cream. Finally, beat in the flour.
Pour the mixture into the tins, then bake for 35 minutes, or until just set with a wobble when you touch the top.
Leave to cool in the tin for 5 minutes, then unmould and serve warm. Or cool completely, chill for 4 hours and serve at room temperature. Top with the rhubarb, orange segments and any juices to serve.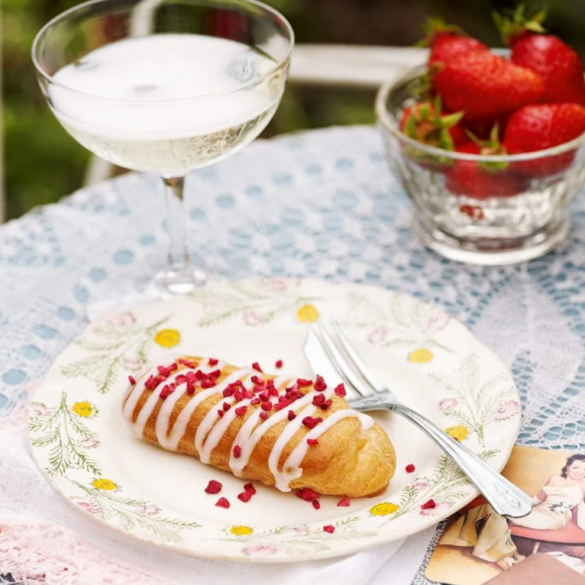 Filled with custard and topped with freeze-dried raspberries and icing, this raspberries éclair recipe makes a wonderful addition to any afternoon tea.
Source: Delicious
For the filling
150g raspberries
30g icing sugar
290ml whole milk
2 medium free-range egg yolks, beaten
50g caster sugar
20g plain flour
15g cornflour
150ml double cream
For the choux pastry
100g plain flour, plus extra to dust
4 tsp caster sugar
80g unsalted butter
4 medium free-range eggs
For the topping
100g icing sugar
A few drops of pink food colouring
2-3 tbsp freeze-dried raspberry pieces
Extra raspberries, to serve
You'll also need:
Method
For the filling, put the raspberries in a medium saucepan with the icing sugar and bring to a simmer over low heat for 5-10 minutes until broken down. Remove from the heat and cool for 5 minutes. Whizz in a blender/food processor until smooth and liquid. Push the fruit through a sieve to remove the seeds (discard them) and make a coulis. Set aside.
Put the milk in a medium pan and bring it just to a boil. In a large bowl, beat the egg yolks with 50g caster sugar and a dash of the hot milk, then beat in the plain flour and cornflour with a balloon whisk to a smooth paste. Slowly stir in the rest of the milk, making sure no lumps form.
Return the mixture to the pan and slowly bring it to a boil over medium heat, stirring constantly, until very thick. It may go lumpy, but don't worry too much about this – continue stirring and try to make it as smooth as possible. Spoon the custard onto a plate, put a piece of baking paper on top to prevent skin forming, then cool completely. Chill in the fridge until solid.
Heat the oven to 200°C/180°C fan/ gas 6. To make the choux pastry, line 2 baking sheets with baking paper and sprinkle with a little flour. Sift the flour, sugar and a good pinch of salt together in a pile onto another sheet of baking paper.
Heat 240ml water and the butter in a large pan until the butter melts, then bring to a vigorous boil. Using the baking paper as a funnel, quickly pour the flour mixture into the buttery water, remove it from the heat, then beat with a wooden spoon until a thick paste form that comes away from the sides of the pan and the mixture starts to cool – about 5-10 minutes. You need to beat as fast as you can to make sure you get a smooth texture. Leave the mixture to cool for 10 minutes more.
Beat 3 of the eggs, then add to the pan bit by bit, beating the mixture until smooth and glossy after each addition and stopping when it reaches a thick dropping consistency (you may not need all the beaten egg).
Scoop the choux pastry into a disposable piping bag. Snip 2cm off the end of the bag, then pipe 24 thick lines about 6cm long onto the lined baking sheets, leaving a 3cm gap between each line. Beat the remaining egg and brush it lightly over the pastry lines. Bake for 25-30 minutes until risen, golden and crisp.
Remove the sheets from the oven, then pierce each éclair on the bottom with a skewer to allow the steam to escape. Cool completely.
Once the custard has cooled, whizz it in a food processor until smooth. Whizz in half the coulis, then pour it into a bowl. In another bowl, whip the double cream until it forms soft peaks when the whisk is removed. Fold the cream into the raspberry custard with the remaining coulis.
To finish, pierce one end of each éclair with a skewer to make 5mm wide holes. Put the custard filling in a clean disposable piping bag, snip 5mm off the end of the bag and gently squeeze the filling inside each éclair.
Mix the 100g icing sugar in a small bowl with 1 tbsp water and a few drops of pink food colouring to form a runny icing. Drizzle it over the éclairs, then sprinkle with the freeze-dried raspberries and serve with extra raspberries, if you like. Serve as soon as the icing sets.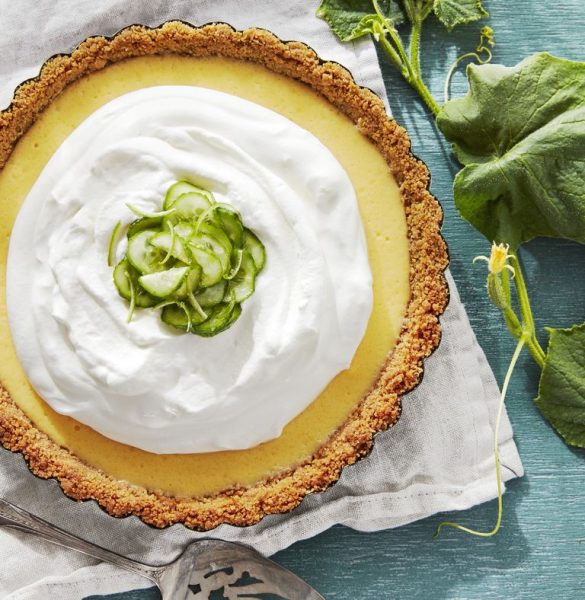 Everyone will be asking for a second slice of this fruit-filled dessert. The addition of cucumber, really makes this classic pie super refreshing.
Source: Country Living
1/2 cucumber, halved lengthways
120ml plus 2 tbsp fresh key lime or regular lime juice (about 28 key limes or 8 regular limes), divided, plus zest for garnish
4 large egg yolks
1 tin of sweetened condensed milk
200g digestive biscuits, blitzed into crumbs
120g unsalted butter, melted
2 tbsp sugar
120ml double cream
Method
Place the biscuit crumbs into a bowl and add the melted butter, mix well until completely combined.
Line the bottom of a 23cm fluted, loose bottom tin and pour in the biscuit mix, flattening with a wooden spoon or a glass to ensure a flat surface.
Place in the fridge for at least 30 minutes to chill.
Preheat the oven to 180C. Peel and seed half of the cucumber. Puree along with 120ml lime juice in a blender until smooth. Add the egg yolks and milk. Blend until fully combined and thickened, about 1 minute.
Transfer filling to the biscuit base and bake until just set around the edges but still wobbly in the centre, 18-20 minutes.
Combine sugar, 1 tbsp water and the remaining 2 tbsp lime juice in a small saucepan. Simmer over medium heat until sugar is dissolved, 1 minute; chill.
Beat the double cream at high speed with an electric mixer until stiff peaks form. Cut the remaining cucumber into thin strips and toss with the remaining syrup.
Top the pie with the whipped cream, cucumber and lime zest before serving.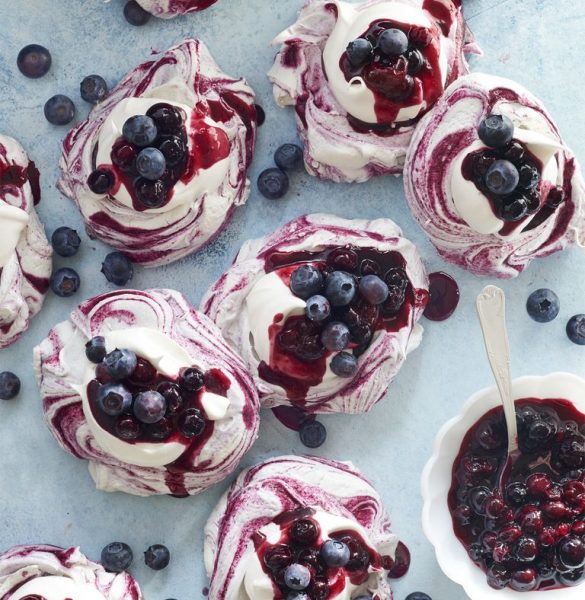 Swirled Meringues with Blueberry Sauce
Cook time: 12 hrs 30 mins
Blueberries stain these cream-coloured meringues to purply perfection.
Source: Country Living
For the meringues
65g blueberry preserve/jam
130g caster sugar
4 large egg whites, at room temperature
1/4 tsp cream of tartar
Pinch of sea salt
1/4 tsp vanilla extract
300ml double cream
1 tbsp icing sugar
For the blueberry sauce
35g sugar
1 1/2 tsp cornflour
Pinch of sea salt
200g fresh blueberries
60ml water
1 tbsp fresh lemon juice
1/2 tsp pure vanilla extract
Method
Preheat the oven to 110C. Line a baking sheet with parchment. Microwave the preserve in a microwave-safe dish until just warm, about 30 secs. Pour through a fine sieve into a bowl and discard the bits.
Whisk together the caster sugar and cornflour in a bowl. Beat egg whites on a medium-high speed with an electric mixer, until foamy. Add cream of tart and salt, beating until blended. Reduce mixer speed to medium and gradually add the sugar mixture, 1 tbsp at a time, beating until mixture is glossy and stiff peaks form, and sugar dissolves 1 to 2 minutes. Beat in vanilla.
Drizzle one-quarter of the preserve in a zigzag pattern onto the meringue. Scoop 2 portions of the meringue mixture onto a prepared baking tray. Make an indentation in the centre of each meringue to hold onto the filling. Repeat 3 more times.
Bake until pale golden and outsides have formed a crust, 1hr 15mins – 1hr 30mins. Turn off the oven and let the meringues stand in the oven with the door open and the door closed for 12 hrs.
For the blueberry sauce, stir together sugar, cornflour and salt in a medium saucepan. Stir in fresh blueberries, water and fresh lemon juice. Bring to a boil over medium-high heat, and cook stirring often, until a few blueberries pop. Remove from the heat and stir in the vanilla extract. Cool completely.
Beat the cream and icing sugar with an electric mixer on high speed until medium peaks form, about 1 minute. Fill meringues with whipped cream and blueberry sauce. Serve immediately.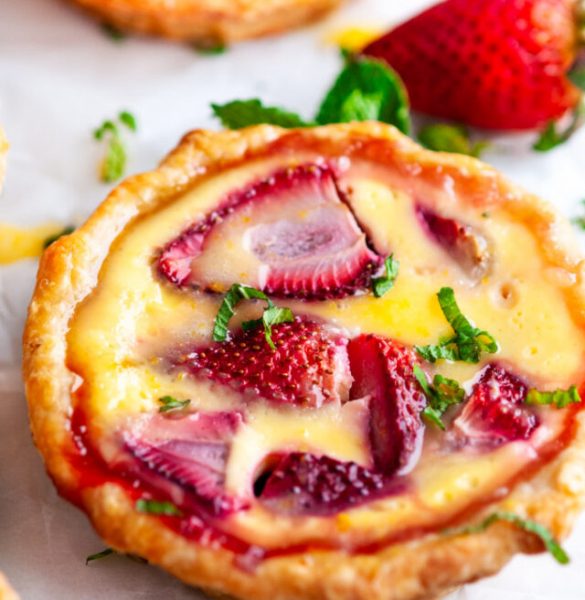 Strawberry Honey Custard Tarts with Lemon Curd
A yogurt-based custard sweetened with honey and fresh strawberries in a flaky, golden pie crust and then topped with a drizzle of homemade lemon curd.
Source: Aberdeen's Kitchen
For the pastry
230g plain flour
3/4 tsp sea salt
1 1/2 tsp sugar
65g butter, chilled and cubed
95ml cold water
For the filling
260g strawberries, sliced
130g vanilla yogurt
1 tbsp honey
2 eggs
3 tbsp sugar
1 tsp vanilla extract
For the lemon curd
3 eggs
120ml lemon juice
130g caster sugar
6 tbsp unsalted butter, cubed
Pinch of coarse salt
Method
To make the lemon curd: In a medium saucepan over low heat, whisk together butter, sugar, lemon juice, zest and salt until combined.
Add eggs one at a time, whisking until fully mixed each time.
Cook over low heat for about 8-9 minutes, whisking frequently, until somewhat thickened. Remove from heat and cool completely. Chill in the fridge until ready to use.
To make the pastry case: Preheat the oven to 180˚C.
In a large mixing bowl, mix together the flour, sugar and salt until fully combined.
Add the cubed butter, and using your fingers, rub the butter into the mixture until the pieces are around the size of a pea.
Pour in the vanilla extract, and cold water. Stir until the dough clumps together.
Move the dough to a floured surface and fold the dough into itself until the flour is incorporated (if it is too sticky, add some more flour to the surface or your hands) and form it into a ball.
Divide the dough into quarters and pat each one down into four discs, about 1cm thick. Wrap in cling film and chill in the fridge for 15 minutes to an hour.
Remove the dough from the fridge. Roll it out into 12cm circles on a lightly floured surface and use it to line four 10cm tart tins. Crimp the edges as desired.
Prick the bottoms with a fork. Line the chilled dough crusts with parchment paper and fill each with baking beans. Bake for 10 minutes, then remove the paper and beans. Remove from heat and let them cool completely.
To assemble the tarts. Make the filling but whisking the eggs, sugar and vanilla extract together then stir in the honey and yogurt.
Place the strawberries on top of the cooled pastry case. Pour the filling over the strawberries.
Bake for 30-35 mins, until the pastry is golden and the custard is set.
Cool for 5 minutes, drizzle with lemon curd and serve.