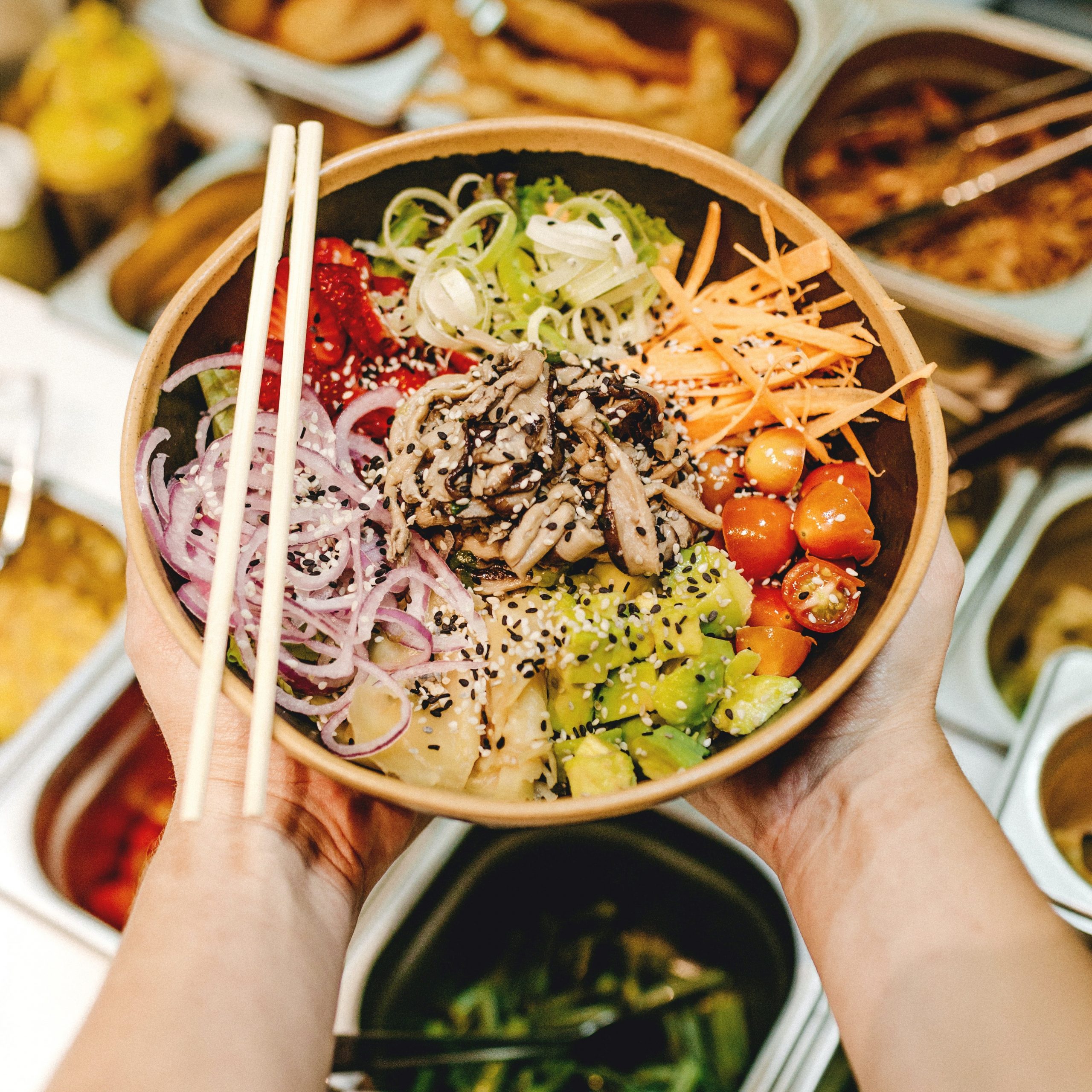 International Poke Day – 28 September
Aloha Poke ("POH-keh") is a deliciously simple Hawaiian dish of cubed fish, over a bowl of seasoned salad and vinegared rice.
Poké' actually means to cut or section in native Hawaiian and this relates to the fish or ingredients being chopped up or diced into small chunks.
Poke became part of the Hawaiian diet in the 1970s, but in recent years has become a global food phenomenon starting on the west coast of the US, spreading to New York and now to the UK.
Trendy poke bowls have all the deliciousness of sushi but in a bowl, which means there's more of it! With a sticky rice base, they can be topped with fresh ingredients, or leftovers from the fridge – make it colourful, make it delicious, make it yours. Try out some of these recipes and let us know what you think over on Facebook.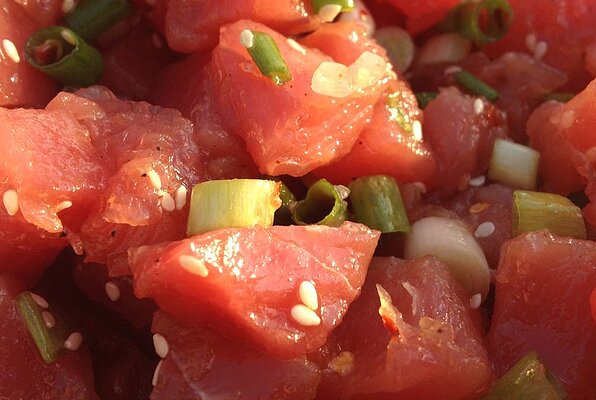 This is a standard raw tuna (poke) salad served in most Hawaiian homes. Although unconventional, it is sure to please the more adventurous seafood lovers. Be sure to use fresh tuna for the very best flavour, although fresh frozen tuna will produce acceptable results.
Source: All Recipes 
900g fresh tuna steaks, cubed
240ml soy sauce
150g spring onions, chopped
2 tbsp sesame oil
1 tbsp toasted sesame seeds
1 tbsp chilli flakes
2 tbsp macadamia nuts, finely chopped
Method
In a medium-size non-reactive bowl, combine Ahi, soy sauce, green onions, sesame oil, sesame seeds, chilli pepper, and macadamia nuts; mix well. Refrigerate at least 2 hours before serving.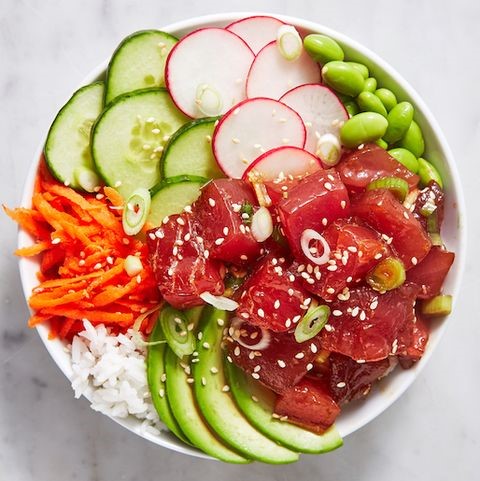 Since tuna is really the star of the show in this bowl, you're going to want to buy the best sushi-grade (available from Heritage).
Source: Delish
60ml low-sodium soy sauce
2 tsp rice vinegar
1 tsp ginger, freshly grated
2 tsp sesame oil
Pinch of chilli flakes
2 springs onions, thinly sliced, plus more for garnish
1 tsp toasted sesame seeds, plus more for garnish
450g sushi-grade tuna, cut into bite-sized pieces
For serving
Cooked white or brown rice
Sliced avocado
Sliced cucumber
Edamame
Shredded carrots
Sliced radish
Method
In a large bowl, whisk together soy sauce, rice vinegar, sesame oil, ginger, chilli flakes, spring onions, and sesame seeds. Add tuna and toss to coat. Refrigerate for at least 15 minutes or up to 1 hour.
To serve, add rice to the bottom of four bowls. Top with tuna and toppings of your choice. Garnish with spring onions and sesame seeds before serving.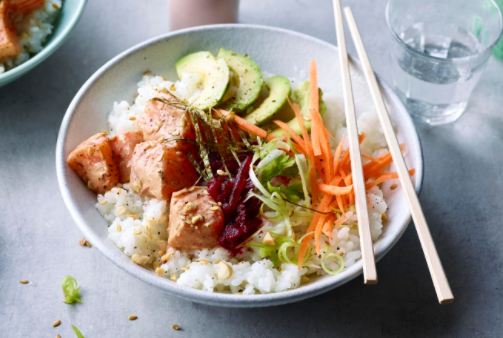 Trendy poke bowls have all the deliciousness of sushi but in a bowl, which means there's more of it!
Source: BBC Good Food
For the rice
500g sushi rice or sticky rice
2 tbsp apple cider vinegar
1 tsp salt
2 tsp sugar
For the sauce
25g mayonnaise
3 tsp soy sauce
1 tsp sesame oil
1/2 tsp fish sauce
1 tbsp Sriracha sauce
1 lemon, juice only
1 tsp black pepper
To finish
2  sushi-grade skinless salmon-filled, cut into cubes
2 small or 1 large avocado, sliced (with a squeeze of lemon to prevent browning)
4 tbsp pickled red cabbage
1 large carrot, grated
Large handful of salted peanuts, roughly chopped
2 spring onion, sliced
Sesame seeds
Nori sheets snipped into strips
A sprinkling of black pepper
Method
Put the rice in a saucepan and wash it until the water runs clear. Add just enough water to come 1cm/½in above the rice. Stirring all the time, place on high heat (stirring will ensure that the rice doesn't settle on the base). Once it comes to a boil, leave it to simmer on medium heat until all the water has evaporated. Pop the lid on and leave on the lowest setting to steam (about 10 minutes).
Meanwhile, gather together everything you need to finish off the bowl.
Make the sauce by mixing together the mayonnaise, soy sauce, sesame oil, fish sauce, Sriracha, lemon juice and black pepper. Put the salmon into a bowl, then pour over the sauce and mix well.
Once the rice has steamed, mix the vinegar, salt and sugar in a small bowl, then pour over the rice and stir through.
Divide the rice between two bowls and start adding all the different finishing ingredients. The salmon first, then the avocado, pickled red cabbage, carrot and peanuts. Sprinkle with the spring onions, sesame and nori, add a sprinkling of black pepper, and serve.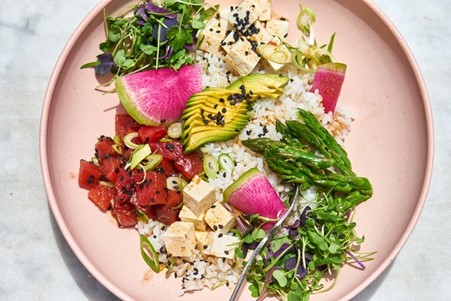 This vegetarian poke bowl is a fantastic dish and is light, clean, filling but not heavy. Made with watermelon poke.
Source: 101 Cook books
For each bowl
250g cooked short-grain rice
55g watermelon poke
120g organic tofu, cubed
Handful microgreens
Handful lightly-cooked asparagus, or other seasonal veg
1/4 small avocado, thinly sliced
Other toppings
Soy sauce
Sesame seeds
Spring onions
Thinly sliced watermelon radish
Method
Assemble each poke bowl with the rice as the base, topped with the watermelon poke, tofu, sprouts, asparagus, and avocado. Finish with a good drizzle of soy sauce, sesame seeds, spring onion, and watermelon radish.