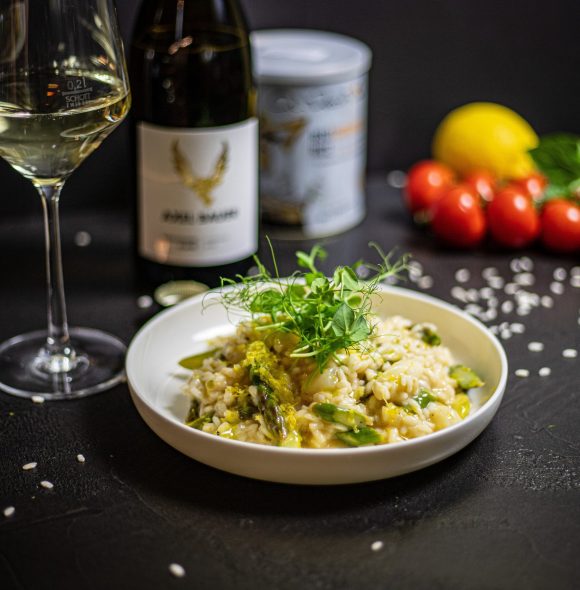 Green Veg and Parsley Risotto – Eat Healthy For Less
Fennel, courgette, peas and parsley make for a wonderfully green risotto, flavoured with parmesan.  Add the ingredients to your next box and enjoy. Nutritional Information (per serving): Calories 364 kcals; Protein 12.7g; Carbohydrate 59.9g; Total Fat 7.1g; Saturated Fat 2.5g; Dietary Fibre 7.1g; Salt 168 mg.
1 tbsp olive oil
1 onion, finely chopped
1 fennel  bulb, finely chopped
1 courgette, halved lengthways and thinly sliced
3 garlic cloves, finely chopped
½ tsp fennel seeds , lightly crushed
200g risotto rice g
A small glass of white wine  (optional)
800 ml vegetable stock
200g frozen peas
50g Parmesan cheese to taste
1 lemon, zested and juiced
A small bunch of flat-leaf parsley, finely chopped
Method
Heat the olive oil in a large, deep frying pan, add the onion, fennel and courgette, and fry for 10 minutes until softened, adding a splash of water if it starts to catch. Add the garlic and fennel seeds, and cook for 2 minutes, then add the rice and stir until every grain is lightly coated in oil. Pour in the wine, if using, and bubble away until reduced by half.
Keep the vegetable stock in a pan over a very low heat to keep warm. Add a ladleful at a time to the risotto, only adding more once the last spoonful has been completely absorbed, stirring all the time. Once the rice is cooked but still has a little bite, add the frozen peas and cook for another few minutes until just cooked. Stir in the parmesan, lemon zest and juice, and some seasoning, divide between shallow bowls and top with the parsley.