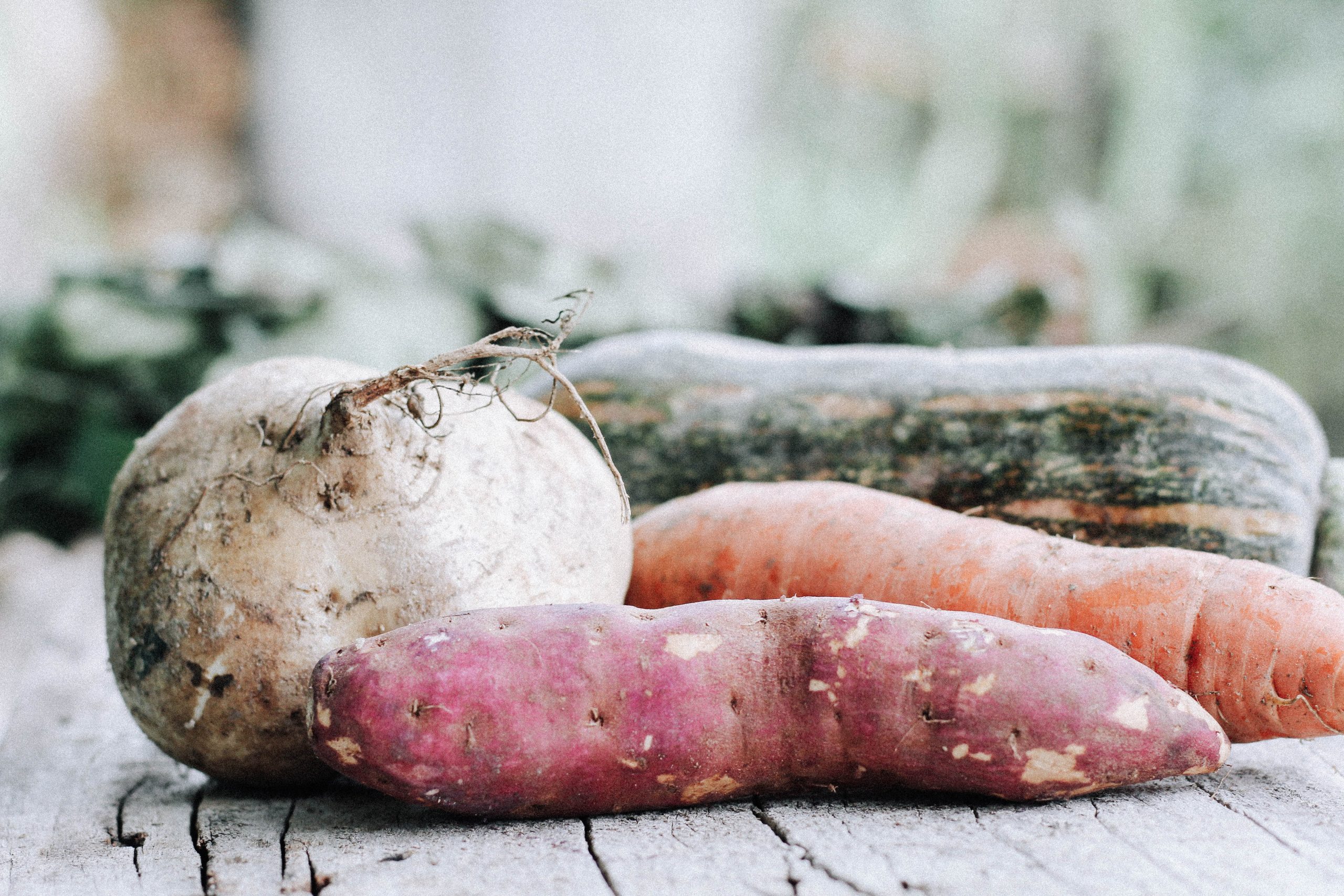 The Root to Deliciousness
There's no easier way for cooking to feel more like a monotonous task than when you're confronted with the same familiar old ingredients. Take the root vegetable, there's so much more you can do with carrots, potatoes, beetroot, parsnips, celeriac etc than simply throwing them in the oven and forgetting about them for a while. Here are a few ideas to get your root vegetable recipe inspiration going—from loading them up with toppings to blending them into delicious dips to baking them into sweet desserts. Go on, give these a go and let us know what you thought over on Facebook, including your recipe suggestions too.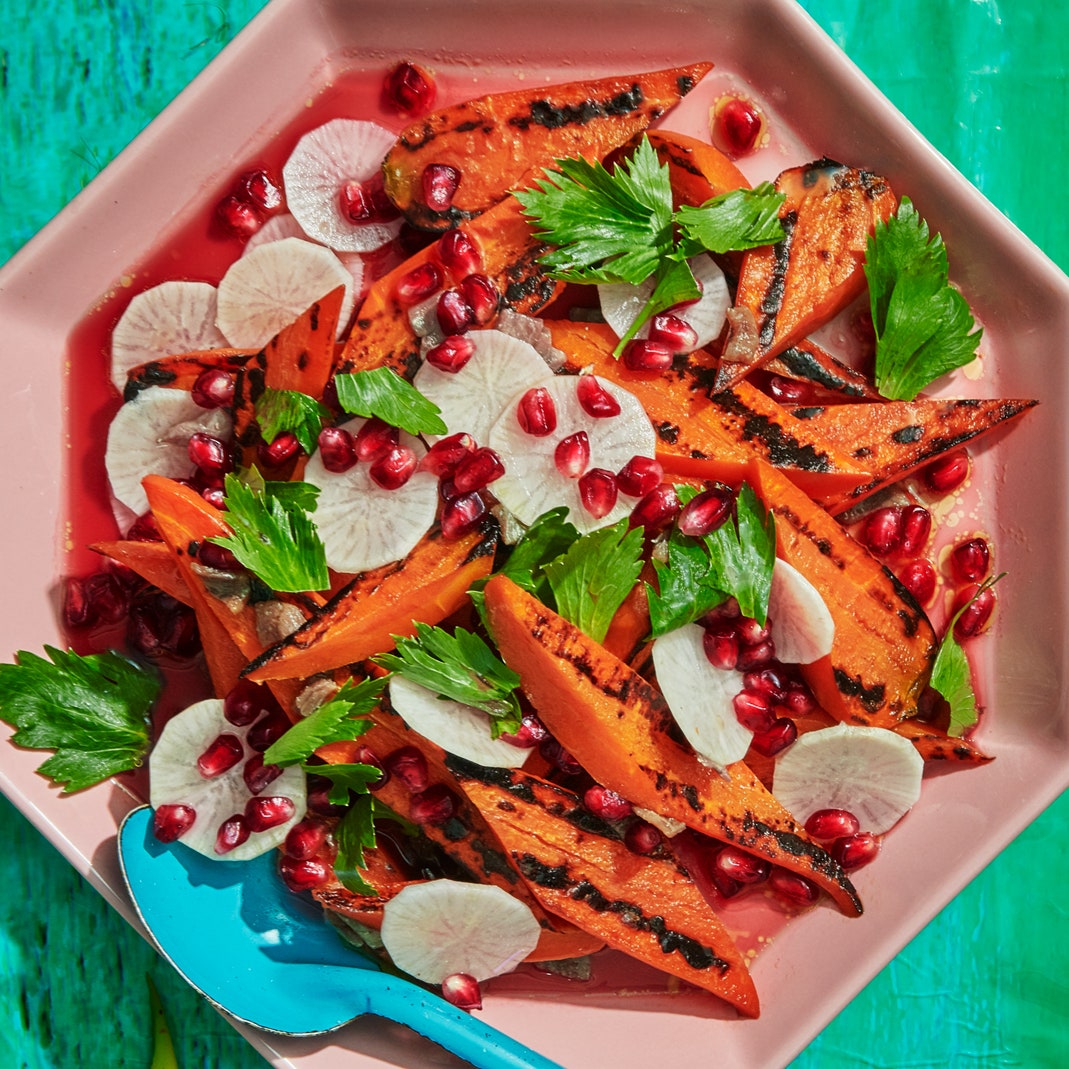 Blackened Carrots with Daikon & Pomegranate
Once roasted, the carrots will keep for several days. Hang on to the roasted carrot oil—it can be used again for braising, searing, or making the dressing. Carrots can be baked 3 days ahead. Let cool; cover and chill.
Source: Bon Appetit
5 large carrots, peeled
2 garlic cloves, thinly sliced
1 thyme sprig
24 tbsp olive oil
Sea salt
4 oil-packed anchovy fillets, finely chopped
1/2 pomegranate seeds
2 tbsp red wine vinegar
1 4-inch piece daikon (mooli), sliced
Parsley leaves, for serving
Method
Preheat oven to 150C. Combine carrots, garlic, thyme, oil, and a large pinch of salt in a baking dish just large enough to hold carrots and oil snugly. Cover tightly with foil; bake until carrots are tender, 50–70 minutes. Remove foil and let carrots cool until just warm. If using right away, remove carrots from oil (otherwise keep submerged in oil while storing). Strain carrot oil through a fine-mesh sieve into an airtight container; discard solids.
Whisk anchovies, pomegranate seeds, pomegranate juice, vinegar, and 2 Tbsp. reserved carrot oil in a small bowl to combine; season dressing with salt.
Heat 1 Tbsp. reserved carrot oil in a large skillet, preferably cast iron, over medium-high (remaining oil can be stored airtight at room temperature). Cut carrots in half lengthwise. Cook carrots in skillet, turning occasionally until warmed through and blackened in spots, about 5 minutes. Transfer to a cutting board and cut into 2″–3″ lengths.
Arrange carrots on a platter. Top with daikon and drizzle with dressing. Scatter celery leaves over.
Spiced Sweet Potato Sandwich with Feta
Each component in this sweet potato sandwich recipe is seasoned really well, which makes everything pop. The sweet potato, beetroot mixture, and seasoned mayonnaise can all be made 2 hours ahead. Store sweet potato and beetroot mixture separately, tightly covered, at room temperature. Cover and chill mayonnaise.
Source: Bon Appetit
1 large sweet potato, peeled, sliced lengthways 0.5cm thick
1 tsp chilli powder
1/2 tsp ground cumin
3 tbsp extra-virgin olive oil, plus more for drizzling
Sea salt & freshly ground pepper
1 medium beetroot, peeled, cut into thin matchsticks or grated
1/2 small red onion, thinly sliced
3 tbsp seasoned rice vinegar
115g mayonnaise
1 large garlic clove, finely grated
1.5 tbsp fresh lemon juice
2 sesame rolls, split
Large handful parsley, mint or coriander leaves
30g feta, thinly sliced into planks
Method
Preheat oven to 205°C. Combine sweet potato, chilli powder, cumin, and 3 tbsp oil in a medium bowl; season generously with salt and pepper and toss until sweet potato is evenly coated. Heat a large, dry frying pan, preferably cast iron, over medium. Arrange sweet potato in a single layer without overlapping (you will most likely be able to fit them all at once, but work in 2 batches if needed). Cook, undisturbed, until blackened in spots, about 4 minutes. Turn slices over and transfer skillet to oven. Roast until tender, 10–15 minutes. Remove from oven.
Meanwhile, combine beetroot, onion, and vinegar in a medium bowl; season generously with salt and pepper and toss well. Let sit to allow beet to soften. Mix mayonnaise, garlic, and 1 tbsp lemon juice in a small bowl; season generously with salt and pepper.
Toast rolls cut side up, on a rimmed baking sheet until golden brown, 30–60 seconds. Remove rolls from the oven.
Toss herbs with the remaining 1 tsp lemon juice in a medium bowl to coat. Drizzle with oil, season with salt and pepper, and toss again to combine.
To build sandwiches, pour off any accumulated liquid from the beetroot mixture. Spread seasoned mayonnaise over cut sides of reserved rolls, dividing evenly (yes, it's a lot, but you don't want to skimp here). Arrange feta slices over the bottom halves of rolls. Top with sweet potato slices and pile some beet mixture on top. Mound herbs over beets; close up sandwiches with top halves of rolls and cut in half.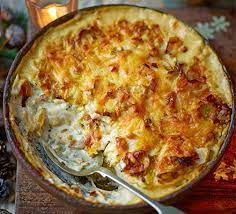 Cheesy Celeriac, Leek & Rosemary Gratin
Combine celeriac and leek with mature cheddar for an indulgent Christmas side dish. A spoonful of mustard or horseradish stirred through the cream wouldn't go amiss.
Source: BBC Good Food
25g butter
2 leeks, outer layer removed, washed of any grit and sliced into rings
Small handfuls of rosemary leaves, roughly chopped
1 bay leaf
300ml double cream
300ml milk
1 celeriac (about 500g), peeled, quartered and thinly sliced
100g cheddar, coarsely grated
Method
Heat the butter in a saucepan. Add the leeks, rosemary and bay leaf, then cover and cook very gently over medium-low heat for 15-20 mins until the leeks are soft. Pour over the milk and almost all of the cream, then season and bring to a boil. Remove from the heat and leave to cool a little, then scoop out the bay leaf.
Pour a little of the leek mixture into an ovenproof gratin dish. Arrange a layer of celeriac in the dish, then season. Spoon over some more of the leek mixture and scatter with a little cheese. Repeat the process, alternating between layers of the leek mixture, cheese and celeriac slices, then finish with a drizzle of cream and the last of the cheese. Can be prepared up to a day ahead and kept in the fridge.
Heat oven to 180C/160C fan/gas 4. Bake the gratin for 1 hr-1 hr 15 mins until the top is golden and the celeriac is tender when poked with a knife. If the gratin is browning a little too much, cover the dish in foil. Can be chilled, then reheated in a microwave or oven on low heat with a drizzle of more cream.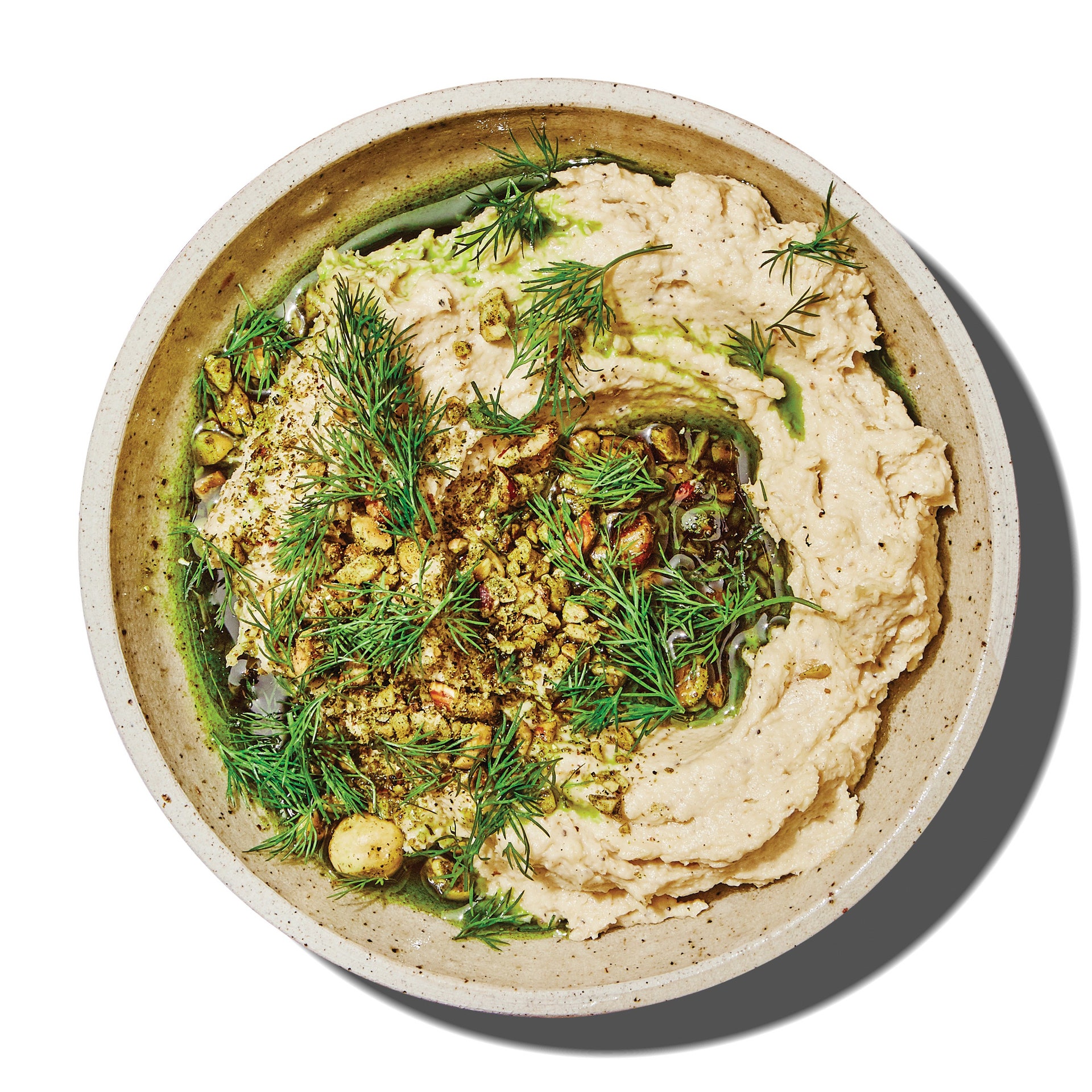 This riff on the Greek classic swaps out potatoes for parsnips, which gives the dip a touch of sweetness that pairs well with the feta and chilis. It'll make you forget about hummus.  This dip (without hazelnuts and dill oil) can be made 3 days ahead. Cover and chill.
Source: Epicurious
3 medium parsnips, trimmed & scrubbed
3 tbsp blanched hazelnuts
1 large handful of dill fronds
8 tbsp avocado oil
2 chillis, finely chopped
1 garlic clove, crushed
85g feta, crumbled
1 fresh lemon, juiced
4 tbsp extra-virgin olive oil
Method
Preheat oven to 180C. Place parsnips in a 20cm x 20cm baking dish or medium ovenproof dish. Cover tightly with foil or a lid and bake until very soft and mashable (like a baked potato), 45–60 minutes. Let cool, then coarsely chop.
Meanwhile, toast hazelnuts on a rimmed baking sheet, tossing once, until golden brown, 7–10 minutes. Let cool, then coarsely chop.
Blend dill and grapeseed oil in a blender until smooth. Transfer to a small bowl.
Purée chiles, garlic, feta, and lemon juice in a food processor until smooth. Add parsnips and pulse until the mixture looks mostly smooth. With the motor running, stream in olive oil and process until the mixture is extremely smooth and aerated. Transfer dip to a serving bowl; top with hazelnuts and drizzle with dill oil.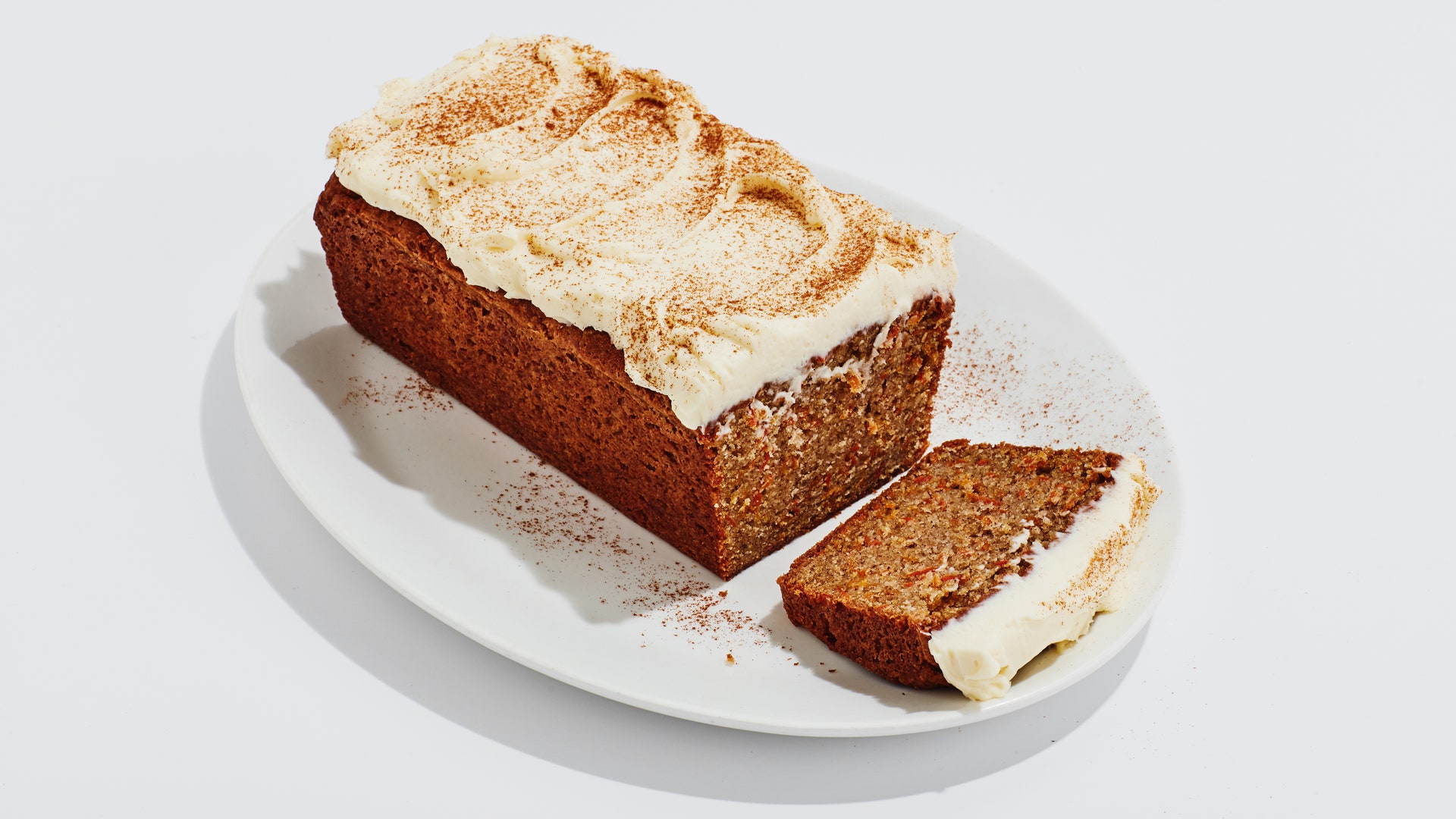 Basically Carrot Loaf Cake
The most casual-cool carrot cake of all time.
Source: Bon Appetit
450g cream cheese, divided
180ml vegetable oil, plus more for tin
300g plain flour
2 tsp baking powder
3/4 tsp baking soda
2 tsp ground ginger
2 tsp ground cinnamon, plus more for dusting
1 3/4 tsp salt, divided
4 medium carrots
250g sugar, divided
2 large eggs
3 tsp vanilla extract, divided
Method
First things first, we need to get the cream cheese to room temperature.
Place a rack in the middle of the oven; preheat to 180C. Lightly grease a 22cm x 12 cm loaf pan with vegetable oil. Line pan lengthwise with parchment paper, leaving about a 5 cm overhang. (This will help you lift the cake up and out of the pan).
Whisk 140g plain flour, baking powder, ground ginger, baking soda, cinnamon, and salt in a medium bowl.
Peel and grate the carrots. Use your hands to toss until well coated.
Scrape half of the cream cheese into a large bowl. (This is for the batter, the other half is for the icing!) Using a spatula, spread cream cheese around the sides of the bowl, working it a few times with your spatula to help soften. Add 200g sugar and keep working with a spatula to completely incorporate until it's no longer gritty all sugar is dissolved for about 15 seconds. Crack 2 large eggs into a bowl, then whisk until mixture is very smooth. It might look separated and chunky at first, but whisk vigorously and it will eventually come together. Slowly stream in the vegetable oil, whisking. Add 2 tsp. vanilla extract and whisk again to combine.
Fold dry ingredients into egg mixture with your spatula until almost no streaks of floury bits remain.
Scrape batter into prepared pan, smoothing the top with the back of a spoon or spatula.
Bake cake until a tester inserted into the centre comes out clean, 80–90 minutes. Let cool 20 minutes, then remove from pan using parchment overhang. If the edges are sticking, slide a butter knife around the edge to help release. Transfer to a wire rack and let cool completely.
While the cake cools, make your icing. Scrape remaining cream cheese into a medium bowl. Similarly to what you did earlier, use a spatula to work it around the sides of the bowl. Add remaining sugar, 1 tsp. vanilla, and ¼ tsp, a pinch of salt. Mix with a spatula to bring everything together, paddling it as necessary, until icing is very smooth and shiny. (This will take some elbow grease, but don't give up!) Cover and keep chilled until the cake has cooled.
Place cooled cake on a platter. Dollop cream cheese frosting on top and make swirls and swooshes with the back of a small spoon as you spread it out. Dust lightly with more cinnamon. Slice with a sharp chef's knife to serve.