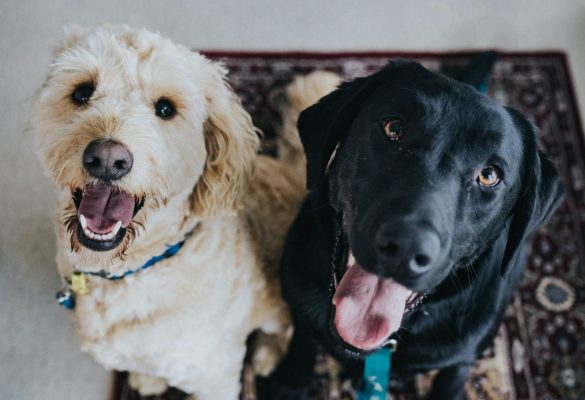 No one can win hearts like a dog and in honour of this bond between humans and canines, Dog Day is celebrated.
Take time to appreciate the love and value that dogs bring to our daily lives. From keeping us safe working for the emergency services to supporting people who are blind, deaf, or disabled, dogs do a lot for us humans, and this is an opportunity to give something back.
Here at Heritage, we are HUGE dog lovers – below are featured some of our Heritage hounds…
If you have a dog, why not treat them to something really special with these dog-friendly recipes and don't forget to share your dog pictures on our Facebook post in the comments.
"The Management" Ken and Kay's crew
Pepper – Marketing Apprentice
Homemade Peanut Butter & Bacon Treats
Makes: vary depending on the size of your cutter
Because your pup deserves some home-baked goodies too! If you have any questions or concerns about the ingredients used, please consult with your veterinarian.
Source: Sallys Baking Addiction, find the recipe here
Heart-Shaped Chicken Dog Treats
These quick and easy heart-shaped chicken dog treats are a simple way to spoil the special doggo in your life.
Source: Kolchak Puggle, find the recipe here
If your dog doesn't like them then all the more for you!
Source: Beagles and Bargains, find the recipe here
No pup can resist these dog doughnuts with yogurt frosting and bacon sprinkles!
Source: Sunny Day Family, find the recipe here
Frozen Watermelon Dog Treats
Prep time: 5 minutes plus freezing
Perfect for a hot day cooling, refreshing treat (can be eaten by humans too!)
Recipe source: Dog tipper, find the recipe here