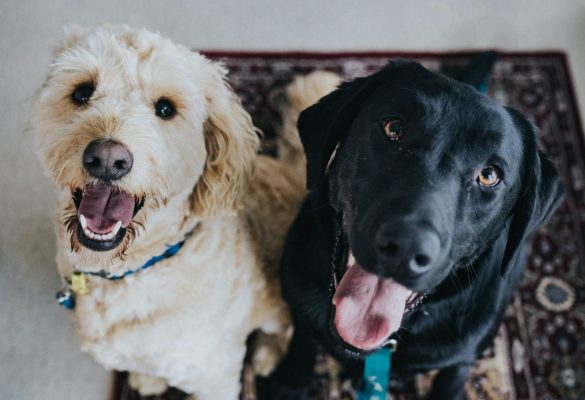 No one can win hearts like a dog and in honour of this bond between humans and canines, Dog Day is celebrated.
Take time to appreciate the love and value that dogs bring to our daily lives. From keeping us safe working for the emergency services to supporting people who are blind, deaf, or disabled, dogs do a lot for us humans, and this is an opportunity to give something back.
Here at Heritage, we are HUGE dog lovers – below are featured some of our Heritage hounds…
If you have a dog, why not treat them to something really special with these dog-friendly recipes and don't forget to share your dog pictures on our Facebook post in the comments.
"The Management" Ken and Kay's crew
Pepper – Marketing Apprentice
Caesar, Millie & Harley – Marketing Apprentices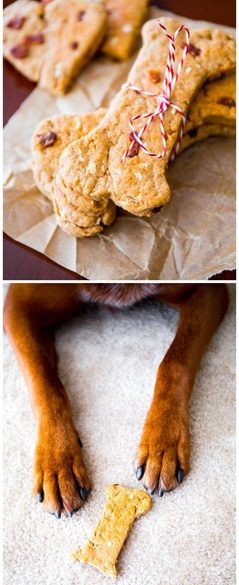 Homemade Peanut Butter & Bacon Treats
Makes: vary depending on the size of your cutter
Because your pup deserves some home-baked goodies too! If you have any questions or concerns about the ingredients used, please consult with your veterinarian.
Source: Sallys Baking Addiction
255g natural creamy peanut butter
180ml semi-skimmed milk
1 large egg
245g whole wheat flour
1 tbsp baking powder
30g oats
2-3 strips cooked bacon, chopped
Method
Preheat oven to 160°C. Line two large baking trays with parchment paper or silicone baking mats. Set aside.
In a large bowl, gently mix the peanut butter, milk, and egg together with a wooden spoon or rubber spatula. Add the flour and baking powder. You may need to turn the dough out onto a floured work surface and use your hands to work in the flour. Mix in the oats and bacon. The dough is extremely thick and heavy.
Using a floured rolling pin, cut into shapes using cookie cutters or a knife. Arrange on the baking trays. Bake for 18-20 minutes, or until very lightly browned on the bottom. Remove from the oven, and flip the treats to bake the other side for 10-12 more minutes.
Allow to cool completely before serving to your pup. Cover and store leftovers at room temperature for up to 1 week or in the refrigerator for up to 2 weeks.
Notes
Freezing Instructions: Since your dog won't eat the whole batch in a week they can be frozen and dogs also enjoy them right out of the freezer too! The treats freeze well up to 2 months.
Flour: White flour is safe for dogs, but whole wheat can be more highly recommended by vets because of its added health benefits. Again, please consult with your vet about any allergies your dog may have.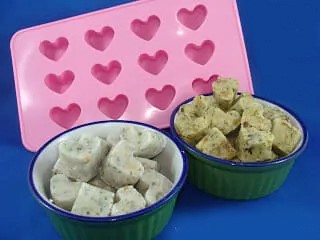 Heart-Shaped Chicken Dog Treats
These quick and easy heart-shaped chicken dog treats are a simple way to spoil the special doggo in your life.
Source: Kolchak Puggle
Silicone heart mould, or another shape
240g cooked chicken, finely diced
200g cooked rice, mashed
3 tbsp rice flour
1 tbsp parsley
1 egg
Method
Preheat oven to 180C.
Mix together all ingredients and stir well.
Spoon into silicone moulds.
Bake for 20 – 30 minutes, until the tops are golden brown.
Allow to cool and remove from moulds.
Store in the fridge for up to 5 days or in the freezer for up to 3 months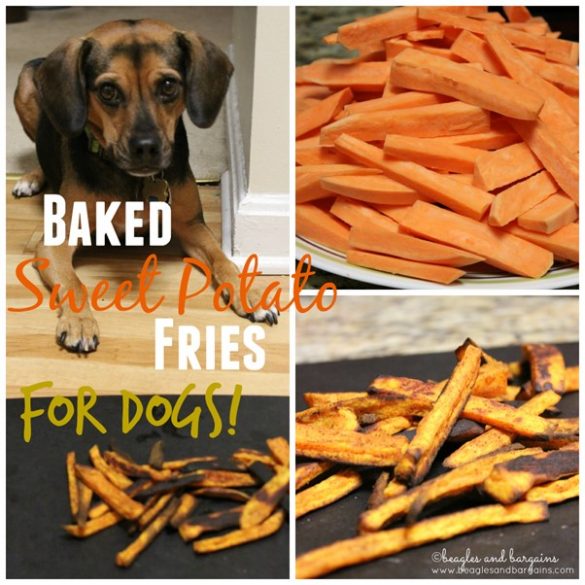 If your dog doesn't like them then all the more for you!
Source: Beagles and Bargains
1 sweet potato
1 tbsp coconut oil
Method
Preheat oven to 200C
Wash and peel the sweet potato
Cut the sweet potato into evenly sized long skinny (fry shaped) pieces. Coat with oil and place fries on a baking tray in one layer.
Bake for 15 minutes. Flip over fries for even baking. Bake for another 10-15 minutes.
Let cool before giving them to your dog!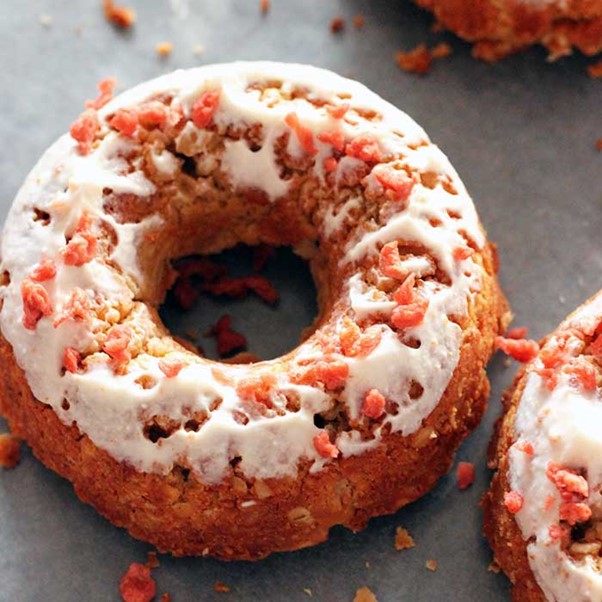 No pup can resist these dog doughnuts with yogurt frosting and bacon sprinkles!
Source: Sunny Day Family
135g flour
80g oats
5 tbsp coconut oil
8 tbsp peanut butter
2 eggs
For the topping
Method
Preheat your oven to 180C. Spray a doughnut pan with cooking spray and set aside.
In a large bowl, combine all ingredients (except yogurt and bacon bits). You can mix with a spoon or use your hands (super fun for kids!). Mix until a dough forms.
Use your hands to press the dough into the doughnut pan. Fill each doughnut cavity and press firmly to ensure everything sticks together (it won't rise, so you should make sure each space is tightly packed).
Bake in your preheated oven at 180C for approximately 14 mins or until cooked completely.
Allow to cool, then carefully remove the doughnuts from the pan. Now you're ready to decorate them!
Set out a small bowl of plain Greek yogurt and another of bacon bits. Dip each doughnut carefully in the yogurt, then sprinkle with bacon bits.
Place your finished doughnuts in the freezer for a few moments to harden the yogurt. Dogs like to eat them straight from the freezer, but you can also store them in the refrigerator. Just keep in mind that the yogurt may get a little sticky.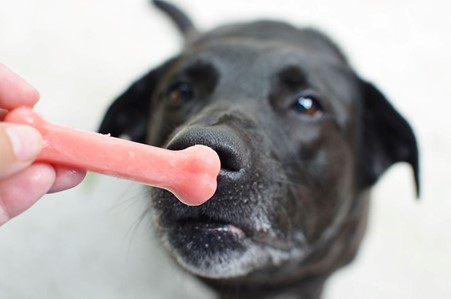 Frozen Watermelon Dog Treats
Perfect for a hot day cooling, refreshing treat (can be eaten by humans too!)
1 quarter of a seedless watermelon
1 x 400g tin coconut milk
Method
Scoop out about 1/4 of the melon.
Blend together with the tin of coconut milk – add more watermelon if you want a darker pink.
Pour into an ice cube tray and freeze.