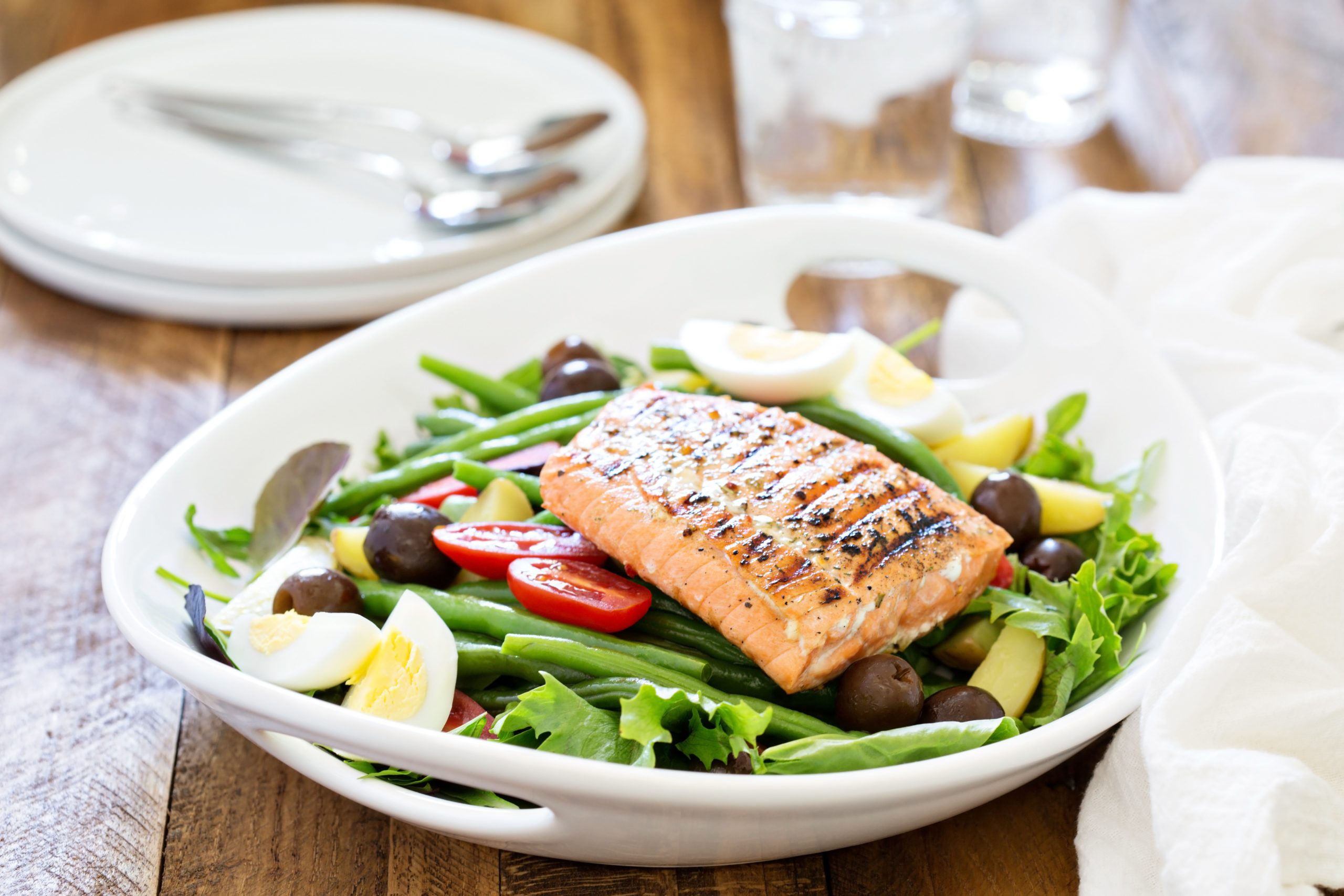 Marco's hot salmon nicoise salad
A great dish to satisfy food cravings whilst your watching you're waist. Enjoy this amazing salad with the freshest and tastiest ingredients, perfect for your lighter lunches.
Source: Marco Pierre White
160gm Hot Smoked Salmon
6 Cos leaves
2 Tomatoes
160gm Green beans
200gm New Potatoes
40gm Black Olives
2 Soft Boiled Egg
40ml Merlot Dressing  (see below)
2gm Micro Parsley
1 Teaspoons of Table Salt
Malden Salt (for seasoning)
MERLOT DRESSING (This makes 750ml)
375ml Extra Virgin Olive Oil
250ml Merlot Vinegar
125ml Dijon Mustard
Method
Boil a deep pan of water with a teaspoon of salt (to taste). Cook your new potatoes for 10 mins and eggs for 5 minutes. You may need to boil the potatoes for a little longer until they are soft in the middle.
Drain water and place on the side to cool. In the same deep pan, add your green beans and little water to steam your beans for 5 minutes. Make sure you place the lid on the pan to steam. Once steamed, empty water and place on the side to cool.
Wash your lettuce and tomatoes.
Cut your tomatoes into quarters and peel the skin off. In a bowl, mix tomatoes, sliced olives, cooked green beans, sliced, cooked new potatoes and Merlot dressing. Add your cos lettuce to your bowl like the image and top with the above niçoise mix and your flaked salmon. Peel the shell off your egg and cut the egg in half. Add this to your bowl like the image.
Garnish with micro parsley and season with Malden salt.