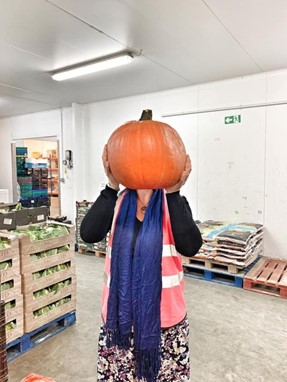 Pumpkintastic! Halloween Heads Up!
It's that spooky time of year again and here at Heritage we love to be prepared.  We've got crates full of pumpkins ready for you to order and we've put together some fun activities and spooky recipes to get your halloween celebrations off to a flying start.  This gives you plenty of time to plan ahead and get your pumpkins and other ingredients early!. Don't forget to check out below for our pumpkin carving competition.
Check out our Pinterest board for lots of other fun recipe ideas.
Enter our Pumpkin carving competition which starts today on the 19th October – details  over on Facebook.  Buy your pumpkins online – once they've gone they've gone!
Organise a Halloween treasure hunt. Here's a couple of links to some free printables we've found to get you started…
Host a Halloween party with themed games and music  with friends and family.
Cook a Halloween themed tea – see our spooky suggestions below.
Watch a scary movie with the friends family whilst tucking into some treats (obviously, age-appropriate!)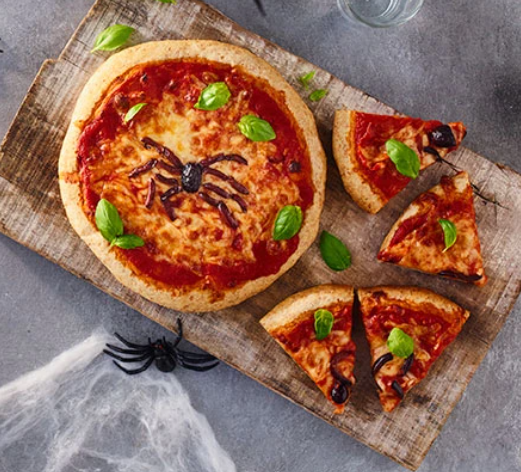 Let little witches and wizards make their own healthy Halloween dinner with this pizza. You can add extra toppings, using whatever meat and veggies they like. They'll be sure to enjoy these spoooky treats!
200g strong white flour
200g strong wholewheat flour
1 tsp or 7g sachet easy-blend dried yeast
250ml warm water
For the topping
300g passata
1 garlic clove, crushed
1 tbsp olive oil
75g grated mozzarella
10 black olives
Handful cherry tomatoes, halved
Handful basil leaves, to serve
Method
Mix the flours and yeast with a pinch of salt in a food processor fitted with a dough blade, or combine in a bowl. Pour in the water and mix to a soft dough, then work for 1 min in a processor or 5 mins by hand. Remove the dough, divide into 4 pieces and roll out on a lightly floured surface to rounds about 15cm across. Lift onto heavily oiled baking sheets.
Mix the passata with the garlic, oil and a little seasoning. Spread over the dough to within 2cm of the edges. Scatter with the mozzarella. Halve the olives and tomatoes. Place an olive in the centre of each pizza to make the spider's body. Cut the rest into little legs and arrange them around the spider bodies. Dot the tomatoes here and there. Leave to rise for 20 mins. Heat oven to 240C/ fan 220C/gas 9 or the highest setting.
Bake the pizza for 10-12 mins until crisp and golden around the edges. Scatter with the basil to serve.
Mini Pumpkin Macaroni Cheese Brains!
Make individual mini portions by scooping out small pumpkins and adding in the cooked macaroni cheese to serve.
Recipe source: BBC Good Food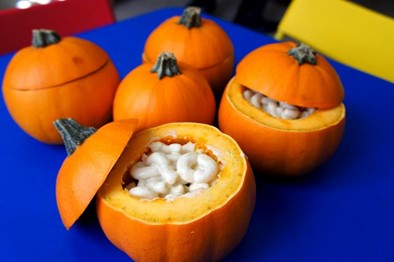 2 tbsp butter, plus 1 tbsp melted
350g spiral or other short pasta
1 garlic clove, finely chopped
1 tsp English mustard powder
3 tbsp plain flour
500ml whole milk
250g mature cheddar, grated
50g parmesan, grated
Method
Heat the oven to 200C/180C fan/gas 6.
Boil the pasta for 2 mins less than stated on the pack, then drain. Meanwhile, melt the butter in a saucepan. Add the garlic and English mustard powder, cook for 1 min, then stir in the plain flour.
Cook for 1 min more, then gradually whisk in the milk until you have a lump-free sauce. Simmer for 5 mins, whisking all the time until thickened. Take off the heat, then stir in the cheddar and half the parmesan.
Stir the pasta and some seasoning into the cheesy sauce. Tip into a large ovenproof dish, or four individual dishes.
Scatter over the remaining parmesan, then bake for 20 mins until crisp and golden.
Scoop into the pumpkin(s) and serve.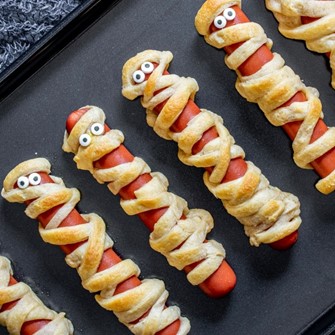 These Mummy Dogs are a classic Halloween recipe that make a great Halloween dinner, or a fun addition to a Halloween party!
1 (350g) Just-roll puff pastry
3 cheese slices
12 hot dogs
2 tbsp butter, melted
Dijon mustard
Method
Preheat oven to 190°C and line a large baking tray with parchment paper. Separate the puff pastry into 4 rectangles, pinching together seams as necessary. Cut each rectangle lengthwise into thin strips.
Cut each slice of cheese into 4 strips.
Place a hot dog on top of a piece of cheese, then wrap with dough to look like bandages. (You'll need about 4 pieces of puff pastry per hot dog.) Repeat with remaining ingredients.
Place on a prepared baking tray and brush with melted butter.
Bake until the puff pastry is golden and cooked through, 12 to 15 minutes.
If you don't have candy eyes handy you can draw eyes on by adding a couple of dots of ketchup or mustard to the mummy dogs where the eyes would go.
Make these kiwi pies, they'll go down a treat with kids and grown-ups alike. Green Jelly and custard make a delicious 'slime' filling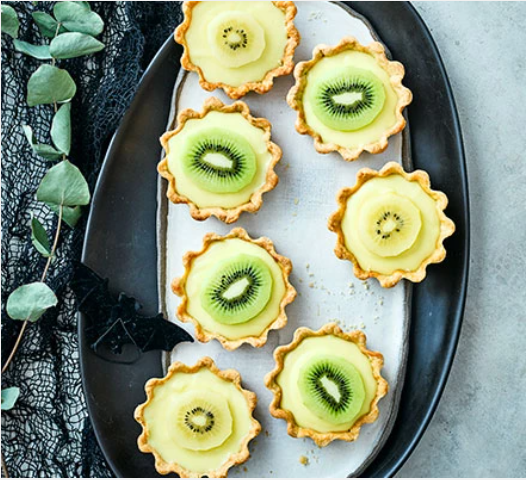 320g shop-bought ready-rolled shortcrust pastry
4 egg yolks, plus 1 egg white (freeze the remaining egg whites to make meringues another day)
400ml milk
35g golden caster sugar
1 heaped tbsp plain flour
5 cubes green jelly
2-3 green and golden kiwi fruit, peeled and sliced
Method
Heat the oven to 190C/170C fan/gas 5. Divide the pastry into eight equal pieces. Roll each out until large enough to line deep 7-8cm fluted tartlet tins or eight holes of a large muffin tin. Line the tins with the pastry, leaving a little sticking up above the rims, then line with paper cases and baking beans. Put the tins on a baking tray and bake for 10 mins, then remove the paper and beans, brush with the egg white and bake for 5-10 mins more until crisp and golden. Leave to cool for 5 mins, then remove from the tins and leave to cool completely.
Put the milk in a pan and bring almost to the boil, then remove from the heat. Put the egg yolks, sugar and flour in a bowl and whisk with an electric whisk until pale and fluffy – it should leave a trail that stays on the surface momentarily when the whisk is lifted. Pour a third of the hot milk into the bowl, slowly whisking all the time, until it has all been mixed in. Whisk in the remaining milk.
Return the mixture to the pan, scraping it out using a rubber spatula. Bring slowly to the boil, stirring, until the custard is thick, smooth and glossy. At first, it will look a bit lumpy, but keep stirring and it will become smooth. Reduce the heat and simmer for 2 mins, stirring. Stir in the jelly until the cubes have dissolved. Leave the mixture to cool until just warm, then divide it between the baked tart cases. Top each with a slice of kiwi and leave to cool completely.