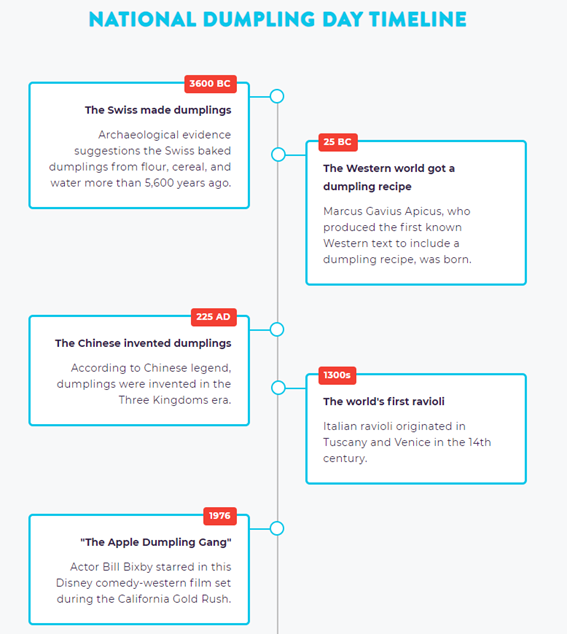 Celebrate national dumpling day on the 26th of September with some delicious recipes for you to try at home. From breakfast treats to starters, soups and main courses there is something to suit everyone here.
Check out our Chinese new year dumplings post for more inspiration.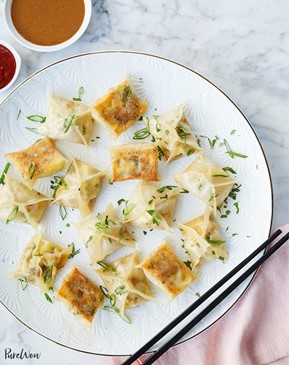 Sausage and Egg Breakfast Dumplings
Make breakfast extra special and whip up a batch of these sausage-and-egg breakfast dumplings. Tangy dipping sauces and chopsticks are required.
Source: Pure Wow
2 tbsp unsalted butter
2 sausage links, casings removed
1 bunch springs onions, thinly sliced
3 eggs
65g cheddar cheese, grated
Salt and freshly ground black pepper
25 store-bought dumpling wrappers
2 tbsp peanut oil
Spicy Dipping Sauce
4 tbsp ketchup
2 tbsp Sriracha, or more to taste
2 tbsp rice vinegar
1/2 tsp chilli flakes
Mustard Dipping sauce
4 tbsp spicy brown mustard
2 tbsp soy sauce
2 tbsp rice vinegar
Method
MAKE THE DUMPLINGS:
In medium frying pan, melt the butter over medium heat. Crumble the sausage into the pan and sauté until well browned, 5 to 6 minutes.
Add the spring onions to the pan and sauté until tender, 1 to 2 minutes.
Whisk the eggs in a medium bowl and then pour into the pan. Stir constantly to softly scramble the eggs, about 2 minutes.
Stir in the cheese and season the filling with salt and pepper.
Place a dumpling wrapper on your work surface and then put a rounded tablespoon of pork filling in the centre.
Wet your index finger with water and then trace the edges of the wrapper. Gently fold the wrapper over to form a pouch and press the edges with your fingertips to crimp them. Repeat with the remaining wrappers and filling. Set the finished dumplings aside.
Heat the peanut oil in a large sauté pan. Add the dumplings to the pan and cook, undisturbed, until the bottoms are brown and crisp, 3 to 4 minutes. Add 120ml water to the pan, cover and continue to cook for 3 to 4 minutes more.
MAKE THE SAUCES:
In a small bowl, whisk the ketchup with the Sriracha, rice vinegar and chilli flakes to combine. In another small bowl, whisk the mustard with the soy sauce and rice vinegar to combine.
Serve the dumplings immediately, with dipping sauces on the side.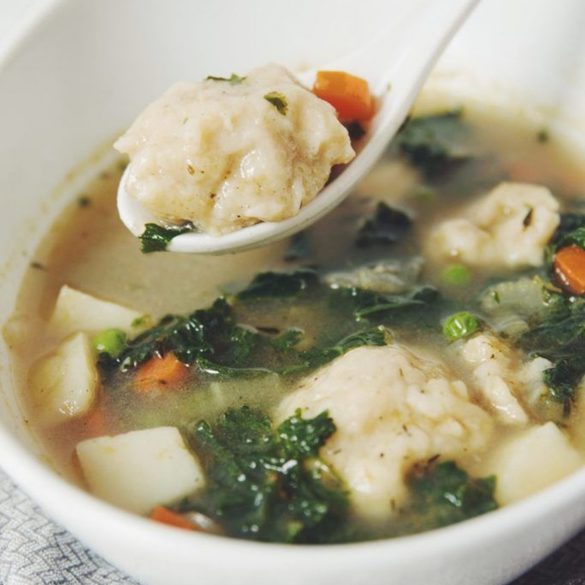 Lunchtime Vegetable Dumpling Soup
Whip up these fluffy vegan dumplings and a savoury veggie-full soup for them to bathe in! It's the perfect bowl to cosy up with on a chilly day.
Source: Hot for Food Blog
140g plain flour
1 tsp baking powder
1/2 tsp salt
1/4 tsp dried oregano
1/2 tsp dried basil
2 tbsp vegetable oil
120ml warm water
Soup
1 onion, finely chopped
1 carrot, finely chopped
2 celery sticks, finely chopped
1 tbsp vegetable oil
2 garlic cloves, minced
1 tsp fresh thyme
1 tsp dried sage
1 tsp dried dill
1 tsp ground black pepper
3 medium potatoes, peeled and diced
3 vegetable stock cubes
1.5 litres hot water
Two handfuls of frozen peas
Large handful kale, finely chopped
Handful parsley, roughly chopped
Sea salt, to taste
Method
Make the dough first by stirring together flour, baking powder, sea salt and herbs. Then create a well in the centre of the mixture and pour oil and warm water in. Fold together with a spatula until well combined and sticky. It will be wet and sticky, but it should form a mound or ball. Let it rest in the bowl covered with a tea towel while you prepare the soup.
Heat a stockpot over medium heat and sauté onion, carrot, and celery in vegetable oil for 4 to 5 minutes. Then add minced garlic, thyme, sage, dill, and ground black pepper and stir together for another 2 minutes.
Stir in potatoes for 2 minutes. Add stock and bring to a boil. Cook the potatoes until fork tender and soft for about 8 to 10 minutes.
Once boiling, you'll dollop small spoonfuls of dough into the soup. They will float to the surface and puff up. Cook for about 8 to 10 minutes.
In the last 2 minutes of the dumplings cooking, add peas, kale, and parsley. You may need to add more salt if you've used a low-sodium vegetable stock Serve immediately!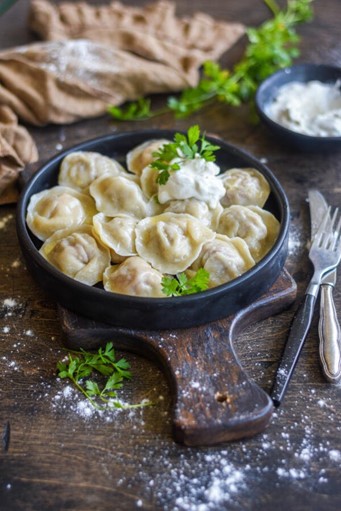 Russian Pelmeni (Meat Dumplings)
This Russian pelmeni originated from Siberia, the western-most region of Russia and are traditional dumplings stuffed with juicy ground meat, onions, and simple seasoning. Serve them on a cooler day with sour cream or melted butter!
Source: Mom Delish
360g flour
180ml lukewarm water
3 eggs
1 tsp salt
Pelmeni filling
900g minced meat, chicken, turkey and ground beef
1 large onion, grated
1/2 tbsp salt, to taste
1 tsp pepper, to taste
Sour cream and butter, to serve
Method
Sift the flour and salt into a large mixing bowl. Add the eggs and mix until incorporated. Add water.
Using a mixer, mix the dough until smooth. Sprinkle flour onto a flat work surface.
In a large bowl, mix the ground meat, grated onion, salt, and pepper with your hands until well-combined.
Roll the dough out and cut small circles out of it using a cookie cutter. Place the meat mixture in the middle and fold over the sides into a half-moon shape, pinching the edges together to secure the filling inside. Connect the two corners together. Repeat until you have no dough or meat mixture left.  Alternatively, if you have a pelmeni mould use that.
Bring a large pot of salted water to boil. Add the pelmeni in. Once they float to the top, they are finished and ready to be taken out. Strain the pelmeni with a colander. Drizzle them with butter and serve with a side of sour cream. Enjoy!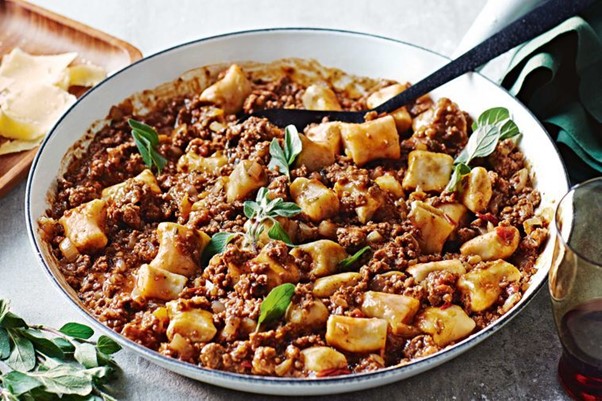 White Bean Gnocchi Dumplings with Quick Balsamic Lamb Ragu
Warm up winter nights with our clever white bean gnocchi dumplings with lamb ragu.
Source: Delicious
2 x 400g tins white cannellini beans, rinsed, drained
185g plain flour
1 egg
60ml olive oil
1 onion, chopped
2 garlic cloves, chopped
2 tbsp tomato paste
500g lamb mince
3 vine-ripened tomatoes, chopped
Small handful of chopped oregano leaves, plus extra to serve
2 1/ 2 tablespoons balsamic vinegar
Shaved pecorino, to serve
Method
To make the gnocchi, whiz beans, flour, egg, 1 tablespoon oil and 1 teaspoon salt in a food processor until combined. Enclose dough in plastic wrap and chill for 15 minutes.
Heat remaining 2 tablespoons oil in a deep frypan over medium heat. Add onion and cook for 3-4 minutes until softened. Add garlic and tomato paste, then cook for a further 1 minute or until fragrant. Increase heat to medium-high and add mince. Cook, stirring occasionally, for 5 minutes or until browned. Add the chopped tomato, oregano, balsamic and 375ml water, then season. Bring to a simmer, reduce heat to medium-low, and cook for a further 20 minutes or until sauce thickens.
Meanwhile, bring a saucepan of salted water to the boil, roll dough into logs and cut into gnocchi. In batches, add to the pan and cook for 5 minutes or until they rise to the surface. Remove with a slotted spoon.
Toss gnocchi through ragu. Serve with pecorino and extra oregano.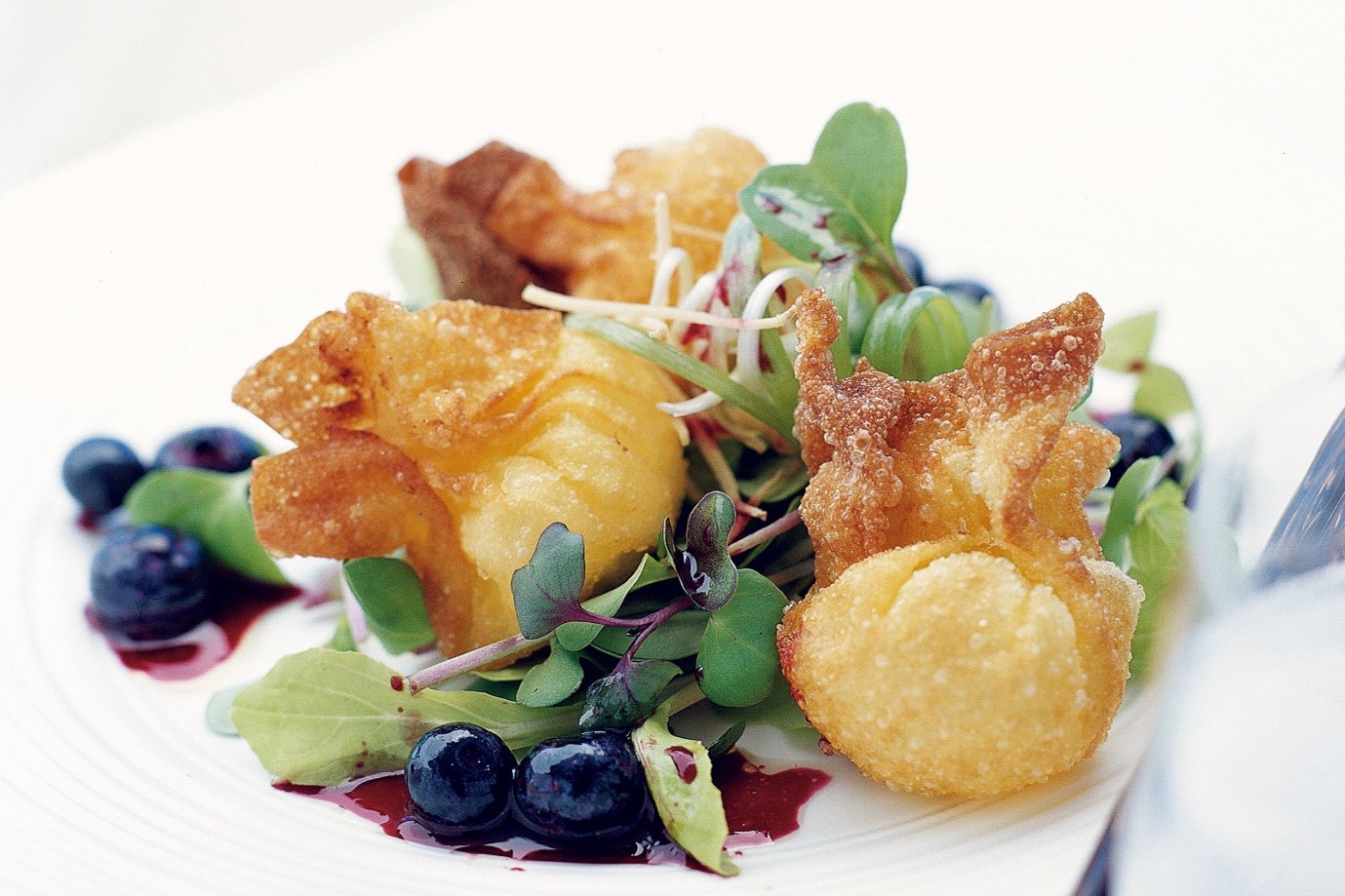 Goat's Cheese Wonton Salad with Blueberry Dressing
A lovely fresh starter or a decadent snack.
Source: Delicious
250g blueberries
1 cm piece ginger, thinly sliced
1 tbsp caster sugar
Juice of 1 lemon
1 tsp sesame oil
100g soft goat's cheese
16 wonton wrappers
Vegetable oil, to deep-fry
Bag of wild rocket
Shredded spring onion, to serve
Method
Place half the blueberries in a pan with ginger, sugar, half the lemon juice and 1 tablespoon water. Simmer for 3 minutes over medium heat, stirring to dissolve sugar. Push through a sieve and whisk in remaining lemon juice and sesame oil.
Season and stir in remaining berries.
Season cheese and place a teaspoonful in the centre of each wrapper. Brush edges with a little water, then bring up sides and seal to form parcels.
Half-fill a deep-fryer or large heavy-based pan with oil and heat to 190°C (or test a cube of bread – it will turn golden in 30 seconds when oil is ready). Cook wontons until golden, then drain on a paper towel. Serve on leaves and drizzle with dressing. Top with spring onion, if desired.